Apple Inc. Company History
Exclusively available on PapersOwl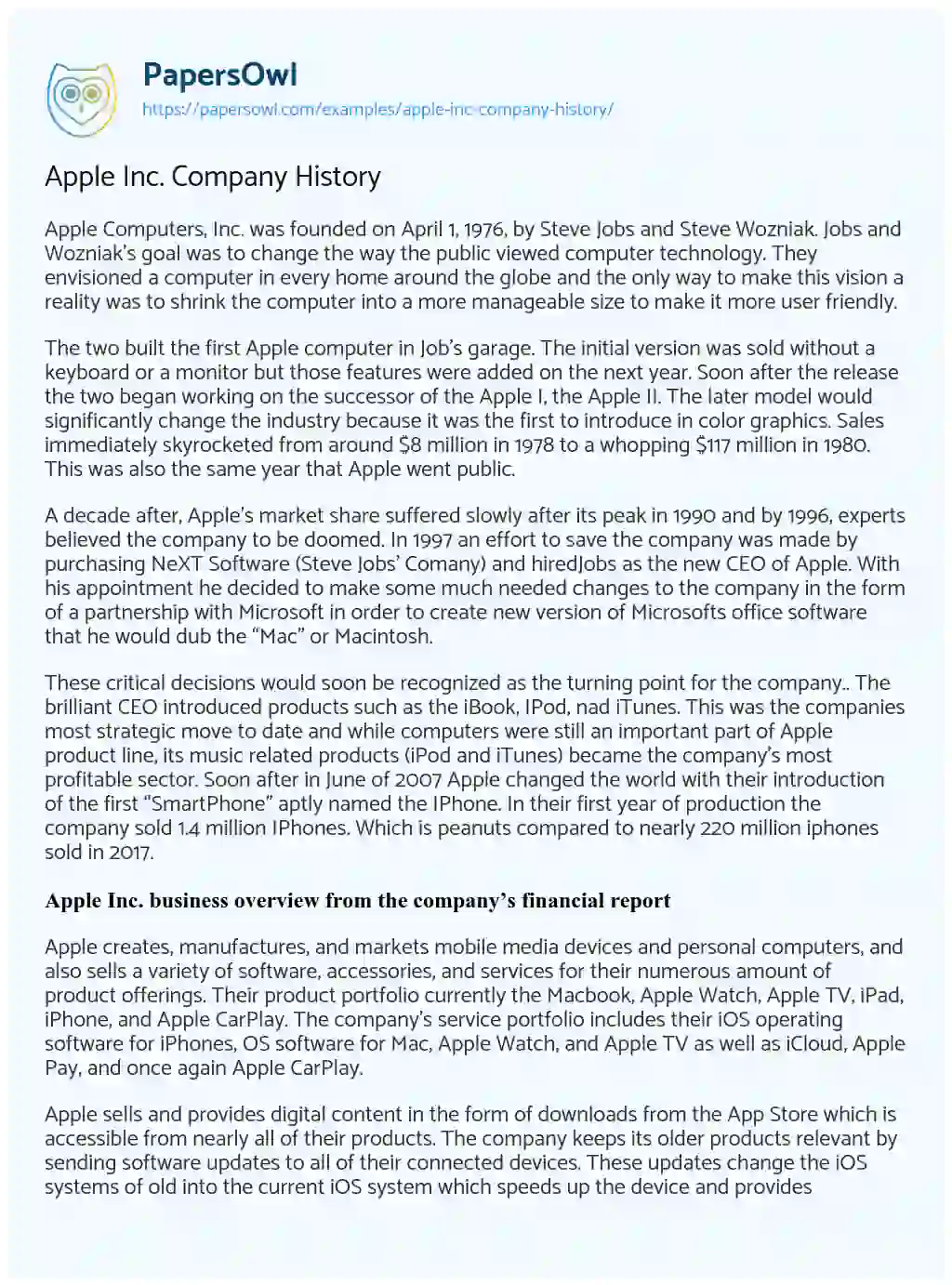 Apple Computers, Inc. was founded on April 1, 1976, by Steve Jobs and Steve Wozniak. Jobs and Wozniak's goal was to change the way the public viewed computer technology. They envisioned a computer in every home around the globe and the only way to make this vision a reality was to shrink the computer into a more manageable size to make it more user friendly.
The two built the first Apple computer in Job's garage. The initial version was sold without a keyboard or a monitor but those features were added on the next year. Soon after the release the two began working on the successor of the Apple I, the Apple II. The later model would significantly change the industry because it was the first to introduce in color graphics. Sales immediately skyrocketed from around $8 million in 1978 to a whopping $117 million in 1980. This was also the same year that Apple went public.
A decade after, Apple's market share suffered slowly after its peak in 1990 and by 1996, experts believed the company to be doomed. In 1997 an effort to save the company was made by purchasing NeXT Software (Steve Jobs' Comany) and hiredJobs as the new CEO of Apple. With his appointment he decided to make some much needed changes to the company in the form of a partnership with Microsoft in order to create new version of Microsofts office software that he would dub the "Mac" or Macintosh.
These critical decisions would soon be recognized as the turning point for the company.. The brilliant CEO introduced products such as the iBook, IPod, nad iTunes. This was the companies most strategic move to date and while computers were still an important part of Apple product line, its music related products (iPod and iTunes) became the company's most profitable sector. Soon after in June of 2007 Apple changed the world with their introduction of the first "SmartPhone" aptly named the IPhone. In their first year of production the company sold 1.4 million IPhones. Which is peanuts compared to nearly 220 million iphones sold in 2017.
Apple Inc. business overview from the company's financial report
Apple creates, manufactures, and markets mobile media devices and personal computers, and also sells a variety of software, accessories, and services for their numerous amount of product offerings. Their product portfolio currently the Macbook, Apple Watch, Apple TV, iPad, iPhone, and Apple CarPlay. The company's service portfolio includes their iOS operating software for iPhones, OS software for Mac, Apple Watch, and Apple TV as well as iCloud, Apple Pay, and once again Apple CarPlay.
Apple sells and provides digital content in the form of downloads from the App Store which is accessible from nearly all of their products. The company keeps its older products relevant by sending software updates to all of their connected devices. These updates change the iOS systems of old into the current iOS system which speeds up the device and provides a new look while also providing new features. Apple sells its products worldwide mostly through its brick and mortar retail stores and online. However, Apple also generates revenue from sales from third party cellular network carriers and wholesalers.
Apple strives to bring its customers the best user experience possible through the innovation of its hardware, software, and services. Their business strategy relies heavily on its aforementioned abilities. This can prove especially difficult for Apple because they have to design and develop its own unique OS, hardware, app software and services. However Apple has still managed to provide its customer base with a top of the line product that provides seamless integration as well as an easy to use interface. Apple provides a high-quality buying experience with knowledgeable salespersons who can convey the value of the Company's products and services. This coupled with its perceived exclusivity helps to create a very loyal fanbase who are not willing to try any other product other than Apple.
Apple's business strategy also includes building and expanding its own retail and online stores as well as its third-party distribution network to effectively reach more customers and provide them with a high-quality sales and post-sales support experience. The Company believes ongoing investment in research and development, marketing and advertising is critical to the development and sale of innovative products and technologies."
Strengths: Brand Image and Equity
Apple is known as a reliable and intelligent brand that its consumers trust and love. That is mostly due to its focus on unique product innovation and creating a great consumer experience. The Apple brand has a level of perceived exclusivity that is not replicated by any other phone manufacturer. Customers have rightly been quoted at saying "Apple doesn't create products but exclusive experience. Any large brand's most critical strength is its image and equity and in terms of equity, Apple ranks somewhere at the top.
Global Presence
Apple products are popular in a very large part of the world and are well known in most corners of the globe. Currently Apple has its products spread between 506 stores in 24 countries. This creates a wide spread revenue stream as well as presence all around the globe.
Financial strength:
Apples 2017 revenue reached 229 Billion dollars and its market cap skyrocketed to 940 Billion dollars. Growth in the sales of iPhones,Macs, and its other product lines has resulted in fast growth of the brand.
Customer Loyalty:
Most of the company's customers purchase more than one product offering every year a new one is released like the iPhone, iPad, and Macbook. This high level of customer loyalty is achieved by investing in customer engagement. It has engaged its customers very well and keeps releasing new products to keep them engaged. The unique and enriching experience that Apple provides is also a reason that Apple has kept growing popular around the world.
Focus on Innovation:
Apple spend billions of dollars on innovation through their research and development department.This multi-billion dollar department seem to spend more every year than previous years to continue the innovative trend. Its products can be easily distinguished from others and apart from aesthetic beauty they are known for their distinctly different technology. Since its inception Apple has remained synonymous with technological innovation. Its produces are known to provide a seamless experience ad it is made possible through huge investment in research and development.
Weaknesses: Premium Image
While Apple's premium image and pricing strategy is an important strength, on the other hand it is also a weakness. This image can create a pressure to constantly provide a better product than your previous best product every year. If any minor deficiency is noticed then customers can become irritated and dissatisfied with the brand.
Low/No Compatibility with other Brands
Apple products are not fully compatible with those made by the other brands. It has created an ecosystem of interoperable and inter-compatible products. Mac laptops and Operating systems as well as IPhones are designed in a manner that they do not have to depend on software or hardware made by the other brands. Apple brands have limited inter compatibility with the products made by Google or Microsoft and apart from that it is also trying to reduce the presence of these brands in its ecosystems.
Opportunities: Launch New Products
Apple's product portfolio is limited as compared to its competitors. The brand can introduce new products to increase the size of its product portfolio as well as market share and customer base. With their loyal customer base they have the luxury of having a positive buzz around every new product they release. A lot is always going on behind the scenes at Apple and talks are always on regarding new products and exploring new possibilities in the realms of technology.
Acquisitions
Apple has made several acquisitions in its long journey including Beats, Siri and Shazam. The brand can make more similar acquisitions to expand its market and customer base and to strengthen its ecosystem.
Invest in Green Technology
Sustainability is not just a fad and the way its importance has grown in this century is well known and in several areas the popularity of sustainable technology has grown from power to transport. Apple can also invest in these areas to find faster growth and to grow its popularity.
Threats: Heavy Competition in the Laptop and Smartphone Industry
Competition in the laptop and smartphone industry continues to intensify and Apple has retained its popularity despite the rising competition. However, despite the popularity it is not at the top in terms of PC sales. HP's market share is largest of all the PC brands followed by Lenovo and Dell. Apple is not a seeing the kind of sales the other top brands do. Prices can be the main factor affecting its sales. However, its premium products have premium price tags and this is why its customer base is limited to the higher end mostly.
Stronger Dollar
Worldwide the dollar has kept growing stronger and this has led to reduced profits for major international brands including Apple. Volatility in the currency exchange rates can also affect income and revenue worldwide and can impact brands' profitability.
Legal and Regulatory Pressures
The legal and regulatory pressures in the technology industry have also kept rising in this century. From labor to product safety and data, in all these areas, there are several laws which can vary from region to region. Compliance costs are adding to the operational costs of brands and causing pressures and losses. Apple is also feeling the rising pressure of compliance. The US market has mostly been known to be more open than other markets globally. However, even in US the large technology brands are feeling the pinch of legal and regulatory pressures. It does not just limit their ability to compete but to expand internationally as well.
Did you like this example?
1397
190