Apple Computer, Inc.
Exclusively available on PapersOwl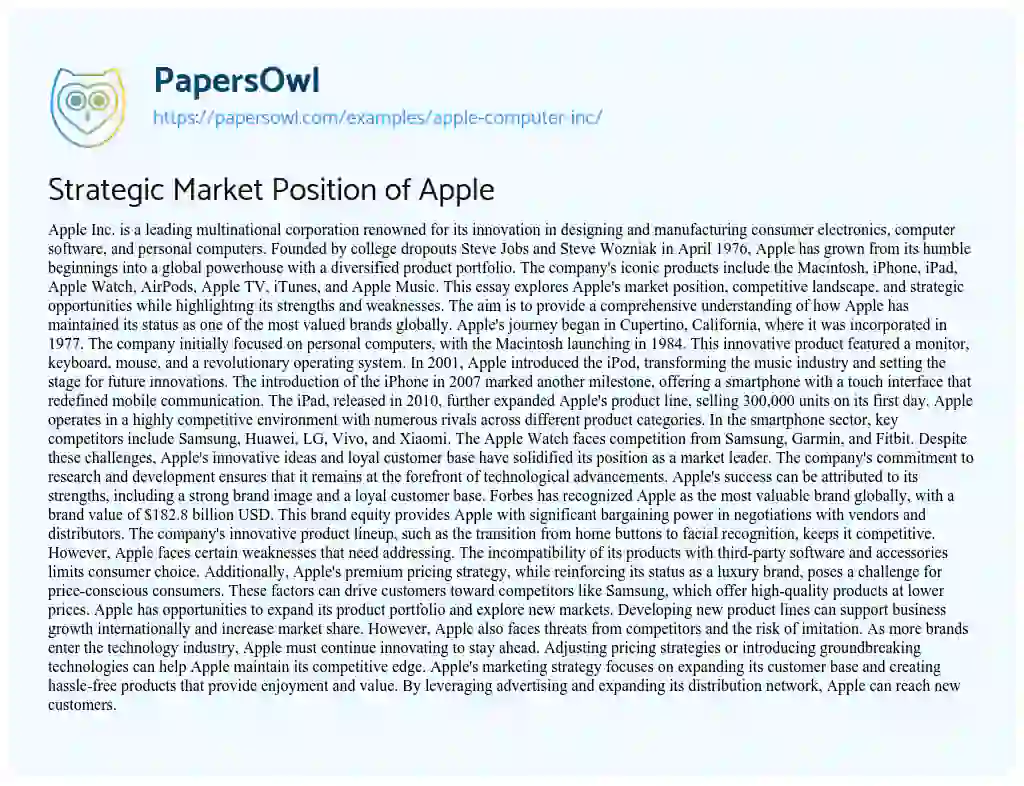 Executive Summary
Apple Inc. is a multinational corporation that designs and manufactures consumer electronics, computer software, and personal computers. Apple was founded by two college dropouts Steve Jobs and Steve Wozniak in April of 1976. In 1977, Apple was incorporated in Cupertino, California. The company's products include Macintosh, iPhone, iPad, Apple Watch, Air Pods, Apple TV, iTunes, and Apple music. Apple Inc. has come a long way from selling personal compute to being used in the day-to-day life. The more popular Apple becomes the more different companies fight for their place in the spotlight. Some of Apples top competitors in the smart phone industry are Samsung, Huawei, LG, and many others. As iPhones are not the only product the company offers, they have many competitors who imitate the Apple Watch such as Samsung, Garmin, and Fitbit. Apple's innovated ideas is what has been keeping this as one of the most values brands in the world. Also, their success has been linked to their loyal customer base. Once customers purchase an Apple product they do not want to use another product because Apple takes the time to research what customers want. With that being said Apple does have its weakness, one being the incompatibility with other products outside of Apple. Another would be their high prices which is slowly pushing customers to look at Samsung or other Apple competitors. In any situation, there is always an opening for opportunities. One of Apple's opportunities are exploring new product lines allowing them to dominate in different markets. With more and more companies entering the technology industry Apple faces the threat of imitation. With the use of retail stores and resellers Apple is able to appeal to customers who are not Apple users. Apple targets both genders from ages 22 to 55 with medium to high income. They target groups like teenagers, adults, college students, and big companies. Also, those who like to listen to music.
Current Situation
Company description
Apple Inc. is a multinational corporation that creates consumer electronics, personal computers, computer software, and commercial servers. Apple is the creator of the iPhone, iPad, iPod, Apple Watch, and Macintosh computers. Two college dropout, Steve Jobs and Steve Wozniak, founded and created Apple Computers on April 1, 1976. Apple received its name after Jobs returned from an apple farm. He thought the name sounded "fun spirited, and not intimidating (Rawlins, 2017). On January 3, 1977 Apple Computers was incorporated in Cupertino, California according to thisdayinworldhistory.com. In 1984 the Macintosh launched consisted of speakers, a monitor, a keyboard, a mouse, and a magical operating system. Years later in 2001, Apple released the iPad when changed the music industry. Then on January 9, 2007 announced the iPhone, which was a smart phone with no buttons or keyboard. The iPhone's concept was like having the internet in your pocket. The iPad was released in April of 2010 selling 300,000 in the first day (Apple Inc., n.d.). According to Fortune 55, in 2018 Apple Inc. was ranked number 4 with revenues at $229,234 million.
Apple's Vision Statement
"We believe that we are on the face of the earth to make great products and that's not changing. We are constantly focusing on innovating. We believe in the simple not the complex. We believe that we need to own and control the primary technologies behind the products that we make, and participate only in markets where we can make a significant contribution. We believe in saying no to thousands of projects, so that we can really focus on the few that are truly important and meaningful to us. We believe in deep collaboration and cross-pollination of our groups, which allow us to innovate in a way that others cannot. And frankly, we don't settle for anything less than excellence in every group in the company, and we have the self-honesty to admit when we're wrong and the courage to change. And I think regardless of who is in what job those values are so embedded in this company that Apple will do extremely well." (Cuofano, 2019)
Market Situation
Apple offers various products and services including the iPhone, whether it be the 8 to the XR, iPad, Mac, Air Pods, Apple Watch, iTunes, App Store, and Licensing. Apple is a global company, the five largest markets for Apple are The Americas, Europe, China, Japan, and Asia Pacific (Mattera, 2015). Apple's new iPhone the XR is the cheapest of Apple's newest phones but it is not the hit they expect it to be. Indicated by the chart below, you can see the sales are weakening (Kingsley-Hughes, 2019).
According to cultofmac.com, Apple is struggling in India due to their pricing. India's average salary is $616, making the iPhone too expensive. With the decline in iPhones, Apple's new products are selling. Air pods were released December 13, 2016 and have been Apple's second-best selling product (Allergro, 2019). Apple has established a strong loyal customer base, which is one of the attributes to why they are so successful and will keep them relevant.
Competitive Analysis
As a company Apple has advanced from being an original PC company focusing on inventing high-end PC to a powerhouse fixated on continuously innovating products that not only transformed industries but also reshaped customers' views of products. Apple has received many awards and recognition in numerous different categories. They have brought a big change in our day-to-day life.
With each product and service Apple has various competitors. In the smart phone industry like top competitors are Samsung, Huawei, Oppo, Vivo, Xiaomi, LG, ZTE, and Lenovo ("Lenovov"). In the computer industry, their biggest competitors are Dell, Sony, Lenovo, HP, and ASUSTeK ("Who are Apples", 2019). In the watch industry, Samsung, Fossil, Fitbit, Huawei, Garmin, Kate Spade, and Amazfit are their biggest competitors (Bayern, n.d.).
Apple's success is associated with their ability to use business strengths to overcome weaknesses and threats, and to exploit opportunities in the technology industry. One of Apple's key strengths has been its innovative product line up, which enables the company to keep up-to-date with the latest technologies to ensure competitive advantages. For example, Apple went from having a home button to no button, to swipe to open to using facial recognition. Apple has a strong brand image, Forbes has listed Apple as the most valuable brand in the world with the brand value of $182.8 billion USD. The company is capable of introducing profitable new products based on their brand image. Apple's high brand equity provides the company significant bargaining power in negotiations with vendors, manufacturers and distributors. Apple has built up one of the most loyal customer bases by offering products and services that make the customers feel good. High level of customer loyalty cannot be achieved without investing in customer engagement. Apple's strengths are difficult to compete with which allows the company to remain at the top of the industry environment.
With Apple being one of the top technology companies, several weaknesses have occurred in which the company should address if they are going to stay on top. A key issue, the company has is many of its products are incompatible with third-party software and accessories. Meaning if a customer buys an Apple product they have to continue buying Apple products taking away the consumer's decision making. Another issue Apple has is high pricing. Most of Apple's products are one of the priciest on the market. Their premium pricing is slowly driving away customers who are price conscience and swinging customers towards brands like Samsung which also has high-quality product but for less. High prices draw customers from the middle and high-income brackets, while preventing customers from low-income brackets to purchase products which eliminates a potential market group and minimizes company revenue. Apple's incompatibility and high prices impose limitations or weaknesses in the business.
Apple's product portfolio is limited compared to its competitors, allowing them to introduce new products to increase the size of its portfolio along with market shares and customer base. Developing new product lines can support business growth in the international market. In addition, the company has the opportunity to explore new product lines.
Although Apple as a brand has solidified itself, it still faces threats from competitors. As the competition gets stronger, Apple has to either adjust its pricing policy or introduce new technologies to stay ahead of its competition. There are more and more brands penetrating the technology industry. Apple also faces the threat of imitation. There are large number of domestic and multinational companies that are replicating the designs and features of Apple products.
Marketing Objectives
Apple's Objectives
One of Apple's objectives is to expand their sales to customers who have not yet owned an Apple product. The company can achieve their objective through advertising and expanding their distribution network also. By using third party retail stores, customers are able to purchase Apple product while benefiting the retail stores also. The use of flagship stores is a great way to attract new customers, flagship stores are used to interact with customers as well as displaying products. One of Apple's well-known flagship is 5th Ave, New York which is open 24 hours 7 days a week. Another objective for Apple is to create hassle free products that will provide service and enjoyment for customers. By continuously investing in the Research and Development department Apple can achieve their goal to continue constructing quality products.
Segmentation, Targeting and Positioning
As one of the most premium brand globally, Apple targets individuals rather than market. They turn their focus onto the users and lets customers decide where and how to use its products. Their products attract many different demographics. Apple targets both male and female genders, age groups from 22 to 55, individuals with medium to high-income. Apple targets three groups, first one is individuals who like to listen to music, another is teenagers, college students, adults, and big companies. Teenagers use iPhones to socialize with friends and family, and go on social media. College and university students use iPads and iMacs, they are light weight and easy to carry around. Adults use iPhones in their day to day life, for example, phone calls, internet, camera, and maps. Apple offers proficient hardware and software to help businesses keep their security and productivity in all their doings. The final group is individuals who use products like Apple TV, Apple Watch, iBook, and Apple Pay. Apple is positioned as a luxury brand that has an emotional and loyalty connection with its customers. Apple's brand is displayed through their core beliefs about innovation, design, and imagination. Their beliefs are strongly reflected and promoted through their products, advertisements, and customer experiences. Since its beginning, Apple has been launching products which have been a representation of design and quality. With their innovative technology and improved designs, it has led Apple to have a strong command in the market.
Marketing Strategy and Programs:
Product
Apple is known for its innovation, the company has always come up with new products that amazes the world. Some of Apple's main product lines are as follows: Mac, iPhone, iPad, Apple Watch, Apple TV, Air Pods, Apple Music, and iTunes (Apple., n.d.). The Macintosh, the machine that started it all, was introduced on January of 1984 and is still known until this day (Macintosh, n.d.). Some popular Mac laptops include the MacBook Air and MacBook Pro. The iPhone was the first smartphone to use the multi-touch interface, Apple has released a total of eighteen iPhones over the years (Carey, 2018). After the iPhone came the iPad, which instantly became a hit and continues to be a strong product line for Apple. One of the competitive advantages of Apple lies in its software and services introducing iTunes, iCloud, and Apple Music. Individually, each of them are good but combined they are one of Apple's key product lines and they drive a strong revenue for Apple.
Pricing
Apple follows premium pricing policy in order to delight their customers. Their products are costly and are considered as a status symbol. The company typically does not have sales on their product and the price is usually standard and does not drop until a new model is released. The cheapest MacBook laptop is $1,249 USD. The price of a newest iPhone XR starts at $749 USD. The price of the newest Apple Watch Series 4 is $399 USD. Apple music, which the customers pays monthly, costs $9.99 per month (Apple., n.d.).
Promotion:
Apple targets specific segments of people. Their main focus is on its products and how their differentiating factors make them unique from their competitors. Apple promotes their products through commercial, print media, online ads, and billboards. The company's promotions are simple and to the point usually focusing on one key feature of their product.
Place (Channel):
Apples headquarters is located at 1 infinite Loop Cupertino, California. Apple has opened 506 retail stores in 24 counties, in the US there are 272 and 234 elsewhere ("Apple Stores", 2019). There are a number of corporate resellers that tie up with Apple for distribution purposes like Walmart, Target, Radio Shack, AT&T, Verizon, and Spring. Customers can also purchase Apple product on their own website and other retail site like EBay or Amazon.
Work Cited
Allegro, A., Allegro, A., & Alex. (2019, February 12). AirPods are the second-best selling Apple product within two years of launch, search rate up 500% YoY. Retrieved from https://9to5mac.com/2019/02/12/airpods-second-best-selling-apple-product/
Apple. (n.d.). Retrieved from http://fortune.com/fortune500/apple/
Apple. (n.d.). Retrieved from https://www.apple.com/
Apple Inc. (Company). (n.d.). Retrieved from https://www.giantbomb.com/apple-inc/3010-5815/
Apple Stores: Everything We Know | MacRumors. (2019, February 06). Retrieved from https://www.macrumors.com/roundup/apple-retail-stores/
Bayern, M. (n.d.). The top 10 alternatives to the Apple Watch – Page 10. Retrieved from https://www.techrepublic.com/pictures/the-top-10-alternatives-to-the-apple-watch/10/
Carey, C. (2018, November 26). The Evolution of the iPhone: Every Model from 2007–2018. Retrieved from https://www.iphonelife.com/content/evolution-iphone-every-model-2007-2016
Cuofano, G. (2019, March 17). Apple Mission Statement and Vision Statement In A Nutshell. Retrieved from https://fourweekmba.com/apple-mission-statement-vision-statement/
Dormehl, L. (2018, August 06). Apple's new iPhone strategy for world's second-biggest market. Retrieved from https://www.cultofmac.com/567999/apples-new-iphone-strategy-for-worlds-second-biggest-market/
January 3 1977 – Apple Computer Is Incorporated. (2017, December 21). Retrieved from http://www.thisdayinworldhistory.com/january-3-1977-apple-computer-is-incorporated/
Kingsley-Hughes, A. (2019, January 21). If the iPhone XR is selling so well, why is Apple messing with the price? Retrieved from https://www.zdnet.com/article/if-the-iphone-xr-is-selling-so-well-why-is-apple-messing-with-the-price/
Lenovo (includes Motorola) | Gadgets Now. (n.d.). Retrieved from https://www.gadgetsnow.com/slideshows/worlds-10-biggest-smartphone-companies/lenovo-includes-motorola/photolist/59889173.cms
Macintosh. (n.d.). Retrieved from https://history-computer.com/ModernComputer/Personal/Macintosh.html
Mattera, S. (2015, April 01). The 5 Largest Markets for Apple. Retrieved from https://www.fool.com/investing/general/2015/04/01/5-largest-markets-for-apple.aspx
Rawlinson, N. (2017, April 25). Apple was 41 years old in April, here's some history. Retrieved from https://www.macworld.co.uk/feature/apple/history-of-apple-steve-jobs-mac-3606104/
Who Are Apple's Main Competitors in Tech? (2019, March 12). Retrieved from https://www.investopedia.com/ask/answers/120314/who-are-apples-aapl-main-competitors.asp
Did you like this example?
905
123