The Analysis of Apple's Corporate Strategy
Exclusively available on PapersOwl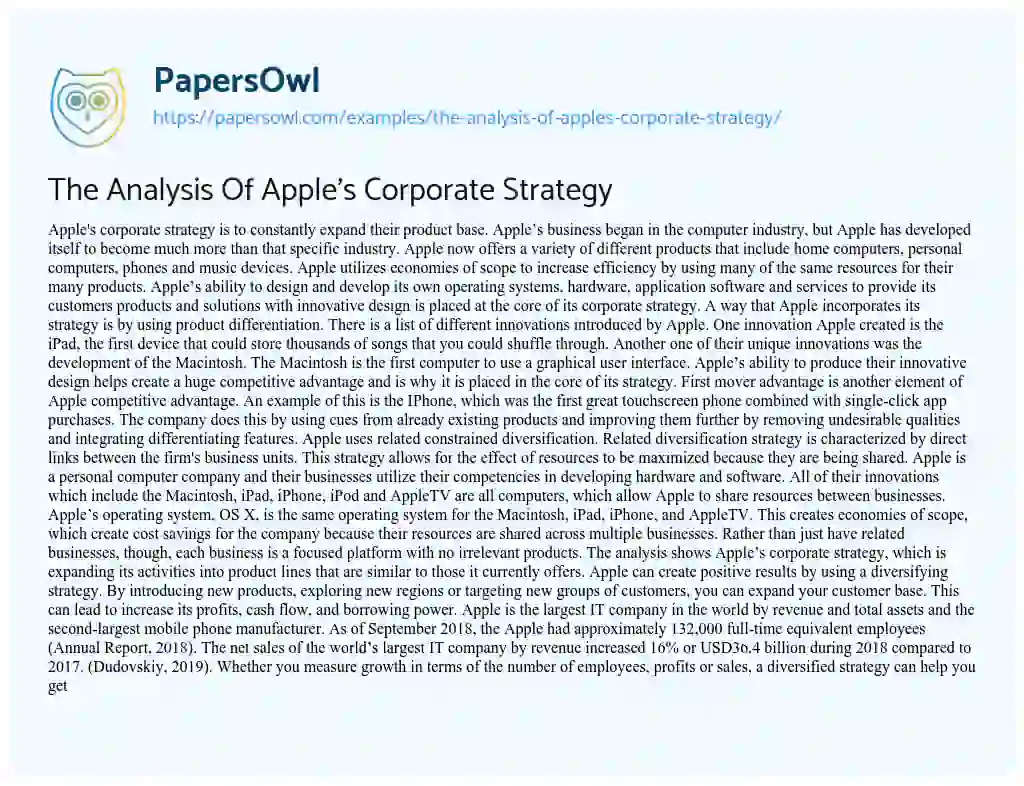 Apple's corporate strategy is to constantly expand their product base. Apple's business began in the computer industry, but Apple has developed itself to become much more than that specific industry. Apple now offers a variety of different products that include home computers, personal computers, phones and music devices. Apple utilizes economies of scope to increase efficiency by using many of the same resources for their many products. Apple's ability to design and develop its own operating systems, hardware, application software and services to provide its customers products and solutions with innovative design is placed at the core of its corporate strategy.
A way that Apple incorporates its strategy is by using product differentiation. There is a list of different innovations introduced by Apple. One innovation Apple created is the iPad, the first device that could store thousands of songs that you could shuffle through. Another one of their unique innovations was the development of the Macintosh. The Macintosh is the first computer to use a graphical user interface. Apple's ability to produce their innovative design helps create a huge competitive advantage and is why it is placed in the core of its strategy. First mover advantage is another element of Apple competitive advantage. An example of this is the IPhone, which was the first great touchscreen phone combined with single-click app purchases. The company does this by using cues from already existing products and improving them further by removing undesirable qualities and integrating differentiating features.
Apple uses related constrained diversification. Related diversification strategy is characterized by direct links between the firm's business units. This strategy allows for the effect of resources to be maximized because they are being shared. Apple is a personal computer company and their businesses utilize their competencies in developing hardware and software. All of their innovations which include the Macintosh, iPad, iPhone, iPod and AppleTV are all computers, which allow Apple to share resources between businesses. Apple's operating system, OS X, is the same operating system for the Macintosh, iPad, iPhone, and AppleTV. This creates economies of scope, which create cost savings for the company because their resources are shared across multiple businesses. Rather than just have related businesses, though, each business is a focused platform with no irrelevant products.
The analysis shows Apple's corporate strategy, which is expanding its activities into product lines that are similar to those it currently offers. Apple can create positive results by using a diversifying strategy. By introducing new products, exploring new regions or targeting new groups of customers, you can expand your customer base. This can lead to increase its profits, cash flow, and borrowing power. Apple is the largest IT company in the world by revenue and total assets and the second-largest mobile phone manufacturer. As of September 2018, the Apple had approximately 132,000 full-time equivalent employees (Annual Report, 2018). The net sales of the world's largest IT company by revenue increased 16% or USD36.4 billion during 2018 compared to 2017. (Dudovskiy, 2019). Whether you measure growth in terms of the number of employees, profits or sales, a diversified strategy can help you get there.
Did you like this example?
1927
263