Great Tacticians: Mahatma Gandhi and Steve Jobs
Exclusively available on PapersOwl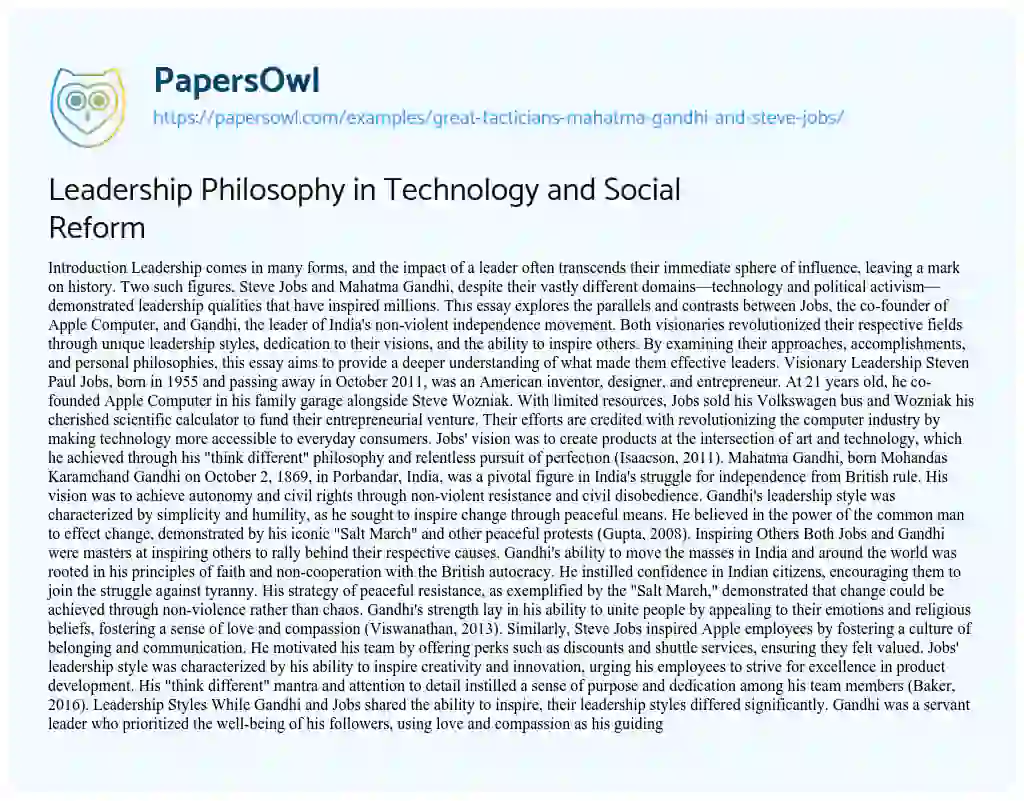 Steven Paul Jobs was an American inventor, designer, and entrepreneur who was the co-founder, chief executive and chairman of Apple Computer. Born in 1955 and died in October 2011. When Jobs was 21 years old, he started Apple Computer in his family garage, together with Steve Wozniak. Jobs sold his Volkswagen bus and Wozniak his beloved scientific calculator and funded entrepreneurial venture. Jobs and Wozniak are credited with revolutionizing the computer industry with Apple by democratizing the technology and making machines smaller, cheaper, intuitive and accessible to everyday consumers. (Bibliography,2014)
Indian nationalist leader Mahatma Gandhi (born Mohandas Karamchand Gandhi) was born on October 2, 1869, in Porbandar, Kathiawar, India, which was then part of the British Empire. Mahatma Gandhi (October 2, 1869, to January 30, 1948) was the leader of India's non-violent independence movement against British rule and in South Africa who advocated for the civil rights of Indians. In 1888, 18-year-old Gandhi sailed for London, England, to study law. The young Indian struggled with the transition to Western culture. (Bibliography,2016)
Both leaders were very good in inspiring others. Gandhi's accomplishments were India's autonomy and opportunity to balance his nationals. Jobs – steady and forceful advancement. His innovativeness in items and administrations their initiative styles were to some degree comparative in achieving their objectives. "Gandhi without a doubt could inspire and move the masses in India and around the globe when he so convincingly exhibited that even a typical man can have any kind of effect by cutting the British realm down." (Gupta,2008)
He achieved this accomplishment with his standards of confidence and non-participation to the British autocracy. He enthusiastically acquired the help of numerous Indian subjects against the battle of this tyranny. He put stock in affecting change through positive clash; he composed numerous serene dissents and walks and successfully used the strategies of common insubordination to undermine the British rulership. He unequivocally displayed through the "Salt March", that change can be influenced through serene dissents instead of rebellion and mayhem. A battle for liberation was a battle that everybody felt a piece of. (Gupta 2008)
In Apple Company employees were very motivated. Steve gave them great discounts, he showed them that they are valued. If some employees were living far Apple arranged special shuttle buses for them to feel comfortable from the morning. At Apple company's culture was/is very important. Everyone who worked there knew that there was great sense of belonging and communication. In Apple experience is also valued. People there also receiving actual apples to give them little smile. (Baker,2016)
Mahatma Gandhi's motivation for people was that they saw that he truly cared for them. He motivated his followers with his simplicity and Steve Jobs was one many who was inspired by him. His strength united people and show them how to stand for themselves. He made people emotional and most important he used religion to unite people. "Love and Compassion" were two things that he was using to motivate people and give them hope. After 55 long years of hard work India was free, but Gandhi was not celebrating. He was still helping people in needs and people who were suffering and was living in poverty – his mission was not accomplished yet. (Viswanathan, 2013)
Steve Jobs who was likewise propelled by the unbelievable mahatma Gandhi instilled a comparative technique in the way he enlivened the representatives of apple company to work indefatigably towards the creation of the best item for the organization. He filled in as a help for some present CEOs with his hard-thump style of administration in an unconventional way. He brought his organization into another time. Especially because of his "think different message and ability to continuously surprise and deliver on his vision" as cited in (Gupta,2008). Employment is especially noted for his logic to make items which were at the crossing point of craftsmanship and innovation instinct and structure. His receptiveness to being enlivened enabled him to experience his logic and thusly rouse others.
Gandhi and Steve's jobs fabricate associations with their adherents through their initiative styles which empowered them to execute their dreams of being fruitful pioneers. Gandhi associated with individuals everything being equal ideology religion and convictions and manufactured amazing connections by his straightforward deportment of a white dhoti alongside his unobtrusiveness and modesty which he showed aimlessly with everybody by visiting crosswise over India driving all the significant developments and by holding different open gatherings more than once. (Gupta, 2008)
Steve jobs construct associations with all workers and stayed straightforward by wearing pants and shirt regardless of holding the lofty position of CEO of the apple company. The two heads comprehended that to pick up the devotion and responsibility of their supporters the totalitarian refinement and isolation among predominant and subordinate through corporate clothing workplaces and different extravagances must be canceled. In the occasion of jobs, representatives need to feel great not threatened to misuse their most elevated potential and imagination. Likewise, Gandhi's philosophy preached "Love for one and all: friend or foe".
Extraordinary believability can be seen with Gandhi through his underlying work and developments in South Africa so Indian culture would recognize what an incredible pioneer he was by utilizing his peaceful techniques to accomplish his objectives. He made it his arrangement to try to do he said others should do even to the little things like turning yarn to make his very own garments. According to (Gupta, 2008) "He made it his policy to practice what he preached, even to the small things like spinning yarn to make his own clothes.
He resorted to simple and poor living, just like millions in the country, hence people looked at Gandhi as one of their own, and they could see their own sufferings in him". While Steve Jobs according to (Gupta, 2008) "is known to be secretive and does not give too many interviews or public appearances, his strategy, though adds to an element of surprise and curiosity, also provides him the necessary credibility. People know from his past that he delivers on his promise and does not create a false smoke screen of distraction and deception". The two heads had faith the self – Mahatma Gandhi and Steve jobs had faith in themselves both trusted that they had an extraordinary duty.
Steve Jobs believed that it was his responsibility to grow the Apple Company through pioneering new products and services through constant innovation. In fact, his intense secrecy about products through their early stages of production clearly depicts his complete confidence in himself. Conventionally, companies invest in rigorous advertising during the production process of a new product so that by the time the finished product is ready for launch, there is already a committed market with full awareness of the features of the product and willingness to buy. However, Job's strategy was quite different; the public knew nothing of the Job's products until the official launching was instituted. He desired greatly the element of surprise and was confident that his launching tactics were more than enough to raise awareness and willingness to buy the product. (Isaacson, 2011)
Both were Great Tacticians: Mohandas Karamchand Gandhi and Steve Jobs were men of intense strategies and tactics and these strategies were well in sync with their beliefs and principles. Gandhi's main objective was to end the British Dictatorship and gain India's independence. However, his fervent belief in peace and nonviolence restrained him from leading an anarchic and chaotic revolution. Nevertheless, Britain succumbed to his demands through his tactics of organized massive civil disobedience.
This can be seen in his most famous protest called the Salt March. Against a British policy of taxing the use of salt for Indians, he organized a 388 km march to the sea at Dandi, Gujarat and make salt for himself. This campaign was extremely successful in upsetting the British and the government decided to negotiate with Gandhi. His peaceful resistance was the main weapon that leads him to victory. (Bibliography, 2019) Steve Jobs had some tactics too that realized his dreams of constant innovation and creativity. His perfectionism, belief in the element of surprise and balance between micromanagement and strategic direction helped him to achieve his objectives.
Gandhi's greatest failure, in fact, was his inability to dissuade India Muslims from creating a separate state, Pakistan. When independence finally arrived in 1947, after negotiations in which he was a principal participant, Gandhi opposed the partition of the subcontinent with great intensity. Ironically, he was assassinated in Delhi on 30 January 1948, by a Hindu fanatic who thought his anti-partition sentiment was both pro-Muslim and pro-Pakistan.
Steve was extremely emotional and saw things in black and white. He also, was a perfectionist, and this fact has certainly influenced the way he managed his company. Steve demanded that everything should be done perfectly. He believed that the product will be successful only in case if the customer sees it fully complete. Due to this fact, Steve would delay the releases of some products. Just as he says Apple would postpone the release date and work on the improvements, while other companies would compromise and let it be. That is one of the things would set Apple apart from most of the companies (Isaacson, 2011, 238).
First Apple computer Mac became extremely popular, even though it was released 16 months after the set date (Isaacson, 2011, 238). This is a perfect example that shows how Steve Jobs hated to compromise. He explained to everybody: "The computer is not ready until it appears on a shelf in the store" (Isaacson, 2011, 239). This rule was applied to all Apple products. Another thing worth saying about Steve is that he was controlling all the aspects of the business, starting from the top and going to the very tactic choices, as for example choosing music for the TV ad and the food served in Apple's cafeteria (Mclnerney,2011).
Another strong aspect of his way of leadership is the ability to choose the direction and leave aside all the minor details. Steve had the ability to choose what is important, set the priorities for the team. When he came back to Apple in 1997, the company was working on many different projects, among the first things he did, he stopped a few projects and narrowed down the focus to three products he saw as prospective ones (Isaacson, 2011, 501)
Steve jobs was a progressively tyrant pioneer in the workplace while Mahatma Gandhi was a servant leader in the political and profound condition. He utilized his strategies of gigantic common noncompliance to sort out a huge number of individuals in Indian to utilize non-participation peacefulness and tranquil obstruction as his "weapons" in the battle against the British. Occupations then again due to his fussbudget quality utilized a despot kind of administration style to get the best from his workers. he guaranteed that the representatives progressed in the direction of his vision which was to imagine a superior universe of improved administrations and items. (Isaacson, 2011, 375)
Mahatma Gandhi was not inspired by riches and material riches throughout everyday life. This could be found in the basic garments he wore. The way he spoke with the regular man and the way he carried on with his life. While Steve Jobs' main goal was to impress and capture the world with his services and products and at the same time lead a creative and innovative company in the prestigious position of CEO. (Gupta, 2008)
Mahatma Gandhi ardently exhibited and practiced love for all in accordance with his inspirational quote "Love for one and all, friend or foe". He had the capacity to channel open discontent into a positive component not with power but rather by affection; this attribute was constantly present in his initiative. Steve occupations exhibited no feelings towards his representatives; his solitary energy was to deliver the best item for the market and guarantee that his workers progress in the direction of his vision. Occupations were the sort of pioneer who focused exclusively on getting the task finished and presumably viewed the workers as an instrument in the fulfillment of the venture. He gave next to zero consideration to the individual lives or issues of his representatives. (Gupta, 2008)
In addition, Mahatma Gandhi was a great communicator; he was a great public speaker who was fearless and eloquent in convincing his followers of his objectives. Public awareness of his vision was imperative in achieving Gandhi's liberation; hence, he brilliantly utilized his journalistic skills to write various articles about his vision. On the other hand, Steve jobs seldom interacted with the public to product the originality, creativity and competitive advantage of his new products. He was noted, however, to give public speeches at the launching a new product which was the only time he interacted with the public. (Mclnerney, 2017)
In conclusion, Gandhi and Steve's jobs were both outstanding heroes in their own generation era. Both leaders possessed numerous qualities consistent with being exemplary individuals. They set many examples for several countries and companies to follow. They both had their own beliefs and dreams and they fought relentlessly to achieve them.
Gandhi triumphed despite all the impediments thrown in his path to instill failure. And the most celebrated part was that he did it with peace and non-violence. Leadership, simplicity, and bravery were the three most outstanding qualities in Gandhi. While Steve Jobs conquered the world by being a perfectionist and having a vivid imagination. His scrupulous attention to detail and his infinite imagination enabled him to create products of wonder that amazed and captured the market. He definitely was a man of inventions and creations.
Did you like this example?
4976
318