George Washington and the Revolutionary War
Exclusively available on PapersOwl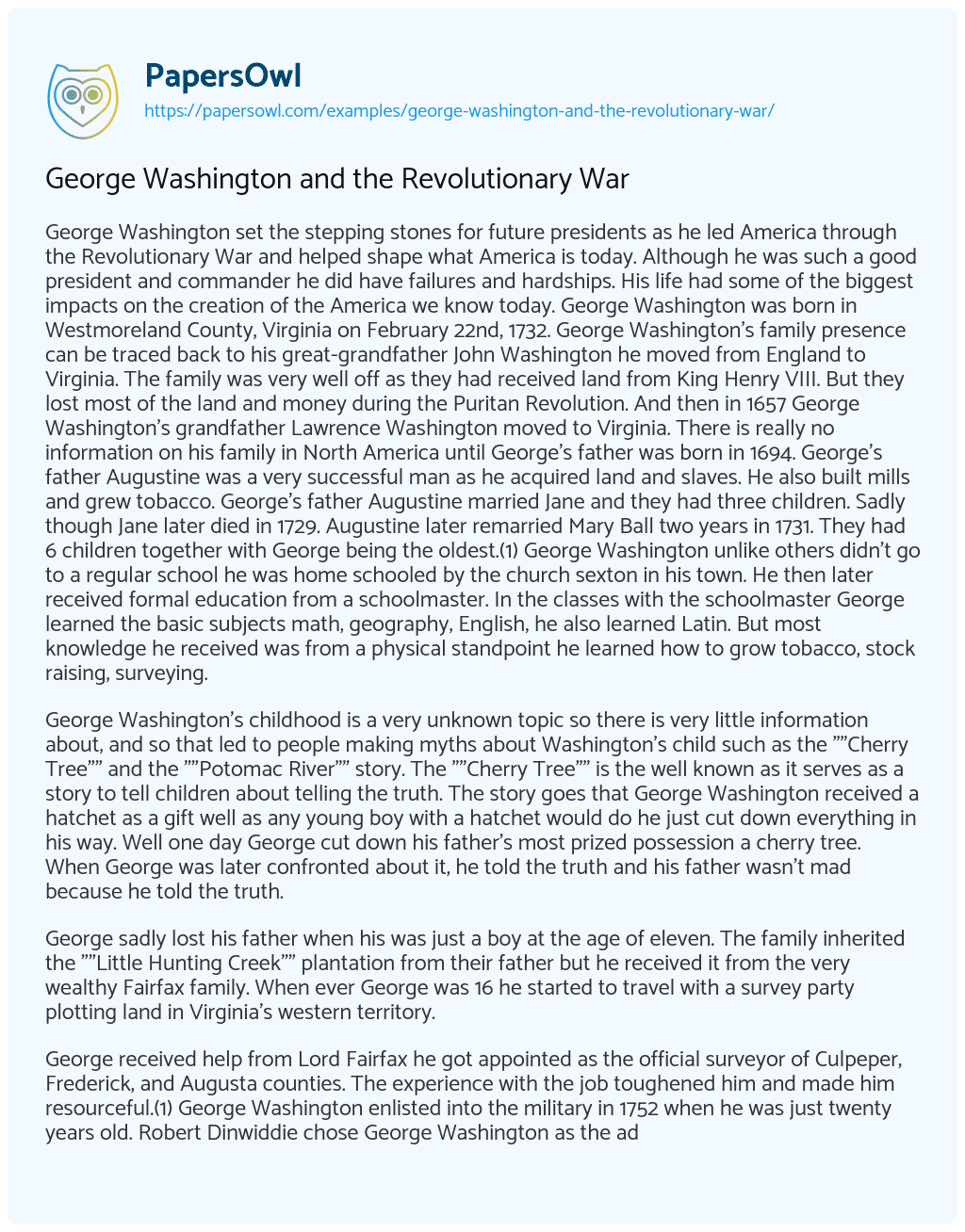 George Washington set the stepping stones for future presidents as he led America through the Revolutionary War and helped shape what America is today. Although he was such a good president and commander he did have failures and hardships. His life had some of the biggest impacts on the creation of the America we know today. George Washington was born in Westmoreland County, Virginia on February 22nd, 1732. George Washington's family presence can be traced back to his great-grandfather John Washington he moved from England to Virginia. The family was very well off as they had received land from King Henry VIII. But they lost most of the land and money during the Puritan Revolution. And then in 1657 George Washington's grandfather Lawrence Washington moved to Virginia. There is really no information on his family in North America until George's father was born in 1694. George's father Augustine was a very successful man as he acquired land and slaves. He also built mills and grew tobacco. George's father Augustine married Jane and they had three children. Sadly though Jane later died in 1729. Augustine later remarried Mary Ball two years in 1731. They had 6 children together with George being the oldest.(1) George Washington unlike others didn't go to a regular school he was home schooled by the church sexton in his town. He then later received formal education from a schoolmaster. In the classes with the schoolmaster George learned the basic subjects math, geography, English, he also learned Latin. But most knowledge he received was from a physical standpoint he learned how to grow tobacco, stock raising, surveying.
George Washington's childhood is a very unknown topic so there is very little information about, and so that led to people making myths about Washington's child such as the ""Cherry Tree"" and the ""Potomac River"" story. The ""Cherry Tree"" is the well known as it serves as a story to tell children about telling the truth. The story goes that George Washington received a hatchet as a gift well as any young boy with a hatchet would do he just cut down everything in his way. Well one day George cut down his father's most prized possession a cherry tree. When George was later confronted about it, he told the truth and his father wasn't mad because he told the truth.
George sadly lost his father when his was just a boy at the age of eleven. The family inherited the ""Little Hunting Creek"" plantation from their father but he received it from the very wealthy Fairfax family. When ever George was 16 he started to travel with a survey party plotting land in Virginia's western territory.
George received help from Lord Fairfax he got appointed as the official surveyor of Culpeper, Frederick, and Augusta counties. The experience with the job toughened him and made him resourceful.(1) George Washington enlisted into the military in 1752 when he was just twenty years old. Robert Dinwiddie chose George Washington as the adjutant of the southern district of Virginia at one hundred euros a year in November of 1752, the same year he enlisted. Just a year later he became the adjutant of the Northern Neck and Eastern Shore. In the same year Robert Dinwiddie decided it was vital to alert the French to refrain from the invasion on the ""Ohio Valley"" land owned by the crown. The messenger that Dinwiddie originally sent failed the job so he sent Washington instead. The day Washington heard the news about his new mission October 31st,1753 Washington immediately set out for the French posts. Even though this was his mission George Washington did not travel alone his ""crew"" consisted of a Dutchman who was their translator, a virtuoso scout Christopher Gist who served as a guide, and four others who were not known but 2 of them were said to be very experienced traders with the Indians. Hypothetically France and England were at peace but they were war impeded. The French were in a situation where they had to get out or be put out. (6) The mission was very tough and and extremely futile. George's ""crew"" departed from what now is Cumberland, Maryland in mid november. Despite the tough wilderness and very terrible weather they reached Fort LeBoeuf, which is now Waterland, Pennsylvania. The French commander respectfully declined the help Washington made a hasty ride back to Williamsburg, Virginia's colonial capital. Dinwiddie sent Washington back with troops and they set up a post at Great Meadows. Washington's small force attacked a French post at Fort Duquesne killing the commander, Coulon de Jumonville, and nine others and taking the rest prisoners. The French and Indian War had begun. (1) On June 19, 1775 George Washington was elected to lead the Continental Army through the Revolutionary War. The Second Continental Congress, meeting in Philadelphia, appoints Washington commander-in-chief of the Continental Army. He accepts, saying, ""I beg it may be remembered by every gentleman in the room, that I this day declare with the utmost sincerity, I do not think myself equal to the command I am honored with."" He asks for payment of expenses, but he will not take any pay.
Did you like this example?
1242
138