Why are Native American Women Missing and being Found Murdered?
Exclusively available on PapersOwl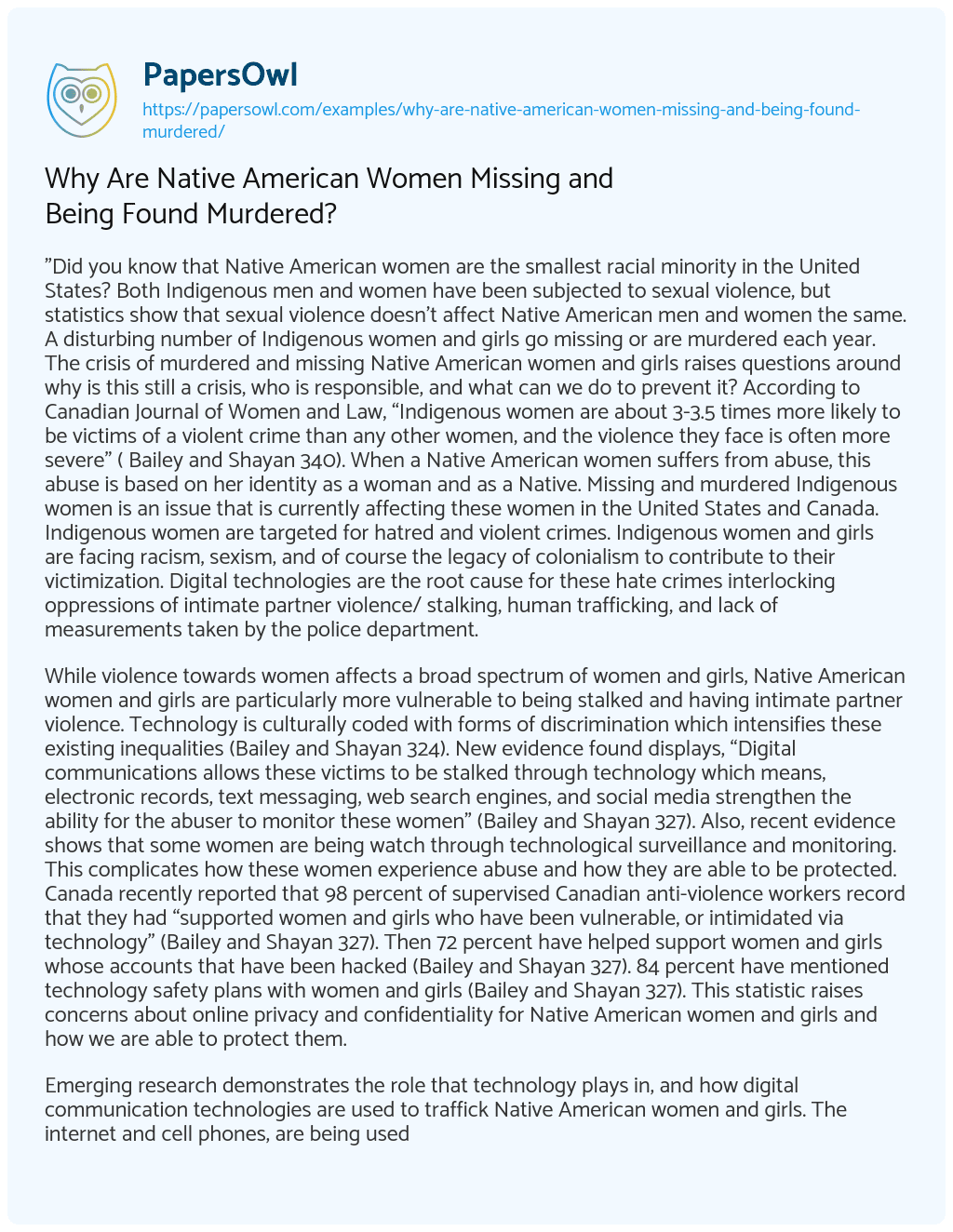 "Did you know that Native American women are the smallest racial minority in the United States? Both Indigenous men and women have been subjected to sexual violence, but statistics show that sexual violence doesn't affect Native American men and women the same. A disturbing number of Indigenous women and girls go missing or are murdered each year. The crisis of murdered and missing Native American women and girls raises questions around why is this still a crisis, who is responsible, and what can we do to prevent it? According to Canadian Journal of Women and Law, "Indigenous women are about 3-3.5 times more likely to be victims of a violent crime than any other women, and the violence they face is often more severe" ( Bailey and Shayan 340). When a Native American women suffers from abuse, this abuse is based on her identity as a woman and as a Native. Missing and murdered Indigenous women is an issue that is currently affecting these women in the United States and Canada. Indigenous women are targeted for hatred and violent crimes. Indigenous women and girls are facing racism, sexism, and of course the legacy of colonialism to contribute to their victimization. Digital technologies are the root cause for these hate crimes interlocking oppressions of intimate partner violence/ stalking, human trafficking, and lack of measurements taken by the police department.
While violence towards women affects a broad spectrum of women and girls, Native American women and girls are particularly more vulnerable to being stalked and having intimate partner violence. Technology is culturally coded with forms of discrimination which intensifies these existing inequalities (Bailey and Shayan 324). New evidence found displays, "Digital communications allows these victims to be stalked through technology which means, electronic records, text messaging, web search engines, and social media strengthen the ability for the abuser to monitor these women" (Bailey and Shayan 327). Also, recent evidence shows that some women are being watch through technological surveillance and monitoring. This complicates how these women experience abuse and how they are able to be protected. Canada recently reported that 98 percent of supervised Canadian anti-violence workers record that they had "supported women and girls who have been vulnerable, or intimidated via technology" (Bailey and Shayan 327). Then 72 percent have helped support women and girls whose accounts that have been hacked (Bailey and Shayan 327). 84 percent have mentioned technology safety plans with women and girls (Bailey and Shayan 327). This statistic raises concerns about online privacy and confidentiality for Native American women and girls and how we are able to protect them.
Emerging research demonstrates the role that technology plays in, and how digital communication technologies are used to traffick Native American women and girls. The internet and cell phones, are being used for human trafficking of young girls and women in numerous ways. One of the more popular ways traffickers use the internet is to recruit these girls promising them an amazing job in a big city. The traffickers goals is to remove the women or young girl from her family and community, making her more exposed to being trafficked (Bailey and Shayan 328). Traffickers have also used social media platforms like, Facebook and Craigslist to "advertise" trafficked youth. Obviously, technology is only one of the factors of Native American girls and women being vulnerable to human trafficking, but it's definitely the most crucial. Traffickers also track their victims recent activities through messages and the history of their phone log. What role are the internet providers playing, if any, or what actions should they be taking to address the crisis of human trafficking. International studies recorded, "that being young, female, poor, socially or culturally excluded, and undereducated, as well as coming from "dysfunctional" families and having experiences with state institutions such as child welfare system, increase vulnerability to being targeted by traffickers" (Bailey and Shayan 329).These are all examples of root causes and the states failure to the missing and murdered Native American women crisis itself.
The lack of implemented technology measures to improve policing and justice systems has also lead to the unresolved cases of missing and murdered Native American women and girls. Years later and authorities still struggle with taking action. Tina Fontaine's name has become widely known with the crisis of missing and murdered Native American women and girls. Her body was pulled out of the Red River on August 17th, 2014 (Palmater 225). She had reportedly called the 911 dispatcher, but they told her to report the call to another police department. If the 911 dispatcher would have addressed the situation correctly there is a chance that Tina Fontaine would still be alive today. The police use different types of technology to handle investigations. DNA collection programs and social media are the two main forms of technology used in the police force with the missing and murdered of Indigenous women and girls. Voluntary DNA collections help aid criminal investigations and may offer closure to hurting families, but it doesn't address the cause of these violent acts towards Native American women and girls. The targeted women or girl will provide their DNA and personal information to police teams and unmarked vans. These police officers try to build a bond with the women by offering water, support services, and information about their community (Bailey and Shayan 329). The social media platforms will hopefully draw awareness to unsolved cases and help locate missing women. This could also act as an alert to missing Native American women and girls that they are a priority and they are important.
Did you like this example?
7312
149