Globalization and Immigration in France the Fight against Terrorism
Exclusively available on PapersOwl
Over the past few decades, terrorism has been spreading at a rapid rate. From the tragic events of 9/11 resulting in 2,996 deaths to the 2016 Karrada bombings taking the lives of 341 people in Baghdad, terrorism and the factors that go into it are being globalized. Ekkart Zimmermann best describes the link between globalization and terrorism by saying, "international terrorism has increased through trade, mobility of people, and through the spreading of ideas (Zimmermann, 2011, pg. S153). The globalization of terrorism can best be defined as a domino effect of many factors with immigration being a main factor. According to Zimmermann, globalization increases mobility of refugees and the ability to find new financial assets and opportunities. These relationships make trafficking of weapons, humans, and money easier and more effective (Zimmermann, 2011, pg. S154). Through immigration, new minorities come through and create incentives for terrorism as well as polarization (See Appendix A). Terrorist groups, such as ISIS, tend to attack more vulnerable countries first as a way to establish a name for themselves or intimidate other countries as well as a network to carry out future plans. Schengen areas in the EU also play a massive role into citizens moving around those specific borders.
In the case of France, globalization and immigration have created a surge of terrorist attacks in the 21st century with the majority being 2015-present. In 2015 alone, there were 6 major terrorist attacks resulting in a total of 156 deaths, the highest amount of terrorist attack caused deaths in a year in French history. These attacks are inflicting fear and anxiety in French citizens. There has also been a higher rate of xenophobia in France due to the surge of recent terrorist attacks. The majority of individuals who carried out these attacks were French citizens. The Schengen Area of the European Union is a massive factor in the spreading of the globalization of terrorism and immigration. Citizens of the Schengen Area countries are free to go across borders freely while still having the opportunity to live and work anywhere in the European Union. Some people take these relaxed borders to their advantage and use them to smuggle weapons and even themselves.
Need a custom essay on the same topic?
Give us your paper requirements, choose a writer and we'll deliver the highest-quality essay!
Order now
Many efforts have been made to combat terrorism in France. Every year, the France Diplomatie releases a report every year stating what the policy goals are for the current year and the following years. One of their goals is to strike the terrorist groups at their source and investigate them. The overall goal is to reduce their numbers. As discussed earlier, many terrorist groups become involved with many networks as a way to pay/afford, find participants, smuggle, and market their diabolical plans. One of the main goals of France is to research all of these factors and to decrease this usage of networking among terrorist groups. Another goal is to prevent radicalization in France. By working with the European Union, France can have access to "arms trafficking measures, the establishment of new rules to prevent terrorist financing and money laundering, and the reinforcement of Europol (France Diplomatie). France also wants to protect the ideals of France and its allies and not let the attacks define who they are and what they are capable of. To better protect the country, France wants to solve some of these problems by increasing military action. They see terrorist "safe havens in places like Iraq and Syria as threatening to France and its allies. France is conducting efforts such as "Operation Chammal as a way to eliminate the strongholds of Iraq and Syria. In a New York Times article, the French government found out about French cement company, Lafarge, was financing terrorist groups. This shows that globalization can affect anyone, even on the homefront. The terrorist groups are spreading their ideas and convincing and manipulating companies all over the world to assist them.
An annual report sent by the Bureau of Counterterrorism and Countering Violent Extremism, a sector of the U.S. Embassy and Consulates in France, lay out different subjects regarding issues with immigration, terrorism, the financing of terrorism, and much more. They proposed utilizing legislation to regulate the amount of radicalism taking place in France as well as border security and amplified law enforcement. France also desires to seek international cooperation as a way to make peace with other countries and get assistance. They plan to set up a financial analysis team as well to tackle the financing of terrorist groups.
Globalization can take many forms. In regards to globalization and terrorism, "international terrorism has increased through trade, mobility of people, and through the spreading of ideas (Zimmermann, 2011, pg. S153). France is slowly becoming a target for terrorism. This is evident with the long string of terrorist attacks in this decade alone. It is necessary to realize and research the importance of globalization and immigration and how the factors included lead to terrorist attacks. France is making progress and thinking of goals to tackle this issue, but they still have a long way to go. The domino effect of globalization and terrorism is not only affecting France, but the rest of the world as well. What happens in France due to globalization will shake the rest of the world as well like a sticky web of networks.
Bibliography
Alderman, Liz. "French Cement Giant Lafarge Indicted on Terror Financing Charge in Syria. The New York Times, The New York Times, 28 June 2018.
Malsin, Jared. "Nice Attack: Why France Is a Major Target for ISIS. Time, Time, 15 July 2016, time.com/4407810/nice-attack-france-target-jihadists-terrorism/.
Ministre de l'Europe et des Affaires Lotrangeres. "France's International Action Against Terrorism. France Diplomatie :: Ministry for Europe and Foreign Affairs, https://www.diplomatie.gouv.fr/en/french-foreign-policy/defence-security/france-s-international-action-against-terrorism/
Pompeo, Michael R., and State. "2017 Country Report on Terrorism for France. U.S. Embassy & Consulates in France, 22 Sept. 2018, fr.usembassy.gov/2017-country-report-on-terrorism-for-france/
Watts, J. R. (2002). Immigration policy and the challenge of globalization: Unions and employers in unlikely alliance. Ithaca: Cornell University Press.
Zimmermann, E. (2011). Globalization and terrorism. European Journal of Political Economy, S152-S161.
Did you like this example?
1255
26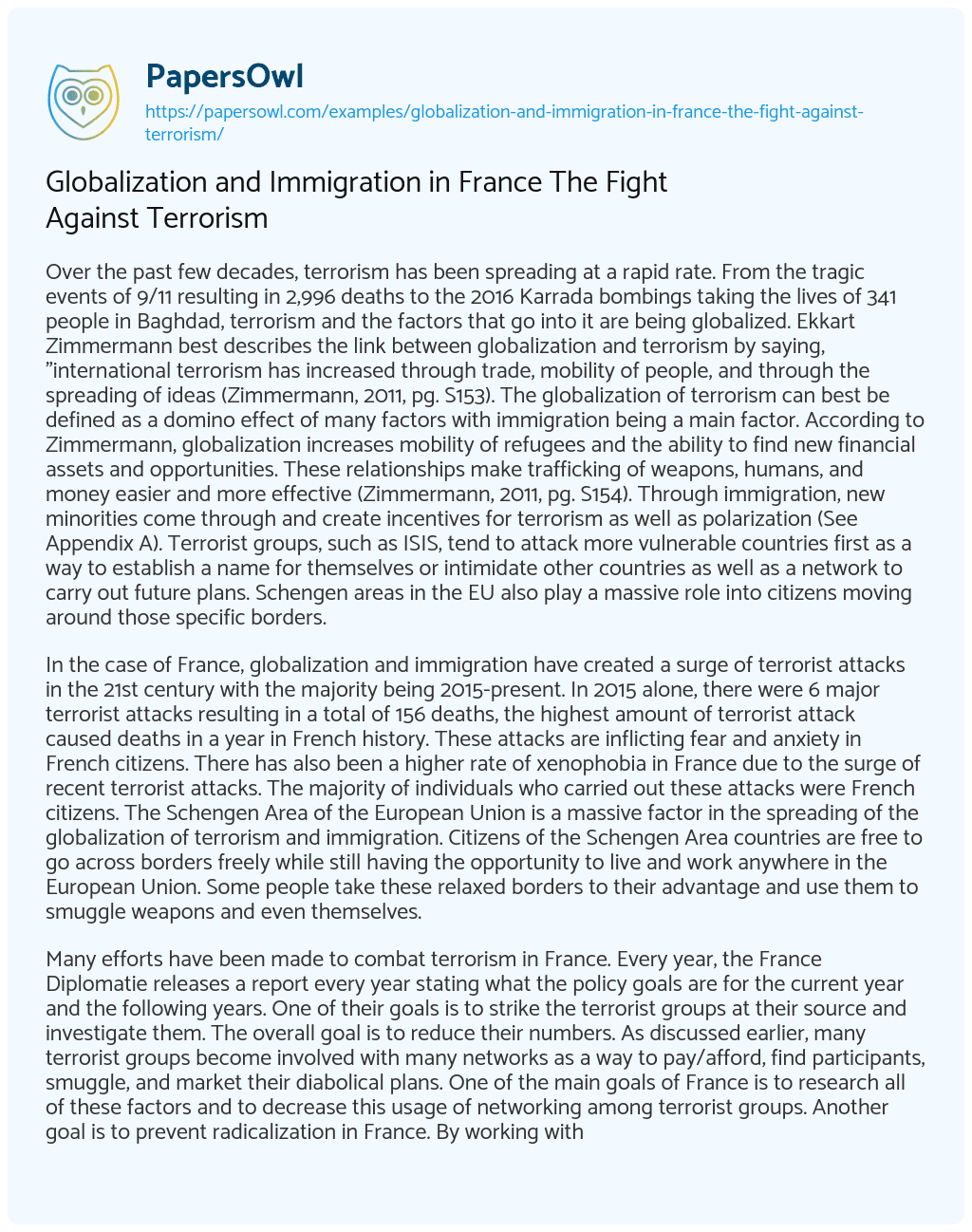 The deadline is too short to read someone else's essay
Hire a verified expert to write you a 100% Plagiarism-Free paper
Globalization and Immigration in France The Fight Against Terrorism. (2019, Jan 10). Retrieved from https://papersowl.com/examples/globalization-and-immigration-in-france-the-fight-against-terrorism/