Economics of Globalization
Exclusively available on PapersOwl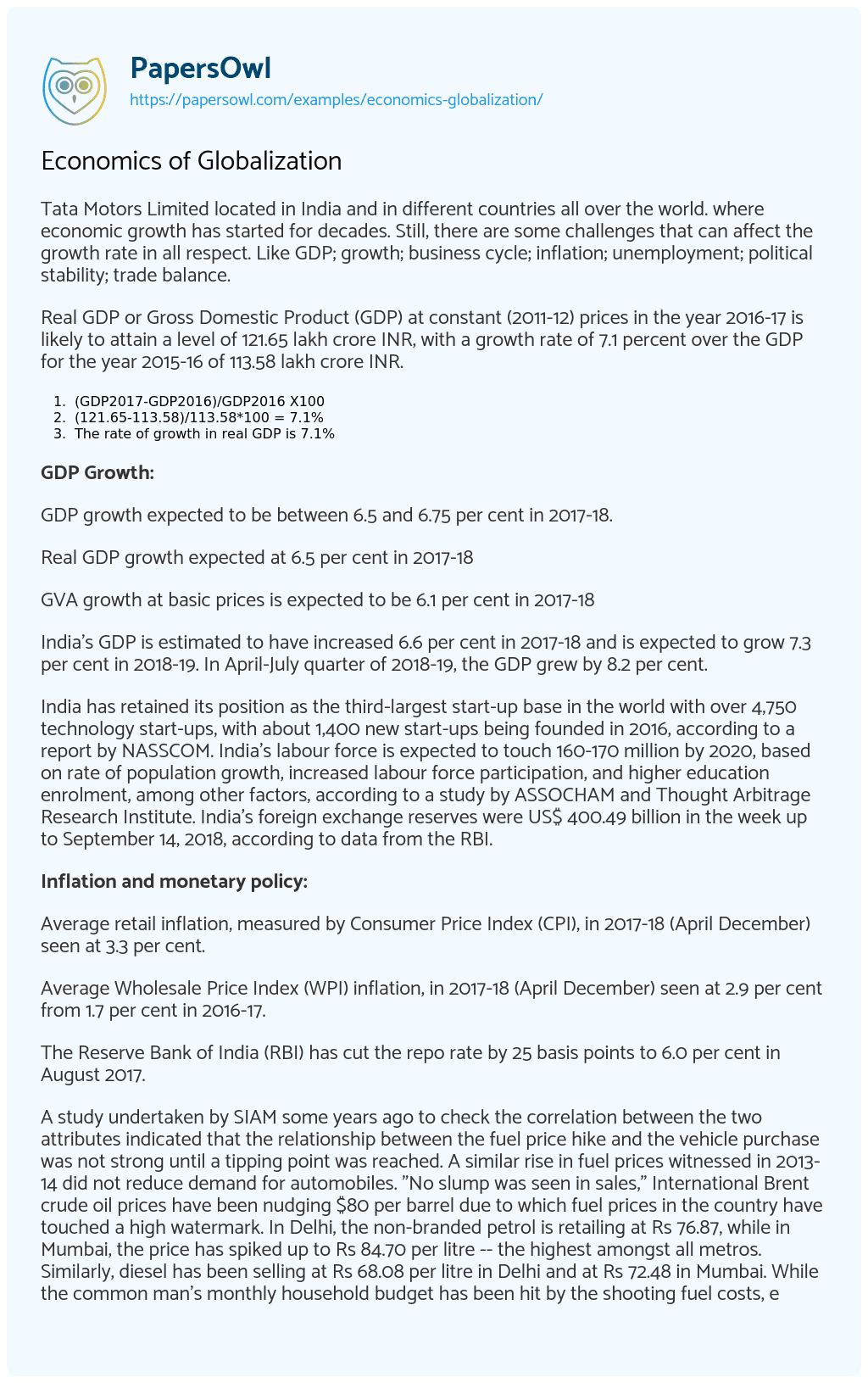 Tata Motors Limited located in India and in different countries all over the world. where economic growth has started for decades. Still, there are some challenges that can affect the growth rate in all respect. Like GDP; growth; business cycle; inflation; unemployment; political stability; trade balance.
Real GDP or Gross Domestic Product (GDP) at constant (2011-12) prices in the year 2016-17 is likely to attain a level of 121.65 lakh crore INR, with a growth rate of 7.1 percent over the GDP for the year 2015-16 of 113.58 lakh crore INR.
(GDP2017-GDP2016)/GDP2016 X100
(121.65-113.58)/113.58*100 = 7.1%
The rate of growth in real GDP is 7.1%
GDP Growth:
GDP growth expected to be between 6.5 and 6.75 per cent in 2017-18.
Real GDP growth expected at 6.5 per cent in 2017-18
GVA growth at basic prices is expected to be 6.1 per cent in 2017-18
India's GDP is estimated to have increased 6.6 per cent in 2017-18 and is expected to grow 7.3 per cent in 2018-19. In April-July quarter of 2018-19, the GDP grew by 8.2 per cent.
India has retained its position as the third-largest start-up base in the world with over 4,750 technology start-ups, with about 1,400 new start-ups being founded in 2016, according to a report by NASSCOM. India's labour force is expected to touch 160-170 million by 2020, based on rate of population growth, increased labour force participation, and higher education enrolment, among other factors, according to a study by ASSOCHAM and Thought Arbitrage Research Institute. India's foreign exchange reserves were US$ 400.49 billion in the week up to September 14, 2018, according to data from the RBI.
Inflation and monetary policy:
Average retail inflation, measured by Consumer Price Index (CPI), in 2017-18 (April December) seen at 3.3 per cent.
Average Wholesale Price Index (WPI) inflation, in 2017-18 (April December) seen at 2.9 per cent from 1.7 per cent in 2016-17.
The Reserve Bank of India (RBI) has cut the repo rate by 25 basis points to 6.0 per cent in August 2017.
A study undertaken by SIAM some years ago to check the correlation between the two attributes indicated that the relationship between the fuel price hike and the vehicle purchase was not strong until a tipping point was reached. A similar rise in fuel prices witnessed in 2013-14 did not reduce demand for automobiles. "No slump was seen in sales," International Brent crude oil prices have been nudging $80 per barrel due to which fuel prices in the country have touched a high watermark. In Delhi, the non-branded petrol is retailing at Rs 76.87, while in Mumbai, the price has spiked up to Rs 84.70 per litre — the highest amongst all metros. Similarly, diesel has been selling at Rs 68.08 per litre in Delhi and at Rs 72.48 in Mumbai. While the common man's monthly household budget has been hit by the shooting fuel costs, essential goods and services may soon see its rub off effect as freight charges rise in tandem.
Unemployment rate in India has shot up to a five-year high of 5 per cent in 2015-16, with the figure significantly higher at 8.7 per cent for women as compared to 4.3 per cent for men, says a report by Labour Bureau. The figures could be an alarm bell for BJP-ruled government at the Centre, which has taken a series of steps such as 'Make in India' to create jobs for inclusive growth in the country.
According to the fifth annual employment-unemployment survey at all-India level, about 77 per cent of the households were reported to be having no regular wage/salaried person. It said the unemployment rate was estimated to be 5 per cent at all-India level under the UPS (Usual Principal Status) approach. Unemployment rate was 4.9 per cent in 2013-14, 4.7 per cent (2012-13), 3.8 per cent (2011-12) and 9.3 per cent (2009-10). Labour Bureau did not bring out any such report for 2014-15. The survey was conducted across all states and union territories during April 2015 to December 2015. A total sample of 1,56,563 households were covered in the survey 88,783 households in the rural sector and 67,780 in the urban sector.
There are many affect in Indian economy due to political stability every factor is affected. Over the years there has been a steady liberalisation of the current account transactions, more and more sectors opened up for foreign direct investments and portfolio investments facilitating entry of foreign investors in telecom, roads, ports, airports, insurance and other major sectors. India has one of the world's fastest growing automobile industries. Shown here is the Tata motors make Nano, the world's cheapest car. Industry accounts for 28% of the GDP and employ 14% of the total workforce. However, about one-third of the industrial labour force is engaged in simple household manufacturing only. In absolute terms, India is 16th in the world in terms of nominal factory output.
India trade balance widened to USD 17.13 billion in October of 2018 from USD 14.6 billion a year earlier and higher than market expectations of USD 16.9 billion. Exports went up 17.9% to USD 26.98 billion. Sales rose for petroleum products (49.4%); chemicals (34%); drugs and pharmaceuticals (12.8%); engineering goods (8.9%); and gems and jewellery (5.5%). Imports increased 17.6% to USD 44.1 billion, boosted by purchases of petroleum and crude (52.6%); electronic goods (31.9%); chemicals (26.6%); machinery, electrical and non-electrical (12.5%); and coal, coke and briquettes (12.4%). Gold purchases declined 42.9 percent. From April to October, the country's trade gap increased sharply to USD 111.46 billion from USD 91.28 billion a year earlier. Balance of Trade in India averaged -2493.72 USD Million from 1957 until 2018, reaching an all-time high of 258.90 USD Million in March of 1977 and a record low of -20210.90 USD Million in October of 2012.
Did you like this example?
1646
143