Reducing Homelessness in the United States
Exclusively available on PapersOwl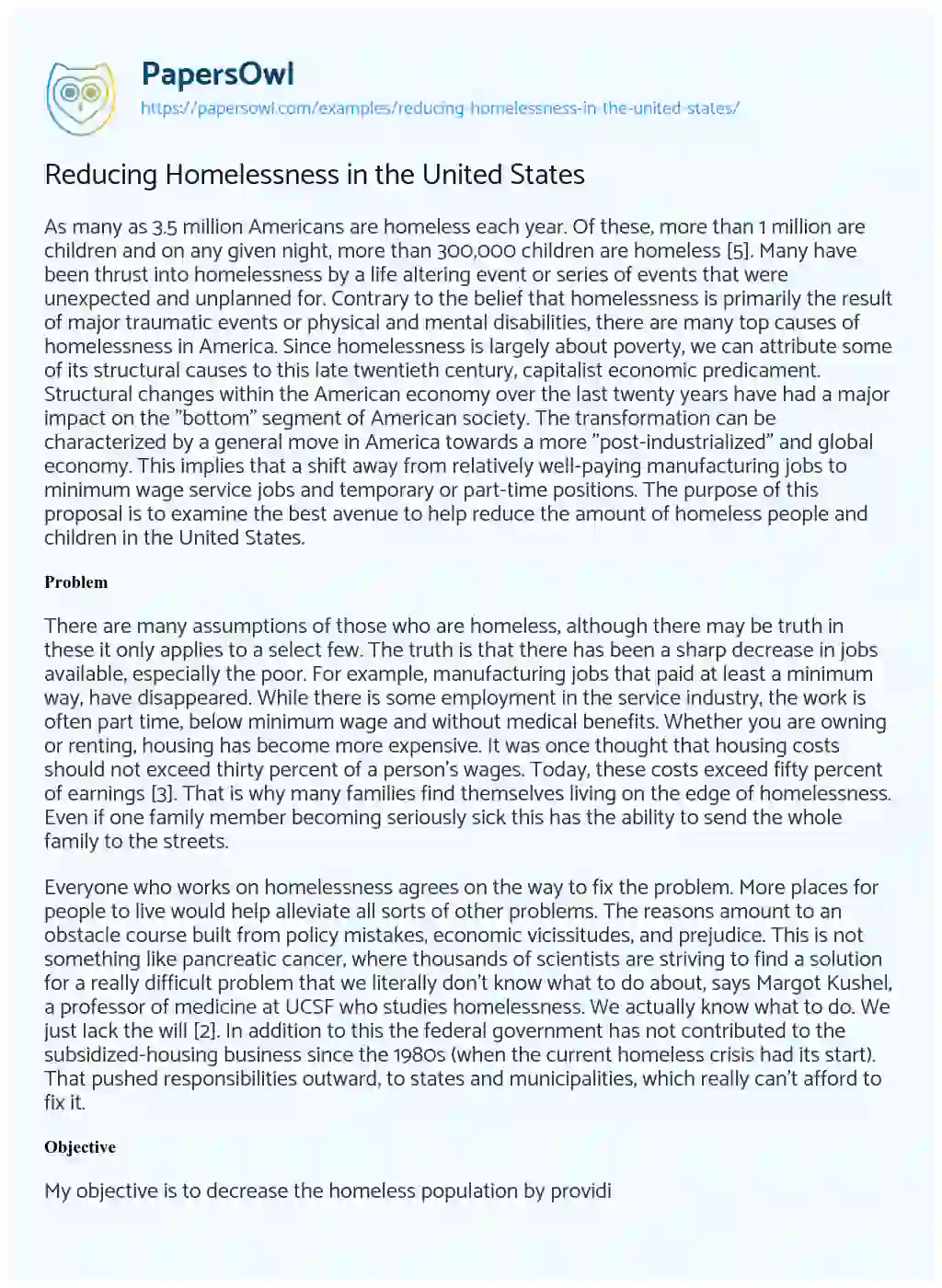 As many as 3.5 million Americans are homeless each year. Of these, more than 1 million are children and on any given night, more than 300,000 children are homeless [5]. Many have been thrust into homelessness by a life altering event or series of events that were unexpected and unplanned for. Contrary to the belief that homelessness is primarily the result of major traumatic events or physical and mental disabilities, there are many top causes of homelessness in America. Since homelessness is largely about poverty, we can attribute some of its structural causes to this late twentieth century, capitalist economic predicament. Structural changes within the American economy over the last twenty years have had a major impact on the "bottom" segment of American society. The transformation can be characterized by a general move in America towards a more "post-industrialized" and global economy. This implies that a shift away from relatively well-paying manufacturing jobs to minimum wage service jobs and temporary or part-time positions. The purpose of this proposal is to examine the best avenue to help reduce the amount of homeless people and children in the United States.
Problem
There are many assumptions of those who are homeless, although there may be truth in these it only applies to a select few. The truth is that there has been a sharp decrease in jobs available, especially the poor. For example, manufacturing jobs that paid at least a minimum way, have disappeared. While there is some employment in the service industry, the work is often part time, below minimum wage and without medical benefits. Whether you are owning or renting, housing has become more expensive. It was once thought that housing costs should not exceed thirty percent of a person's wages. Today, these costs exceed fifty percent of earnings [3]. That is why many families find themselves living on the edge of homelessness. Even if one family member becoming seriously sick this has the ability to send the whole family to the streets.
Need a custom essay on the same topic?
Give us your paper requirements, choose a writer and we'll deliver the highest-quality essay!
Order now
Everyone who works on homelessness agrees on the way to fix the problem. More places for people to live would help alleviate all sorts of other problems. The reasons amount to an obstacle course built from policy mistakes, economic vicissitudes, and prejudice. This is not something like pancreatic cancer, where thousands of scientists are striving to find a solution for a really difficult problem that we literally don't know what to do about, says Margot Kushel, a professor of medicine at UCSF who studies homelessness. We actually know what to do. We just lack the will [2]. In addition to this the federal government has not contributed to the subsidized-housing business since the 1980s (when the current homeless crisis had its start). That pushed responsibilities outward, to states and municipalities, which really can't afford to fix it.
Objective
My objective is to decrease the homeless population by providing housing that is subsidized to reflect the income its residence will be able to afford, no more than thirty percent of their income. In addition to that these homes should be located near opportunities for the residence to work. If needed jobs could be created for those residence with different skill levels and possibly lack of education. There will be a select number of homes provided that will have additional care for those with addiction problems or medical issues that need to be resolved before entering the workforce. Once inside these homes those people will be able to be helped. Also, to show how the causes of homelessness are mediated through different agencies as well as the media.
Background
The early 1980s marked the arrival of what now may be considered the modern era of homelessness. Some forces that changed the appearance of homelessness in the modern era include improvement of the inner city, deinstitutionalization of the mentally ill, high unemployment rate, the appearance of HIV/AIDS, an inadequate supply of affordable housing options, and deep budget cuts to the U.S. Department of Housing and Urban Development (HUD) and social service agencies in response to what was then the country's worst recession since the Great Depression [4]. In some cities, property values increased dramatically in the areas near downtown that government housing that were home to thousands of transients were demolished or converted into apartments and condominiums. Since the 1980s, rents in metro areas across the country have been increasing while wages have stagnated [4]. Recent research indicates that families experiencing homelessness are more likely to continue to face poverty and homelessness extending into the future. Figure 1 below demonstrates how the homeless population has risen since it began.
One of the main reasons homelessness as we know it exploded on the landscape in the early 1980s was that we slashed our investment in affordable housing. In 1970, there were 300,000 more affordable units than low-income renters (6.5 million units for 6.2 million renters). By 1985, demand had grown sharply, with 8.9 million low-income renter households. Supply of units had not only not kept pace, it had instead been gutted. By the mid-80s, there were only 5.6 million affordable housing units a gap of 3.3 million between units available and those who desperately needed them [1]. This was no accident. During the first year of Ronald Reagan's first term, he slashed federal funds for public housing and Section 8 by half.
Solution
To get these families off the street we must invest in housing, integrate them into society which means not putting all the housing in the same location, research shows that this only prolongs poverty. Homelessness is fundamentally defined by lack of housing, housing is the essential foundation to ending homelessness. Figure 2 shows an example of government housing, housing is safety and security. Housing provides a stable launchpad from which people can get and keep a job, address mental illness and substance use, take care of their health and nutrition, and find purposeful roles in the community. We have never recovered from disastrous public policy cut decisions. If we expect to end homelessness, we cannot merely divide the current resource pie differently, a strategy that inevitably pits one group against another (singles vs. families vs. youth vs. veterans). Such an approach also pits housing against shelter and housing against services. We need a massive national commitment both public and private to ensure affordable housing for all. Housing is a basic human right, without which people cannot lead stable, connected lives. If we expect to end homelessness, housing is the fundamental starting place.
Services, we all need these such as health care, childcare and transportation. But that is not all that is needed, case management, substance abuse treatment, and supported employment.
Housing alone cannot address the myriad complex challenges facing so many people living in poverty and experiencing homelessness. We must find a way to ensure that services are available, accessible, and affordable across the lifespan. With such comprehensive supports, how can we expect housing alone to end homelessness in a way that is sustainable. We must work to coordinate employment services with housing and homelessness assistance to ensure that job development and training strategies focus attention on people who are experiencing or most at risk of homelessness and support their long-term housing stability. We must review federal program policies, procedures, and regulations to identify educational, administrative, or regulatory mechanisms that could be used to improve access to work support. In order to provide these people with work that will enable them to be successful members of society despite the obstacles they have overcome. Identify ways Workforce Innovation and Opportunity Act (WIOA) and Temporary Assistance for Needy Families (TANF) programs can help people who are experiencing or most at risk of homelessness, including people with multiple barriers to employment.
Social inclusion is a major player in feeling successful in a community, it may feel great to have a roof over your head and a job to attend but with these barriers between communities all of that is lost. As a society we need to destigmatize these people who have already suffered so much, they are working hard just as we all are to provide the best life for themselves and their family.
Media
The way homeless is mediated in the media is a big problem in the homeless community, this has hurt them more than helped them. It is possible to argue that for most people, their beliefs on homelessness are mediated by depictions in the media through the internet, television, newspapers and magazines, movies and books. In many ways, our ideas about homelessness are actually shaped not by direct experience, but rather are influenced by media reports or the stories that our friends tell us. Think about it, what do we really know, and how do we learn about things like homelessness. Many of us will have friends who tell us they know someone who left home for this reason or for that reason, but such stories may not get to the bottom of why people actually leave home. This already puts these people at a disadvantage without them even getting the chance to defend themselves. And, when homelessness increases, it only becomes more visible. An occasional young person begging for money may draw curiosity or sympathy or may simply be ignored. Encountering panhandlers repeatedly during a walk downtown drives home the message that the number of people who are homeless is rising. This is when passersby take note; when business owners begin to complain, when politicians start to lead the charge, and when newspapers start spreading the story of a growing problem.
So, how was the problem reported? The presence of homeless youth on street corners asking passers-by for change or approaching people in their automobiles was framed as a public nuisance; a threat to public safety and the livelihood of downtown businesses and tourism. In some cases, the so-called perpetrators were framed not as poor, homeless and impoverished, but rather, as bored suburban kids who were delinquent. When public figures and the news media describe and portray people in this way, it can influence how all of us think about them. It can also shape how we think about homelessness, and in this case, street youth. It causes moral panic that is not necessary.
How we deal with the growing problem is shaped by our pre-existing understandings of poverty and homelessness, or they may cast them in a new light. Polite appeals for money may draw on our charitable impulses; our desire to help an individual in need at a time when we are becoming increasingly aware of this modern manifestation of poverty. However, difficult encounters may provoke a different kind of response. When the person asking for change is rude, imposes on our private space, or threatens violence, this gives us a whole other impression.
These single encounters may reinforce our prejudices. If we are repeatedly reminded that homeless panhandlers are thugs and criminals then how are we to respond when someone is rude to us? One difficult encounter with a homeless person, whether experienced directly or through the stories of others, may lead us to generalize this negative experience to all people who are homeless. But can we really say that one encounter, a person yelling at us, or appearing to be stoned allows us to assume that everyone in this situation is the same? No, that is how discrimination begins.
Agencies
There are many agencies that work to assist people who are struggling with homelessness, I found some information on an organization's website with insight as to why people are homeless. The results are much different than those in the media. Homelessness and poverty are linked. Poor people are frequently unable to pay for housing, food, childcare, health care, and education. Difficult choices must be made when limited resources cover only some of these necessities. Often the choice made is to eliminate housing, which absorbs an immense amount of one's income that must be dropped. If you are poor, you are essentially an illness, an accident, or a paycheck away from living on the streets. Some major factors are mental illness, addiction, lack of job opportunity and affordable health care. These agencies tend to mediate homelessness through the causes that lead to their unfortunate circumstances, but the media only focuses on the negative result that comes with homelessness.
Recommendation
By implementing the housing first solution, we will be able to successfully lower the homeless population and enable these people to be successful members of our society. There is no quick fix to all life situations, but a solid base provides the foundations upon which to improve the welfare of the homeless. The first step in change is the change in attitudes toward these people who are less fortunate. This situation should be taken care of as soon as possible as it affects many American lives. The building will take time but an attitude change and implementing a plan to help those in current house would be beneficial to everyone involved.
Sources
Kimura, Donna. Developers Reveal the Costs of Doing Business. Housingfinance.com, www.housingfinance.com/news/developers-reveal-the-costs-of-doingbusiness_o.
Rogers, Adam. Big Tech Isn't the Problem with Homelessness. It's All of Us. Wired, Conde Nast, 22 June 2018, www.wired.com/story/big-tech-isnt-the-problem-with-homelessness-its-all-of-us/.
Schwartz, Allan. Exploring the Issue Of Homelessness. Mental Help Early Childhood Cognitive Development Language Development Comments, www.mentalhelp.net/articles/exploring-the-issue-of-homelessness/.
Sciences, National Academies of, et al. The History of Homelessness in the United States. Current Neurology and Neuroscience Reports., U.S. National Library of Medicine, 11 July 2018, www.ncbi.nlm.nih.gov/books/NBK519584/.
Top Causes of Homelessness in America. HomeAid, www.homeaid.org/homeaid-
stories/69/top-causes-of-homelessness.
Did you like this example?
8623
550
The deadline is too short to read someone else's essay
Hire a verified expert to write you a 100% Plagiarism-Free paper
Reducing Homelessness in the United States. (2019, Aug 30). Retrieved from https://papersowl.com/examples/reducing-homelessness-in-the-united-states/