Barack Obama: his Life and Career
Exclusively available on PapersOwl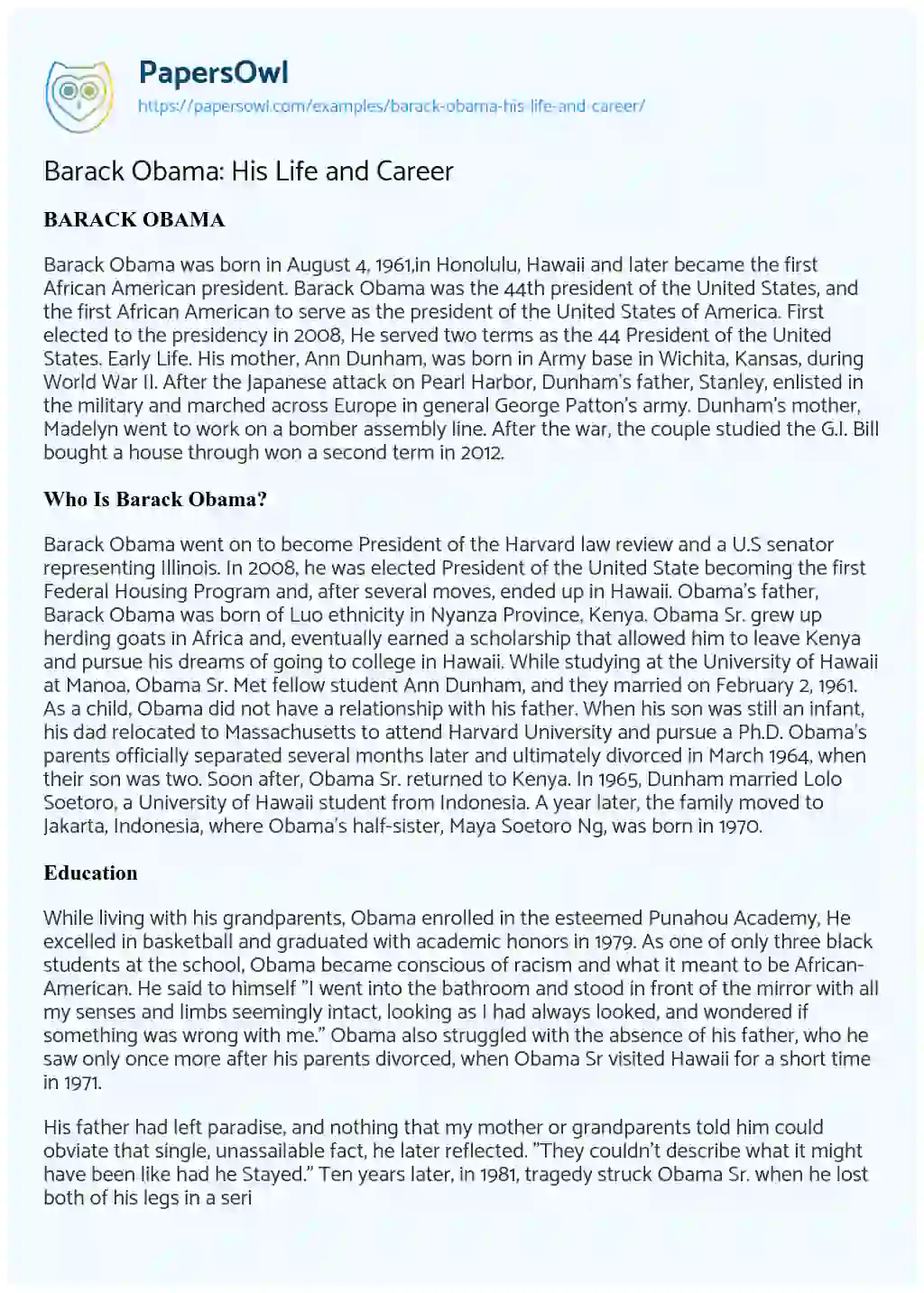 BARACK OBAMA
Barack Obama was born in August 4, 1961,in Honolulu, Hawaii and later became the first African American president. Barack Obama was the 44th president of the United States, and the first African American to serve as the president of the United States of America. First elected to the presidency in 2008, He served two terms as the 44 President of the United States. Early Life. His mother, Ann Dunham, was born in Army base in Wichita, Kansas, during World War II. After the Japanese attack on Pearl Harbor, Dunham's father, Stanley, enlisted in the military and marched across Europe in general George Patton's army. Dunham's mother, Madelyn went to work on a bomber assembly line. After the war, the couple studied the G.I. Bill bought a house through won a second term in 2012.
Who Is Barack Obama?
Barack Obama went on to become President of the Harvard law review and a U.S senator representing Illinois. In 2008, he was elected President of the United State becoming the first Federal Housing Program and, after several moves, ended up in Hawaii. Obama's father, Barack Obama was born of Luo ethnicity in Nyanza Province, Kenya. Obama Sr. grew up herding goats in Africa and, eventually earned a scholarship that allowed him to leave Kenya and pursue his dreams of going to college in Hawaii. While studying at the University of Hawaii at Manoa, Obama Sr. Met fellow student Ann Dunham, and they married on February 2, 1961. As a child, Obama did not have a relationship with his father. When his son was still an infant, his dad relocated to Massachusetts to attend Harvard University and pursue a Ph.D. Obama's parents officially separated several months later and ultimately divorced in March 1964, when their son was two. Soon after, Obama Sr. returned to Kenya. In 1965, Dunham married Lolo Soetoro, a University of Hawaii student from Indonesia. A year later, the family moved to Jakarta, Indonesia, where Obama's half-sister, Maya Soetoro Ng, was born in 1970.
Education
While living with his grandparents, Obama enrolled in the esteemed Punahou Academy, He excelled in basketball and graduated with academic honors in 1979. As one of only three black students at the school, Obama became conscious of racism and what it meant to be African-American. He said to himself "I went into the bathroom and stood in front of the mirror with all my senses and limbs seemingly intact, looking as I had always looked, and wondered if something was wrong with me." Obama also struggled with the absence of his father, who he saw only once more after his parents divorced, when Obama Sr visited Hawaii for a short time in 1971.
His father had left paradise, and nothing that my mother or grandparents told him could obviate that single, unassailable fact, he later reflected. "They couldn't describe what it might have been like had he Stayed." Ten years later, in 1981, tragedy struck Obama Sr. when he lost both of his legs in a serious car accident. Confined to a wheelchair, he also lost his job. In 1982, Obama Sr. was involved in yet another car accident while traveling in Nairobi. This time, however, the crash was fatal. Obama Sr. died on November 24, 1982, when Obama was 21 years old. "At the time of his death, my father remained a myth to me," Obama later wrote, "both more and less than a man. After high school, Obama studied at Occidental College in Los Angeles for two years. He then transferred to Columbia University in New York City, graduating in 1983 with a degree in political science. After working in the business sector for two years, Obama moved to Chicago in 1985. There, he worked on the impoverished South Side as a community organizer for low -income residents in the Roseland and the Altgeld Gardens communities.
Law Career
It was during this time that Obama, who said he "was not raised in a religious household," joined the Trinity United Church of Christ. He also visited relatives in Kenya, and paid an emotional visit to the graves of his biological father and paternal grandfather. "For a long time I sat between the two graves and wept," Obama wrote. Returning from Kenya with a sense of renewal, Obama enter Harvard Law School in 1988. The next year, he met with constitutional law professor Laurence Tribe and their discussion so impressed Tribe, that when Obama asked to join his team as a research assistant, the professor agreed. "The better he did at Harvard Law School and the more he impressed people, the more obvious it became that he could have had anything," said Professor Tribe in a 2012 interview with Frontline, "but it was clear that he wanted to make a difference to people, to communities."
That same year Obama joined the Chicago law firm of Sidley Austin as a summer associate and it was there he met Michelle Robinson, a young lawyer who was assigned to be his adviser. Not long after, the couple began dating. In February 1990, Obama was elected the first African-American editor of the Harvard Law Review. He graduated magna cum laude from Harvard Law in 1991.After law school, Obama returned to Chicago to practice as a civil rights lawyer with the firm of Miner, Barnhill & Galland. He also taught constitutional law part-time at the University of Chicago Law School between 1999 and 2004—first as a lecturer and then as a professor—and helped Organize voter registration drives wrote Bill Clinton presidential campaign. On October 3, 1992, he and Michelle were married. They moved to Kenwood, on Chicago's South Side, and welcomed two daughters several years later: Malia (born 1998) and Sasha (born 2001).
Domestic Policies and Problems
Obama found himself struggling on the domestic front in October 2013. A dispute over the federal budget and Republican desires to defund or derail the Affordable Care Act caused a 16-day shutdown of the federal government. After a deal had been reached to end the shutdown, Obama used his weekly address to express his frustration over the situation and his desire for political reform: "The way business is done in Washington has to change. Now that these clouds of crisis and uncertainty have lifted, we need to focus on what the majority of Americans sent us here to grow the economy, create good jobs, strengthen the middle class, lay the foundation for broad-based prosperity, and get our fiscal house in order for the Long haul". The Affordable Care Act continued to come under fire in October after the failed launch of HealthCare.gov, the website meant to allow people to find and purchase health insurance. Extra technical support was brought in to work on the troubled website, which was plagued with glitches for weeks.
The health care law was also blamed for some Americans losing their existing insurance policies, despite repeated assurances from Obama that such cancellations would not occur. According to the Chicago Tribune Obama insisted that the insurance companies—and not his legislation—caused the coverage change. "Remember, before the Affordable Care Act, these bad -apple insurers had free rein every single year to limit the car that you received, or used minor pre-existing conditions to jack up your premiums, or bill you into bankruptcy," he said Under mounting pressure, Obama found himself apologizing regarding some health care changes. In an interview with NBC News, he said of those who lost their insurance plans, "I am sorry that they are finding themselves in this situation based on the assurances they got from me." Obama pledged to find a remedy to this problem, saying, "We are going to do everything we can to deal with folks who find themselves in a tough position as a consequence of this."
Farewell Address
On January 10, 2017, President Obama returned to his adopted home city of Chicago to deliver his farewell address. In his speech, Obama spoke about his early days in Chicago and his continued faith in the power of Americans who participate in their democracy. "Now this is where I learned that change only happens when ordinary people get involved, and they get engaged, and they come together to demand it," he told the cheering crowd. "After eight years as your president, I still believe that. And it's not just my belief. It's the beating heart of our American idea our bold experiment in self-government." The president went on to address the accomplishments of his administration. "If I had told you eight years ago that America would reverse a great recession, reboot our auto industry, and unleash the longest stretch of job creation in our history — if I had told you that we would open up a new chapter with the Cuban people, shut down Iran's nuclear weapons program without firing a shot, take out the mastermind of 9-11 — if I had told you that we would win marriage equality and secure the right to health insurance for another 20 million of our fellow citizens — if I had told you all that, you might have said our sights were set a little too high," he said. "But that's what we did. That's what you did. You were the change. The answer to people's hopes and, because of you, by almost every measure, America is a better, stronger place than it was when we Started.
Obama also expressed his commitment to the peaceful transfer of power to President-Elect Donald Trump, and called on politicians and American citizens to come together despite their differences. "Understand, democracy does not require uniformity," he said. "Our founders quarreled and compromised and expected us to do the same. But they knew that democracy does require a basic sense of solidarity – the idea that for all our outward differences, we are all in this together; that we rise or fall as one." He also appealed for tolerance and to continue the fight against discrimination: "After my election, there was talk of a post-racial America," he said. "Such a vision, however well-intended, was never realistic. All of us have more work to do. After all, if every economic issue is framed as a struggle between a hardworking white middle class and undeserving minorities, then workers of all shades will be left fighting for scraps while the wealthy withdraw further into their private enclaves. "If we decline to invest in the children of immigrants, just because they don't look like us, we diminish the prospects of our own children – because those brown kids will represent a larger share of America's workforce," Obama continued. "Going forward, we must uphold laws against discrimination . . . But laws alone won't be enough. Hearts must change." Asking Americans to heed his advice: "You never really understand a person until you consider things from his point of view, until you climb into his skin and walk around in it". In a tearful moment, Obama addressed his wife, Michelle, and then spoke about being the proud father of his daughters, Malia and Sasha, and expressed his gratitude for Vice President Joe Biden.
Obama concluded his farewell address with a call to action: "My fellow Americans, it has been the honor of my life to serve you," he said. "I won't stop; in fact, I will be right there with you, as a citizen, for all my remaining days. But for now, whether you are young or whether you're young at heart, I do have one final ask of you as your president — the same thing I asked when you took a chance on me eight years ago. I am asking you to believe. Not in my ability to bring about change but in yours." On January 19, 2017, Obama's last full day in office, he announced 330 commutations for nonviolent drug offenders. The presidents granted a total of 1,715 clemencies, including commuting the sentence of Chelsea Manning. In his last days in the Oval Office, Obama also presented Vice President Joe Biden with the Presidential Medal of Freedom with distinction. He shared these parting words at his last press conference with the White House press corps. "I believe in this country," he said. "I believe in the American people. I believe that people are good than bad. I believe tragic think" happen. I think there's evil in the world, but I think at the end of the day, if we work hard and if we're true to those things in us that feel true and feel right, that the world gets a little better each time. That's what this presidency has tried to be about. And I see that in the young people I've worked with. I couldn't be prouder of them" "And so, this is not just matter of no drama Obama, this is what I really believe. It is true that behind closed doors, I curse more than I do publicly…and sometimes I get mad and frustrated like everybody else does, but at my core, I think we're going to be okay. We just have to fight for it, we have to work for it and not take it for granted and I know that you will help us do that. Barack Obama is well known and respected because he was the first African American President of America and because he also cared about people that he burst into tears for the murder of children.
Great President Barack Obama
Barack Obama was inspired first by his parents then his wife Michelle Obama which also inspired him in doing creative things and having god behaviors. Some of the people that worked with Barack Obama are Ken Salazar, James Jones Jr, Steven Chu, Reggie Love, Leon Panetta, George Mitchell, Susan Rice and so all. The most similar person to Barak Obama is John F Kennedy because they both did a lot of things together like they both inspired the international community and they both had young kids in the White house and it is not impossible to see some of the grace and style of Jacqueline in Michelle. They both got caught up in the foreign policy madness of their day. Barack Obama thought he could change the community and other things but he did until current President Donald Trump took over. PART 4. Barack Obama inspires me in many ways, he inspires me to love and care for everyone no matter what they do to you and also learn to forgive each other. Barack Obama also inspires other people not just me also to do nice things and not hurt other people and come together as one. One habit I have in Barack Obama is love and caring, I care about people even though they do what hurts my feelings. Three habits that I want to develop is to trust and believe in myself, be what I can or do what I can no matter what happens and lastly I will also be contented with what I have sometimes.
Did you like this example?
4991
319