Anti-Lesbian and Gay Hate Crime
Exclusively available on PapersOwl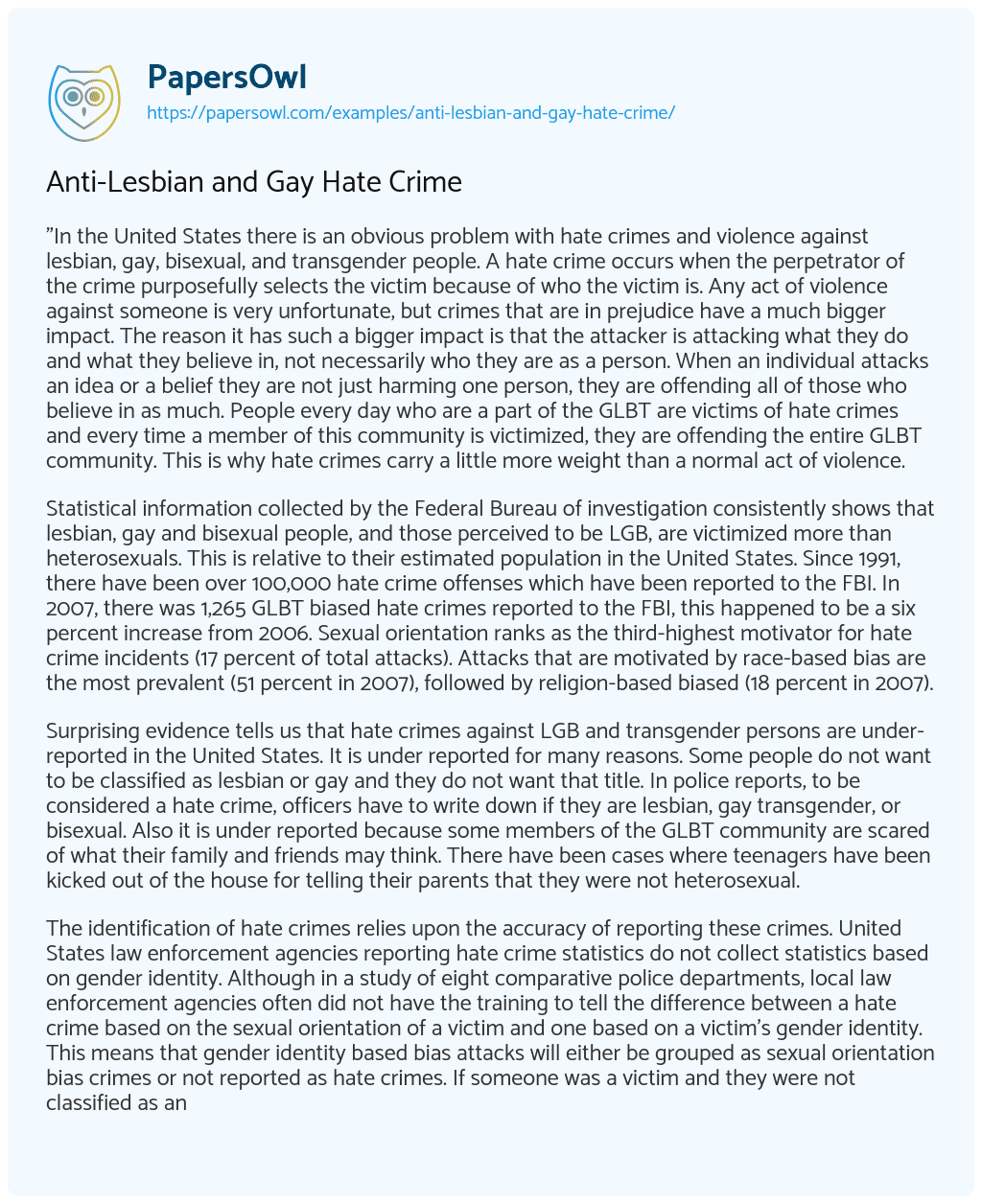 "In the United States there is an obvious problem with hate crimes and violence against lesbian, gay, bisexual, and transgender people. A hate crime occurs when the perpetrator of the crime purposefully selects the victim because of who the victim is. Any act of violence against someone is very unfortunate, but crimes that are in prejudice have a much bigger impact. The reason it has such a bigger impact is that the attacker is attacking what they do and what they believe in, not necessarily who they are as a person. When an individual attacks an idea or a belief they are not just harming one person, they are offending all of those who believe in as much. People every day who are a part of the GLBT are victims of hate crimes and every time a member of this community is victimized, they are offending the entire GLBT community. This is why hate crimes carry a little more weight than a normal act of violence.
Statistical information collected by the Federal Bureau of investigation consistently shows that lesbian, gay and bisexual people, and those perceived to be LGB, are victimized more than heterosexuals. This is relative to their estimated population in the United States. Since 1991, there have been over 100,000 hate crime offenses which have been reported to the FBI. In 2007, there was 1,265 GLBT biased hate crimes reported to the FBI, this happened to be a six percent increase from 2006. Sexual orientation ranks as the third-highest motivator for hate crime incidents (17 percent of total attacks). Attacks that are motivated by race-based bias are the most prevalent (51 percent in 2007), followed by religion-based biased (18 percent in 2007).
Surprising evidence tells us that hate crimes against LGB and transgender persons are under-reported in the United States. It is under reported for many reasons. Some people do not want to be classified as lesbian or gay and they do not want that title. In police reports, to be considered a hate crime, officers have to write down if they are lesbian, gay transgender, or bisexual. Also it is under reported because some members of the GLBT community are scared of what their family and friends may think. There have been cases where teenagers have been kicked out of the house for telling their parents that they were not heterosexual.
The identification of hate crimes relies upon the accuracy of reporting these crimes. United States law enforcement agencies reporting hate crime statistics do not collect statistics based on gender identity. Although in a study of eight comparative police departments, local law enforcement agencies often did not have the training to tell the difference between a hate crime based on the sexual orientation of a victim and one based on a victim's gender identity. This means that gender identity based bias attacks will either be grouped as sexual orientation bias crimes or not reported as hate crimes. If someone was a victim and they were not classified as an GLBT member, there would be no hate crime. A person has to be identified as gay, lesbian, bisexual, or transgender in order for the crime to become a hate crime.
Approximately there are more than half of GLBT people that are concerned about being the victim of a hate crime. Fifty-four percent of GLBT people say that this is a real fear. Of those that polled, 20 percent of gay men and 27 percent of lesbians are "extremely concerned." This contrasts with the feeling of most Americans. There is less than 1 in 10 people out of the general population (6 percent in 2007 and 7 percent in 2006) never worry about becoming the victim of a hate crime.
The LGB youth are sexually abused a lot more than the heterosexual youth. Sexual abuse done to young people is not a secret in the United States. It happens more often than it should. I personally know dozens of kids who were sexually assaulted. Sexually assaulted children have a hard time growing up knowing the things that have been done to them. It takes a toll on their life and not just being sexually abused but physical abuse as well. Sexual and physical abuse can occur at any time in one's life but it seems to be more prevalent during adolescence.
A study of five population based health surveys of high school students found that the prevalence of sexual abuse or forced intercourse for girls identifying as bisexual ranged from 24 to 40 percent, as lesbian it ranged from 18 to 43 percent and as heterosexual it ranged from 14 to 27 percent. For bisexual boys it ranged from 15 to 31 percent for gay boys it ranged from 17 and 31 percent and for heterosexual boys it ranged from 3 to 6 percent. What is extremely surprising is that the bisexual sexual abuse numbers were stunning. Bisexual boys were 10 times more likely to be sexually assaulted and the bisexual girls were at least twice as likely to report sexual abuse as their heterosexual peers of the same age. History tells us that sexual and physical traumas are highly predictable risk behaviors for adolescent risk behaviors. Such behaviors as substance abuse, suicide attempt and high risk sexual activities are the result.
The identity or race of sexual orientation-based perpetrators was unknown for 31 percent of the attacks in 2007. When race was known, whites were the main perpetrators in 46 percent of all attacks. Whites perpetrated hate crimes against gay males 47 percent of the time, against perceived homosexuals 47 percent of the time, against lesbians 39 percent of the time, against heterosexuals 33 percent of the time, and against bisexuals 26 percent of the time. African Americans were the next highest racial group perpetrating sexual orientation-motivated hate crimes at 18 percent. The reason white people's crimes are so high are because there are more white people than any race in the United States. African Americans are the next highest and they are considered a minority in the United States.
Religion is often criticized for not accepted the GLBT community. Not being heterosexual sometimes brings anger to orthodox Christians. A study of 159 heterosexual men exposed male to male sexual videos found a significant relationship between sexual prejudice and anger related cognitive network. The negative feelings that the men experienced had more to do with anxiety fear than anger or sadness. This was a very interesting experiment and having grown up in the south I see religious people not accepted the GLBT community even though everyone is welcomed at their church.
There is no question that the GLBT is under attack and has been ever since its existence. A study was conducted were 320 adults found that lesbian and gay victims were blamed for being attacked at a higher rate than heterosexuals. The blaming behavior is dependent on an observer's attitudes toward homosexuals as group. During this study it was found that the verbal slurs used during the LGB biased attacks were only increasing sympathy for lesbian victims. Gay men and those being attacked on the basis of race elicited no additional sympathy from observers when such negative epithets were used. These results were understandable because attitudes towards lesbians and gay men are related strongly to attitudes about women. The study also found that when lesbians and gays made eye contact or verbally responded to their attackers with a question, the victims were blamed more often for their attack than their heterosexual attacker. Observers blamed lesbian, gay and bisexual victims more when attacks occurred after public display of affection for their partner. To some people when the LBG shows public affection for their partner it is almost as if they are asking to be a victim of a hate crime.
I believe there are ways to stop hate crimes, and it starts with education. Most people are not aware that hate crimes exist. People may be aware of bullying but hate crimes are a different kind of bullying. In a study of 188 criminal justice programs, only 21 percent offered hate crime courses. In college, criminal justice courses come from three departmental classification: criminal justice only departments, combined criminal just departments (sharing courses with other social sciences, for example psychology) and there are non-criminal justice departments (such as women's studies and race\ethnic studies with coursework on the criminal justice system.) 21 percent of criminal justice only programs offered hate crimes courses, followed by 14 percent for combined courses and 7 percent for other departments. In order for hate crimes to be diminished there needs to be more programs that offer hate crime courses. Once the majority of people realize that there is a problem, many will try to fix it and if they are the ones committing the hate crimes, like verbal slurs, they would be aware and hopefully discontinue their erratic behavior.
Identifying hate crimes is difficult there is no doubt. With the lack of education and the possibility of bias in law enforcement officers, sexual orientation-motivated hate crimes are marked as high levels of violence and often have sexual components. Victims who have been attacked because of the prejudices sometimes may not want to report the whole truth to law enforcement. Whether that be because they are trying to protect themselves or they think they could be in some sort of trouble. In order for hate crime reporting to be successful and efficient, law enforcement must be seen as a credible ally towards the matter. At the moment it is not seen as a credible ally because of police bias and victims not coming forward and telling the whole truth. This develops trust issues between law enforcement and victims, when they need to be working on the same team. In order to build this trust there is something called a two-step decision process with additional steps following. The first step in this two-step decision process is a patrol officer applies a broad, inclusive definition of a bias crime and identifies even suspected bias-motivated crimes. The next step is a high trained experienced expert investigator in bias crime identification reviews the incident for accurate classification as a hate crime or not. Afterward the report gets sent to a supervisor and then the supervisor forwards it to bias crime designated detective for review. The bias crime detective finds the incident to be bias-motivated or not bias-motivated. Then the supervisor reviews the report for completeness and accuracy. Next the report is sent to the central records unit for computer entry, and a second accuracy check. Lastly, the crime analysis personnel aggregate the crime data for reporting to a state agency or to the FBI. This seems like a long process but with practice and execution this will work more efficiently.
Community-based anti-violence organizations are starting to become an extremely valuable resource for reporting sexual orientation-motivated hate crimes. The document the best practices for the systematic implementation of anti-violence projects in the GLBT community center around the United States. They also provide better accommodations for transgender people, people of color, and those whose English is their second language. Also they target women in particular because they are more prone to be victims of hate crime violence. The community-based anti-violence organizations want to improve criminal coursework on GLBT issues because frequently as graduates move into law enforcement they are unaware of such issues and could be better educated.
The organizations are pushing for the future, and the future program evaluation research should examine attitudinal shifts in criminal justice majors after taking sexual orientation related courses. Awareness to sexual orientation issues would improve the recognition of hate crimes, and the ability to respond appropriately to same-gender-domestic violence situations. Also, to incorporate transgender information into course content and sensitivity training for criminal justice students, law enforcement officers and anti-violence staff. The data on hate crimes that are aimed at transgender people are missing because we do not have enough evidence to support them. The transgender community is said to be the highest victimized group out of the GLBT. The lack of information under defines this problem and could possibly create a cycle that contributes to apathetic efforts for the prevention and data collection on hate crimes for the transgender community.
There are reasons to be cautious about expanding crime studies to generate new narratives about LGBT offending. Under the former criminal status quo, GLBT people were commonly stereotyped as "predators," "criminals," "sinners," and "psychopaths." Crime research that calls attention to the overrepresentation of GLBT people in the criminal justice system could fuel existing GLBT stereotypes or create new ones. These dangers show a need to be cautious and careful when considering GLBT identity in future research on offending. At the same time, broadening how we think about GLBT identity and criminal offending can provide a greater diversity of narratives that more accurately capture the experiences of LGBT offenders today. Those narratives can do important work to defeat stereotypes of GLBT people.
In 1989, Gregory Herek—a psychologist and prominent GLBT hate crime scholar—published an article that criticized the lack of scientific attention paid to anti-lesbian and gay hate crime, especially among psychologists. Herek advanced several arguments why psychologists should be concerned about anti-lesbian and gay hate crime, illustrating a lack of awareness in the field at that time that this topic was worthy of study. Answering this call for greater research, in 1989 the National Institute of Mental Health convened a two-day workshop that brought together clinicians, community workers, and researchers from a variety of disciplines to develop a research agenda for anti-lesbian and gay hate crime.
The workshop provided the impetus for the first special collection of published essays on anti-lesbian and gay hate crime. The essays touched on three key areas: (1) existing data and methodological issues involving the study of anti-lesbian and gay hate crime; (2) the circumstances under which this violence occurred; and (3) the psychological harms of this violence and the available services to assist victims with those harms. We need more of this in today's society because whether we like it or not the GLBT is not going away. We have to accept the fact that they are among us, and they have feelings like us. They feel pain and hurt as we do and to question their freedom is disrespect to their livelihood. Even though we may not agree with their life style we have to respect it and move on."
Did you like this example?
3254
444