About the Company Apple Inc.
Exclusively available on PapersOwl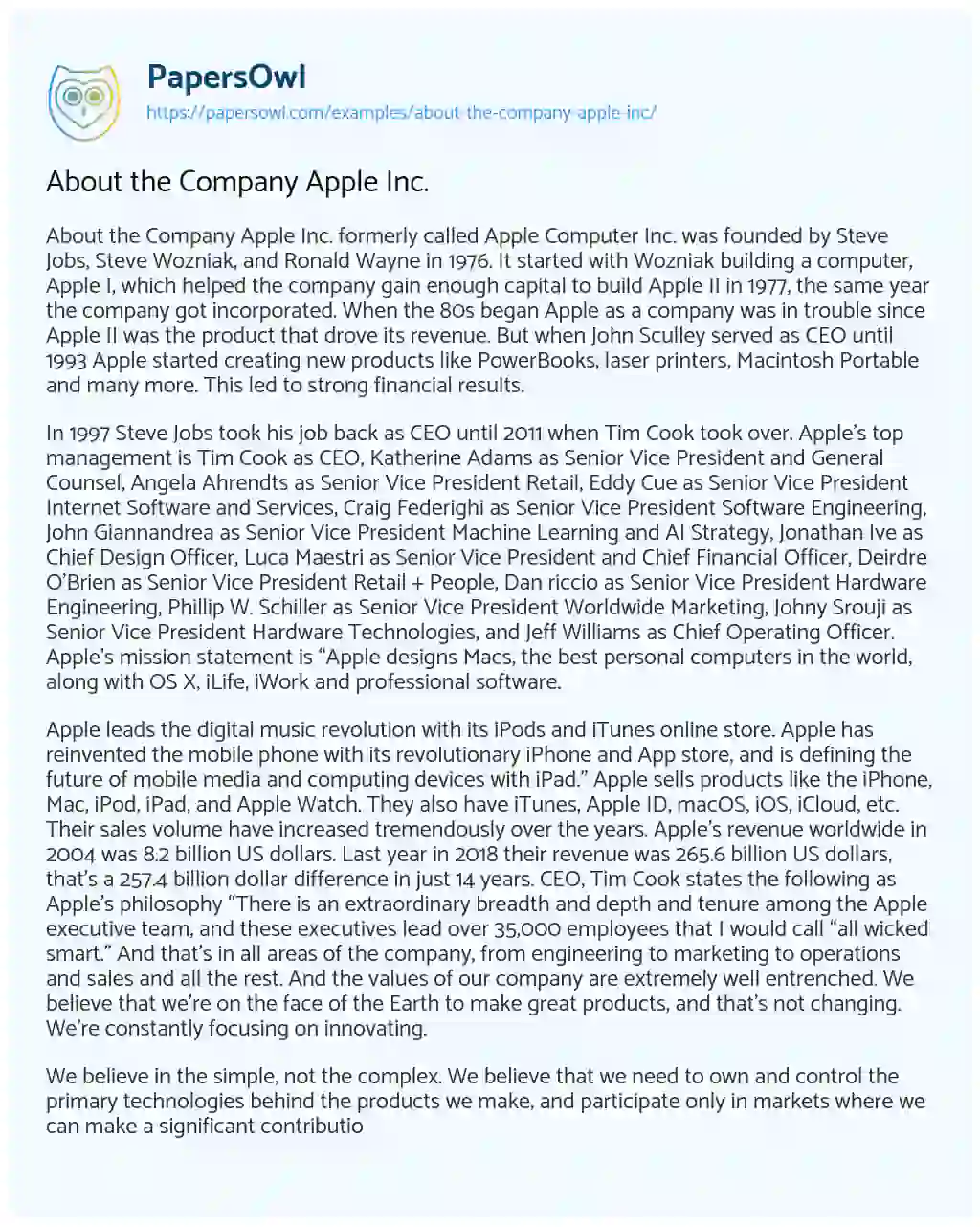 About the Company Apple Inc. formerly called Apple Computer Inc. was founded by Steve Jobs, Steve Wozniak, and Ronald Wayne in 1976. It started with Wozniak building a computer, Apple I, which helped the company gain enough capital to build Apple II in 1977, the same year the company got incorporated. When the 80s began Apple as a company was in trouble since Apple II was the product that drove its revenue. But when John Sculley served as CEO until 1993 Apple started creating new products like PowerBooks, laser printers, Macintosh Portable and many more. This led to strong financial results.
In 1997 Steve Jobs took his job back as CEO until 2011 when Tim Cook took over. Apple's top management is Tim Cook as CEO, Katherine Adams as Senior Vice President and General Counsel, Angela Ahrendts as Senior Vice President Retail, Eddy Cue as Senior Vice President Internet Software and Services, Craig Federighi as Senior Vice President Software Engineering, John Giannandrea as Senior Vice President Machine Learning and AI Strategy, Jonathan Ive as Chief Design Officer, Luca Maestri as Senior Vice President and Chief Financial Officer, Deirdre O'Brien as Senior Vice President Retail + People, Dan riccio as Senior Vice President Hardware Engineering, Phillip W. Schiller as Senior Vice President Worldwide Marketing, Johny Srouji as Senior Vice President Hardware Technologies, and Jeff Williams as Chief Operating Officer. Apple's mission statement is "Apple designs Macs, the best personal computers in the world, along with OS X, iLife, iWork and professional software.
Apple leads the digital music revolution with its iPods and iTunes online store. Apple has reinvented the mobile phone with its revolutionary iPhone and App store, and is defining the future of mobile media and computing devices with iPad." Apple sells products like the iPhone, Mac, iPod, iPad, and Apple Watch. They also have iTunes, Apple ID, macOS, iOS, iCloud, etc. Their sales volume have increased tremendously over the years. Apple's revenue worldwide in 2004 was 8.2 billion US dollars. Last year in 2018 their revenue was 265.6 billion US dollars, that's a 257.4 billion dollar difference in just 14 years. CEO, Tim Cook states the following as Apple's philosophy "There is an extraordinary breadth and depth and tenure among the Apple executive team, and these executives lead over 35,000 employees that I would call "all wicked smart." And that's in all areas of the company, from engineering to marketing to operations and sales and all the rest. And the values of our company are extremely well entrenched. We believe that we're on the face of the Earth to make great products, and that's not changing. We're constantly focusing on innovating.
We believe in the simple, not the complex. We believe that we need to own and control the primary technologies behind the products we make, and participate only in markets where we can make a significant contribution. We believe in saying no to thousands of projects so that we can really focus on the few that are truly important and meaningful to us. We believe in deep collaboration and cross-pollination of our groups, which allow us to innovate in a way that others cannot. And frankly, we don't settle for anything less than excellence in every group in the company, and we have the self-honesty to admit when we're wrong and the courage to change. And I think, regardless of who is in what job, those values are so embedded in this company that Apple will do extremely well." Company Culture and Organization Leadership Analysis Before being put into his position in the chain of command, present CEO Tim Cook was known as Apple's chief operating officer and was responsible for all of the company's worldwide sales and operations. As well as end-to-end management of Apple's supply chain, sales activities, and service and support in all markets and countries. He also headed Apple's Macintosh division and was a great factor in finding ways to continue improving re-seller and supplier relationships, making sure to have a flexible response to the consumer's wants or needs. Giving Tim cook a very well-established experience enabling him to conquer the task of CEO.
According to the article "What is Tim Cook's Managerial Style" (Investopedia), It is claimed that Cook is very charismatic and thoughtful towards Apple employees. With a Democratic approach with Apple, Tim Cook emphasizes the advancement of their already skilled arsenal of talent to work as one. Encouraging high-level employees to maintain a general agreement when making decisions. Cook focuses on existing products and continuing development within employee and business relationships. Although this style has been good on employees in making a more relaxed workplace, due to being able to work together as one, the fall back here is that there is now far less innovative drive and a much slower decision-making process.
Compared to former CEO Steve Jobs, there was a rigid delegation that had far more of an innovative drive than the present management style. This does not mean Tim Cook's business strategies have not been effective. With Apple stock raising high from $54 to $186 since founder Steve Job's unfortunate passing, it is very clear that Cook is the right leader for the job. Shareholders and stakeholders as well as benefit from his managerial style. Showing true care for his employees, doubling the companies worth, and giving more power to the employees has shown Tim Cook, using his charismatic and passionate approach, is the best fit for the job. A challenge awaiting Tim Cook is being one step ahead of the people, consumers don't know what they want, and Cook must have the ability to lead Apple in creating new and amazing ideas for their consumers. General SWOT Analysis Apple's strengths are that around the world they are iconic. Apple is a reliable brand with good technology and a sleek look. They have reusable parts in its products so that those parts can be used for new manufacturing. Their weakness is that their products are priced too high. Apple also isn't compatible with other software. Apple users in order to keep using their product have to strictly purchase Apple accessories and apps.
Opportunities for Apple as a company are the customers, for many years to come Apple's customers are just going to grow more and more. Along with that, their professional team of specialist are going to grow as well. Apple's threats are companies such as Microsoft, Google, and Samsung. With tough competition Apple needs to stay ahead of the game and come out with new technology. Topic Analysis Apple has a unique marketing strategy aiming to develop products that will attract a wider range of consumers. It is achieved by developing products that can be considered a business product as well as a consumer product, attracting business customers and entertainment customers (Ma Huimin, 2012). Entertainment consumer is attracted through the brand loyalty Apple has created, advertising premium products with high price ranged promising a high-quality product. Innovative designs attract the consumer's eye, changing the exterior of almost every product giving the product a high-quality appearance through modern slick exteriors, decreasing and increasing sizes to attract satisfy different tastes along with slimming each new product more. Business consumers satisfied through the hardware and software and meeting the consumer's core standards such as compatible systems and high security (Katherine Johnson, 2012).
The technology industry has many competitors and the technological progress has provided cheaper and faster products every year, also has expanded market segments as new products are created each year. For Apple to maintain survival in such a competitive industry it needs to impress its consumers with products that stand out and are different. The company strongly believes in continuous investment in research and development is crucial for survival. In 2007, Apple changed the smartphone experience by introducing the first iPhone, the first touchscreen phone Apple has also modified existing products with the introduction of the iPod roughly 10 years after the first portable music player was released (Katherine Johnson, 2012). Apple tablets are top in customer satisfaction by successfully having a combination of products and services through the App Store and iTunes, giving the consumers a range of new experiences while utilizing Apple products is a key component for consumers when deciding a purchase against its strong competitor the Kindle fire (Ma Huimin, 2012). An additional strategy the company uses to satisfy consumers is post- sales support services, allowing the consumer to fix and inquire about their newly purchased item ensuring the best customer service possible through Apple Support.
Inevitably Apple also experienced some failures, often due to a lack of tests ran prior to a release. When Tom Cook, Apple CEO, made the iPhone 5 he decided to make the new iPhone available to 22 countries after a week of its release. This led to a failure in customer service having the product arrive to the consumer with scratches, screen malfunctions, making the iPhone 5 one of the worst Apple experiences (Katherine Johnson, 2012).
Apple promotes its products as high quality promising differentiated products including highly secured operating systems that are not subject to virus as supposed to its competitor Microsoft, along with innovative designs that are superior to its rivals catching its consumers eyes through its' high scale appeal with high quality material such as aluminum (Katherine Johnson, 2012). This ensures consumers the high prices will be worth the purchase through the company's reputation and consumer loyalty it has created. Consumers are eager to see what Apple comes up with next as the company surprises the consumer every time with its innovative creations. Apple takes advantage of the reputation it has created and the consumer's eagerness by using the price skimming pricing strategy. Price skimming is referred to as a strategy imposed by a company consisting of high initial prices. Apple utilized this strategy for the introducing of the iPad in 2010, since the research and development cost of such an innovative product most of been high followed by the cost to introduce the product to the market through promotions and advertisements, the price skimming strategy gives Apple a high percentage of the return during the first stages of the product. Followed by maintaining the company's image of luxury products and giving Apple the flexibility to lower its prices once the competition threatens (Ma Huimin, 2012).
Another pricing strategy Apple utilizes is the Odd Number Pricing strategy which consists of a psychological strategy that consumers respond more positively to prices with odd numbers, typically 9 or 5. Tim Crook made a strong marketing claim that the new iPhone X "Is the biggest leap forward since the original iPhone". Setting a premium price affirms that although it is going to cost a lot it will be worth it. It is believed Apple should have proudly set the iPhone X price to $1,000 as suppose to $999 since a price ending in 9 it is coded to be cheaper going against Crooks original claim (Mohammed, 2017). The large price gap in-between the iPhone 8 ($699) and the iPhone X ($999) set the consumers' expectations very high for their premium item by taking the risk of setting the price at a dangerous four-digit zone. An Apple Analyst, Gene Munster, has predicted that 30%- 40% of loyal customers are willing to pay the $999 for the iPhone X (Mohammed, 2017).
Did you like this example?
2596
53