The Legalization of Physician Assisted Suicide or Euthanasia
Exclusively available on PapersOwl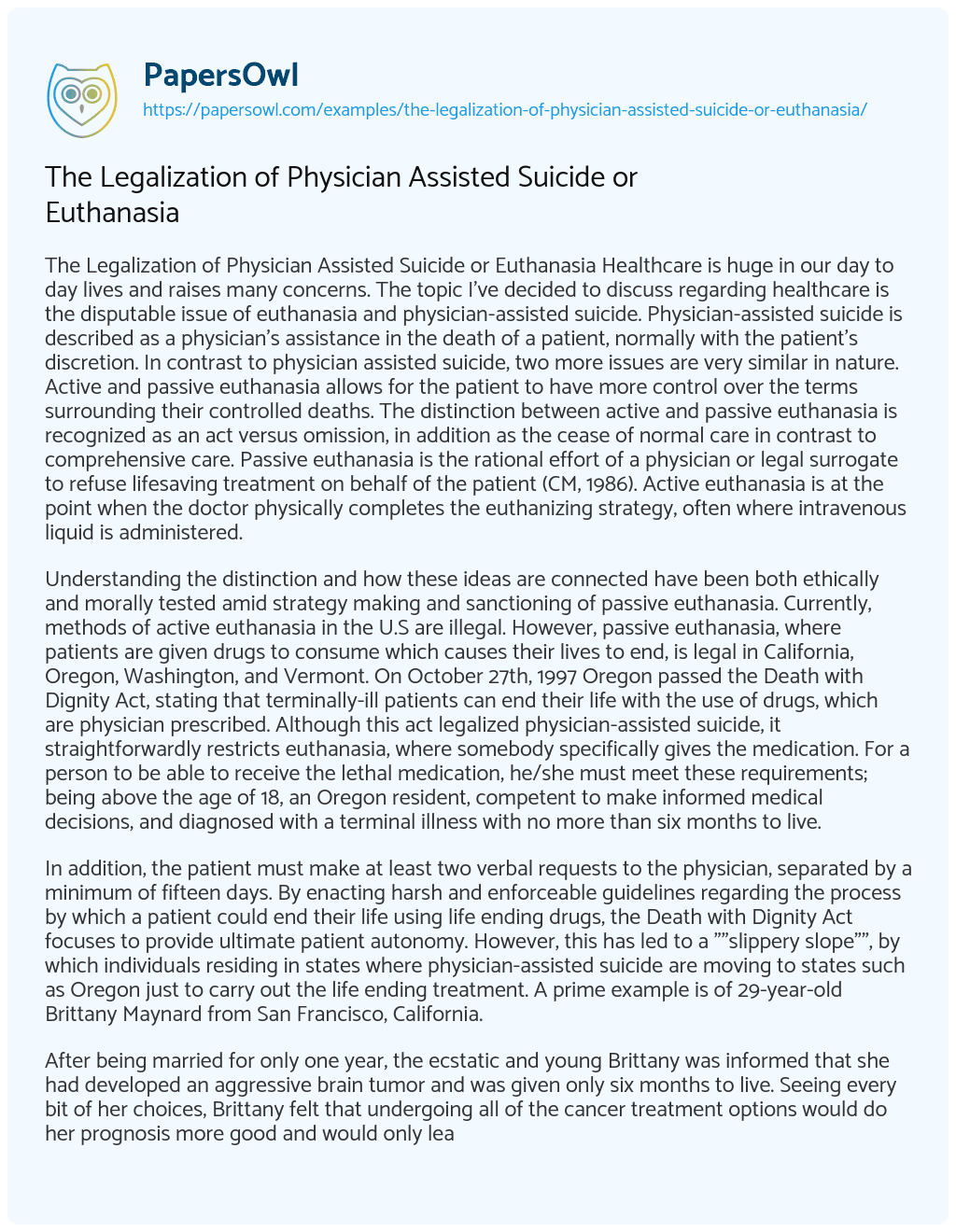 The Legalization of Physician Assisted Suicide or Euthanasia Healthcare is huge in our day to day lives and raises many concerns. The topic I've decided to discuss regarding healthcare is the disputable issue of euthanasia and physician-assisted suicide. Physician-assisted suicide is described as a physician's assistance in the death of a patient, normally with the patient's discretion. In contrast to physician assisted suicide, two more issues are very similar in nature. Active and passive euthanasia allows for the patient to have more control over the terms surrounding their controlled deaths. The distinction between active and passive euthanasia is recognized as an act versus omission, in addition as the cease of normal care in contrast to comprehensive care. Passive euthanasia is the rational effort of a physician or legal surrogate to refuse lifesaving treatment on behalf of the patient (CM, 1986). Active euthanasia is at the point when the doctor physically completes the euthanizing strategy, often where intravenous liquid is administered.
Understanding the distinction and how these ideas are connected have been both ethically and morally tested amid strategy making and sanctioning of passive euthanasia. Currently, methods of active euthanasia in the U.S are illegal. However, passive euthanasia, where patients are given drugs to consume which causes their lives to end, is legal in California, Oregon, Washington, and Vermont. On October 27th, 1997 Oregon passed the Death with Dignity Act, stating that terminally-ill patients can end their life with the use of drugs, which are physician prescribed. Although this act legalized physician-assisted suicide, it straightforwardly restricts euthanasia, where somebody specifically gives the medication. For a person to be able to receive the lethal medication, he/she must meet these requirements; being above the age of 18, an Oregon resident, competent to make informed medical decisions, and diagnosed with a terminal illness with no more than six months to live.
In addition, the patient must make at least two verbal requests to the physician, separated by a minimum of fifteen days. By enacting harsh and enforceable guidelines regarding the process by which a patient could end their life using life ending drugs, the Death with Dignity Act focuses to provide ultimate patient autonomy. However, this has led to a ""slippery slope"", by which individuals residing in states where physician-assisted suicide are moving to states such as Oregon just to carry out the life ending treatment. A prime example is of 29-year-old Brittany Maynard from San Francisco, California.
After being married for only one year, the ecstatic and young Brittany was informed that she had developed an aggressive brain tumor and was given only six months to live. Seeing every bit of her choices, Brittany felt that undergoing all of the cancer treatment options would do her prognosis more good and would only leave her to live out her days in suffering as her family watched. She then learned of Oregon's Death with Dignity law and uprooted and moved to Oregon where she later passed away in her home, surrounded by loved ones. Brittany Maynard's case of physician-assisted suicide has been used as a precedent for advocates of the legalization of euthanasia, however, many opponents of the idea believe that limitations placed on legalized euthanasia would eventually erode (Sulmasy, 2016). A good example of euthanasia if of people with mental and cognitive disorders, which include dementia and schizophrenia. Currently, in Belgium, such procedures are being carried out for patients dealing with depressions. In 2002, Belgium sanctioned euthanasia for patients managing untreatable or painful therapeutic conditions including mental conditions, which might be terminal.
As of 2015, 124 people out of the 3,950 euthanasia cases in Belgium, involved patients dealing with mental disorders. In addition, almost 21% of the total euthanasia patients were suffering from non-terminal illness, in which physicians actively administered life ending medications (Lane & Lane, 2016). Moreover, a significant number of the patients included, were patients youthful, still in their thirties. The legalization of euthanasia over the broad U.S could be useful to the individuals who confront a strangely low personal satisfaction because of a terminal ailment or deplorable agony causing illness. However, unless strictly regulated and defined, such a policy would lead to the abuse of such life ending treatments (Jaret, 2016). Furthermore, moral and ethical reasons need to be considered so that the autonomy of such patients are accomplished without lessening the privileges of doctor's or wellbeing experts in charge of giving the technique, because of religious or social convictions.
Bibliography
Lane, C., & Lane, C. (2016). Europe's morality crisis: Euthanizing the mentally ill. Washington Post. Retrieved 13 October 2018, from https://www.washingtonpost.com/opinions/europes-morality-crisis-euthanizing-the-mentally-ill/2016/10/19/c75faaca-961c-11e6-bc79-af1cd3d2984b_story.html?utm_term=.17e17c3a81cc
Sulmasy, D. (2016). Non-faith-based arguments against physician-assisted suicide and euthanasia. US National Library of Medicine National Institutes of Health. Retrieved 13 October 2018, from https://www.ncbi.nlm.nih.gov/pmc/articles/PMC5102187/
Maynard, B. (2014). My right to death with dignity at 29. CNN. Retrieved 12 October 2018, from http://www.cnn.com/2014/10/07/opinion/maynard-assisted-suicide-cancer-dignity/index.html
CM, G. (1986). Distinguishing between active and passive euthanasia. – PubMed – NCBI. Ncbi.nlm.nih.gov. Retrieved 14 October 2018, from https://www.ncbi.nlm.nih.gov/pubmed/3082503
Jaret, P. (2016). Is Physician-Assisted Suicide Ethical?. berkeleywellness. Retrieved 10 October 2018, from http://www.berkeleywellness.com/healthy-community/health-care-policy/article/physician-assisted-suicide-ethical
Did you like this example?
6374
869