Physician Assisted Suicide
Exclusively available on PapersOwl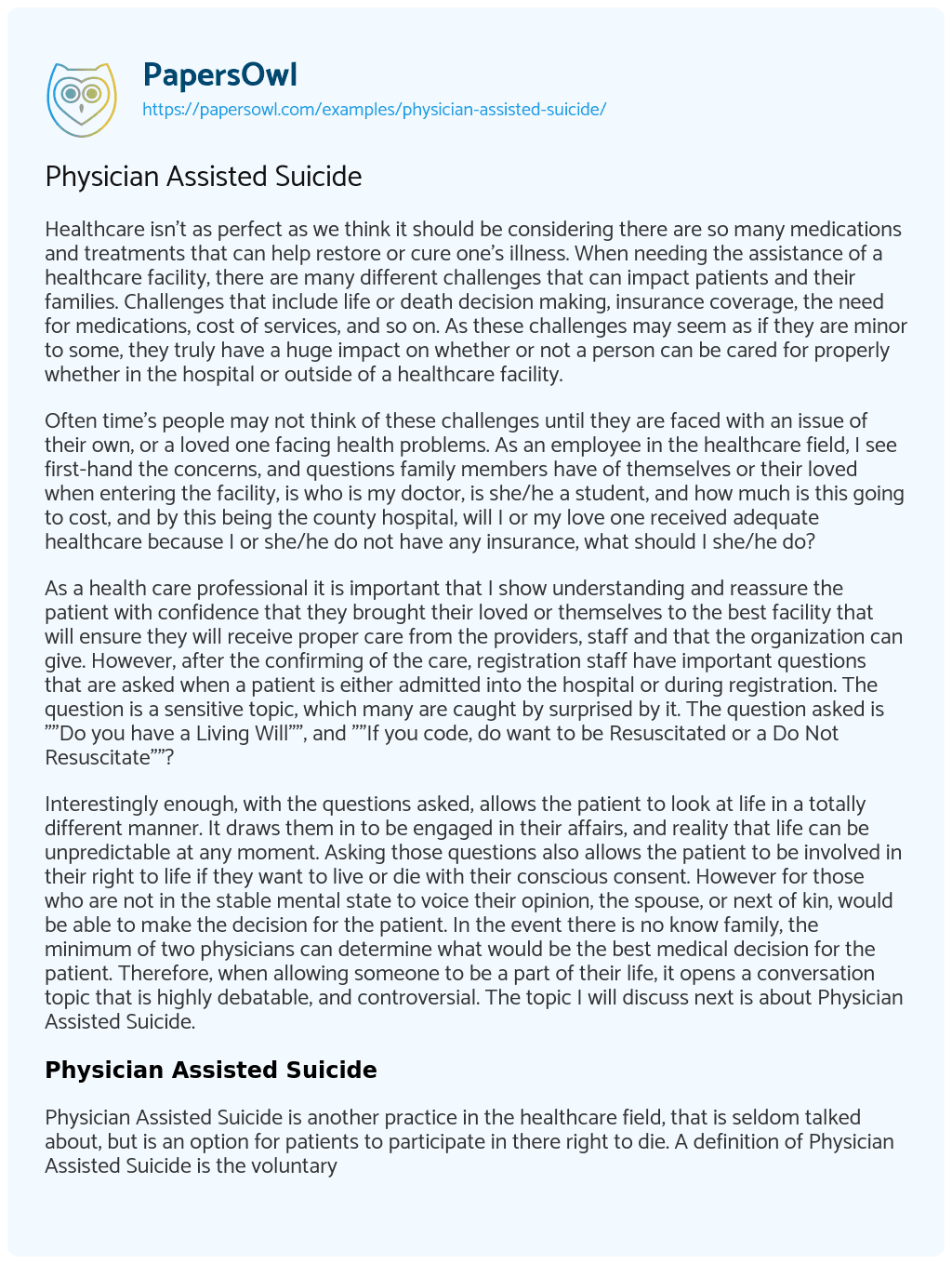 Healthcare isn't as perfect as we think it should be considering there are so many medications and treatments that can help restore or cure one's illness. When needing the assistance of a healthcare facility, there are many different challenges that can impact patients and their families. Challenges that include life or death decision making, insurance coverage, the need for medications, cost of services, and so on. As these challenges may seem as if they are minor to some, they truly have a huge impact on whether or not a person can be cared for properly whether in the hospital or outside of a healthcare facility.
Often time's people may not think of these challenges until they are faced with an issue of their own, or a loved one facing health problems. As an employee in the healthcare field, I see first-hand the concerns, and questions family members have of themselves or their loved when entering the facility, is who is my doctor, is she/he a student, and how much is this going to cost, and by this being the county hospital, will I or my love one received adequate healthcare because I or she/he do not have any insurance, what should I she/he do?
As a health care professional it is important that I show understanding and reassure the patient with confidence that they brought their loved or themselves to the best facility that will ensure they will receive proper care from the providers, staff and that the organization can give. However, after the confirming of the care, registration staff have important questions that are asked when a patient is either admitted into the hospital or during registration. The question is a sensitive topic, which many are caught by surprised by it. The question asked is ""Do you have a Living Will"", and ""If you code, do want to be Resuscitated or a Do Not Resuscitate""?
Interestingly enough, with the questions asked, allows the patient to look at life in a totally different manner. It draws them in to be engaged in their affairs, and reality that life can be unpredictable at any moment. Asking those questions also allows the patient to be involved in their right to life if they want to live or die with their conscious consent. However for those who are not in the stable mental state to voice their opinion, the spouse, or next of kin, would be able to make the decision for the patient. In the event there is no know family, the minimum of two physicians can determine what would be the best medical decision for the patient. Therefore, when allowing someone to be a part of their life, it opens a conversation topic that is highly debatable, and controversial. The topic I will discuss next is about Physician Assisted Suicide.
Physician Assisted Suicide
Physician Assisted Suicide is another practice in the healthcare field, that is seldom talked about, but is an option for patients to participate in there right to die. A definition of Physician Assisted Suicide is the voluntary termination of one's life by administration of a lethal substance with the direct or indirect assistance of a physician is supported from (https://www.medicinenet.com)
Physician Assisted Suicide is legal in several countries around the world, such as Switzerland, Japan, Canada, and some states within the US. (https://www.bbc.com/news/world-34445715). About eight states alone in the U.S. have legalized PAS such as California, and Washington just to name a few which are some of the bigger states with a growing and greater population than other states.
Patients who suffer from incurable and terminal, painful, illness now have additional options to choose from other than medication, radiation, and dialyzing etc., now have the option to be presented with the Physician Assisted Suicide method. However, before presenting this method as an option, other methods should be presented to the patient first, and if when all is not agreeable with the patient, PAS should be the last resort. Again, recommending patients with this form of termination is not considered to be the first nor best option; however, if the physician sees fit that the patient has complained of wanting to dye, does not want to be compliant with medications, nor treatment plans, and there is no way the provider can guarantee they can help cure the illness a terminal illness, it may be suggested.
In the event patients were presented with the PAS method those patients are to have extensive thorough counseling with the provider, possible family members and any additional ancillary staff that could benefit with the discussion of PAS, and patients are made aware of the reality of this life ending method.
Consequently, because this is a very sensitive subject, the expectation of the provider and others involved believe the patient has evaluated every area of their lives such as the consideration of the cost it would possibly would take to continue hospital stays, burdens on the family to see them in a painful condition, knowing that they will die soon, and just living in pain, and feeling uncomfortable. Ultimately the choice to die sooner than later is of benefit to the patient, because they can choose their day and time to die, with the ability to do this, it will allow the family time to prepare any final arrangements without an unforeseen death, as the patient may feel it is important to move forward. In the event the patient may have signed a consent form to end their live, they can change their mind at any time.
Ethical Perspectives Pros of PAS
When discussing PAS, I have several questions in similarity of Lauri S. Friedman which allows me to further agree with my decision of belief in natural law. Questions such as does assisted suicide threaten vulnerable people, and what are the alternatives to assisted suicide? (Assisted suicide / Lauri S. Friedman 2009.) As stated in the previous passage, there are other recommendations offered to patients before PAS is suggested, and I do believe that PAS threatens the lives of those involved with the patient. However some of the Pros of PAS are free will, and right to choose life. Ability to get life affairs in order and family and friends are in the loop of the patient's decision.
Ethical Perspectives Con of PAS
According to (http://physician-assisted-suicide.weebly.com/pros-and-cons.html) one Con of PAS would be the decrease in the value of human life. In today's society we hear about killing and robberies that often are tied to drugs. Drug overdose on heroine and meth are becoming one of the norms. Now there is a reviver drug to reverse an overdose called Narcan, and with this reversible medication on the street, people freely and often time unconsciously go into near death coma overdoes. So I do understand the concept of the value of life being devalued. If there is something that can save me, I will try the drug each time. However, with PAS, it is non reversible, and it stills seems to be placed in the category with Narcan, and opioids because it sends the message that life is not valued in my opinion. Another Con to add to the list is to take ownership of terminating life at your disposal and now natural law has been tampered with.
Ethics Natural Law
Considering the pros and cons of the Physician Assisted Suicide, in many readings this topic is highly sensitive and extremely debatable. There are some who feel that a person should have the right to terminate their live, and others feel that it is not the way of life. Who are we to say what is right and wrong in this matter, and expect others to hold the same morals and belief we may have if any to fit others' lives. Everyone has been given free will and have the ability to choose to live life as they see fit for them. Minus those who are unable to make sound decisions for themselves. Consequently, because we should respect others opinions, we should do so as the patient chooses.
According to Alan Marzilli, people should have the right to determine when and how they die States should protect people from choosing suicide and people should not have to make end-of-life decisions without medical advice. (Alan Marzilli)
My opinion within respect of one's decision making of Physician Assisted Suicide is that I believe in Natural Law. The law of the universe is created and ruled by God himself, who trumps any government laws, cultural law, and self-made laws. According to the Greek thinkers Stoics, who said that we have a duty to obey the basic laws of nature, the key moral principle is to"" follow-nature"" (Ethics: Theory and Contemporary Issues 9th Edition) I do agree. There is a purpose and reason for everything in life.
Therefore, addressing end of life issues will always be a difficult topic and challenge that we will face throughout our lives. Morals and governmental decisions will always be in the judgement seat of decisions of that nature. Consequently, in my opinion participating in the termination of life is acting as if one is God. I believe that life is purposeful, and there is a time is season for all things including death. In my opinion, we are neither the author nor creator, nor finisher of our lives and the PAS method definitely go against natural law.
However, the end of life issues will eventually grow to become important and more popular in days to come, and seems that people have no respect or value life anymore and can and will freely assist in your termination without any guilt or shame.
References
Retrieved from https://www.medicinenet.com
Assisted Dying: What does the law in different countries say? BBC
Retrieved from https://www.bbc.com/news/world-34445715
Physician-assisted suicide / Alan Marzilli. Author:Marzilli, Alan. Publisher:Philadelphia : Chelsea House Publishers, c2004.ISBN:0791074854 (hc)
ssisted suicide / Lauri S. Friedman. Author:Friedman, Lauri S. Publisher:San Diego, CA : ReferencePoint Press, ?©2009.ISBN:9781601520487 (lib. bdg.) 1601520484 (lib. bdg.)
American Medical Association. Copyright 1995-2018 All Rights Reserved.
Retrieved from https://www.ama-assn.org/delivering-care/physician-assisted-suicide
Physician Assisted Suicide
Retrieved from http://physician-assisted-suicide.weebly.com/pros-and-cons.html
Ethics: Theory and Contemporary Issues Authors: Barbara MacKinnon & Andrew Fiala
Edition: 9th edition Publisher: Cengage Learning ISBN: 978-1-305-95867-8
Did you like this example?
7159
146