Issues of Abortion
Exclusively available on PapersOwl
I'm writing you in regards to an article I recently read. I would like for you, as the author of that said article, to take a few minutes to hear what I have to say in response. Through this response I hope to shed some Light on the dark choice of an abortion.
In the fifth stanza of this article, you state that "medical evidence tells us fetuses cannot live unsupported even with a respirator before 21 weeks." You are using this statement as a support for your stance on abortion, while, in reality stating that "they cannot live unsupported", more accurately shows a desperate cry for women to fulfill their role to their unborn child. He or she needs you. Are you going to let them down?
Need a custom essay on the same topic?
Give us your paper requirements, choose a writer and we'll deliver the highest-quality essay!
Order now
The entire basis of abortion allows people to view fetuses as inhuman until a certain date, while that is completely inaccurate. We can look to Psalms to see what our Creator says about unborn babies. Psalm 139:13-16 states:
13 For thou hast possessed my reins: thou hast covered me in my mother's womb.

14 I will praise thee; for I am fearfully and wonderfully made: marvellous are thy works; and that my soul knoweth right well.

15 My substance was not hid from thee, when I was made in secret, and curiously wrought in the lowest parts of the earth.

16 Thine eyes did see my substance, yet being unperfect; and in thy book all my members were written, which in continuance were fashioned, when as yet there was none of them.
In one part of the article you make the statement as follows, "But even in the case of human life, there are a great many situations where, when one life poses a threat to another, that life can reasonably be taken." This statement is not based on facts in any way. Just because someone driving on the road accidentally rear-ends your car, and causes a threat to your seemingly safe little environment, you can't legally just pull out a gun & shoot them. Likewise with a baby. It's an innocent life. One that you have been chosen to carry. Children are a gift from God and a blessing. We read so in Psalms 127:3 "Lo children are an heritage of the LORD: and the fruit of the womb is his reward."
"A fetus's right to life is debatable. A woman's is not." Reading this sentence from the article shows how self centered some people have become. Who decided that the fetus has no rights? Who decided that we were going to discount a fetus as human? What if society decides to discount everyone over eighty and make them free gain? No legal punishment for killing them. Would we all just agree? No, of course not. Regardless of age, we're all humans.
The fact that America funding abortion is even an option is appalling. Interestingly enough, when a pregnant woman is killed, many times the criminal will be charged with two counts of murder: one for the woman and another for her unborn baby. Currently, at least 38 states have fetal homicide laws (ncsl.org)  Therefore it makes absolutely no sense that any woman can end choose to end the life of her baby with the support of the government backing her up.
I think Senator Black spoke well of the epidemic our country is currently in when he said, "I spent my entire career as a nurse fighting for the dignity of every human being, and I have witnessed the emotional, physical and psychological effects abortion has on mothers. All of us in the healthcare field took an oath to fight for life, and abortion destroys that. Industry giants like Planned Parenthood perform more than 320,000 abortions every year, and this GAO report exposes that these atrocities are done at the expense of taxpayers. No matter our views on abortion, or the party label beside our name, we must ensure that our money is spent responsibly and with integrity," said Congressman Black. "Abortion is not family planning. Abortion is family destruction, and the fact that $1.5 billion in taxpayer dollars is funneled to this industry is sickening. The American people deserve better." (black.house.gov) It's ironic to me that the women that are pro-choice want to talk about having a choice when honest and hardworking Americans taxpayers are not given a choice as to whether to have the tax dollars spent on funding practices like planned parenthood. Do they expect us to be okay with funding the death of innocent babies? I guess things are different when, as people say, the shoes is on the other foot.
Near the conclusion of your article, you started this, "If you are a woman, never forget that your body is yours. No one has any right to any part of it without your consent." What a selfish statement. The baby living inside of you did not force itself upon you. Maybe someone else did, but the baby most definitely did not. To end the life of the baby would be wrong. God gave you the body you have now and it is now your responsibility to take care of the new life's body too! Ephesians 2:10 states, "For we are his workmanship, created in Christ Jesus unto good works, which God hath before ordained that we should walk in them."
When we think of our bodies as gifts from God, it changes how we use them. Likewise when we think of other people's bodies as made in Christ's image, it changes how we treat them. We become more aware of how valuable and important it is to treat them correctly and not as an object that can just be thrown away for our convenience.
I understand that pregnancy can come at a very crazy and an unexpected time to you, but that's life.
Here is a very real sounding scenario,and likely a common feeling shared among women that choose to abort rather than go through with the birth. "Some people are barely able to take care of themselves, let alone a child. Kids are adorable, and teach us many things about life. They are also the reason that many adults are forced to let go of their prior goals and dreams. Now, let's say that a 22-year old woman who is planning on going to law school is a full-time student, works part-time, and is making just enough money to support herself. She's responsible, ambitious, and hard-working, but, alas, the girl and her boyfriend slip up during sex, and she becomes pregnant. The boyfriend decides that he doesn't want to take on the responsibility of raising a child, so he bails. The girl is now left on her own, with a difficult decision – to give up on her dreams and take on another low to mid-paying job to provide for a child, or to have an abortion and continue on the best path for her" (Edvisers Network, Inc.) Though this is a tough situation to be in, you have to choose, just as your mother chose, is a career more important than the beauty of a human life? Maybe you have to choose if a good reputation means more to you than the precious life growing inside of you? Or maybe even acceptance by that boy? The choice is one that will change your life forever. I hope that you choose to see that a human is much more important than maybe a nicer car right now.
The decision to abort is not one that should be made quickly or while your "in your feels".
Another point I would like to make, Mrs. Wright, is that the very people screaming against people that are pro-life, we're in fact a baby at one time. They were blessed enough to have a mother that, whether a good mom or not, gave them something so special. She gave them the right to continue life.You said yourself,
"Happily carrying a fetus to term is an act of the most profound, generous love precisely because it does entail pain and sacrifice. "
If she ended you before you had the chance to start, I would not be writing this response to your article, because, in fact, you never would've  written it. We can't forget our beginning. And the fact that our child should be able to have a beginning.
In today's culture, to have the ability to bear a child is, many times, not viewed as the true miracle that it really is. Yes, it may be hard, but the reward must definitely outweighs the pain.
Many couples would absolutely love to be blessed with the ability to bear children, but are not able to, and other women are looking at it as inconvenient and a burden. We should appreciate what we've been given.
You say much about women and their ownership of their bodies in your article. It's honestly an embarrassment to everyone's humane side that we do, in fact, think of ourselves and our bodies as more valuable than a human life.
While this article makes women feel as though children are too hard, I'd like to tell women a little something different. You are capable and you are strong enough. Put your trust in God and He will give you strength like you've never known. You will be such a cool mom.
Now Mrs. Jennifer, while we have opposing opinions, there is something we have in common. We both have a Heavenly Father that loves us with His whole heart. One that sent His only begotten Son to die on the cross to wash all of our sins away. One that cleanses us and makes us new. One that wants to have a relationship with you if you'll let Him. One that can forgive your sins, and give you a fresh start. So, even If you've already made the mistake of getting an abortion, you're life's not over and you can be forgiven. In Luke 7:47, we see that hope. "And he said unto her, Thy sins are forgiven." God is ready to forgive you, and change your life forever. You are His child and He wants the absolute best for you. Trust His will and you will go far.
Did you like this example?
9525
397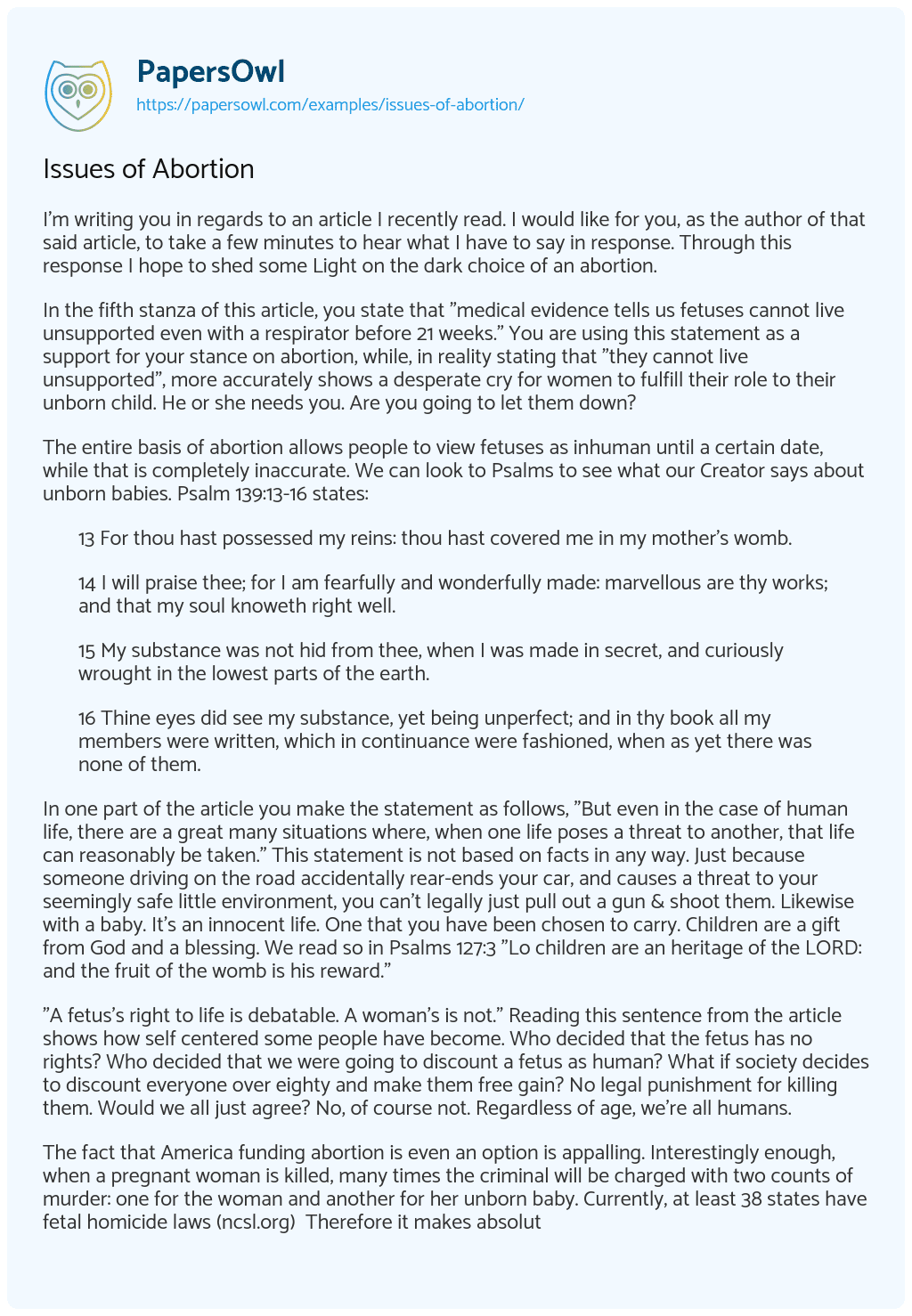 The deadline is too short to read someone else's essay
Hire a verified expert to write you a 100% Plagiarism-Free paper
Issues of Abortion. (2019, Nov 29). Retrieved from https://papersowl.com/examples/issues-of-abortion/