The Disney Marketing Machine
Exclusively available on PapersOwl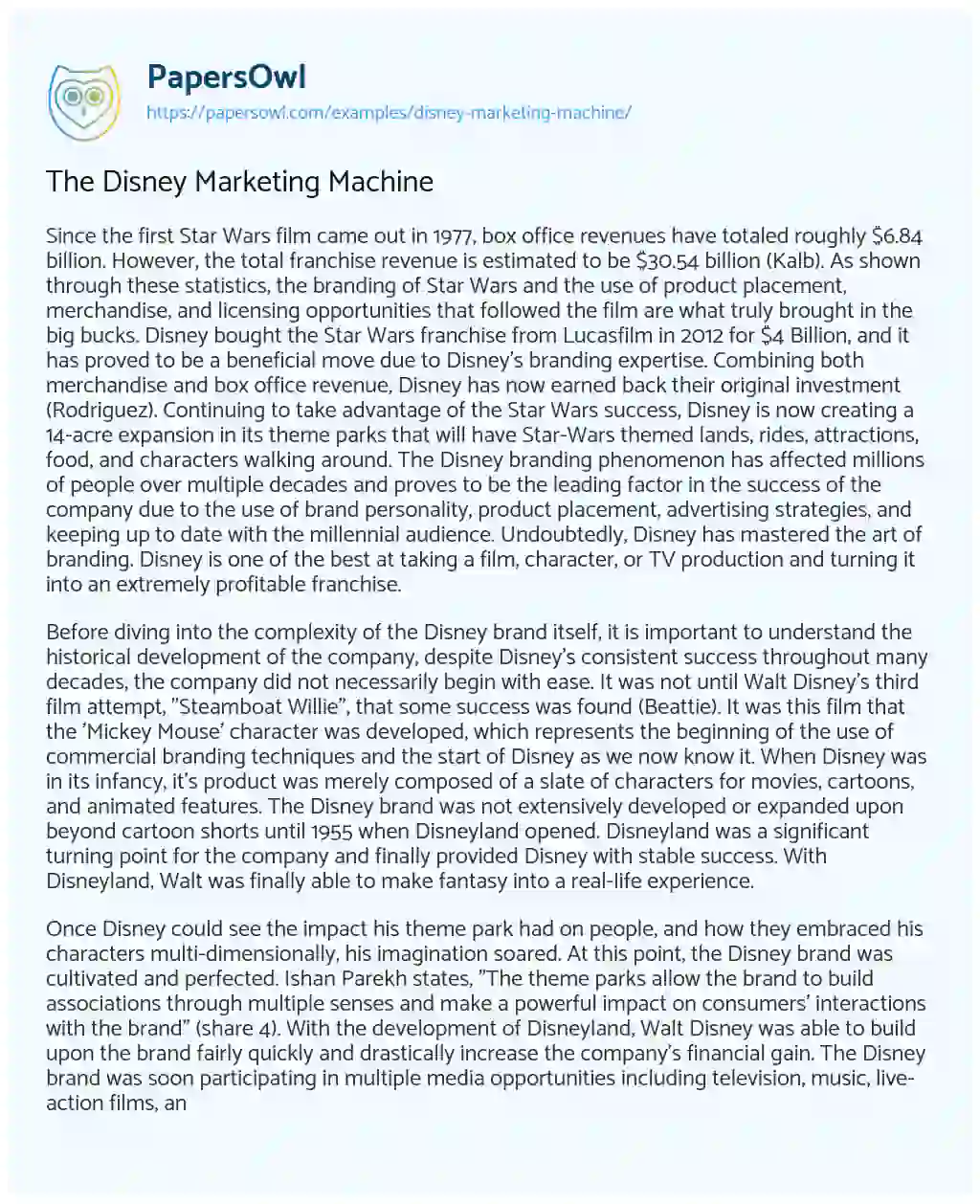 Since the first Star Wars film came out in 1977, box office revenues have totaled roughly $6.84 billion. However, the total franchise revenue is estimated to be $30.54 billion (Kalb). As shown through these statistics, the branding of Star Wars and the use of product placement, merchandise, and licensing opportunities that followed the film are what truly brought in the big bucks. Disney bought the Star Wars franchise from Lucasfilm in 2012 for $4 Billion, and it has proved to be a beneficial move due to Disney's branding expertise. Combining both merchandise and box office revenue, Disney has now earned back their original investment (Rodriguez). Continuing to take advantage of the Star Wars success, Disney is now creating a 14-acre expansion in its theme parks that will have Star-Wars themed lands, rides, attractions, food, and characters walking around. The Disney branding phenomenon has affected millions of people over multiple decades and proves to be the leading factor in the success of the company due to the use of brand personality, product placement, advertising strategies, and keeping up to date with the millennial audience. Undoubtedly, Disney has mastered the art of branding. Disney is one of the best at taking a film, character, or TV production and turning it into an extremely profitable franchise.
Before diving into the complexity of the Disney brand itself, it is important to understand the historical development of the company, despite Disney's consistent success throughout many decades, the company did not necessarily begin with ease. It was not until Walt Disney's third film attempt, "Steamboat Willie", that some success was found (Beattie). It was this film that the 'Mickey Mouse' character was developed, which represents the beginning of the use of commercial branding techniques and the start of Disney as we now know it. When Disney was in its infancy, it's product was merely composed of a slate of characters for movies, cartoons, and animated features. The Disney brand was not extensively developed or expanded upon beyond cartoon shorts until 1955 when Disneyland opened. Disneyland was a significant turning point for the company and finally provided Disney with stable success. With Disneyland, Walt was finally able to make fantasy into a real-life experience.
Once Disney could see the impact his theme park had on people, and how they embraced his characters multi-dimensionally, his imagination soared. At this point, the Disney brand was cultivated and perfected. Ishan Parekh states, "The theme parks allow the brand to build associations through multiple senses and make a powerful impact on consumers' interactions with the brand" (share 4). With the development of Disneyland, Walt Disney was able to build upon the brand fairly quickly and drastically increase the company's financial gain. The Disney brand was soon participating in multiple media opportunities including television, music, live-action films, and additional theme parks. Disney then continued to expand its brand by finding a presence in foreign markets such as France, China, and India. The company is now able to exceed in maintaining strong revenue streams in each one of its divisions. Mary Winsor cites, "In 2013, media networks accounted for 45.2% of the total revenues. This was followed by parks and resorts (31.3%), studio entertainment (13.3%), consumer products (7.9%), and interactive (2.4%)" (Winsor 14). Disney is constantly continuing to further develop the brand and stay ahead of competitors.
One of the biggest reasons Disney has found so much success against other competitors is due to the company's distinguished brand personality. David Aaker defines brand personality as "the set of human characteristics associated with a brand" (Winsor 20). Walt Disney mastered the art of attaching a human aspect to his brand. Firstly, Disney reimagined the idea of customer service by calling customers "guests" and employees "cast members" at Disney theme parks (Montoya 51). This created a welcoming feeling among guests and made them feel like they had a personal connection to the park. Unlike other companies, Disney prioritized the customer's individual encounters and insisted that each moment of their experience was magical. Roy Disney stated:
"I believe our mission has always been to be bringers of joy, to be affirmers of the good in each of us, to be – in subtle ways, – teachers…We do this through great storytelling, by giving our guests a few hours in another world where their cares can be momentarily put aside, by creating memories that will remain with them forever. This is the core of what we've come to call 'Disney'" (Parekh 8).
This quote reveals the truth behind what "Disney" was intended to be, and what Disney's brand personality represents. It is this exact attitude that creates a specific impression on customers and establishes a brand personality unlike any other. Disney does not market their brand in terms of amusement parks, cartoons, films, or products, but by the unique 'experience' that Disney provides. This is what makes the Disney brand so individual and marketable.
Disney's brand personality is not the only factor that has attributed to their success. As foreshadowed in the introduction, there are numerous successful Disney marketing techniques, including product placement. Product placement has been a key ingredient in Disney's financial achievements. Product placement is defined by The Business Dictionary as "An advertising technique used by companies to subtly promote their products through a non-traditional advertising technique, usually through appearances in film, television, or other media." Not only does this allow other companies to promote their products through a large media platform (and receive an increased consumer base), but it provides great financial gain to the content creators. This marketing tool is a fantastic use of collaboration and mutual partnership. Disney's Marvel Studios has participated in a multitude of cross-branding product placement deals including Dr. Pepper, Audi, Samsung, Kia, Acura, and Southwest Airlines. Disney's Star Wars has brand deals with the Nissan, Duracell, General Mills, Gillette, Verizon, and others (Kalb). Additionally, by partnering with other brands, Disney's popularity and consumer base increase. Promoting popular products for specific audiences will reel them into the content and grow the company's overall fanbase, which creates a larger variety of customers and a spike in sales.
In addition to product placement, Disney uses other advertising techniques to solidify the advancement of the Disney brand. Alongside Product placement, Disney uses brand partnering, licensing character figures, and targeting specific audiences to advertise the brand as often as possible. According to Ishan Parekh, in the early 1930s, Mickey Mouse was the first licensed character to appear on a cereal box (Parekh 19). Disney also had a partnership with McDonald's, which allowed Disney to distribute figurines relating to the newest Disney film release in McDonald's happy meals. Due to the company's brand name, products are easily sold and advertisements are effective.
As a result of the endless connections and sales outlets Disney has acquired over the years, Disney products are always highlighted publicly and accessible for purchase nationwide. In addition, Disney strategically releases a multitude of new products based on the most recent product releases. Excessive advertising of the feature will then also boost the relating product sales (Kalb). Not only is Disney an expert at correctly advertising products, but they have mastered the art of a target audience. Although Disney primarily targets children, they try to interest people of all ages. Walt Disney stated, "You're dead if you only aim for kids. Adults have only grown-up kids, anyway." While small children love "Playhouse Disney" and teens watch Disney channel/ radio Disney, adults may enjoy Disney's live-action films (Parekh 15). There is some aspect of the Walt Disney Company to fit everyone's fancy.
Entertainment has dramatically shifted in the past century, but Disney has done a great job at staying ahead of the changing technology and remaining relevant. As the gaming industry began to grow tremendously in 2013, Disney took the opportunity to focus on developing games, consoles and other gaming products. As a result, Disney's revenue from game sales and subscriptions grew to $798 million (Winsor 15). Through adopting technology and awareness, the Disney brand is able to maneuver today's evolving trends and shifting platforms. Andrew Sugerman, the EVP of content and media with Disney Consumer products and interactive media states,
"We produce over 6,000 pieces of content per month across all of our channels … By putting out content quickly, we can see and learn and watch and adapt," he said. "A lot works, but some things don't always deliver what you hope. Every day we learn more and become more effective" (Main).
The Disney corporation has found the perfect balance between content consistency, variety, relevance, and volume. Now, more than ever, entertainment is found through social media. Disney has been able to successfully produce content on multiple Facebook, Twitter, YouTube, and Snapchat accounts. Still, Disney evokes the same magical experience and welcoming feeling throughout all entertainment platforms. Sugerman says, "We're disciplined in staying true to our voice… We want to have an ongoing, constant relationship built around our stories that extends beyond the movie theater" (Main).
The Walt Disney Company was able to jump from being a relatively successful animation studio to a complete entertainment experience by constantly trying to push the boundaries of an entertainment brand while still maintaining a consistent brand image. As Yoda once said, "The greatest teacher, failure is" (The Last Jedi). Although Disney originally struggled to progress, the company quickly learned how to profit through branding. Through the use of strategic planning and market positioning, Disney successfully soared past competitors. With the use of brand personality, product placement, advertising strategies, technological awareness, and the overall understanding of how to market a brand, Disney found the ultimate financial prosperity and brand development efficiency.
Did you like this example?
8451
539