About the Walt Disney Company
Exclusively available on PapersOwl
From its 1923 beginnings in animation to the magical resorts today, The Walt Disney Company, or simply Disney, is an international icon where "imagination has no age" (Disney, 2018; Perez, 2013, para. 15). Disney and its subsidiaries comprise cruise lines, media networks, studio entertainment, streaming services, and world-renowned theme parks in 45 countries. (Disney, 2018). The Walt Disney Company employs nearly 200,000 employees around the globe, as well as an executive team and board of directors at its headquarters in Burbank, Calif. (Disney, 2018). As of September10, 2018, Disney's stock, which is listed on the New York Stock Exchange (NYSE) under the ticker DIS, was priced at $110.68 per share on market close (Disney, 2018).
On September 15, 1978, Disney stock was worth $0.92 per share, or $3.49 in today's terms accounting for inflation (Disney, 2018). Social Commitments Social responsibility within an organization comprises ethical conduct, corporate philanthropy, environmental practices, and corporate governance (Ferrell, Thorne, & Ferrell, 2016). Disney is dedicated to honorable and ethical practices in worldwide communities and the environment (Disney, 2018). Disney's environmental focus is to use resources efficiently with zero greenhouse gas emissions, zero waste, and conservation of water (Disney, 2017). Disney World's transportation fleet is fueled by renewable diesel made from cooking oil and non-consumable food waste (Disney, 2017). The company monitors its factories and maintains high international labor standards (Disney, 2018). In 2017, Disney donated over $348 million to organizations that help communities, families, and public service announcements (Disney, 2018). Disney's volunteers, dubbed VoluntEARS, have provided 3.4 million hours in the past 6 years (Disney, 2018).
Need a custom essay on the same topic?
Give us your paper requirements, choose a writer and we'll deliver the highest-quality essay!
Order now
Merits
The sustainable practices at Disney World theme parks demonstrate that a large organization is involved in environmental awareness and development goals (Verma, Dixit, & Singh, 2018). Disney's economic, environmental, and social performance not only achieves higher profits and less impact or harm to the environment but also boosts its public image (Verma et al., 2018). Disney's social responsibility practice minimizes costs; increases efficiency; and improves service, sales, market share, company growth, revenue, and reputation (Verma et al., 2018). A green supply chain relationship is an added benefit that reduces waste while increasing productivity (Verma et al., 2018). Nonmarket Circumstance When Disney's media copyrights were approaching expiration, company executives transferred its intellectual property into numerous trademarked characters, trade names, and images (Bird & Orozco, 2014).
Disney's legal strategy by company executives allowed it to conduct business indefinitely using new entities while expanding its merchandise brand into a multibillion-dollar business (Bird & Orozco, 2014). Disney's managers in the U.S. and abroad must possess basic knowledge of laws and regulations in the region that it conducts business (Bird & Orozco, 2014). Additionally, local and international managers should have working relationships with its legal teams to identify risks that it can address (Bird & Orozco, 2014). Considerations While the Disney Company implements strict environmental measures, the company cannot control the carbon emissions from its millions of theme park and resort visitors that travel via air, land, or sea from domestic and international destinations. Disney's advertisements attract visitors from around the world, and the impact on the environment does not align with its environmental standards. Disney, like every corporation, must be profitable to sustain its business operations, employees, shareholders, and stakeholders.
Associations
The Disney Conservation Fund participates with conservation organizations to save wildlife and increase populations of endangered species (Disney, 2018). The organization also provides grants to nonprofit organizations with initiatives that involve children and families to preserve wildlife and protect the planet (Disney, 2018). Disney and Make-a-Wish foundation have endowed 120,000 wishes since 1980 (Disney, 2018). Disney partners with organizations that assist children in education and mentoring (Disney, 2018). Disney's Hong Kong Disneyland Resort collaborates with Hong Kong Children's Hospital with a $4.1 HK million donation that supplies children patients with Disney dress-up attire during their stay (Disney, 2018). Disney's financial and manpower donations to worthy groups and organizations have impacted millions of individuals, animals, and species by granting dreams, saving animals, and protecting ecosystems.
Conclusion
Consumers that have basic knowledge of corporate social responsibility (CSR) may consider actions as obligatory. Disney's commitment to social issues, the environment, and society manifests as genuine goodwill. Disney is resolved to achieve its share of reducing waste, offering grants to charitable organizations, and diminishing a carbon footprint on the planet. The Walt Disney Company's executive team resolves legal corporate matters with an approach that benefits the organization indefinitely. Disney is most commonly associated with Disneyland and Disney World; yet, there is a great number of subsidiaries and associations that are linked to humanitarian causes. The worldwide magic of Disney extends beyond theme parks and resorts a public-spirited and ecologically conscious corporation.
Did you like this example?
6081
124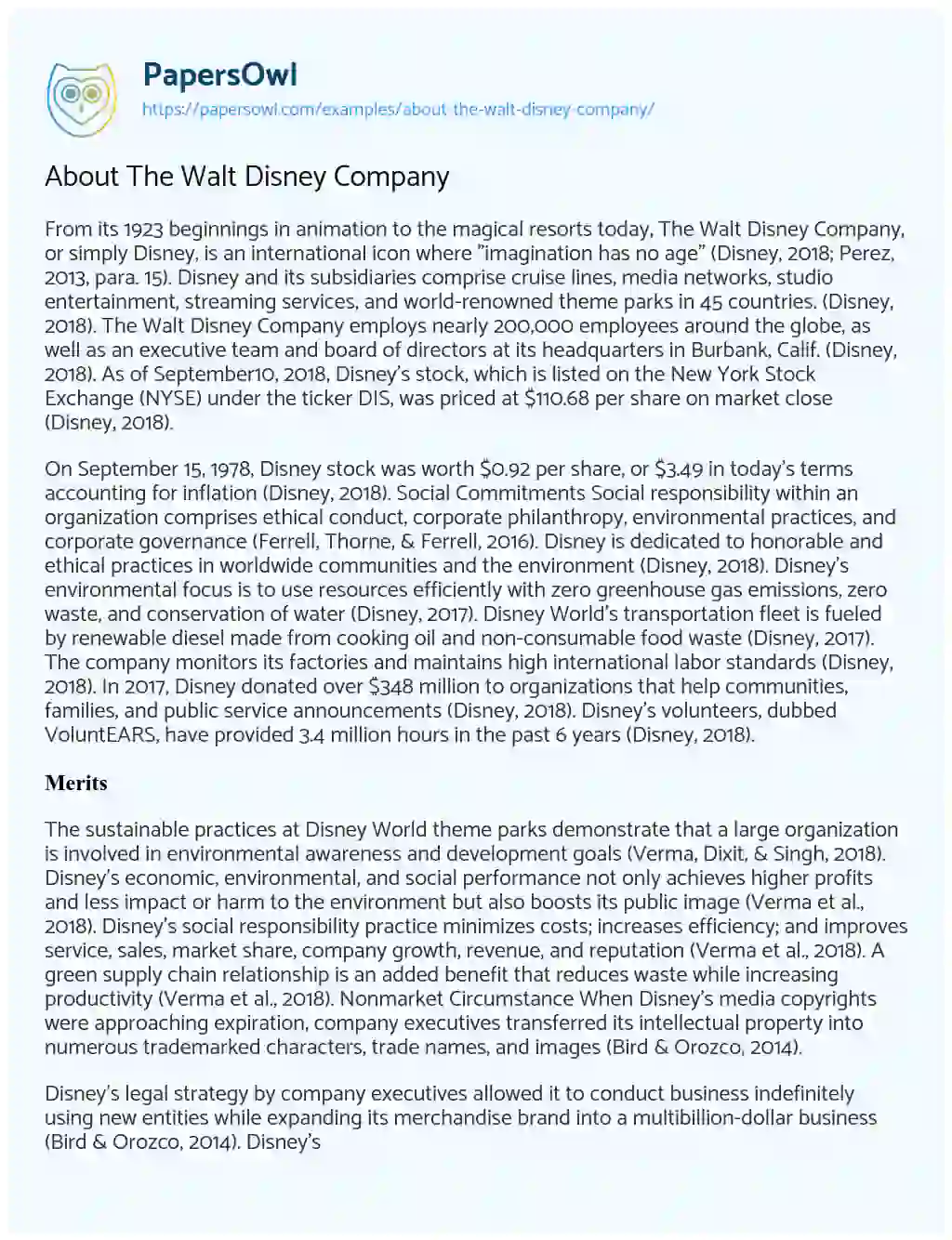 The deadline is too short to read someone else's essay
Hire a verified expert to write you a 100% Plagiarism-Free paper
About The Walt Disney Company. (2019, Nov 22). Retrieved from https://papersowl.com/examples/about-the-walt-disney-company/