Why People Love Music and its Influence on them
Exclusively available on PapersOwl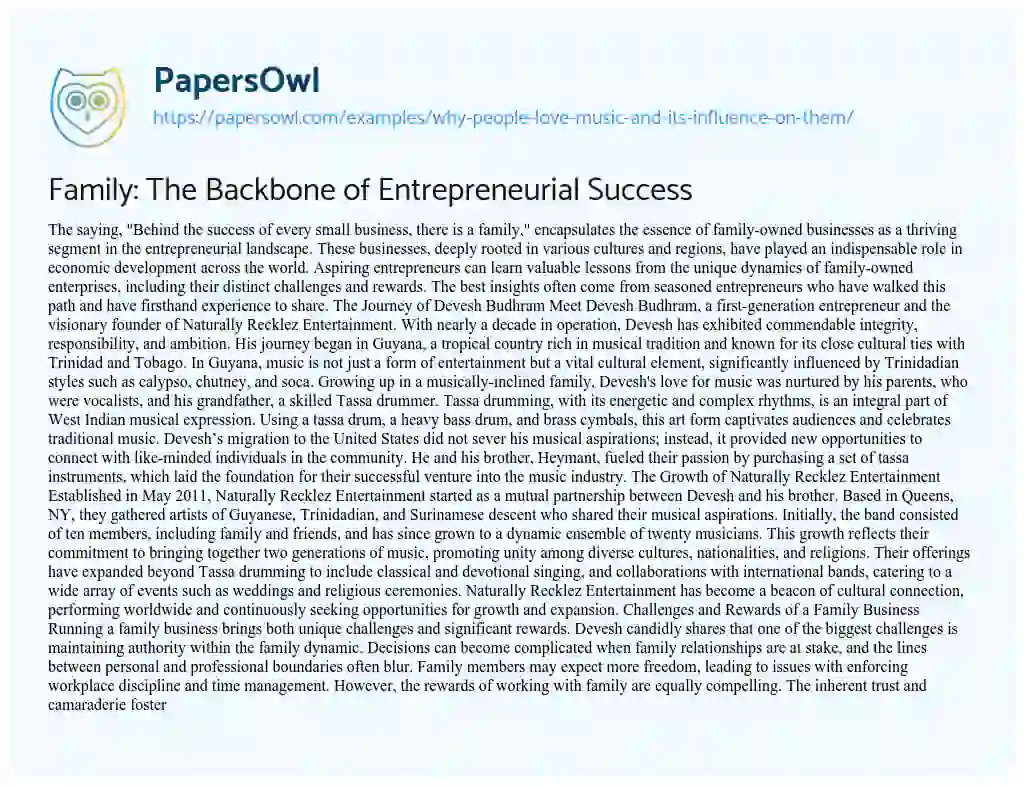 'Behind the success of every small business, there is a family.' Family-owned businesses are recognized as a thriving segment in the entrepreneurial world. They have existed in every part of the world and have played a vital role as part of economic development. As an aspiring entrepreneur, it is vital to learn the uniqueness of running a family-owned business. It is also important to distinguish its challenges and rewards. The best information can be obtained through the guidance of existing entrepreneurs.
It is with much enthusiasm to introduce you to Devesh Budhram, the founder of Naturally Recklez Entertainment. Devesh is a first-generation, family business proprietor, who has been in operation for almost 10 years. Devesh has displayed a high degree of integrity, responsibility and ambition. He was generous enough to share his insights on being a businessman as he embarked on his road to success.
Fired up in Devesh Budhram's childhood in the early 2000's, Naturally Recklez Entertainment was driven by what Devesh describes as his 'love for music.' Devesh grew up in a tropical country located on the northern coast of South America, known to be Guyana. Of all other Caribbean countries, Guyana has valued the closest relations with Trinidad and Tobago. They share common colonial history, language, ethnic make-up, cultural patterns and have established a great urge to promote unity. After all, the national motto states 'One people, One Nation, One Destiny.' Among all aspects within the West Indian culture, traditional music is held in high regards. The music of Guyana is very much influenced by the styles of Trinidad. Therefore, they share the same range of music styles and genre's that include calypso, chutney, soca and Indian. Having that said, Devesh grew up within a musically inclined family. His parents were vocalists and his grandfather indulged in the rhythms of musical instruments. His grandfather particularly played Tassa. Tassa drumming is an energetic musical performance composed of many variations and complex rhythms. There are three different instruments used for every performance, which include a tassa drum or a bowl-shaped drum, a heavy bass drum and brass cymbals. It can be used to admire the beauty of traditional chutney, soca, calypso music and more. At this very moment of time, Devesh began to embrace his love for music. Upon his migration to the United States of America, his religious aspirations always kept him around music. Over the years, he attended many events where he was then introduced to individuals in the community who shared the same musical aspirations, just as he did. From there, he was influenced to be a part of the music industry. He and his brother purchased their own set of tassa instruments by means of learning how to play. Since they were musically inclined, they found it very easy to develop the necessary skills needed. Until years after, their classical rhythms turned into a respected work of art. It was that very moment where they decided to take their talent to the next level. They were able to organize a team comprised of musicians from their own family as well as other artists within the West Indian community. With hard work and determination, led to their road to success. They have established, what is known today as, Naturally Recklez Entertainment.
Naturally Recklez Entertainment is a young, unique and talented West Indian band fused for the enjoyment for the people of the community and the world at a whole. Their goal is to bring two generations of music together and allow their music to promote unity among different cultures, nationalities and religions. Since their initial mission was to only provide Tassa drumming for worldwide events, they realized that their talent goes beyond that. They now have grown to provide classical and devotional singing, utilizing various percussion instruments as well as collaborating with other bands from around the world to provide entertainment for the general public. They provide entertainment for weddings which include but are not limited to Hindu, Catholic, Muslim and more. With almost ten years of experience in performing, they cater to numerous events and shows. Also, they provide their services for spiritual and religious events.
In May of 2011, Naturally Recklez Entertainment was established by a mutual partnership agreement among Devesh Budhram and his brother Heymant Budhram. In their hometown, Queens, NY, they gathered a few artists of Guyanese, Trinidadian or Surinamese descent who have already made or who are trying to make their mark within the music industry. At the start of their business, their organization consisted of four family members along with four newcomers which came up to about ten members in total, including the owners. The family members incorporated within the business include Dayal Jaikaran and Devanand Das who are first generation cousins to the owners of the business. The newcomers within the business include Randy Ramdin, Shailesh Shankar, Arvish Ramjanam and Alex Balram who were at first considered friends but have now turned into family. Though, as business started to flourish tremendously, the size of their employee count started to grow rapidly. In present day, they are now considering at least twenty members within their business. This includes employees who have stemmed from other bands around the world to provide their services to this business itself. Their revenue fluctuates depending on the type of event they serve. For example, weddings are $1000+, parties are $400+ and general events range between $400-$600. Profits on the other hand are split depending on employees who attend and provide their services for the event. Naturally Recklez Entertainment seems to be tied to the expansion stage. Their goal for growth is to perform their services in one additional country per year. They are trying to gain a bigger market share and, like any other business, trying to look for ways to acquire new revenue and profit. The company's growth rate is currently on track with their stage of growth goal. In addition, they would like to recruit additional employees to render the same services as well as forming alliances with other companies who perform the same/similar services. Taking into account all aspects of the business, Naturally Recklez Entertainment is an established company that is well known for its extensive success.
Along with success, comes failure. The ability to run a family business comes with as many rewards as it does with challenges. One of the biggest challenges Devesh encounters when working with family members is the ability to lose leverage. Devesh stated 'Whenever a family member is involved, it's difficult to put your foot down. Every decision is made based on the fact that there's a possibility of causing problems within the family.' When family or friends are mixed with business, it's hard to maintain a strict business relationship just as one would have with a stranger. Another challenge consists of family members expecting too much freedom. It becomes overwhelming when trying to enforce discipline at the workplace. Devesh admits that there are some members who do take advantage of being a part of the family. Members often believe that the rules don't apply to them. They tend to resist any kind of authority. For example, time management has been a constant issue. It can be a tedious process to gather family members at an event on time or they fail to abide to on time pickup. Lastly, family members are often challenged by emotional dynamics. As the saying goes, 'nothing personal, it's just business.' Though, the separation between the two is all but impossible to manage.
On the brighter side, where there are challenges, there are rewards. The main reward of working with family members is instant togetherness. Family business have an advantage over other businesses such that they have already built a great chemistry. Owners get to work with people they actually like and with people who already know their habits, strengths and weaknesses. Also, there's a built-in trust, which holds a greater chance of family members staying loyal and committed. With that being said, it may allow for higher employee engagement, productive employees and it improves retention. In Devesh's business, he states 'my family and I share the same vision and goal within the company. We know what we want and we all work together to achieve success.' Mixing business with pleasure can sometimes be rewarding. Within Devesh's company, it's not only about business, it's about the enjoyment of working as well. Besides, who's better to have fun with than the people surrounding you. He admits that the whole family gets to 'experience and enjoy the event itself, weekend after weekend, and it's just a lot of fun.' It's also rewarding for them because they stand proud to be that company who was chosen to render their unique services to people on their big event, such as a wedding. Family members can also build and improve relations with their customers which is good for increasing profits within a business. Devesh states 'In this world, it's about who you know and how they can help you. Without my family, I don't think my company would be as successful as it is today.' It all goes to show, family plays a vital role with a business. While some owners are faced with challenges among their family members, others are cherishing the value each individual brings to the company. After all, there is no 'I' in 'T-E-A-M.'
In order for a individual to succeed, motivation is key. Success motivates Devesh to perform better as a family business owner. He truly believes that hard work and dedication are the two factors that will allow him to achieve professional success. One way in which he was able to create success was by adjusting his companies vision with his own personal values. Being highly motivated, Devesh was able to see his company grow and for some part of the reason is due to his family's performance in the company. When he saw that the company's efforts, as a whole, were paying off, it encouraged him to push even further. So, Devesh can pretty much agree that success has been important to him on a personal and professional level. He has noticed how successful his company has been, which leads to personal success. Devesh has stated that most of his success stemmed from motivation and guidance among the West-Indian community. Well known individuals of the community were known to be the most helpful resource for the start of his business. They were able to collaborate with and promote his company, which sparked the biggest growth and recognition on his company. From then, they received event after event and that's the reason his company is as successful as it is today. Even when his company faces mishaps, that does not discourage him. Instead, it stimulates him to perform even better. He states 'the ability to see success after failure is what keeps the fire going within me.'
With the help of Devesh Budhram, I've been advised on how to embark on my entrepreneurial journey. He has given me great insights on becoming an entrepreneur. He stated 'an entrepreneur can be anyone.' I've learned that if you have an idea, and you want to make something out of it, the best thing to do is to take action. Don't sit on an idea for days and days at a time. Analyze your idea and find a way to apply or bring your idea to life. Then, utilize that as the basis of your company, however you feel. Devesh greatly emphasized not to give up after a few failed attempts. One great quote I've walked away with is 'You must persevere until you achieve.'
One question the entrepreneur wished I had asked related to the culture of his family business. His response indicated that culture promotes unity. Hence the reason it is an important aspect to consider in any business. He wanted to create a culture where individuals in the community, who shared the same musical aspirations, felt welcomed to join, participate and share the love they had for music with the world. He insisted on creating a place for people to gather, connect and evolve. He believed that the culture has such a great meaning. It did not only focus on making profit but instead emphasized on making a connection and relationship with his customers. With great pleasure, he exhibited his company's' ability to stay loyal to its culture and with that, brought success. He then went on to further explain how he and his family members are engaged within the culture of his company. He emphasized the fact that family members do play a big role in any company. But, in his company he actually calls his employees, his 'brothers.' He believed that it makes a difference because it encourages others to become more involved in the company. It allows them to voice their own ideas on how to improve and build the business. He stated that the best way to live up to the companies values are to follow its rules and complete their mission. He has been able to create the companies' culture through extensive guidance. He has learned that, since they are known to be a people business, it is best to know how to interact with customers. Principles such as 'Be welcoming,' 'Be genuine,' 'Be considerate,' 'Be knowledgeable' and 'Be involved' were taught in order for employees to improve their impersonal skills. With the help of guidance from the West-Indian community, he has been able to learn how to create and embrace the culture more easily.
While conducting this interview, Devesh has been able to provide great feedback. He is more than willing to receive consultation from any aspiring entrepreneurs. Though, with a hectic schedule, it might be a little difficult to have in a face to face consultation. He prefers a phone conversation or a discussion via email. He has provided his email and phone number for any future assistance.
Now that I've completed my interview with a successful entrepreneur, I've been taught several entrepreneurial lessons. One lesson I've learned is that family members serve as valuable assets to the company. Usually, when a business reaches its highest peak of success, it's the leaders' success that gets recognized. Though, behind every successful entrepreneur is its team. A second lesson I've learned is that partnerships are an easy way to start a business. It makes it easier if your partner in a business possess the same skill set required to operate the same business. Also, they can help with the initial investments needs to get the business going. A third lesson I've learned is that you don't need the greatest amount of money to initiate a business of your own. An individual just needs to know the right people and the right time. This is why it is very important to network and introduce yourself to the world. A fourth lesson I've learned is to never rush a business, it'll grown on its own. When you force to expand your business, it could lead to difficulties than if you were to allow the business to grow on its own. However, growing a business entails that one is always on the lookout for bigger and better opportunities. When it is the right time to expand, one will know. Lastly, I've learned that there's a lot of work and time that goes into running a business, but that should not stop the members of a part of the business to have fun. Having fun is a great element to incorporate in any business. That can differentiate your company from the rest. For sure, these are lessons that I can take with me on my path to success.
A common assumption about entrepreneurial ventures is that it's never good to mix business with pleasure. Though, entrepreneurs, like Devesh, have shown that it can be a recipe for success. Though, a company must know how to mix both aspects fluently. Devesh has proven his capability of being able to make a profit while being able to love what he does. Personally, I see it as a way to create a relaxed atmosphere. As the saying goes, 'when you do what you love, you'll never have to work a day in your life.' This is what I look forward to when I start a business of my own. I want to be able to enjoy what I do and I would want my employees to feel the same way. This is something all businesses should consider.
Over the years, family-owned businesses have sought great success. What differentiates a family-run company from other competitors, is their ability to be unique. Several entrepreneurs may face challenges with family employees such as losing leverage, expecting too much freedom and dealing with emotional dynamics. On the brighter side, there are many rewards that comes with working with family members such as experiencing instant togetherness, mixing business with pleasure and the ability to build and improve relationships with their customers. Success can be created by means of using motivational influencers as helpful resources. Overall, there are many lessons that can be learned from existing entrepreneurs today. It's a matter of seeking guidance and using that to endure a successful entrepreneurial adventure.  
Did you like this example?
6359
130