Why Choose a Career in Real Estate Today
Exclusively available on PapersOwl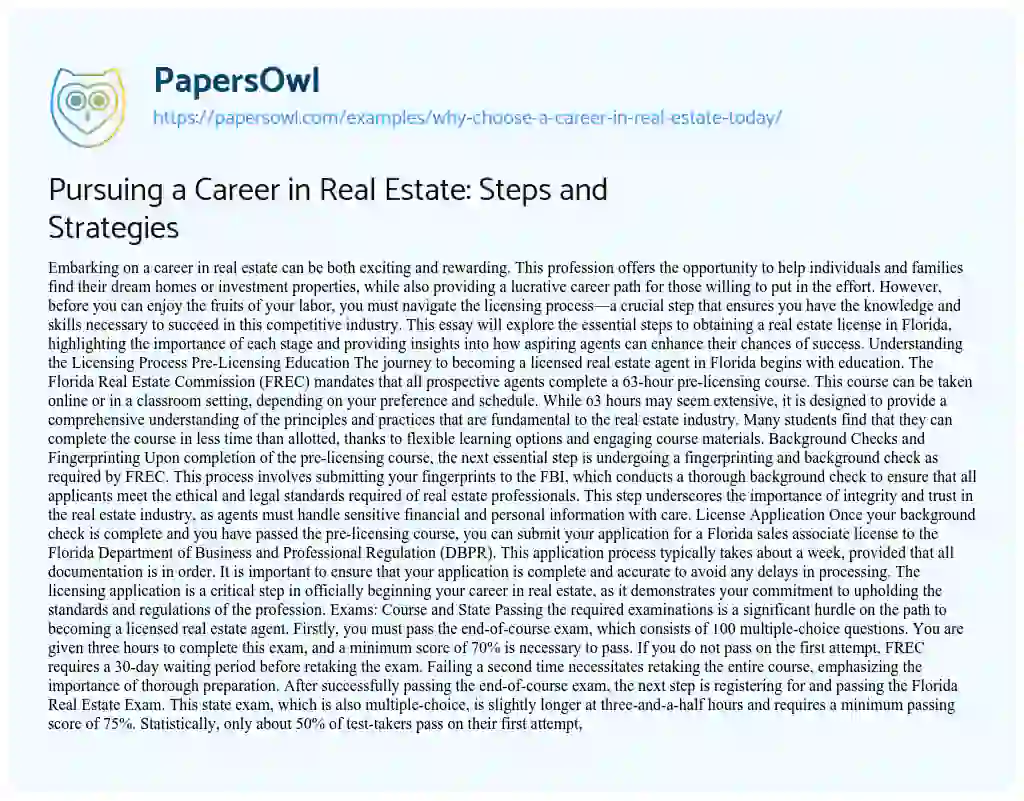 Are you interested in embarking on the journey of starting a career in real estate? If you answered yes, then you've come to the right place! There are so many reasons to choose this career path. The real estate industry can be a very rewarding career path with a flexible and entrepreneurial lifestyle. This is a step-by step guide on how to get your real estate license in Florida.
First, let's look at what a career in real estate encompasses. Your success is measured by how hard you work. After understanding the basic requirements of the real estate industry, you must meet the post-license qualifications before working towards gaining your license.
Now that you know what you need to obtain your license, it's time to look at how to actually acquire the license.
Enroll in a pre-licensed course
The Florida Real Estate Commission (FREC) requires prospective real estate agents to complete a 63-hour pre-licensing course online or in a classroom setting. You might be thinking that 63 hours is quite a long time, however, most students complete their course in a shorter timeframe then the allotted time.
 Complete a fingerprinting and background check
 The FREC requires applicants getting their Real Estate license to get their finger prints taken and an FBI background check, which will determine whether or not an application will be approved or denied.
Obtain your Florida sale associate license
You will need to submit a license application to the Florida Department of Business and Professional Regulations (DBPR). Usually, it will take about a week to process the application once both your fingerprints and background check is completed and sent off to the DBPR.
Pass the End of course exam
The end of course exam is a 100 question, multiple choice exam. The allotted time for this exam is three hours. You must get at least a 70% or higher to pass. If you do not pass the exam, the FREC has a rule where you must wait 30 days to take the exam again. If you do not pass the second time around, then you have to take the course an additional time.
Register for your state exam
After your application is approved by the DBPR, you can schedule to take your Florida Real Estate Exam. The exam is open daily; however, they only take appointments. So, it is important to schedule your exam early so you get an appointment.
Finally, you have reached the last step to obtaining your real estate license. The state exam is a three-and-a-half-hour exam that consists of 100 multiple choice questions. To pass this exam you must score at least a 75% or above. It is important to study hard for this exam. On average, only 50% of test takers pass their first time. So, it is very important to prepare for this exam.
Keep in mind that cost may vary depending on fee changes and where you are getting your license from.
Once you have passed your state exam, all your hard work will have paid off because you will finally be issued your Florida Real Estate License.
It's time for you to act and begin the journey of becoming a real estate agent. Homeowners need reliable and exceptional real estate agents to help them sell their homes. Be on the path to helping someone find their dream home. So, what are you waiting for? 
Did you like this example?
3834
160