What is CW-FIT?
Exclusively available on PapersOwl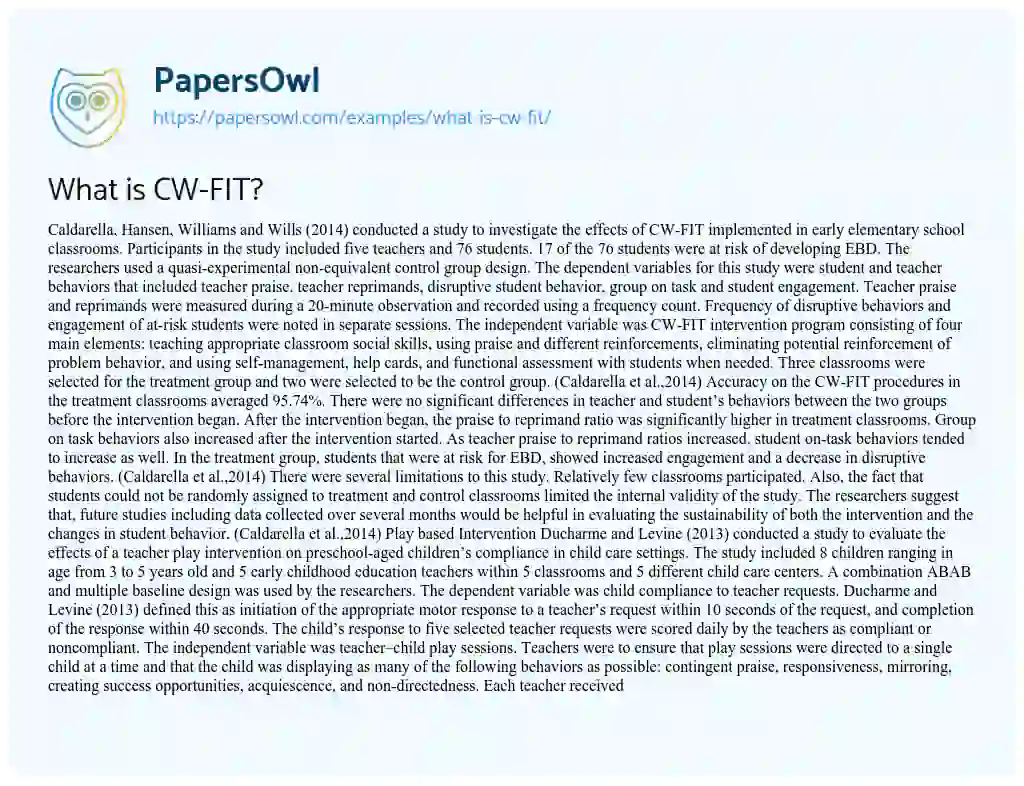 Caldarella, Hansen, Williams and Wills (2014) conducted a study to investigate the effects of CW-FIT implemented in early elementary school classrooms. Participants in the study included five teachers and 76 students. 17 of the 76 students were at risk of developing EBD. The researchers used a quasi-experimental non-equivalent control group design.
The dependent variables for this study were student and teacher behaviors that included teacher praise, teacher reprimands, disruptive student behavior, group on task and student engagement. Teacher praise and reprimands were measured during a 20-minute observation and recorded using a frequency count. Frequency of disruptive behaviors and engagement of at-risk students were noted in separate sessions. The independent variable was CW-FIT intervention program consisting of four main elements: teaching appropriate classroom social skills, using praise and different reinforcements, eliminating potential reinforcement of problem behavior, and using self-management, help cards, and functional assessment with students when needed. Three classrooms were selected for the treatment group and two were selected to be the control group. (Caldarella et al.,2014)
Accuracy on the CW-FIT procedures in the treatment classrooms averaged 95.74%. There were no significant differences in teacher and student's behaviors between the two groups before the intervention began. After the intervention began, the praise to reprimand ratio was significantly higher in treatment classrooms. Group on task behaviors also increased after the intervention started. As teacher praise to reprimand ratios increased, student on-task behaviors tended to increase as well. In the treatment group, students that were at risk for EBD, showed increased engagement and a decrease in disruptive behaviors. (Caldarella et al.,2014)
There were several limitations to this study. Relatively few classrooms participated. Also, the fact that students could not be randomly assigned to treatment and control classrooms limited the internal validity of the study. The researchers suggest that, future studies including data collected over several months would be helpful in evaluating the sustainability of both the intervention and the changes in student behavior. (Caldarella et al.,2014)
Play based Intervention
Ducharme and Levine (2013) conducted a study to evaluate the effects of a teacher play intervention on preschool-aged children's compliance in child care settings. The study included 8 children ranging in age from 3 to 5 years old and 5 early childhood education teachers within 5 classrooms and 5 different child care centers. A combination ABAB and multiple baseline design was used by the researchers.
The dependent variable was child compliance to teacher requests. Ducharme and Levine (2013) defined this as initiation of the appropriate motor response to a teacher's request within 10 seconds of the request, and completion of the response within 40 seconds. The child's response to five selected teacher requests were scored daily by the teachers as compliant or noncompliant. The independent variable was teacher–child play sessions. Teachers were to ensure that play sessions were directed to a single child at a time and that the child was displaying as many of the following behaviors as possible: contingent praise, responsiveness, mirroring, creating success opportunities, acquiescence, and non-directedness. Each teacher received training in request delivery procedures. There were 5 phases of data collection that started with baseline followed by a play phase, then withdrawal phase, next play phase and finished with a play fading phase. (Ducharme and Levine, 2013)
Correct request delivery occurred in 98% of requests during baseline phase sessions, 92% of requests during treatment phase sessions, and 95% of requests during withdrawal phase sessions. The data collected by the teachers, showed that introduction of daily teacher–child play sessions was associated with increased levels of child compliance. Each child demonstrated some increase in compliance after teacher-child play sessions were implemented. All children's compliance improved to levels between 70%-80%. (Ducharme & Levine, 2013)
Did you like this example?
8401
933