Three of the Greatest Artist
Exclusively available on PapersOwl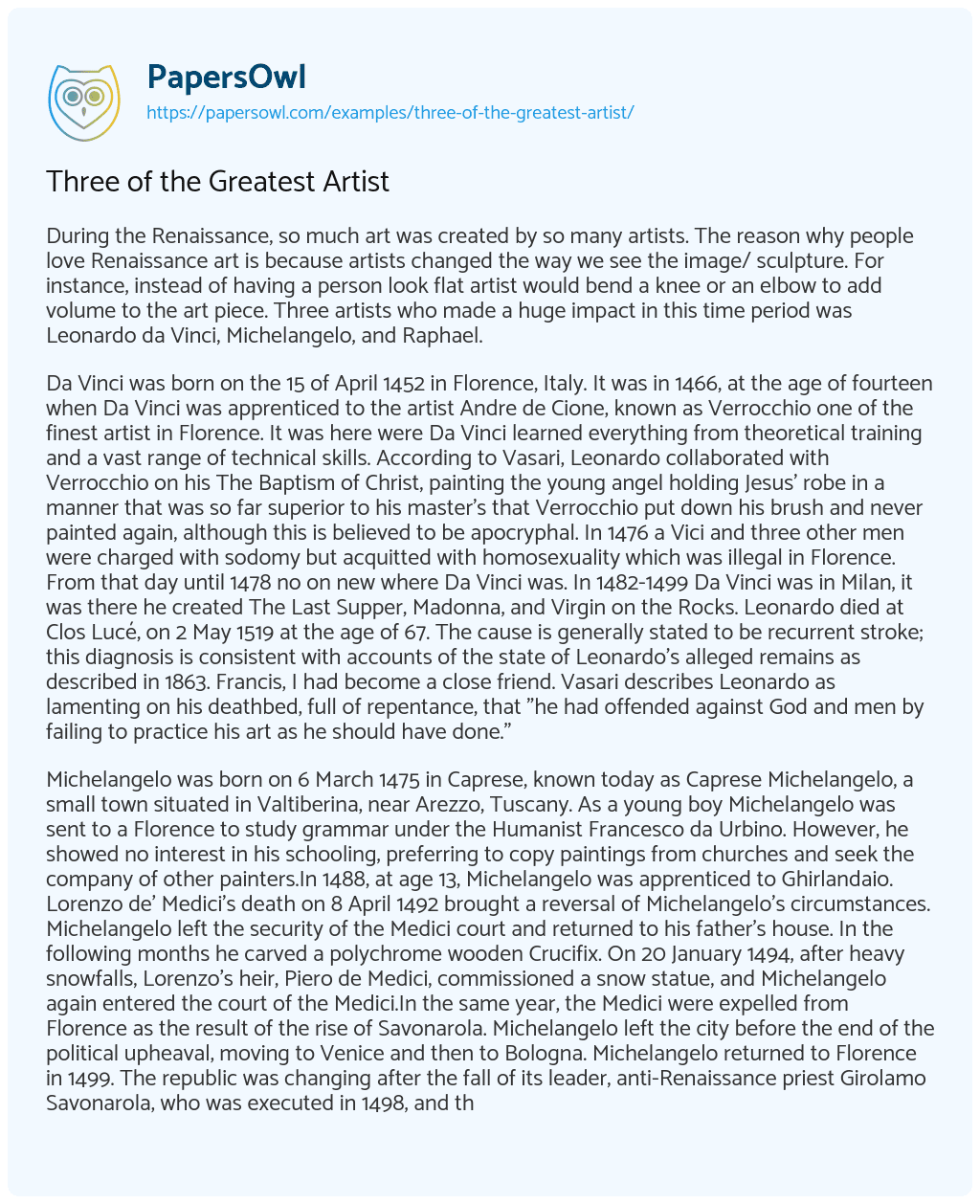 During the Renaissance, so much art was created by so many artists. The reason why people love Renaissance art is because artists changed the way we see the image/ sculpture. For instance, instead of having a person look flat artist would bend a knee or an elbow to add volume to the art piece. Three artists who made a huge impact in this time period was Leonardo da Vinci, Michelangelo, and Raphael.
Da Vinci was born on the 15 of April 1452 in Florence, Italy. It was in 1466, at the age of fourteen when Da Vinci was apprenticed to the artist Andre de Cione, known as Verrocchio one of the finest artist in Florence. It was here were Da Vinci learned everything from theoretical training and a vast range of technical skills. According to Vasari, Leonardo collaborated with Verrocchio on his The Baptism of Christ, painting the young angel holding Jesus' robe in a manner that was so far superior to his master's that Verrocchio put down his brush and never painted again, although this is believed to be apocryphal. In 1476 a Vici and three other men were charged with sodomy but acquitted with homosexuality which was illegal in Florence. From that day until 1478 no on new where Da Vinci was. In 1482-1499 Da Vinci was in Milan, it was there he created The Last Supper, Madonna, and Virgin on the Rocks. Leonardo died at Clos Lucé, on 2 May 1519 at the age of 67. The cause is generally stated to be recurrent stroke; this diagnosis is consistent with accounts of the state of Leonardo's alleged remains as described in 1863. Francis, I had become a close friend. Vasari describes Leonardo as lamenting on his deathbed, full of repentance, that "he had offended against God and men by failing to practice his art as he should have done."
Michelangelo was born on 6 March 1475 in Caprese, known today as Caprese Michelangelo, a small town situated in Valtiberina, near Arezzo, Tuscany. As a young boy Michelangelo was sent to a Florence to study grammar under the Humanist Francesco da Urbino. However, he showed no interest in his schooling, preferring to copy paintings from churches and seek the company of other painters.In 1488, at age 13, Michelangelo was apprenticed to Ghirlandaio. Lorenzo de' Medici's death on 8 April 1492 brought a reversal of Michelangelo's circumstances. Michelangelo left the security of the Medici court and returned to his father's house. In the following months he carved a polychrome wooden Crucifix. On 20 January 1494, after heavy snowfalls, Lorenzo's heir, Piero de Medici, commissioned a snow statue, and Michelangelo again entered the court of the Medici.In the same year, the Medici were expelled from Florence as the result of the rise of Savonarola. Michelangelo left the city before the end of the political upheaval, moving to Venice and then to Bologna. Michelangelo returned to Florence in 1499. The republic was changing after the fall of its leader, anti-Renaissance priest Girolamo Savonarola, who was executed in 1498, and the rise of the gonfaloniere Piero Soderini. Michelangelo was the first Western artist whose biography was published while he was alive.[1] In fact, two biographies were published during his lifetime. One of them, by Giorgio Vasari, proposed that Michelangelo's work transcended that of any artist living or dead, and was "supreme in not one art alone but in all three".
Raphael born March 28 or April 6, 1483 – April 6, 1520. Was an Italian painter and architect of the High Renaissance. Raphael was enormously productive, running an unusually large workshop and, despite his death at 37, leaving a large body of work. Many of his works are found in the Vatican Palace, where the frescoed Raphael Rooms were the central, and the largest, work of his career. The best known work is The School of Athens in the Vatican Stanza della Segnatura. After his early years in Rome much of his work was executed by his workshop from his drawings, with considerable loss of quality. He was extremely influential in his lifetime, though outside Rome his work was mostly known from his collaborative printmaking. After his death, the influence of his great rival Michelangelo was more widespread until the 18th and 19th centuries, when Raphael's more serene and harmonious qualities were again regarded as the highest models. His career falls naturally into three phases and three styles, first described by Giorgio Vasari: his early years in Umbria, then a period of about four years (1504–1508) absorbing the artistic traditions of Florence, followed by his last hectic and triumphant twelve years in Rome, working for two Popes and their close associates.
Did you like this example?
5976
520