The Story of Odysseus Moral Lessons
Exclusively available on PapersOwl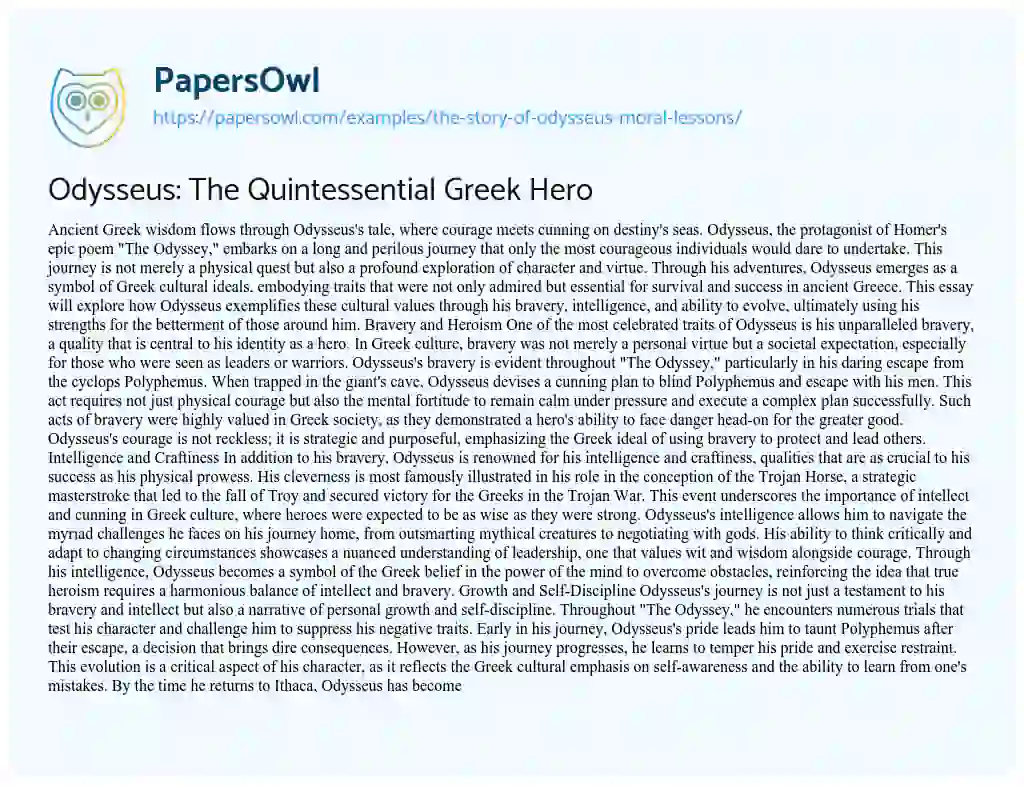 "The story of Odysseus is a long, perilous, and meaningful tale depicting journeys only the most courageous would partake in. I guess that's the point right? Odysseus is a marvelous Greek hero. Odysseus has many traits that are sought after and praised in Greek culture. The reason he is wanted so, is because he doesn't just use his strengths for himself, but instead he helps better the lives of those around him.
During, ""The Odyssey"", through dangerous trials and harrowing adventures, Odysseus learns many new traits that help him as he continues his journey. As he continues his adventures, he learns to control his behavior and suppress some of his negative traits. He learns to hold his tongue, and to not taunt after his confrontation with Polyphemus. Many of the traits that Odysseus possessed were sought after by many other Greeks. The reason for this is that heroes like Odysseus could be sent on dangerous quests that normal people couldn't perform.
One of Odysseus's most important traits is his bravery, and way he uses his bravery. According to, ""How was Odysseus brave?"", Odysseus uses his bravery many times to help him and his men get back home. When he gets captures by Polyphemus, he tricks him and escapes with his men, which takes nerves of steel and a great deal of bravery. The reason this is so important to Greek culture is because bravery is one of the traits the Greeks looked for in people.
Odysseus is also extremely crafty and smart. He portrays this ability when he comes up with the idea for the Trojan Horse. His idea leads to the Greek army capturing Troy, and winning the war. Odysseus's portrayal of Bravery, Intelligence, and wit leads to him becoming a symbol of Greek culture.
The story of Odysseus reveals moral lessons of bravery, heroism, pride and honor relevant to the Greeks and their culture. Odysseus was a symbol of Greek culture because he was brave, intelligent, and strong. But, he didn't just use those traits for himself, he helped everyone around him. Through his trials, Odysseus learns to control himself, and instead use his positive traits."
Did you like this example?
6917
943