Reducing Suicide Rates Among Adolescents
Exclusively available on PapersOwl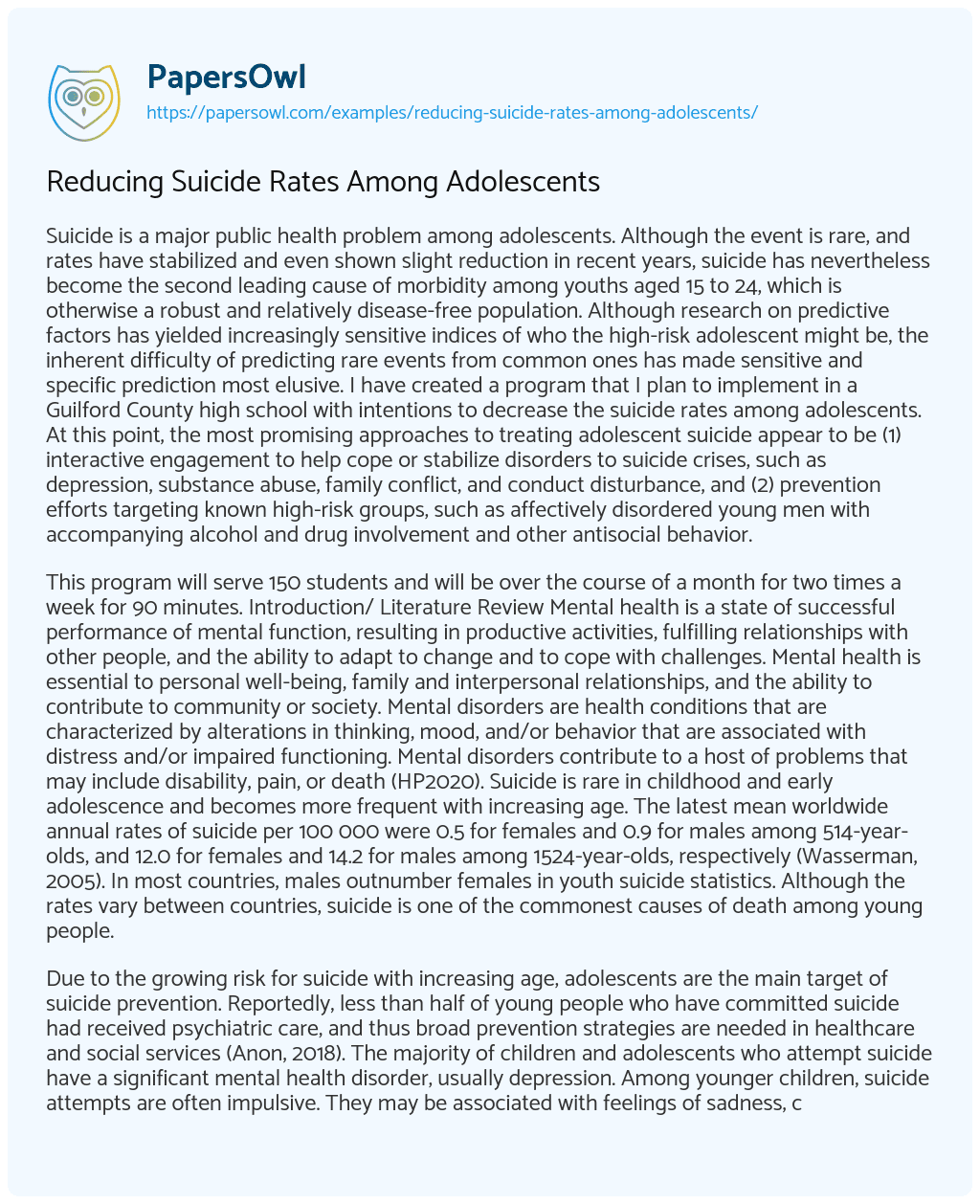 Suicide is a major public health problem among adolescents. Although the event is rare, and rates have stabilized and even shown slight reduction in recent years, suicide has nevertheless become the second leading cause of morbidity among youths aged 15 to 24, which is otherwise a robust and relatively disease-free population. Although research on predictive factors has yielded increasingly sensitive indices of who the high-risk adolescent might be, the inherent difficulty of predicting rare events from common ones has made sensitive and specific prediction most elusive. I have created a program that I plan to implement in a Guilford County high school with intentions to decrease the suicide rates among adolescents. At this point, the most promising approaches to treating adolescent suicide appear to be (1) interactive engagement to help cope or stabilize disorders to suicide crises, such as depression, substance abuse, family conflict, and conduct disturbance, and (2) prevention efforts targeting known high-risk groups, such as affectively disordered young men with accompanying alcohol and drug involvement and other antisocial behavior.
This program will serve 150 students and will be over the course of a month for two times a week for 90 minutes. Introduction/ Literature Review Mental health is a state of successful performance of mental function, resulting in productive activities, fulfilling relationships with other people, and the ability to adapt to change and to cope with challenges. Mental health is essential to personal well-being, family and interpersonal relationships, and the ability to contribute to community or society. Mental disorders are health conditions that are characterized by alterations in thinking, mood, and/or behavior that are associated with distress and/or impaired functioning. Mental disorders contribute to a host of problems that may include disability, pain, or death (HP2020). Suicide is rare in childhood and early adolescence and becomes more frequent with increasing age. The latest mean worldwide annual rates of suicide per 100 000 were 0.5 for females and 0.9 for males among 514-year-olds, and 12.0 for females and 14.2 for males among 1524-year-olds, respectively (Wasserman, 2005). In most countries, males outnumber females in youth suicide statistics. Although the rates vary between countries, suicide is one of the commonest causes of death among young people.
Due to the growing risk for suicide with increasing age, adolescents are the main target of suicide prevention. Reportedly, less than half of young people who have committed suicide had received psychiatric care, and thus broad prevention strategies are needed in healthcare and social services (Anon, 2018). The majority of children and adolescents who attempt suicide have a significant mental health disorder, usually depression. Among younger children, suicide attempts are often impulsive. They may be associated with feelings of sadness, confusion, anger, or problems with attention and hyperactivity. Among teenagers, suicide attempts may be associated with feelings of stress, self-doubt, pressure to succeed, financial uncertainty, disappointment, and loss. For some teens, suicide may appear to be a solution to their problems. Depression and suicidal feelings are treatable mental disorders. The child or adolescent needs to have his or her illness recognized and diagnosed, and appropriately treated with a comprehensive treatment plan (Beckman, 2018). Topic/ Model The topic of my paper is Mental Health and Mental Disorders. According to Healthy People 2020, the goal of Mental Health and Mental Disorders is to Improve mental health through prevention and by ensuring access to appropriate, quality mental health services. The objective that I chose was to reduce suicide rates among adolescents.
For Adolescent Suicide I chose the Information- Motivation- Behavior Change Model. According to (NIMH, 2018) suicide is the act of intentionally causing one's own death. Some suicides are impulsive acts due to stress such as from financial difficulties, troubles with relationships, or bullying. Those who have previously attempted suicide are at a higher risk for future attempts. Factors that affect the risk of suicide include mental disorders, drug misuse, psychological states, cultural, family and social situations, and genetics. Mental disorders and substance misuse frequently co-exist. Suicide prevention efforts include limiting access to methods of suicide such as firearms, drugs, and poisons; treating mental disorders and substance misuse; proper media reporting of suicide; and improving economic conditions. The most commonly used method of suicide varies between countries and is partly related to the availability of effective means. Common methods of suicide include hanging, pesticide poisoning, and firearms. Reducing a suicidal person's access to highly lethal items or places is an important part of suicide prevention. While this is not always easy, asking if the at-risk person has a plan and removing or disabling the lethal means can make a difference. Listen carefully and learn what the individual is thinking and feeling.
Findings suggest acknowledging and talking about suicide may in fact reduce rather than increase suicidal thoughts. Staying in touch after a crisis or after being discharged from care can make a difference. Studies have shown the number of suicide deaths goes down when someone follows up with the at-risk person (NIMH, 2018). Many individuals who are contemplating or on the verge of suicide participate in cognitive behavioral therapy. Cognitive-behavioral therapy combines methods from both cognitive therapy and behavioral therapy and has been shown to be a very effective counseling approach. Cognitive behavioral therapy is a psychotherapy that teaches specific techniques and strategies for reducing or eliminating certain types of unpleasant emotions such as anxiety, fears, anger, and feelings of depression.
MAPIT Mobilize
I found four partners to support my program they fall in the categories of participants, awards, supplies, and space. (1) GCS: The school will serve as the place to educate adolescents on suicide. The school will also provide the participants who will be high school teenagers. (2) Psychiatrist: The psychiatrist will serve as the educator. He will provide various forms of information on suicide and make it relatable to teenagers. He will also be the individual that students will be referred to if they express suicidal intent. (3) Walmart: Walmart will serve as a sponsor that will donate gift cards to the participates that complete the course at school. (4) Rehabilitation Students/ A. H. Ray (WSSU): The students from the Rehab. Department will be interning at the school and participating in the study my not only teaching the children but also using this as a learning experience from them. Assess To assess, each participant will receive a pre-test. The pre-test will assess the adolescent's knowledge on suicide and the effects that it can have on your life physically and mentally. The questions will be related to statistics, medications, mental health facilities, funeral cost, and life for family after death. The purpose of this pre-test is not to scare the adolescents but to make them aware of what life can lead to if wanting to attempt suicide.
Plan 150 students will have the opportunity to attend a one-month long program to aid in the awareness of adolescent suicide. Rehab students will deliver suicide prevention and after school for two times a week for 90 minutes, my program will be taught as an after-school program. To empower students, we will have a number of students that are in the rehab students who have experienced points of suicide or have had suicidal ideations come and speak with the students. We believed this would allow us to connect with the students on a more personal level and it would allow them to be more vulnerable and open with communicating with us. There will be a party held at the beginning of the program to welcome students and for those that complete the entire program, there will be a ceremony for becoming suicide competent and they will receive awards. Implement To inform students about the after school program, I will incorporate the program into the schools weekly newsletter to students, a pamphlet will be sent home with week by week activities that the students will be involved in, the weekly calls that parents receive from the school with updates, and also visit each class to encourage students to participate and also making it available so that parents are able to talk with their children at home about the opportunity.
During the after-school program we will engage the students in a number of activities that will not only involve student engagement, but also see if they are taking away skills from that are being taught to them. Some ways we will test the effectiveness of the program is: oJeopardy games oGift cards for correctly answering questions oPrizes for those who score the highest on short quizzes Track At the end of the program, I will provide a QR code that all students can scan that will direct them to a digital survey that will include patient satisfaction of their experience of the program. Some of the questions may include:
Where you greeted every day by one of the instructors?
Where their activities that allowed you to feel included?
Do you think this is something that you would recommend to your friends?
Did this program relieve you from suicidal feelings that you may have previously been feeling?
Over 90% of the students voiced that that they absolutely loved the program. Many shared that this program felt like a big family and they actually had people that had their back. That was very different for a lot of them because they said they don't have that support at home and often are left alone for long periods of time. Conclusion The suicide rates among adolescents is continuously rising. It will never be a problem that we can completely do away with but starting with this program at one school is definitely a start. This program allowed students an outlet to be themselves and open up to others who have had similar situations. I believe that this is a program that we can implement in other schools to continue to spread awareness and help as many adolescents that we can. It is hopes that ultimately this program can be implemented in every school within Guilford County.
Did you like this example?
7448
475