How his Childhood Influenced his Career
Exclusively available on PapersOwl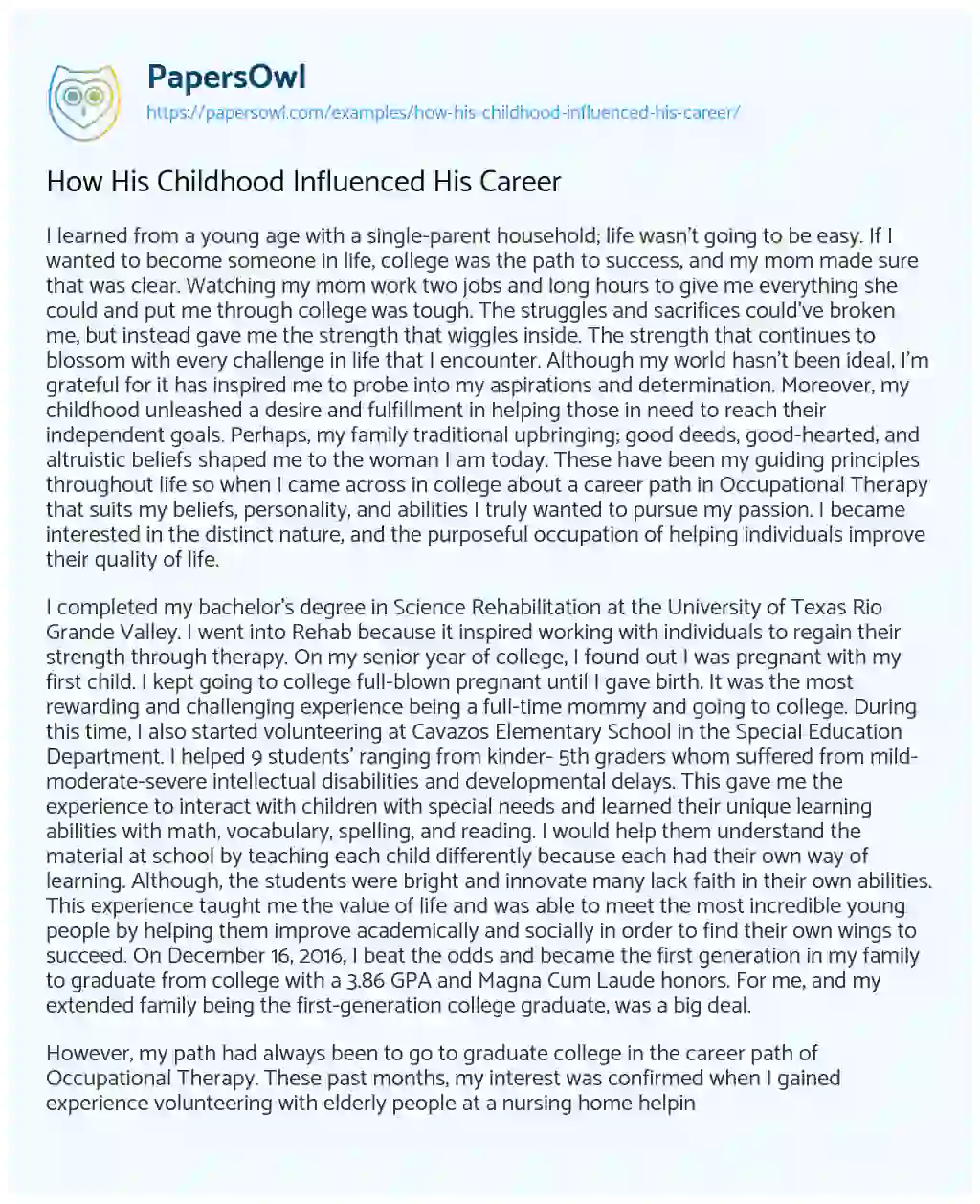 I learned from a young age with a single-parent household; life wasn't going to be easy. If I wanted to become someone in life, college was the path to success, and my mom made sure that was clear. Watching my mom work two jobs and long hours to give me everything she could and put me through college was tough. The struggles and sacrifices could've broken me, but instead gave me the strength that wiggles inside. The strength that continues to blossom with every challenge in life that I encounter. Although my world hasn't been ideal, I'm grateful for it has inspired me to probe into my aspirations and determination. Moreover, my childhood unleashed a desire and fulfillment in helping those in need to reach their independent goals. Perhaps, my family traditional upbringing; good deeds, good-hearted, and altruistic beliefs shaped me to the woman I am today. These have been my guiding principles throughout life so when I came across in college about a career path in Occupational Therapy that suits my beliefs, personality, and abilities I truly wanted to pursue my passion. I became interested in the distinct nature, and the purposeful occupation of helping individuals improve their quality of life.
I completed my bachelor's degree in Science Rehabilitation at the University of Texas Rio Grande Valley. I went into Rehab because it inspired working with individuals to regain their strength through therapy. On my senior year of college, I found out I was pregnant with my first child. I kept going to college full-blown pregnant until I gave birth. It was the most rewarding and challenging experience being a full-time mommy and going to college. During this time, I also started volunteering at Cavazos Elementary School in the Special Education Department. I helped 9 students' ranging from kinder- 5th graders whom suffered from mild-moderate-severe intellectual disabilities and developmental delays. This gave me the experience to interact with children with special needs and learned their unique learning abilities with math, vocabulary, spelling, and reading. I would help them understand the material at school by teaching each child differently because each had their own way of learning. Although, the students were bright and innovate many lack faith in their own abilities. This experience taught me the value of life and was able to meet the most incredible young people by helping them improve academically and socially in order to find their own wings to succeed. On December 16, 2016, I beat the odds and became the first generation in my family to graduate from college with a 3.86 GPA and Magna Cum Laude honors. For me, and my extended family being the first-generation college graduate, was a big deal.
However, my path had always been to go to graduate college in the career path of Occupational Therapy. These past months, my interest was confirmed when I gained experience volunteering with elderly people at a nursing home helping the OT and OTA during their therapy sessions. I became familiar with the various specialist therapy equipment use in patients with problems such as paralysis, stroke, arthritis, balance/coordination, amputations, cognitive/mental health, and physical. This experience taught me how Occupational Therapist use exercises, equipment, and own knowledge to help them gain back strength either mentally, physically, spiritually and emotionally for them to lead a normal life as possible and return to their everyday living at home. While observing, I saw many patients discouraged of their certain situation. Despite my personal hardships, I had managed to look beyond and see the good in every situation. As a future OT, I want to help patients regain their strength through therapy and encourage positive reinforcement to help motivate patients to reach their highest potential, pursue their goal and purpose in life.
On the afternoons, I would volunteer at a pediatric clinic where I gained hands-on experience working with children ranging from ages 6 months- 21 years old. Most of the children had developmental delay and learning disabilities. I learned a valuable insight of how the OT and OTA worked with each child individual combining a variety of strategies such as developmental activities which included (washing hands/brushing teeth/combing hair/getting dressed), physical activities (stringing beads/playing a game/doing puzzles) to help a child develop coordination and body awareness and adaptive strategies. I was educated on how to complete risk assessments including the child short-term and long-term goals. For example, short-term goals are achievements set for children to achieve in 12 months while long-term goals refer to the most meaningful goals that they will achieve in 2-5 years. Highly impressed by the Occupational Therapist helping children with disabilities develop goals and working with variety backgrounds lead fulfilling lives. Indeed, the rewarding experience of volunteering with children has developed an interest in working at a pediatric setting as an Occupational Therapist one day.
As a future OT, I want to help patients return to activities of daily living, find the strength and reinforce positive motivation to resume their lives. I want to show adults and children that anything is possible regardless our situation we can overcome anything. I would look at each individual as a whole person, addressing their physical needs, emotional needs, social needs, and their psychological needs in order to create the data that is more beneficial to each patient. It had not only help me with my communication skills but also interact with the distinct culture and disabilities. Making me aware that this career path is right for me and one day I would love to help patients reach their highest potential in life and personal goals.
These past years have helped me learned the most meaningful lessons that I could ever imagine. Life has thrown so many stones to me that it not only taught me lessons but also to be grateful for life. I know I'm ready for the new challenges I would face. My undergraduate experience, both academically and personal has encouraged insight into my own self-knowledge and personal development that has prepared me for graduate school. I'm looking forward to continuing learning and face the challenges in the career path as an Occupational Therapist. 
Did you like this example?
1062
118