Nursing is a very Important and Useful Career
Exclusively available on PapersOwl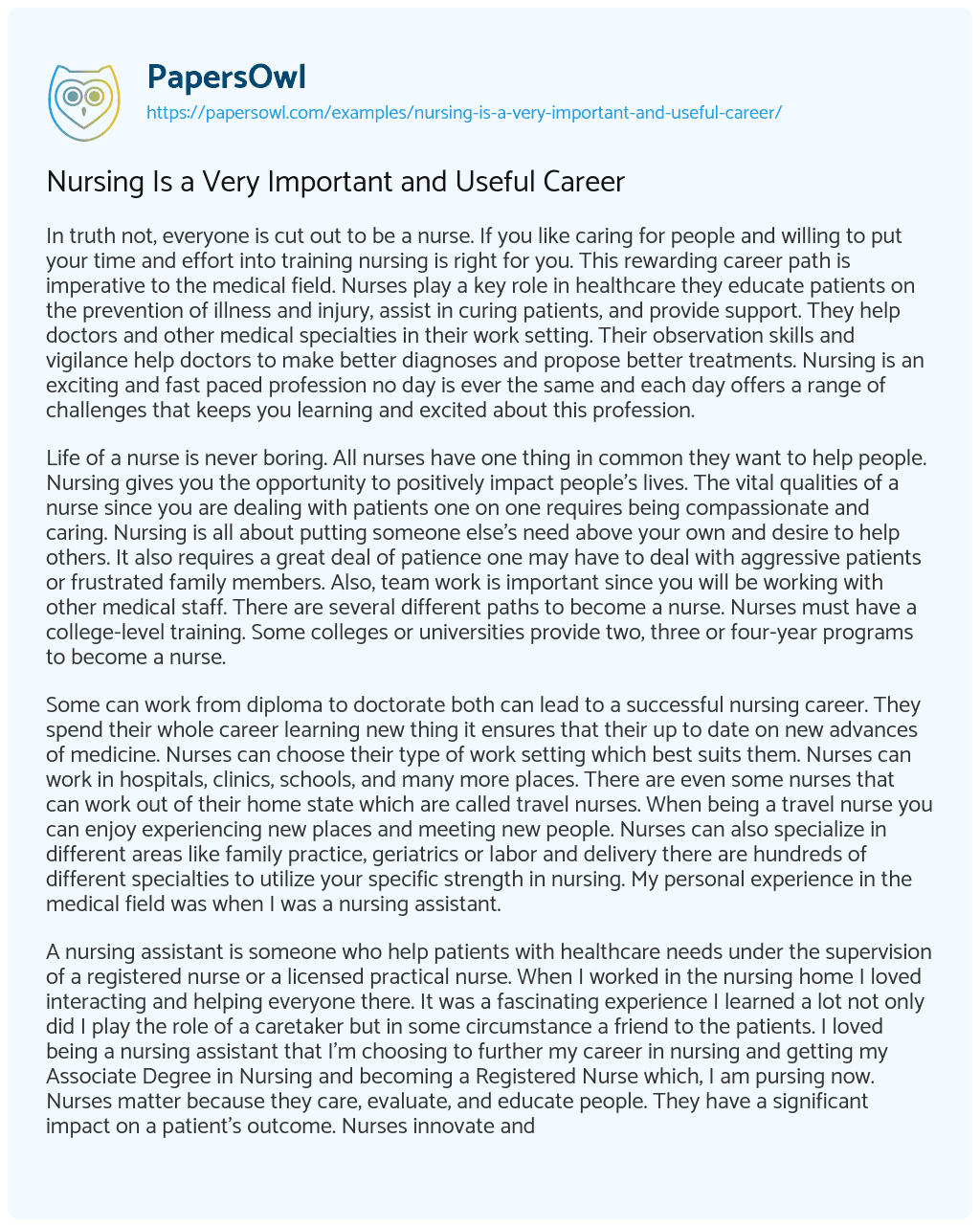 In truth not, everyone is cut out to be a nurse. If you like caring for people and willing to put your time and effort into training nursing is right for you. This rewarding career path is imperative to the medical field. Nurses play a key role in healthcare they educate patients on the prevention of illness and injury, assist in curing patients, and provide support. They help doctors and other medical specialties in their work setting. Their observation skills and vigilance help doctors to make better diagnoses and propose better treatments. Nursing is an exciting and fast paced profession no day is ever the same and each day offers a range of challenges that keeps you learning and excited about this profession.
Life of a nurse is never boring. All nurses have one thing in common they want to help people. Nursing gives you the opportunity to positively impact people's lives. The vital qualities of a nurse since you are dealing with patients one on one requires being compassionate and caring. Nursing is all about putting someone else's need above your own and desire to help others. It also requires a great deal of patience one may have to deal with aggressive patients or frustrated family members. Also, team work is important since you will be working with other medical staff. There are several different paths to become a nurse. Nurses must have a college-level training. Some colleges or universities provide two, three or four-year programs to become a nurse.
Some can work from diploma to doctorate both can lead to a successful nursing career. They spend their whole career learning new thing it ensures that their up to date on new advances of medicine. Nurses can choose their type of work setting which best suits them. Nurses can work in hospitals, clinics, schools, and many more places. There are even some nurses that can work out of their home state which are called travel nurses. When being a travel nurse you can enjoy experiencing new places and meeting new people. Nurses can also specialize in different areas like family practice, geriatrics or labor and delivery there are hundreds of different specialties to utilize your specific strength in nursing. My personal experience in the medical field was when I was a nursing assistant.
A nursing assistant is someone who help patients with healthcare needs under the supervision of a registered nurse or a licensed practical nurse. When I worked in the nursing home I loved interacting and helping everyone there. It was a fascinating experience I learned a lot not only did I play the role of a caretaker but in some circumstance a friend to the patients. I loved being a nursing assistant that I'm choosing to further my career in nursing and getting my Associate Degree in Nursing and becoming a Registered Nurse which, I am pursing now. Nurses matter because they care, evaluate, and educate people. They have a significant impact on a patient's outcome. Nurses innovate and advocate knowledge-based practices and improve an individual's health. They are a key role in a health care setting. Nurses make an incredible impact in all sort of ways. I hope to graduate with my associates in nursing and pursue my career as nurse.
Did you like this example?
3534
72