From Dreams to Reality
Exclusively available on PapersOwl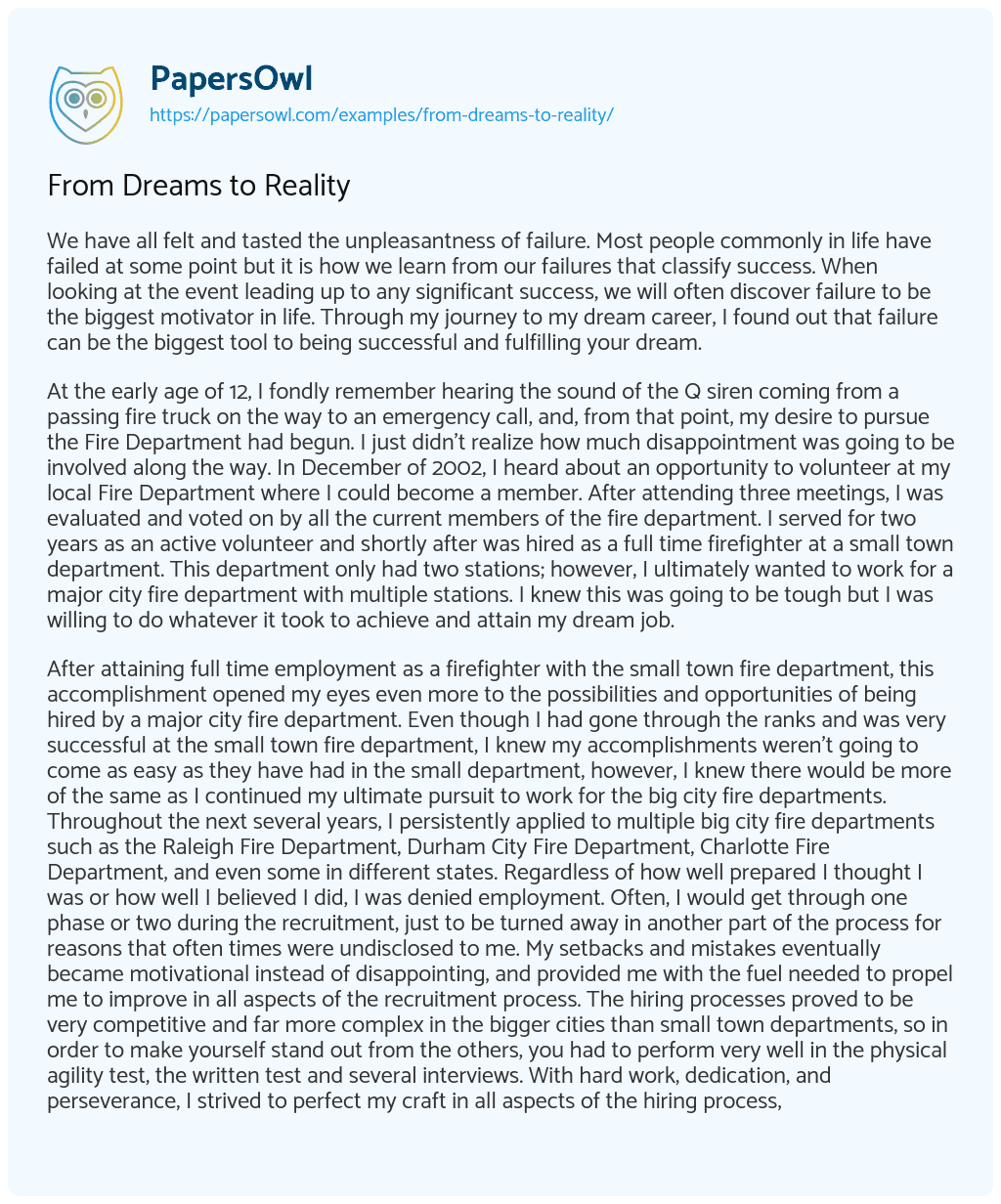 We have all felt and tasted the unpleasantness of failure. Most people commonly in life have failed at some point but it is how we learn from our failures that classify success. When looking at the event leading up to any significant success, we will often discover failure to be the biggest motivator in life. Through my journey to my dream career, I found out that failure can be the biggest tool to being successful and fulfilling your dream.
At the early age of 12, I fondly remember hearing the sound of the Q siren coming from a passing fire truck on the way to an emergency call, and, from that point, my desire to pursue the Fire Department had begun. I just didn't realize how much disappointment was going to be involved along the way. In December of 2002, I heard about an opportunity to volunteer at my local Fire Department where I could become a member. After attending three meetings, I was evaluated and voted on by all the current members of the fire department. I served for two years as an active volunteer and shortly after was hired as a full time firefighter at a small town department. This department only had two stations; however, I ultimately wanted to work for a major city fire department with multiple stations. I knew this was going to be tough but I was willing to do whatever it took to achieve and attain my dream job.
After attaining full time employment as a firefighter with the small town fire department, this accomplishment opened my eyes even more to the possibilities and opportunities of being hired by a major city fire department. Even though I had gone through the ranks and was very successful at the small town fire department, I knew my accomplishments weren't going to come as easy as they have had in the small department, however, I knew there would be more of the same as I continued my ultimate pursuit to work for the big city fire departments. Throughout the next several years, I persistently applied to multiple big city fire departments such as the Raleigh Fire Department, Durham City Fire Department, Charlotte Fire Department, and even some in different states. Regardless of how well prepared I thought I was or how well I believed I did, I was denied employment. Often, I would get through one phase or two during the recruitment, just to be turned away in another part of the process for reasons that often times were undisclosed to me. My setbacks and mistakes eventually became motivational instead of disappointing, and provided me with the fuel needed to propel me to improve in all aspects of the recruitment process. The hiring processes proved to be very competitive and far more complex in the bigger cities than small town departments, so in order to make yourself stand out from the others, you had to perform very well in the physical agility test, the written test and several interviews. With hard work, dedication, and perseverance, I strived to perfect my craft in all aspects of the hiring process, and before long I had become an elite candidate in multiple fire department recruitment processes.
Finally, the day had come. On May 25th of 2012 at 2:30pm, I received an official offer of employment via email from the City of Durham Fire Department to become one of its elite firefighters, and at this moment I realized, that my dream had become my reality. Currently, I still continue to bring the same intensity and attitude to my career in the fire department where I am presently holding the rank of Driver. Success in life is a concept that we as human beings desire and sometimes expect to occur immediately, however without failures, mistakes, or a struggle, attaining this success can prove to be difficult. The failure that I have encountered along the pursuit of my ultimate dream job has taught me so much along the way. I have learned throughout my career and also with life, without failure, you will never experience the great taste of success. 
Did you like this example?
9298
594