DJ Jazzy Jeff the Fresh Prince Cultural Analysis
Exclusively available on PapersOwl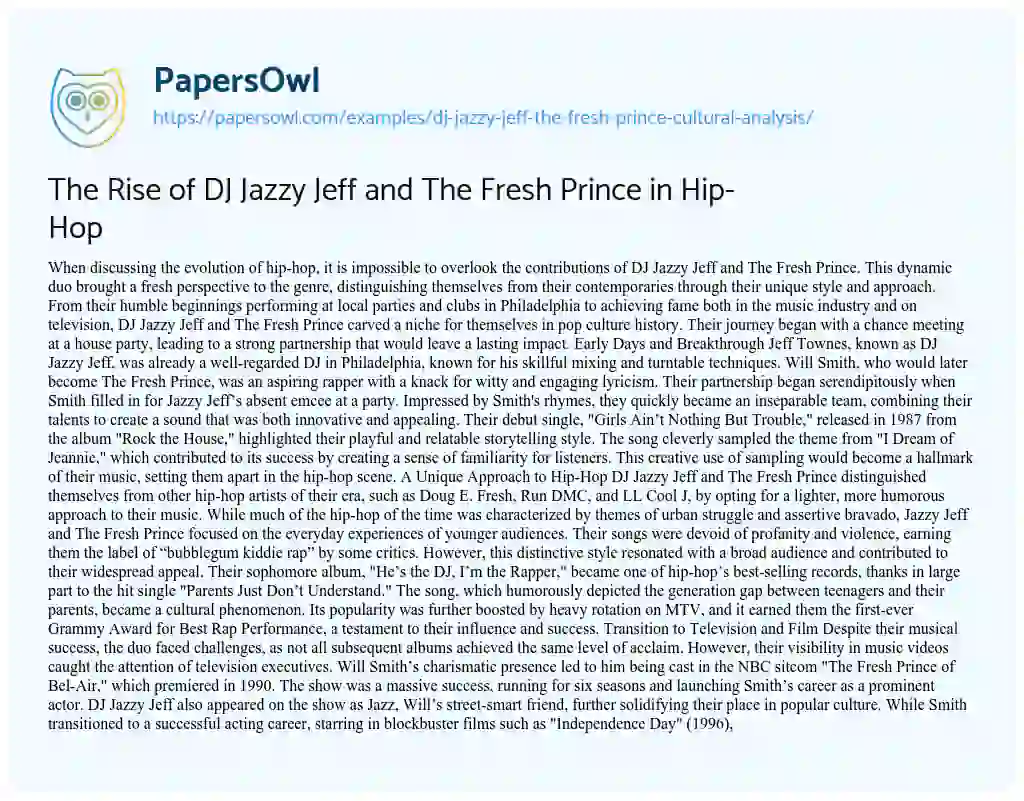 When discussing hip hop, DJ Jazzy Jeff and Fresh Prince cannot go unmentioned. They put their own spin on rap music. From rapping and DJing at local parties and clubs to becoming famous, DJ Jazzy Jeff and Fresh Prince made a name for themselves in the hip hop world and in television. Meeting at a house party and performing together, the two became inseparable.
Performing individual around Philadelphia, Jeff Townes a DJ and Will Smith a rapper. When Smith noticed Jazzy Jeff's emcee didn't show, he stepped in to help. DJ Jazzy Jeff had a liking to Smiths rhymes. The two joined forces. As the two continued to perform, their talent increased and soon got noticed. Their first single "Girls Ain't Nothing But Trouble was released in 1987 from the album Rock the House. If you watched the TV show I Dream of Jeannie and listened to this song and watched the video, you probably heard something familiar in the two. In the beginning of the song and throughout, you will hear samples of the theme song from I Dream of Jeannie. This contributed to the success of Rock the House.
DJ Jazzy Jeff and the Fresh Prince had a different style of music from other Hip-Hop artist of their time like Doug E Fresh, Run DMC, LL Cool J, Slick Rick and the Beastie Boys just to name a few. Jazzy Jeff and the Fresh Prince were young and fresh. Their music and lyrics catered to a much younger audience and more of a pop genre. The lyrics were clean and showed more of a comical side than violence. This could be the reason that some called their raps "bubblegum kiddie rap. It wasn't hard core rap. Their style came known as "pop rap. Although, some did not care for their rap, this did not impact their success. After Rock the House went gold, He's the D. J., I'm the Rapper became one of hip hop's biggest sellers. Selling more than 2.5 million copies with the help of the success of the video for "Parents Just Don't Understand which was being played on MTV. "Parent's Just Don't Understand won the first rap Grammy.
As with every career, their next album did not do as well as previous records. From their videos, Will Smith had gain the attention of the acting world. NBC knew that Will had the potential to become an actor from his personality in his rap videos. They offered him a role in a sitcom which came known as The Fresh Prince of Bel-Air. Jeff Townes was offered a reoccurring role as Jazz, Will's street – smart friend. The show aired for six seasons. The show helped get Smith's acting career going. Transitioning from television to films, Will Smith has had numerous box office hits. From his role in Six Degrees of Separation (1993) to Independence Day (1996), Smith is one of the top leading actors. He became a very wealthy individual.
Jeff Townes was born in Philadelphia. He was very talented in mixing records to have a good beat. Townes was mostly known for spinning records and working the turntables at friend's houses. He is known as DJ Jazzy Jeff. After Smith went into the acting business, Townes became a producer. He released his first solo record "The Magnificent in 2002. Will took a break from acting. Between 2004 and 2005 the duo performed in concert in Philadelphia, South Africa, London and on BET.  The two still remain good friends.
In conclusion, DJ Jazzy Jeff and the Fresh Prince introduced a new style to the hip hop cultural by staying true to who they were. They proved that you don't need to be street worthy, use bad language and rap about violence to be considered a rapper. The lyrics were clean and the videos were fun and entertaining. From the time that they were successful, they let the world see rap from a different perspective than they had previous been exposed too. They were very talented young men that knew what they wanted and went for it knowing they were different from most of the rap artist of their time.
Bibliography
Beers, C. V., Top 40 hip hop songs of 1985. (March 18, 2008). Hip hop golden age. Retrieved from. http://www.hiphopgoldenage.com/list/top-40-hip-hop-songs-1985/. (July 8, 2018).
The information provided on this site allows me to compare artist of 1985 to DJ Jazzy Jeff and the Fresh Prince. It will show the difference of rap styles by naming the artist.
Huey, S., DJ Jazzy Jeff & the Fresh Prince Biography. All music. Retrieved from. http://www. allmusic.com/artist/dj-jazzy-jeff-the-fresh-prince-mn0000948022/biography. (July 7, 2018).
This website provides information regarding DJ Jazzy Jeff and the Fresh Prince. This
information will help me understand who they are and how their career came about.
Price, T., Jazzy Jeff and Fresh Prince Biography. Retrieved from. http://www.jazzyjefffreshprince.com/biography.htm. (July 7,2018).
This website discusses the career of DJ Jazzy Jeff and the Fresh Prince as a duo and as individuals. I will use this information when discussing the two as individuals.
Did you like this example?
7391
643