Ways i've Advanced my Nursing Career
Exclusively available on PapersOwl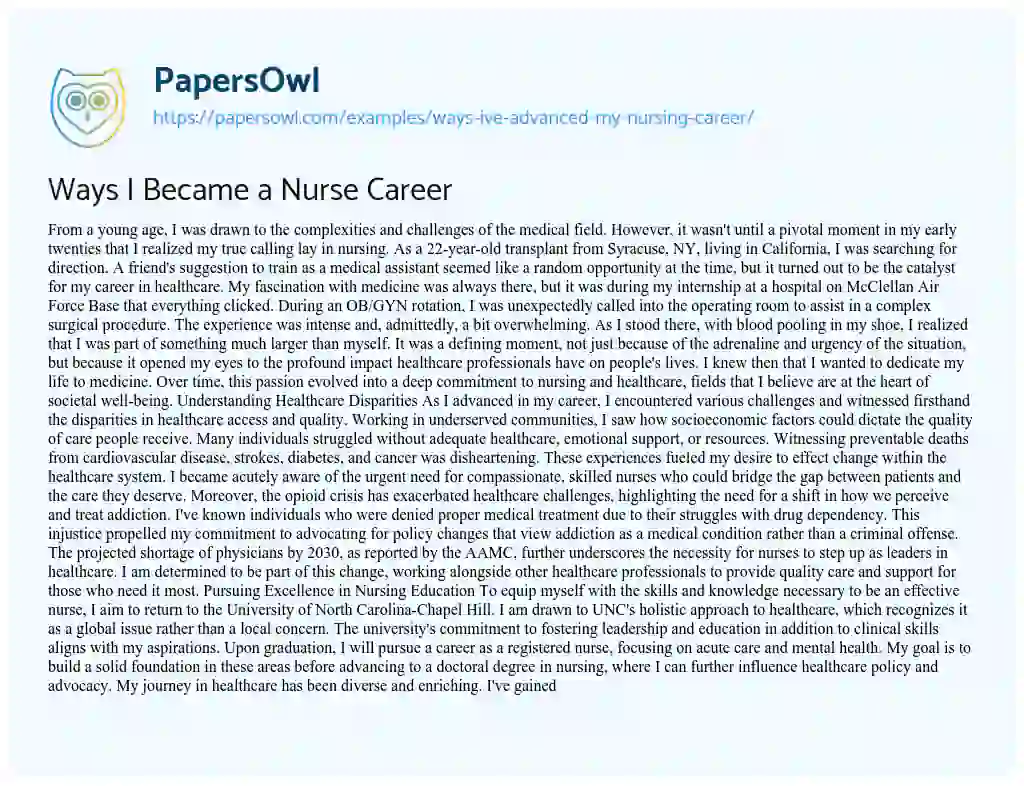 I knew I wanted to pursue a career in nursing as soon as the blood started coagulating in my shoe. Before this moment, I was a directionless 22-year-old Californian transplant from Syracuse, NY. A friend convinced me to move out to California and train as a medical assistant. I did not know what a medical assistant was, but I was always fascinated with medicine and I did not really have anything else of interest going on, so I figured, "Why not?". A year later, as the final part of my training, I interned at a hospital on McClellan Air Force Base. While there, I would try my best to nonchalantly sneak my way into the OR so that I could observe the more complex surgical procedures. One day, during my OB/GYN rotation, a 76-year-old patient was brought in for pelvic organ prolapse and she needed an anterior-posterior vaginal repair. I stood, observing from the back wall, when the lead surgeon looked at me and said, "If you are going to stand there, you are going to make yourself useful. Go scrub up.". With the help of a surgical nurse, I donned a sterile gown and a pair of gloves. 
The patient was in the lithotomy position with sterile towels draping her legs and pelvic region. With a retractor in one hand and a suction tube in the other, I did my best to keep up with the surgeon's frantic pace. As he worked, he issued instructions such as, "Suction." or "There. Hold it RIGHT there." The patient bled profusely. As we raced to stanch the hemorrhaging, the blood began to collect and flow down a crevice in the towel. I felt it dripping onto my lower leg and pouring into my shoe. It felt cold, unnatural, and disturbing. I ignored the sensation and focused on the procedure. At that moment, I mentally paused and thought to myself, "I wonder what my friends are doing right now." I knew that, whatever it was, it was not as exciting, as important, or as meaningful as this. That was the moment when I knew I wanted to dedicate my life to medicine. It was not until later that I realized I wanted to dedicate my life to nursing and healthcare. Both, the societal landscape and healthcare community have changed eminently since that first experience. Working in impoverished neighborhoods, I have witnessed communities trying to survive without access to adequate healthcare, emotional support, or resources. I have seen many people die too young from cardiovascular disease, strokes, diabetes, and cancer. 
In recent history, I have known people who have died from an opioid overdose or have been incarcerated for having a disease known as drug addiction. I have heard unbelievable stories of prisoners being denied medical treatment and sanitary napkins as a form of punishment. To make matters worse, according to the AAMC, we are facing a shortage of between 40,800 and 104,900 physicians by the year 2030. I believe that, if you look at the world and you do not like what you see, then you need to change it. I plan on being a part of that change and I know that nurses will be on the front line. They will need to provide quality care to their communities and better support for the physicians they assist. Nurses will need strong leadership skills, a greater commitment to training, and an adherence to a higher standard of medical professionalism. These three pillars will be the keystone to the nursing profession moving forward. This will enable members of the nursing community to provide the attention, compassion, and care required by those who need it most, thereby assuaging some of the strain on the healthcare industry. To start, I want to be educated by those who are exemplary in their field, which is why I want to return to the University of North Carolina-Chapel Hill. I respect the fact that UNC's philosophy centers on healthcare as a global issue and not just a local need. Furthermore, it is important to me to learn how to grow as a leader and educator, not just as a clinician. UNC offers that opportunity. 
Upon graduation, I will become a registered nurse. I will work hard and spend the time necessary to achieve mastery in my field while working with others to serve the underserved. I will focus on acute care and mental health. With time, I will move on to my doctoral degree in nursing and become more focused on healthcare policy and advocacy. In the future, I want to effect change in both our legal and penal systems to ensure that drug addiction is no longer seen as a crime, but as a medical condition and, if those people are incarcerated, that they get the proper medical care and respect they deserve. That first experience in the operating room, with blood filling my shoe, left a long-lasting impression and love for medicine. After that first procedure, I went on to be first-assistant in a total hysterectomy and a tubal ligation. I even helped deliver my first baby. After I completed my training, I went on as a CMA and worked in gastroenterology, pediatrics, and orthopedic surgery. 
In 2000, I had my daughter and became a single dad. While I raised my daughter, I continued my education, earning my Bachelor of Science degree at UNC. During that time, I volunteered in the ER at Carolinas Medical Center and for the United Way – Hands On Charlotte chapter. Last year, I earned my phlebotomy technician certification. Finally, this year, my daughter turned 18 and is embarking on her own journey at Penn State. With my years of experience as a CMA and a PBT, my continued education; and my commitment to raising an intelligent, strong-mind, and beautiful daughter behind me, I am now ready to take my journey to the next level and pursue my dream of becoming a doctor of nursing practice and effect the change in the world that I want to see. "I'm pregnant." It had been 2 months since I had last seen Rjsia. I had assumed our breakup was permanent until that phone call. "I'm pregnant." The coffee grew cold in my hands as I asked the usual inane questions: "What? How? Nooooooo. Wait, what? Are you sure? How?" Despite 5 years of medical assisting experience, I could not, for the life of me, comprehend how one human being could create another human being with a third human being. It was the summer of 1999 and I was in the middle of my first semester at Central Piedmont Community College (CPCC). I also could not comprehend how, just 16 months later, Rjsia would be diagnosed with an inoperable benign brain tumor…leaving me with a 1-year-old little girl named Drew to raise on my own. Rjsia had always suffered from migraines.
In addition, Rjsia's tumor had increased in size. For these reasons, she wanted to return to her family in Syracuse, NY. I convinced her to leave Drew with me, so she could focus on her recovery. That first year was exhausting and nerve-racking. Up until that point, I could not even keep a plant alive for more than 6-months. And yet, here I am, a single dad and a college student, trying to excel at being both. However, despite the uncertainty and the sleepless nights, it felt amazing. Whereas, I understood children in theory , to watch a child grow and think and struggle to understand her world was wondrous. I would take Drew to school and put her car seat under my desk and rock her with my foot as I took notes in biology class. Drew would scribble in my textbooks with a highlighter because she saw me do it. I watched her outsmart baby gates and pull all the baby wipes out of the box, giggling mischievously when she knew she was caught. Loving her meant that I had to rethink how I viewed the world and myself. However, my future as a single father would face further challenges. Rjsia's condition was stable, but not improving. Nevertheless, she wanted to take Drew and raise her in Syracuse. Syracuse is not a great city to raise a child in, and Rjsia suffered from seizures and syncope. I repudiated her entreaty. 
In response, she and her boyfriend grabbed Drew and absconded with her to an idling SUV. I had to make a painful choice. Allow Rjsia to keep our daughter to be raised on the same impecunious streets, laden with drugs and gang violence, and suffering from a paucity of scholastic opportunities that I used to call home; or keep Drew with me and raise her by myself on a college campus. In the end, I did the worse thing one could do to a mother; in 2002, I took Rjsia to court and gained custody of our daughter. At this point, I was entering my first semester at UNC. Naively, I had assumed that a man taking responsibility for his child would be perceived as an admirable act of strength and maturity. Surprisingly, my decision was met with derision by some people. My parents wanted to take custody of Drew so that I could "concentrate on school" even though they would never take responsibility for my sisters' children. Many people argued that a child should be with her mother. A board member at CPCC told me that I should consider putting my daughter up for adoption so that she could be with an appropriate family. There were plenty of articles, websites, and television broadcasts regarding single moms. Single dads received nary an acknowledgment. I was a man trying to raise a girl, and yet, I struggled to find much in the way of advice or support. Many people seemed to feel that the father was optional…unnecessary. I felt very alone during those first couple of semesters. 
In response, I began to educate people about the validity of single fathers. I would call radio stations and respond to Internet forums and talk about my experiences. I wrote essays discussing the man's role in child rearing. Although there is no replacement for a loving and neutering mother, I believe that, with time, determination, and patience, I have had a small, positive impact on opening people's minds that men can be effective single parents too. After the Fall 2003 semester, while visiting family in New York, I received heartbreaking news; Rjsia had become addicted to opiates as the apparent result of her pain medications. This led to an addiction to heroin. I returned to UNC and struggled through the spring semester. Finally, I made the difficult decision to take a leave of absence and return to NY so that Rjsia and Drew could be together as a family. I spent the next 2 years researching recovery facilities and rehabilitation programs as I supported Rjsia in her recovery. Rjsia still struggles, but she is doing well. She is married with 4 more beautiful children. In May, Rjsia and her husband came with me to attend Drew's high school graduation. It was great. I was glad they were there. I never judged nor resented Rjsia. Her worst crime was being a mother who wanted to be with her child, and I can only admire and respect that. 
Coming from the streets, I knew only hopelessness and anger. But, by being a single dad and raising Drew on my own, I learned patience, respect, and sacrifice. In Drew's face, I learned about life and hope and tomorrows. Finally, in Rjsia's struggles, I saw a mother's love and determination; the need to struggle and fight against disease and addiction. It may sound obvious, but every person is someone's son or daughter. It does not matter what color or faith or gender we may be. It does not matter where we come from. We need to have a positive, loving, and nurturing influence on each other. We are each other's parents. We are each other's children. Hi. My name is John and I want you to get to know me a little bit better. You already know the myths…the legends…but now it's time you know the man. So, grab your chai tea latte, sit back, and consider yourselves blessed. To truly understand and appreciate all that is me, we must go back to the beginning. July 16th, 1969 was an important day in our nation's…nay our world's history. It was the day I was born. I remember that day like it was 49 years-ago. It was raining. Also, I think there was something about a rocket launching for the moon, but I'm pretty sure that was just CGI. The President was Richard Nixon, who I assume was one of the greatest presidents of my generation and we had just begun to end the Vietnam War, which…what could go wrong? (I do not get the History Channel.) 
We were on the verge of the roaring 70's. A decade when seatbelts were still considered "optional" and homosexuality was removed from the American Psychiatric Association's list of mental illnesses, redefining it as "sexual orientation disturbance." Yay, progress! However, I am ashamed to admit, I had not accomplished much in the way of my medical or academic careers at that point, although my macaroni art can still be found on some of the finest refrigerators in NY. My first foray into biology occurred in 1979, when I argued with my mother to allow me to watch my father and his friend gut and skin a fox they had killed on a hunting trip. Actually, my dad was drunk and hit it with his van on the way home. It was the 70's and that was still considered a legitimate form of hunting. Anyway, my mom said no, but my dad argued it would be a great learning experience for me. I watched. I threw up. I learned I should listen to Mom. Throughout the 80's, I was a teenager, so obviously I didn't do much of anything because I already knew everything. However, that all changed in 1991. I had a female friend living in Sacramento, CA and she invited me to "Come out to the coast, we'll get together, have a few laughs…" (John McClain, Die Hard 1988) She was training to be a medical assistant and asked if I would like to come out a become one too. I asked her if I would learn how to suture wounds like Rambo in First Blood. She said yes (she lied). I said, "I'm in." and grabbed my sunglasses and took a Greyhound bus to Northern California. I earned my certification in medical assisting in 1992. By the summer of 1994, I was setting up and running a new satellite gastroenterology office at McClellan Hospital at Mather Air Force Base in Mather, CA. I worked as a CMA and a PBT in a variety of fields such as gastroenterology, orthopedics, pediatrics, and geriatric medicine for about 4 years. I decided I wanted to advance in the healthcare field, so I moved to Charlotte, NC, and matriculated into Central Piedmont Community college in the summer of 1999. During my time there, I made several Dean's Lists and was elected as President of the Phi Theta Kappa Honor Society. Moreover, I was selected as the only student representative to sit on the newly formed CPCC SWAT initiative. I worked with President Dr. Tony Zeiss and the heads of all the various departments to determine the direction that CPCC would take going into the future. During that time, I argued for and was granted work-study compensation for student ambassadors. I was even honored with an academic achievement award from Mayor Pat McCrory (He's still popular, right?). I graduated with a 4.0 GPA and honors in 2002. It should be noted, I starred in the Academy Award Nominated (for best cinematography) 2000 masterpiece The Patriot as "Continental Soldier" along side Mel Gibson (He's still popular, right?). 
My name appears in the end credits. Seriously! Google me! After graduation, I took a break from my lucrative acting career and matriculated into UNC. I'm not gonna lie; that first semester was rough. I was new to the university. Moreover, I was a single dad with a 2-year-old baby girl who would not, for the life of me, get a job and move out (millennials…am I right?). As a result, I withdrew from 2 classes. However, I adjusted quickly, buckled down, and got my butt into high gear. I earned mainly A's and I made the Dean's List in Fall 2003. Unfortunately, in the Spring of 2004, I had a family medical issue that I had to contend with. As a result, I had to withdraw from 2 additional classes as much of my time was spent driving back and forth to NY. In the end, I took a year and a half off to return to NY and help my daughter's mother with her recovery. I must stress that, even though I had a solid GPA, these scores are not indicative of my true potential or my usual performance. 
As proof, I recently graduated with a 3rd associates degree with a GPA of 3.937. I do not succumb to pressure nor do I have an issue with challenging course work. My dedication to UNC, my work, and nursing is unwavering. After I graduated from UNC in 2009, I continued to be involved in the healthcare community while focusing on raising my daughter. I volunteered in the ER at Carolinas Medical Center from November 2012 to January 2014. In addition, my daughter and I volunteered at several assisted-living facilities through The United Way's "Hands On Charlotte" program. Finally, I coached my daughter's Science Olympiad team for Randolph Middle School in Charlotte in 2013. We won (er, tied) for 3rd place. And that is my story. Wow! What a wild ride. We laughed a little. We cried a little. And, I think we can all agree, you feel a little closer to me. And, yes, I will be glad to use my celebrity status as "Continental Soldier" to endorse your nursing program…for a nominal fee of course. Seriously, though…I know you guys are busy. I really appreciate you taking the time to read my ramblings and for considering my application. Thank you
Did you like this example?
6023
524