Video Game Addiction
Exclusively available on PapersOwl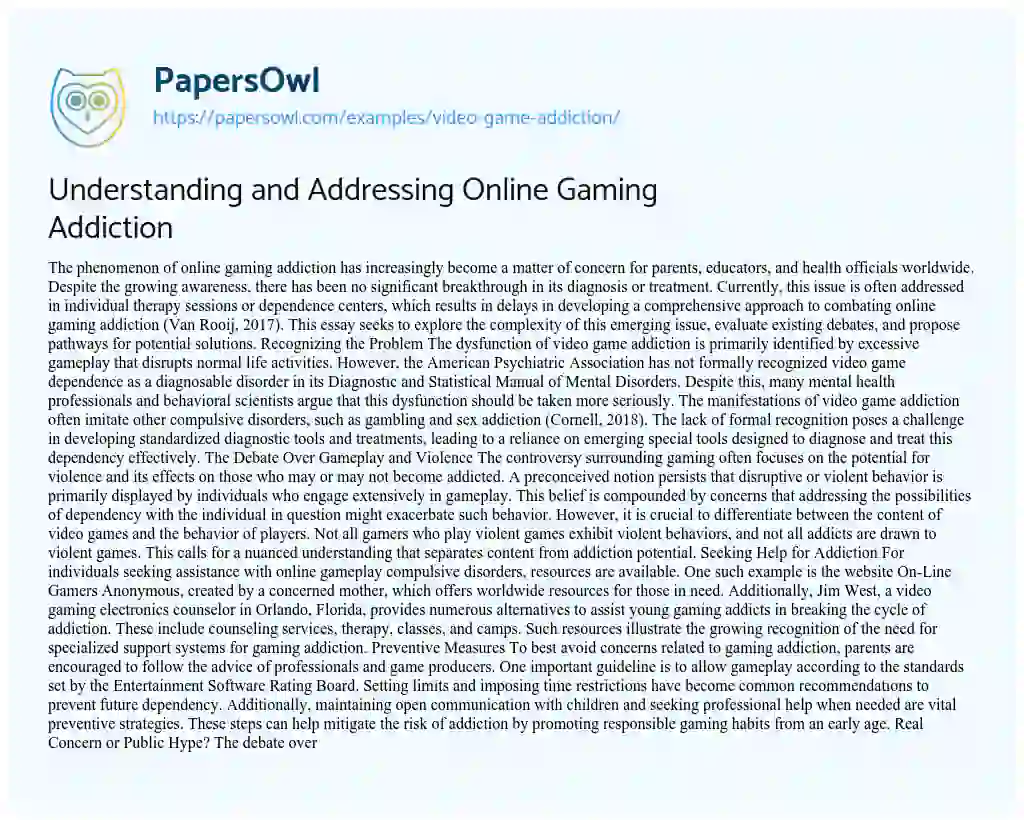 Inadequate Research Delays Effective Remedy of Online Gaming Addiction
Video game obsession has been the concern of parents, educators and health officials yet there has been no breakthrough in the diagnosis or treatment. Currently, this concern is discussed more with individual therapists and dependence centers resulting in delays of an official approach to ending online gaming addiction. (Van Rooij, 2017)
Recognize the problem
Video game addiction dysfunction is identified by excess gameplay that interrupts normal life activities although, The American Psychiatric Association does not clearly recognize video game dependence as a diagnosable ailment in the Diagnostic and Statistical Manual of Mental Disorders, however, mental health professionals and behavioralists believe this dysfunction should be taken more seriously as the manifestations of video game addiction imitate other compulsive disorders, such as gambling and sex addiction. (Cornell,2018). Considering the lack of evidence and moral panic special tools are being developed to further diagnose and effectively treat this dependency.
The Debate Surrounding Gameplay
The controversy of gaming remains focussed on the violence and how it affects those who may or may not become addicted. There is a preconceived belief based solely on game content that disruptive or violent behavior is displayed by those who engage in gameplay. It is also discerned that addressing the possibilities of dependency with the individual in question increases disruptive behavior.
Getting help with Addiction.
There is a website named On-Line Gamers Anonymous that was created by a concerned mother that offers worldwide recourses for anyone seeking help with online gameplay compulsive disorders. Also, Total Life and video gaming electronics counselor expert, Jim West located in Orlando, Fl. offers numerous alternatives to assist young gaming addicts to break the cycle including counseling services, therapy, classes, and camps.
Avoid the problem.
To best avoid addiction concerns parents are encouraged to follow the advice of professionals and game producers. Gameplay should only be permitted according to the guidelines set by the Entertainment Software Rating Board. Setting limits and using time restrictions have become the request in order to avoid future dependency. Keep communication open and seek professional help when needed.
Real concern or public hype
Some do not believe players become gaming addicts, they simply enjoying life the way they see fit. It may take several years before a determination is documented and an actual problem is deemed official. There is still too much controversy surrounded by this subject to document anything of hardcore substance.  
Did you like this example?
9144
381