The Transformational Power of Servant Leadership
Exclusively available on PapersOwl
Stewardship, empathy, encouragement, and selflessness easily describes the characteristics of a servant leader. Throughout the evolution of leadership, many methods have been utilized by executive leaders to obtain longer and sustaining results. Today, there are many leaders that want to leave a legacy, not just on their ever-growing corporate demands, but also on how they want to be remembered by their employees. CEOs around the world have pressures of performance metrics, and how to motivate their employees to their highest potential. Women in CEO Executive position has dropped to 6.4 percent among the Fortune 500 companies in 2018 (Miller, 2018). A woman CEO that has made her mark, and has begun her legacy throughout corporate America is Cheryl Bachelder. Most would recognize Bachelder for turning around the success of one of the largest fast-food chains in the world, but her leadership method is what made the company successful. Bachelder's dare to serve mentality has made the most powerful impact on her employees and the organization. We'll examine how Bachelder's servant leadership style had a lasting effect on others.
Equally important is understanding what sets Bachelder apart from other leaders. Bachelder, who is well educated obtained her BA from Indiana University, and then went on to accomplish her Master's degree from Kelley School of Business (Bloomberg, 2018). There have been many prestigious titles that she has held throughout the years with Procter & Gamble, Gillette, and RJR Nabisco. Bachelder's reign with one of the fastest-growing restaurant's Popeye's Chicken, allowed her to truly shine with her servant leadership-dare to serve style. As Bachelder communicates in her novel, Dare to Serve, "Is it possible to be humble and ambitious? What would it mean to put the people and the enterprise first-above self-interest? How would this inspire superior performance?" (2015, p.6, para.4). Leaders in the CEO position might find this thought to be somewhat of a risk. Typically at this level of leadership, they often look at performance metrics prior to looking at how employees can change the business outcome.
Need a custom essay on the same topic?
Give us your paper requirements, choose a writer and we'll deliver the highest-quality essay!
Order now
In regards to the servant leadership methodology, Bachelder was able to peel back layers within the corporation and was able to identify how servant leadership could shift the success across the enterprise. Leading others can have high rewards, but also consist of many difficult challenges along the way. Embodying and continuous practice serving others requires time, patience, and passion. Characteristics of the dynamic servant leader can be identified as having enthusiasm, love, flexibility, long-term orientation, and emotional intelligence (Blanchard & Broadwell, 2018). Oftentimes, leaders are the first to take credit for something when it's a successful idea or a project that was executed flawlessly. Bachelder is quick in challenging this theory, as she's a firm believer in taking oneself out of the spotlight and let your employees step into the spotlight (Bachelder, 2015). This type of leadership is admirable and allows her employees to think creatively while developing their confidence.
Furthermore, Bachelder ultimately chooses to serve others when she entered into the latter half of her career. Bachelder explains in her book Dare to Serve that when she came on board her new boss stated to her, "I chose you for this role. Your talent is just what we need. I look forward to working with you. This is going to be fun" (Bachelder, 2015, p.116). After a year of growing this relationship, to exceedingly high results, he left the company for a different opportunity. When Bachelder's new boss came aboard he invited her out for dinner and told her, "I've heard you are good. My job is to trip you up" (Bachelder, 2015,p.117). Roughly a year goes by and the company lost many employees, profits plummeted and the business was sold. There is a vast difference in the leadership qualities with these two different introductions. Bachelder could immediately identify the distinction between the leaders, and that her first boss served others. They achieved amazing results while motivating his team with uplifting enthusiasm. She knew that in this moment that she was at a crossroads in how she viewed leadership.
Similar to other successful leaders, they draw their passion from others that have made an impact on them. One of Bachelder's largest influencers was Max Stackhouse who wrote the book, On Moral Business. Through his novel, Stackhouse who focused highly on influence and the capability of being a steward to his people can have a lasting impact on the enterprise. Bachelder mentioned many inspirational quotes throughout her Dare to Serve novel, but there was one that continues to drive her passion; "Increasingly business leaders will be the stewards of civilization" (Plank Center, N.D, para.5). In order for future successes, Bachelder understands that the focus needs to be on the next generations and how leaders. Serving others is a passion that Bachelder exemplifies believes will shape the success of future leaders. They have one of the most powerful roles in shaping others while uncovering their potential in the most positive way. Influence can come from all different types of individuals that have contrasting worldviews and experiences. It takes a leader such as Bachelder who encourages others through serving them.
For this reason, leaders have the ability to change someone's life. Also know that with power, comes great responsibility. Understanding the importance of putting others before yourself is critical while being a servant leader. The writer of The Purpose Driven Life, Rick Warren, states, "It's not about you" (2002, p.6). The act of being a servant leader is simply enriching those around you, and Cheryl Bachelder exemplifies this logic as a leader. As a result, her years of profound success, Bachelder has proven that making employees a top priority can lead to superior business outcomes.  
Did you like this example?
3157
275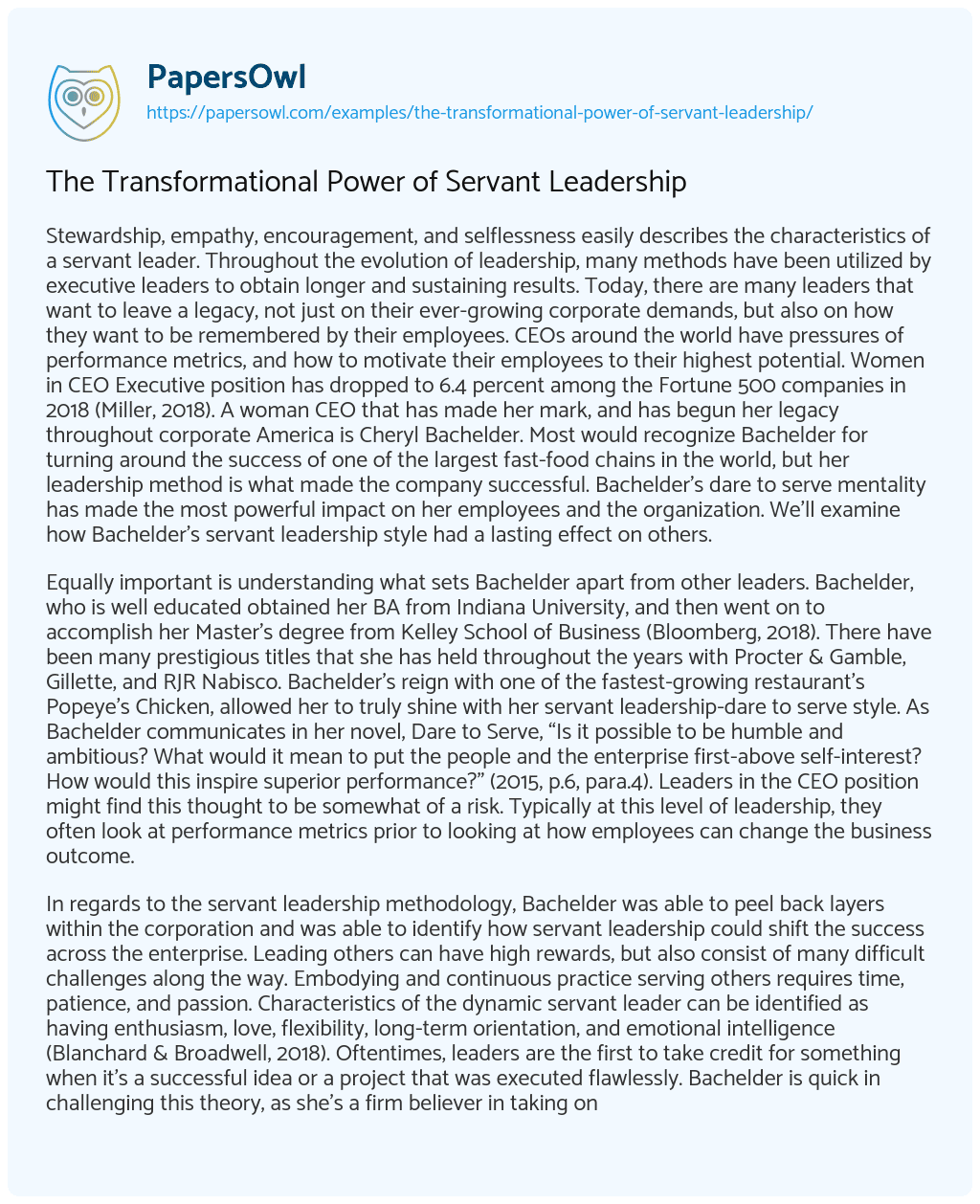 The deadline is too short to read someone else's essay
Hire a verified expert to write you a 100% Plagiarism-Free paper
The Transformational Power of Servant Leadership. (2021, Jul 01). Retrieved from https://papersowl.com/examples/the-transformational-power-of-servant-leadership/