The Book Thief: Plot Overview
Exclusively available on PapersOwl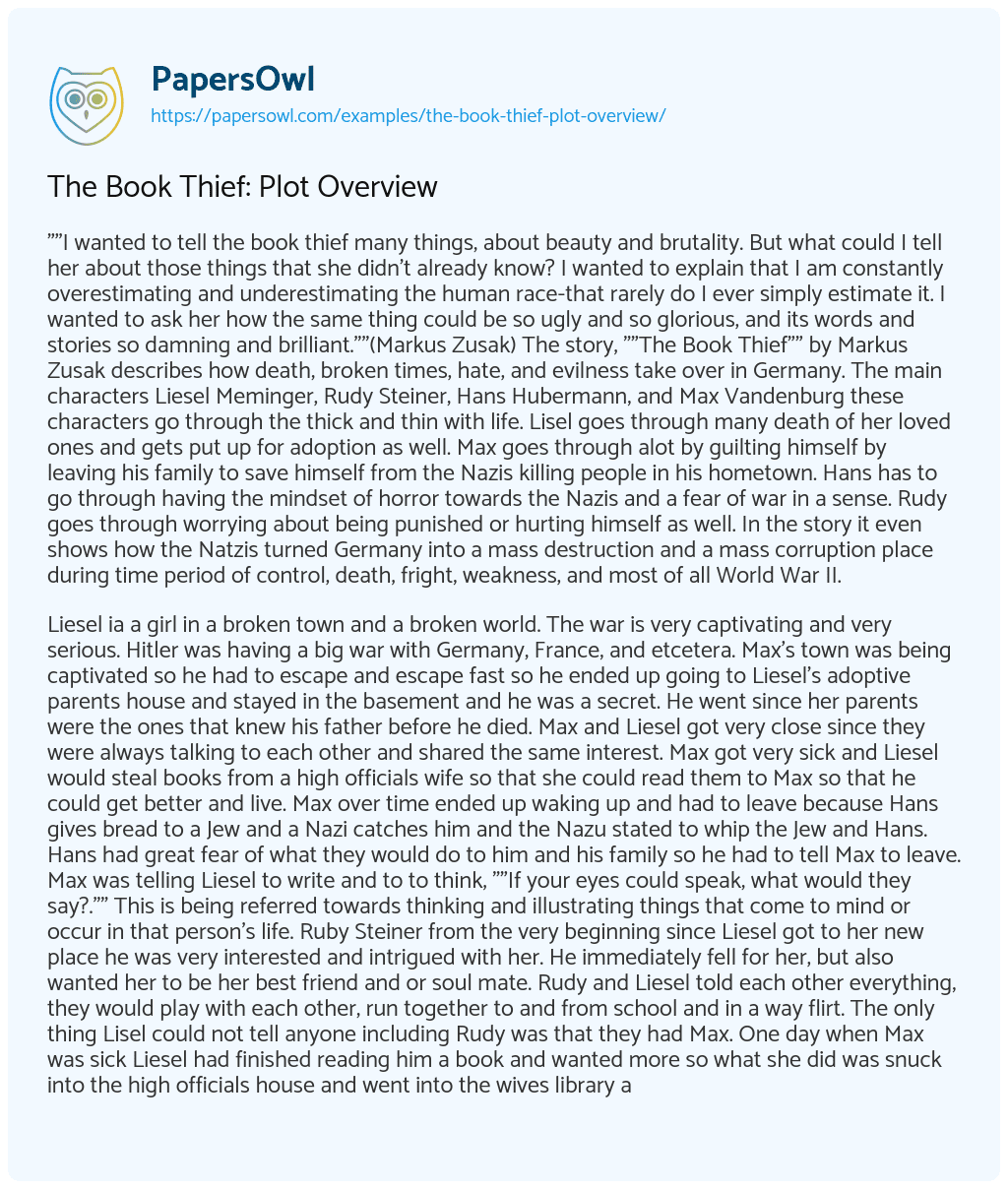 ""I wanted to tell the book thief many things, about beauty and brutality. But what could I tell her about those things that she didn't already know? I wanted to explain that I am constantly overestimating and underestimating the human race-that rarely do I ever simply estimate it. I wanted to ask her how the same thing could be so ugly and so glorious, and its words and stories so damning and brilliant.""(Markus Zusak) The story, ""The Book Thief"" by Markus Zusak describes how death, broken times, hate, and evilness take over in Germany. The main characters Liesel Meminger, Rudy Steiner, Hans Hubermann, and Max Vandenburg these characters go through the thick and thin with life. Lisel goes through many death of her loved ones and gets put up for adoption as well. Max goes through alot by guilting himself by leaving his family to save himself from the Nazis killing people in his hometown. Hans has to go through having the mindset of horror towards the Nazis and a fear of war in a sense. Rudy goes through worrying about being punished or hurting himself as well. In the story it even shows how the Natzis turned Germany into a mass destruction and a mass corruption place during time period of control, death, fright, weakness, and most of all World War II.
Liesel ia a girl in a broken town and a broken world. The war is very captivating and very serious. Hitler was having a big war with Germany, France, and etcetera. Max's town was being captivated so he had to escape and escape fast so he ended up going to Liesel's adoptive parents house and stayed in the basement and he was a secret. He went since her parents were the ones that knew his father before he died. Max and Liesel got very close since they were always talking to each other and shared the same interest. Max got very sick and Liesel would steal books from a high officials wife so that she could read them to Max so that he could get better and live. Max over time ended up waking up and had to leave because Hans gives bread to a Jew and a Nazi catches him and the Nazu stated to whip the Jew and Hans. Hans had great fear of what they would do to him and his family so he had to tell Max to leave. Max was telling Liesel to write and to to think, ""If your eyes could speak, what would they say?."" This is being referred towards thinking and illustrating things that come to mind or occur in that person's life. Ruby Steiner from the very beginning since Liesel got to her new place he was very interested and intrigued with her. He immediately fell for her, but also wanted her to be her best friend and or soul mate. Rudy and Liesel told each other everything, they would play with each other, run together to and from school and in a way flirt. The only thing Lisel could not tell anyone including Rudy was that they had Max. One day when Max was sick Liesel had finished reading him a book and wanted more so what she did was snuck into the high officials house and went into the wives library and stole a book, she thought she was alone, but Rudy followed her since they were friends and he was suspicious and found the book that Max gave to Liesel he asked what it was and she told him the whole story about Max and everything. Ruby promised not to tell anyone and he did not at all. Ruby did call her a book after that very day she took the books. Ruby was trustworthy friend and also a lover of Liesel so much that he would and he went through a living hell with her. Hans since day one when Liesel got there always treated her like royalty. He was her, Papa,someone she could lean one, and love on as well. He put trust in Liesel since that very day he told her the story about Max's dad and him in war. Hans was a very brave human being and would do whatever he need for his family. Hans was also the one who taught and helped Liesel read her very first book, but most of all Liesel and him read and learned new words through the book she read with him. This reading brought Liesel and Hans more together since they picked each other up by reading and seeing new things through the books like experiences, compassion, love, fright, and etcetera.
More time has past and the war got even more scare many men were being drafted into war asap. The war against Hitler was scary, brutal, and there were many deaths. Some people that got sent to war were Hans and Ruby's father. They got drafted so that they can survive in the war to defeat the Natis and to kill Hitler. Hitler was making their world a living hell, wicked place, and a dangerous place as well. Though the war was almost done many men got sent back including Hans and Ruby's father and the rest that survived. So some peace came to the town in a sense. One night out of the blue the Natzis were sending nuclear bombs on peoples houses and killing tons and hundreds of them. Some that died that day were Hans, Rosa, Ruby, Ruby's family, and many more. Lisel was still alive and in agony for her loved ones who had passed away. Before Ruby died he wanted to confess his love, but he didn't even finish the sentence. Once he did Liesel kissed him on the lips and said,""Nine Ruby Nine!"" which translates to, ""No Ruby No don't go!"" The high official and his wife get there after hearing and seeing the destruction the Natiz caused to Germany they immediately took in Liesel since here mama, papa, and loved ones died and raised her as their own.
A couple years later that Liesel was all grown and the Americans taken over the Natzis and Germany was back to normal, Max came back into Liesel's life while Lisel was working in Alex Steiner's shop. They both hugged each and fell to the floor in excitement to know these friends had united again and Max was safe and alive and Liesel was alive as well.
In conclusion, ""How many times did she have to say goodbye""(Markus Zusak) Liesel lost so many loved ones, had more loved ones come into her life for the greater good of it. ""It kills me sometimes, how people die.""(Markus Zusak) People die when it is their time to go and leave Earth. ""I am haunted by humans.""(Markus Zusak) People will affect you in different ways and in different things. Hitler did that to Liesel and her people, but she had to stay strong and look forward to what was to come in her life. Liesel's life was to be a book theif and write about brilliant, brutal, and significant factors that occured in her daily life as a child to once she died.
Did you like this example?
5347
223