Steve Jobs – Macintosh
Exclusively available on PapersOwl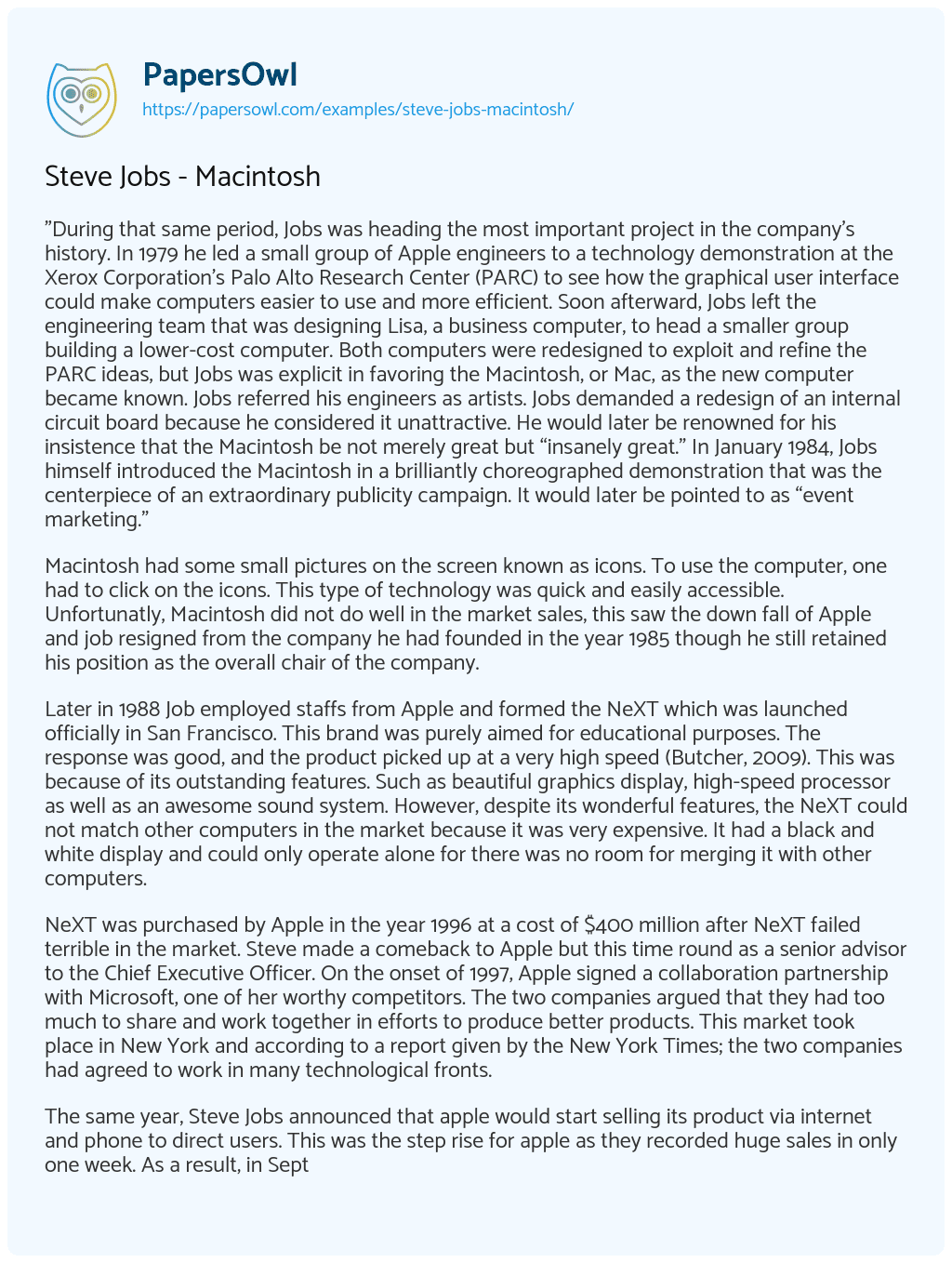 "During that same period, Jobs was heading the most important project in the company's history. In 1979 he led a small group of Apple engineers to a technology demonstration at the Xerox Corporation's Palo Alto Research Center (PARC) to see how the graphical user interface could make computers easier to use and more efficient. Soon afterward, Jobs left the engineering team that was designing Lisa, a business computer, to head a smaller group building a lower-cost computer. Both computers were redesigned to exploit and refine the PARC ideas, but Jobs was explicit in favoring the Macintosh, or Mac, as the new computer became known. Jobs referred his engineers as artists. Jobs demanded a redesign of an internal circuit board because he considered it unattractive. He would later be renowned for his insistence that the Macintosh be not merely great but "insanely great." In January 1984, Jobs himself introduced the Macintosh in a brilliantly choreographed demonstration that was the centerpiece of an extraordinary publicity campaign. It would later be pointed to as "event marketing."
Macintosh had some small pictures on the screen known as icons. To use the computer, one had to click on the icons. This type of technology was quick and easily accessible. Unfortunatly, Macintosh did not do well in the market sales, this saw the down fall of Apple and job resigned from the company he had founded in the year 1985 though he still retained his position as the overall chair of the company.
Later in 1988 Job employed staffs from Apple and formed the NeXT which was launched officially in San Francisco. This brand was purely aimed for educational purposes. The response was good, and the product picked up at a very high speed (Butcher, 2009). This was because of its outstanding features. Such as beautiful graphics display, high-speed processor as well as an awesome sound system. However, despite its wonderful features, the NeXT could not match other computers in the market because it was very expensive. It had a black and white display and could only operate alone for there was no room for merging it with other computers.
NeXT was purchased by Apple in the year 1996 at a cost of $400 million after NeXT failed terrible in the market. Steve made a comeback to Apple but this time round as a senior advisor to the Chief Executive Officer. On the onset of 1997, Apple signed a collaboration partnership with Microsoft, one of her worthy competitors. The two companies argued that they had too much to share and work together in efforts to produce better products. This market took place in New York and according to a report given by the New York Times; the two companies had agreed to work in many technological fronts.
The same year, Steve Jobs announced that apple would start selling its product via internet and phone to direct users. This was the step rise for apple as they recorded huge sales in only one week. As a result, in September of 1997 Steve jobs was announced the interim CEO of Apple (Butcher, 2009).
In 1998, Job through Apple announced the release of yet another ultra-efficient system known as the iMac. IMac was affordable as well as had quality features. The iBook was released in the year 1999. This was a kind of a laptop which had very distinctive colors, had high internet integration and was very efficient. It had the Apple Airports which was a system where one would access internet icon on the laptop without using the cable. He also established the Apples internet distribution strategies which include the Macintosh internet strategy. Jobs also made it clear that he was taking over as the permanent CEO of Apple. And it's worth putting in years of your life to make it come into existence."" Jobs have really worked to transform ideas into consumable units which are helpful to the human kinds. Steven Jobs was pivotal in establishing the personal portable computers as well as touch screen phones (Young &Jeffrey, 2015).
Steve reestablished Apple in quite a fantastic way. He established the iPhone in 2007 which was a phone that had various features such as a touch screen and later there was the birth of the iPhone tablets. Through his efforts, iPod was established in 2008. This gadget had classic sound waves and it revolutionized the music industry across the globe. By the end of the year, Apple had made an estimated profit of $200 million through the sales of iPods. Jobs always had the desire to develop new products which people would use; he can be described as an innovative designer."
Did you like this example?
5002
556