Pullman Hotel Auckland
Exclusively available on PapersOwl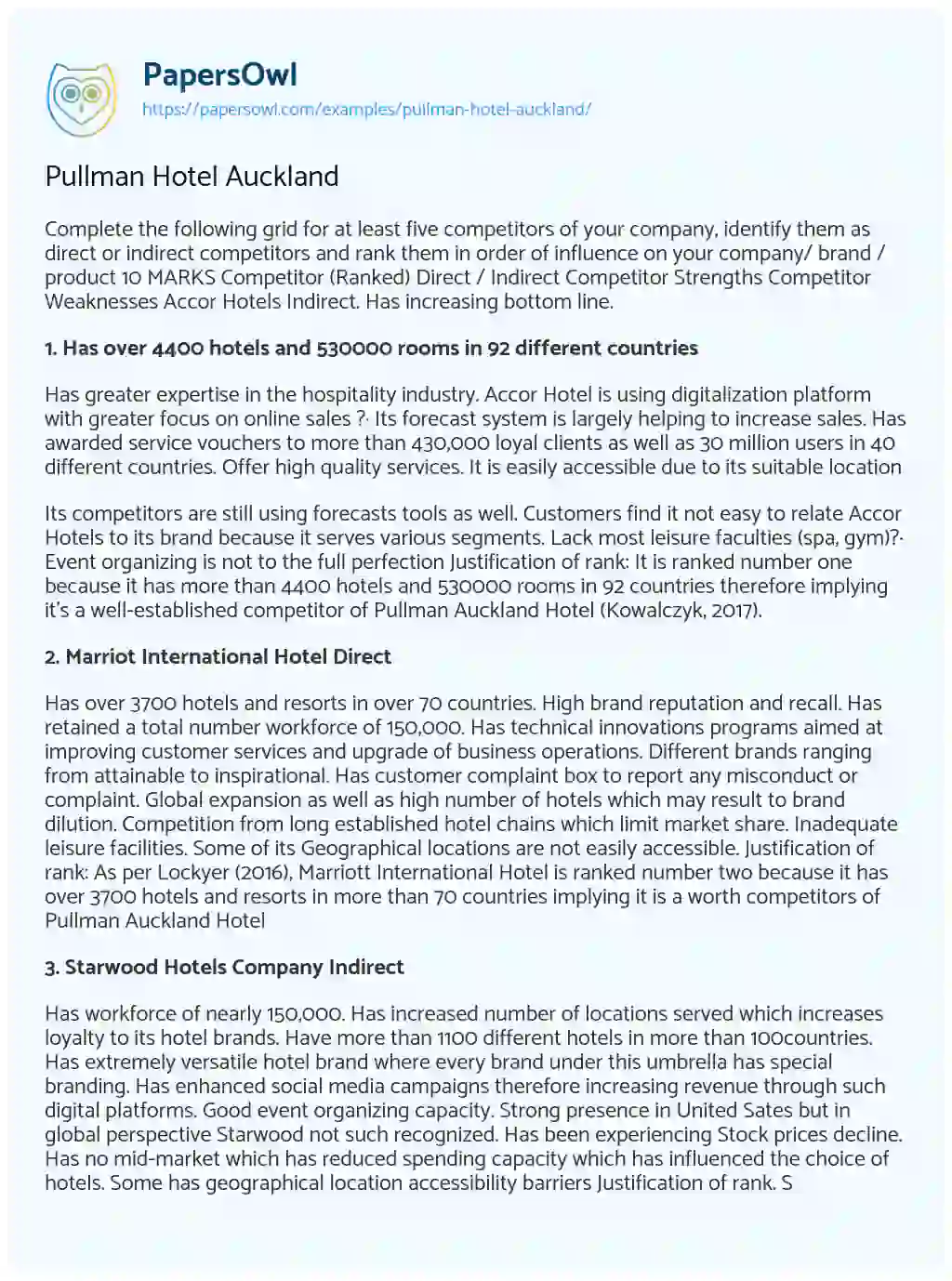 Complete the following grid for at least five competitors of your company, identify them as direct or indirect competitors and rank them in order of influence on your company/ brand / product 10 MARKS Competitor (Ranked) Direct / Indirect Competitor Strengths Competitor Weaknesses Accor Hotels Indirect. Has increasing bottom line.
1. Has over 4400 hotels and 530000 rooms in 92 different countries
Has greater expertise in the hospitality industry. Accor Hotel is using digitalization platform with greater focus on online sales ?· Its forecast system is largely helping to increase sales. Has awarded service vouchers to more than 430,000 loyal clients as well as 30 million users in 40 different countries. Offer high quality services. It is easily accessible due to its suitable location
Its competitors are still using forecasts tools as well. Customers find it not easy to relate Accor Hotels to its brand because it serves various segments. Lack most leisure faculties (spa, gym)?· Event organizing is not to the full perfection Justification of rank: It is ranked number one because it has more than 4400 hotels and 530000 rooms in 92 countries therefore implying it's a well-established competitor of Pullman Auckland Hotel (Kowalczyk, 2017).
2. Marriot International Hotel Direct 
Has over 3700 hotels and resorts in over 70 countries. High brand reputation and recall. Has retained a total number workforce of 150,000. Has technical innovations programs aimed at improving customer services and upgrade of business operations. Different brands ranging from attainable to inspirational. Has customer complaint box to report any misconduct or complaint. Global expansion as well as high number of hotels which may result to brand dilution. Competition from long established hotel chains which limit market share. Inadequate leisure facilities. Some of its Geographical locations are not easily accessible. Justification of rank: As per Lockyer (2016), Marriott International Hotel is ranked number two because it has over 3700 hotels and resorts in more than 70 countries implying it is a worth competitors of Pullman Auckland Hotel
3. Starwood Hotels Company Indirect
Has workforce of nearly 150,000. Has increased number of locations served which increases loyalty to its hotel brands. Have more than 1100 different hotels in more than 100countries. Has extremely versatile hotel brand where every brand under this umbrella has special branding. Has enhanced social media campaigns therefore increasing revenue through such digital platforms. Good event organizing capacity. Strong presence in United Sates but in global perspective Starwood not such recognized. Has been experiencing Stock prices decline. Has no mid-market which has reduced spending capacity which has influenced the choice of hotels. Some has geographical location accessibility barriers Justification of rank. Starwood Hotels Company is ranked number three because it has relatively lower number of hotels in different countries compared to Marriot International Company which is more than 1100 hotels in around 100 countries (Kowalczyk, 2017).
4. Hilton Hotel Direct
Has good reputation in the market?· Has good employees retention?· Has highly recognized brand. Have technical innovations which has improved customer services and speeded up business processes up gradation. Has approximately 540 hotels in more than 78 different countries. It has been in operation for 93 years making it real expert in what it does. Expertise and skilled employees. Operations affected around the global world due to various government policies as well as parameters. Has Limited market share despite having high quality brands Justification of rank: Hilton Hotel and Resort Company is ranked number four because it has nearly 540 hotels in 78 different countries which is lower than those in Starwood Hotels Company (Poulston& Jenkins, 2017).
5. Inter-Continental hotels Group PLC Direct ?
Has more than 500 classified hotels in different countries. Available in markets that meet international tourists needs ?· Has low labour costs which gives better profits margins to hotel owners. High growth potential because of increased number of international tourist visits in different countries. Its hotels and resorts located in places rich with key tourist attraction or beaches or cultural heritage. Highly depends on seasons due to weather changes during that particular year. Low barrier costs in hotels and restaurant industry das there are many new star-up hotels which are very competing with existing international hotels. Some of its cultural heritage practices makes it less considered by some groups of people Justification of rankInter-continental Hotels Group PLC is rank last because it has the lowest number of classified branches in different countries which are 500compared to other competitors of Pullman Auckland Hotel (Niewiadomski, 2016).
References
Kowalczyk, A. (2017). The world's biggest hotel companies. Old trends and new tendencies.? Miscellanea Geographica,? 19(4), 26-33.Lockyer, T. (2016).
The international hotel industry: Sustainable management. Routledge. Niewiadomski, P. (2016). Towards an economic-geographical approach to the globalisation of the hotel industry.
Tourism Geographies,? 16(1), 48-67. Poulston, J., & Jenkins, A. (2017). The persistent paradigm: Older worker stereotypes in the New Zealand hotel industry.
Journal of Human Resources in Hospitality & Tourism,? 12(1), 1-25.
Did you like this example?
6311
403