Our Foster Care System
Exclusively available on PapersOwl
Topics:
Adolescence , Adoption , Child , Child Abuse , Child Care , Childhood , Family , Foster Care , Human Development , Mental Health , Parent , Social Issues , Substance Abuse
Our foster care system is broken. Children go from one house to the next never knowing what having a home really means. These children are not able to make friends because people come in and out of their life within a short period of time Children develop trust issues because of this broken system; they are torn from whatever family they have left; they are given the feeling that they are not important or wanted or loved. This result should not come as a surprise. Children spend years going from one foster home to another, being traded around by social workers like a game of hot potato. 
Our foster care system is outdated; our children's current needs must be addressed by a modernized system What is the foster system? This system is a temporary solution in which an adult (the foster parent or parents) provide care for a child or children whose biological parents can't take care of them for a variety of reasons. Unlike popular belief the foster care system isn't where juvenile delinquents go. Foster care can be informal or arranged through the courts or a social service agency. The goal of the system is usually reunification with the biological or birth family but may be changed to adoption when this is seen as in the child's best interest. While foster care is a temporary solution, adoption is permanent. According to change.org every two minutes a child enters the foster care system due to a traumatic event such as abuse, neglect, abandonment, or sudden parental death in the household. 
Need a custom essay on the same topic?
Give us your paper requirements, choose a writer and we'll deliver the highest-quality essay!
Order now
On the child's end, it rips him/her from his/her home, away from the only parents him/her have ever known. They are sent to live with strangers who are now supposed to be their new family. Sometimes, this is the end of the story, but most of the time, the child continues to be moved from one place to another. The process in the foster care system adoption from the foster care system can happen in two ways. The first is for children now living in foster care, these are children whose birthparents can't take care of them and whose parental rights have been terminated. The children are put in foster or group homes while waiting to be adopted. The second type is Fost-Adopt. This is a form of adoption where a child will be placed in your home as a foster child, but with the expectation that he/she will become legally free and available to be adopted by you. 
There are many stereotypes and myths about the adoption process. A main misconception is that adoption agencies are looking for one perfect type of family to adopt. Just as there are many different types of children looking for families, there are many different types of families. Different people can be successful parents. Therefore, it is the policy of the National Adoption Center that no person should be denied consideration in the adoption process solely based on marital status, sexual orientation, lifestyle, disability, physical appearance, race, gender, age, religion and/or size of family. Every child deserves a safe and loving home. Some of these children are put into the system because they have either been abused (sexually or physically). 
Unfortunately, many are again abused in the foster care system. According to HG.org, a study done at John Hopkins University found that children who are in the system are four times more likely to be abused than other children not in this setting. According to Tonia Stott, child and adolescent social worker, in her article, the two noteworthy hazard practices are sexual practices and substance use. It is profoundly awful that these two hazard practices are obvious in these youthful adolescents/grown-ups.
Such activities will, surely, lead to an awful way of life that numerous others will disapprove of even though they didn't really pick it for themselves. These people become influenced in such ways that they may not know directly from off-base. When achieving the age of 18, a child has surpassed the age prerequisite of child care, anyway there are a few offices that enable those youthful grown-ups to remain in consideration till the age of 21 or still get some type of help. 
The results of hazard practices in youth alongside the number of inhabitants in child care have risen. Most of these youthful grown-ups experience the ill effects of destitution and vagrancy. The article expresses that 33% to one-portion of previous child care youthful grown-ups have been captured and additionally imprisoned; substance use is accounted for by about 25% with about 15% having substance misuse or reliance issue; and somewhere in the range of 40% and 60% have been pregnant or been the parent of a child. The percent of these distinctive themes should come as a flag cautioning us. 
These kids are not heading out to school and getting to be specialists and legal counselors. As per these reports, they're discarding their lives because of absence of consideration, care, and educating while they were youthful. There are times where children and teenagers will be moved going to various offices. This has been demonstrated to cause passionate and social effects. This has additionally made kids and adolescents think that it's harder to pick up trust with others. A portion of these encourage youngsters where moved absent much notice makes them endure and lose kinship The system should protect them from an unsafe home or environment, where they might be experiencing abuse, neglect, or behavioral issues. It is our responsibility to step in and protect the well-being of these children. 
Unfortunately, there are horrific news reports detailing the abuse and neglect of foster children. To give an example the story of Naika, after countless foster homes and years of abuse, the young 14-year-old decided to end her life. She broadcasted herself on Facebook live for than two hours before committing suicide. Her viewers, which happened to be some of her friends begged the then 14-year-old girl not to do it. Some urged her to do it, saying that she was only seeking attention. And then she did, hanging herself in the bathroom of a foster home in southeastern Florida — for everyone to see. Being placed in confinement, misery, and indecision can lead them to likewise experience the ill effects of misery and tension. It has been demonstrated that "young people in child care appear to utilize substances at higher rates than their friends" (Stott, 2012, page 4) on the grounds that of the despondency and uneasiness. 
To many, including myself, many may ask why children who are in consideration programs utilizing and manhandling substances more than the individuals who aren't. It could basically involve poor conditions in the offices or encourage homes. Being put into foster care can "influence the improvement and emotional wellness of children/teens" since there can be various kids if taking a gander at a child care office. A case of this could be school where certain understudies may require one-on-one time with the educator, however the instructor can't give that because of the measure of understudies in the homeroom that additionally need assistance. Many trust that child care is for kids who don't have a home. 
In any case, child care is an organization for children who not just observe disregard, misuse, and even sexual maltreatment yet experience it. As per the World Health Organization, 20% of kids and young people overall experience the ill effects of a type of passionate or conduct issue. The U.S. Top health spokesperson reports that around 1 of every 10 American children experience a psychological sickness sufficiently serious to cause critical weakness. 
"Somewhere in the range of 40 % to 85% of children in child care have mental wellbeing issue, contingent upon which report you read," says Stephen Hornberger, executive of conduct wellbeing for the Child Welfare League of America. By what means can child care be an appropriate situation of consideration for kids on the off chance that it just motivations them to be inclined to sicknesses? It is completely foolish that this kind of data is mostly escaped the open except if investigate is finished. As I would see it, I don't trust that anybody has the right to be put into a domain that can prompt such results. Children kept in child care appear to nearly finish up more awful off than they were previously. This is because of an absence of very much prepared suppliers who can manage misfortune issues. 
A significant number of the children in child care were detracted from their families on account of issues with parental maltreatment or disregard, vagrancy, and presentation to abusive behavior at home and substance misuse. Numerous kids will encounter an illness called Post Traumatic Stress Disorder (PTSD) which is caused from horrible experience. This experience causes and individual to not have the capacity to accurately react to this threat. Rather, they may encounter dread or stress notwithstanding when the threat is absent. Tragically, because of living in a cultivate home, these children have poor instructive standings. A decent segment of children move from home to home missing inordinate school days just as not graduating secondary school and just getting a GED. 
This rate of GED's is "multiple times higher" than the remainder of immature populace. When achieving adulthood they experience loss of expectation, no social or money related help, and even similar to vagrancy. "Without institutional change,children in child care will keep on being molded inside an establishment that as of now creates youthful grown-ups who battle rationally, instructively, and socially", which will prompt increments in insights and poor fates. I consent to this announcement on the grounds that without change, child care will keep on influencing each person who was once separated it abandoning them less lucky than the individuals who were definitely not. In the article it expresses, each year 287,000 will leave child care and will battle to take an interest in the public arena. That is such a high number, that should open the eyes of each person on the planet; not simply America. 
The impacts of child care are incredible. Their sentiments become surrendered and they will start to fill unusual around different people. The individuals who enter encourage have an inclination of encountering social issues, for example, "teen pregnancy, substance misuse, and captures" (Zlotnick, 2012, page 1) alongside medical issues. In spite of the fact that this announcement is valid, I wish it was most certainly not. Our kids, regardless of the nation, ought not need to be conveyed to an actual existence accordingly in view of the activities from their folks. Alongside those issues, many experience mental and social issues. When turning out from child care, many face joblessness and vagrancy. 
Certain circumstances have diverse impacts and results. In the event that a sensational occasion happens amid adolescence, it has a more noteworthy effect in affecting that tyke in adulthood, nonetheless, that occasion occurring amid a later time, it might not have a similar impact. It has been demonstrated that grown-ups who have a history in child care have a higher possibility of psychological wellness issues. This is all the more generally found in grown-ups past the age of thirty-five. The article alludes to numerous issues that have prompted psychological well-being issues. 
Nonetheless, the people that were studied did not have emotional wellness issues as a result of those issues, but since of history of child care. It was additionally demonstrated that white ethnicity had a higher rate than those of another ethnicity, particularly those of male. They would likewise encounter "physical issues that preclude day by day work" (Zlotnick, 2012, page 3),such as the powerlessness to take an interest in exercises, for example, working, mingling, and even appropriately dealing with themselves. 
Alongside mental and physical issues, those of a history in child care additionally experience the powerlessness to work, have a higher rate in accepting standardized savings inability protection, despite the fact that the individuals who are hitched have less of an impact of these, and ceaseless intense medical issues. Grown-ups with a past filled with child care "were multiple times bound to miss a time of work than those without narratives of it (Zlotnick, 2012, page 5) ", which could be from issues that identify with the dangers and effects. 
The lives of these people are being demolished through a framework that should support them. Missing work could prompt getting to be terminated; just causing more confusions. There are additionally such things as, "being unmarried, less taught, living in destitution, more unfortunate wellbeing status, having hypertension, and being a present smoker" (Zlotnick, 2012, 5)that become obvious when investigating the lives of these people. Despite the fact that child care is a path for kids to make tracks in an opposite direction from their alarming homes or utilized as a consideration for the individuals who don't have guardians/guardians not having any desire to deal with them, there are negatives. 
All through research, it is unmistakably clear that child care might be a more awful condition than a portion of the homes that a significant number of them are already in. The encounters that kids may look amid child care and already have caused improvement of psychological instabilities and illnesses. The effects that child care makes can be dangerous or makes the individual have an ineffective life.
Did you like this example?
2748
175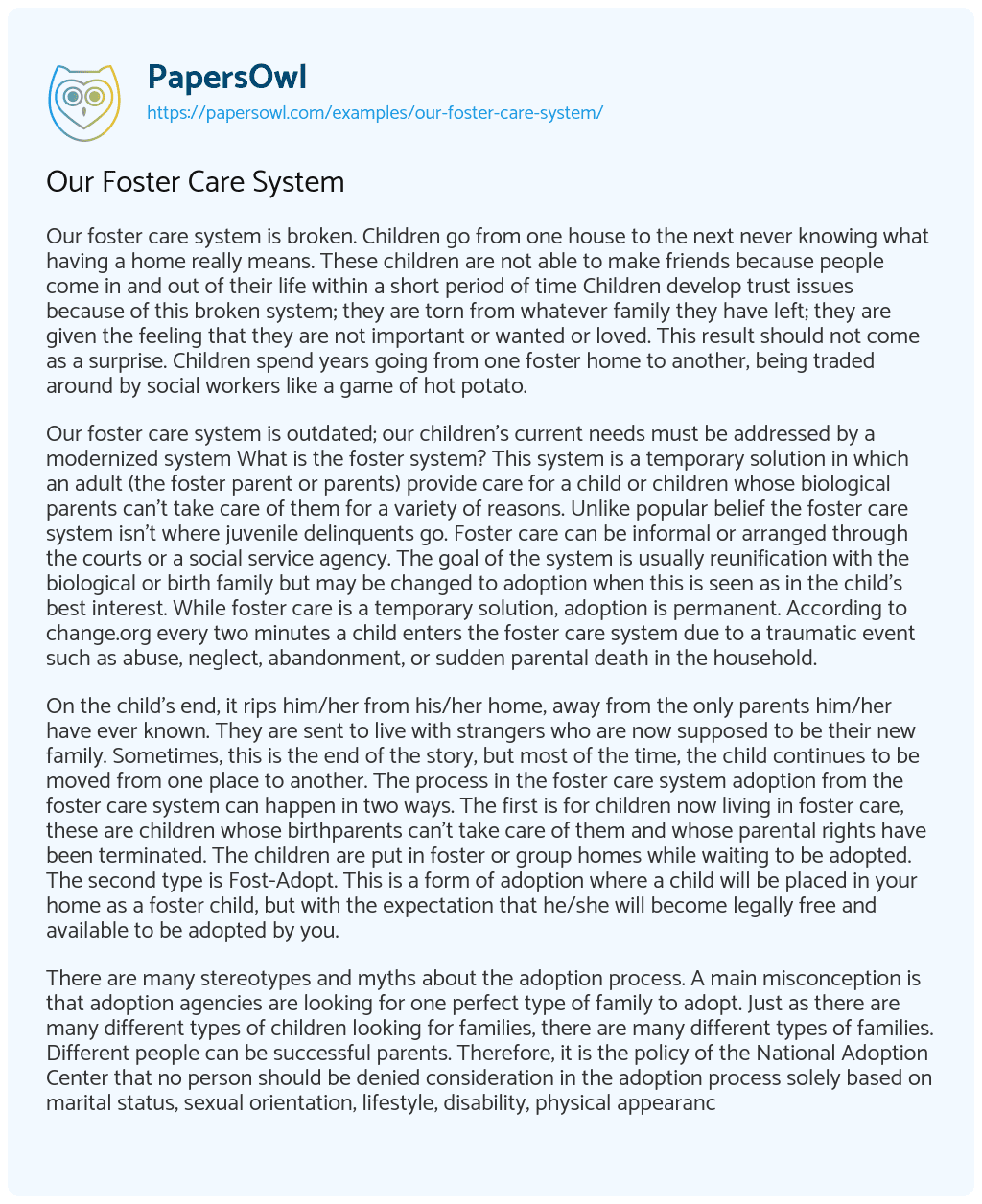 The deadline is too short to read someone else's essay
Hire a verified expert to write you a 100% Plagiarism-Free paper
Our Foster Care System. (2021, Apr 24). Retrieved from https://papersowl.com/examples/our-foster-care-system/