Othello: the most Extraordinary Shakespeare's Character
Exclusively available on PapersOwl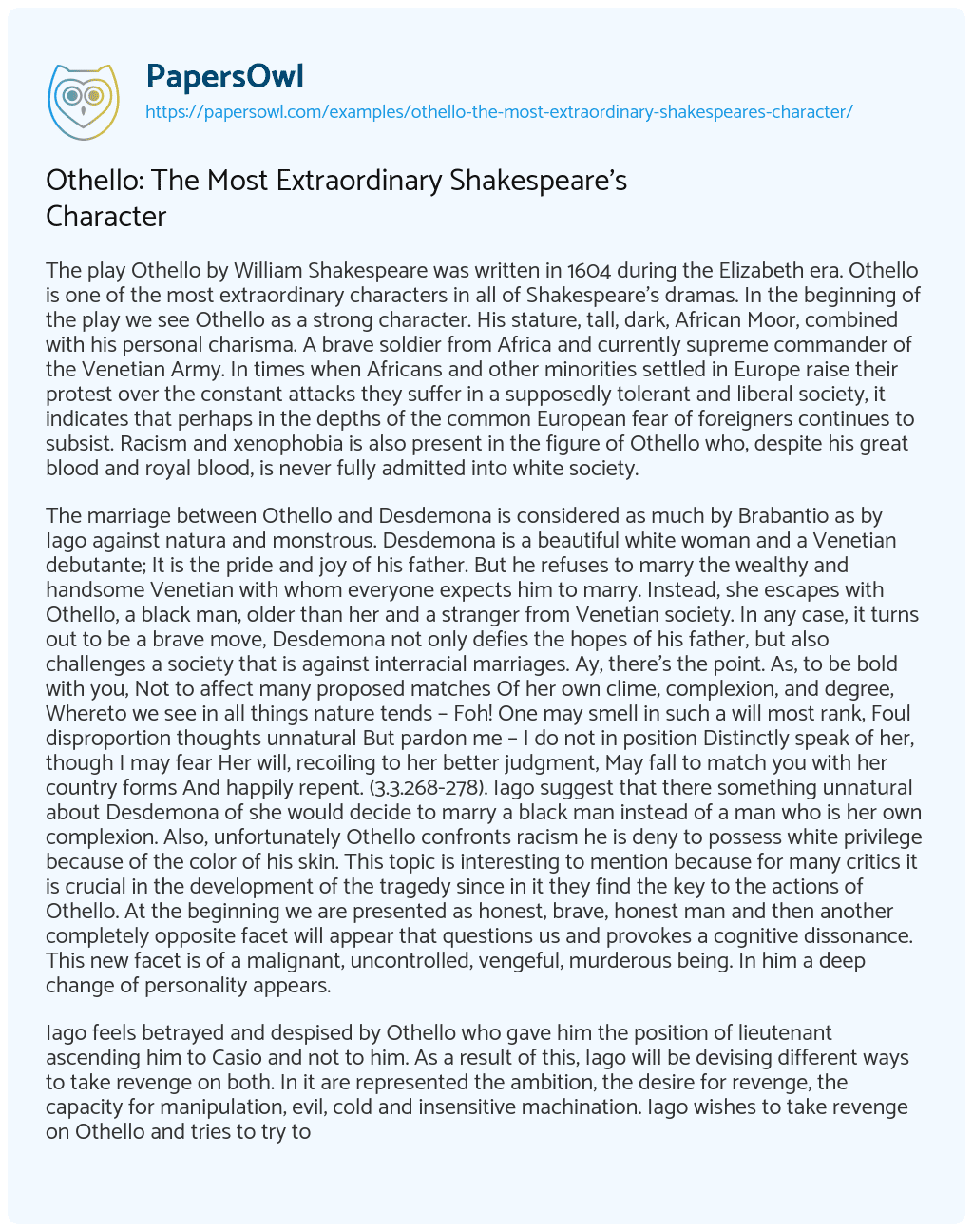 The play Othello by William Shakespeare was written in 1604 during the Elizabeth era. Othello is one of the most extraordinary characters in all of Shakespeare's dramas. In the beginning of the play we see Othello as a strong character. His stature, tall, dark, African Moor, combined with his personal charisma. A brave soldier from Africa and currently supreme commander of the Venetian Army. In times when Africans and other minorities settled in Europe raise their protest over the constant attacks they suffer in a supposedly tolerant and liberal society, it indicates that perhaps in the depths of the common European fear of foreigners continues to subsist. Racism and xenophobia is also present in the figure of Othello who, despite his great blood and royal blood, is never fully admitted into white society.
The marriage between Othello and Desdemona is considered as much by Brabantio as by Iago against natura and monstrous. Desdemona is a beautiful white woman and a Venetian debutante; It is the pride and joy of his father. But he refuses to marry the wealthy and handsome Venetian with whom everyone expects him to marry. Instead, she escapes with Othello, a black man, older than her and a stranger from Venetian society. In any case, it turns out to be a brave move, Desdemona not only defies the hopes of his father, but also challenges a society that is against interracial marriages. Ay, there's the point. As, to be bold with you, Not to affect many proposed matches Of her own clime, complexion, and degree, Whereto we see in all things nature tends – Foh! One may smell in such a will most rank, Foul disproportion thoughts unnatural But pardon me – I do not in position Distinctly speak of her, though I may fear Her will, recoiling to her better judgment, May fall to match you with her country forms And happily repent. (3.3.268-278). Iago suggest that there something unnatural about Desdemona of she would decide to marry a black man instead of a man who is her own complexion. Also, unfortunately Othello confronts racism he is deny to possess white privilege because of the color of his skin. This topic is interesting to mention because for many critics it is crucial in the development of the tragedy since in it they find the key to the actions of Othello. At the beginning we are presented as honest, brave, honest man and then another completely opposite facet will appear that questions us and provokes a cognitive dissonance. This new facet is of a malignant, uncontrolled, vengeful, murderous being. In him a deep change of personality appears.
Iago feels betrayed and despised by Othello who gave him the position of lieutenant ascending him to Casio and not to him. As a result of this, Iago will be devising different ways to take revenge on both. In it are represented the ambition, the desire for revenge, the capacity for manipulation, evil, cold and insensitive machination. Iago wishes to take revenge on Othello and tries to try to get Othello to take revenge on Desdemona. To achieve this, several characters fall into their clutches and are handled at will, constantly manipulating Othello and we are witnessing the transformation that they are suffering through. It is fascinating the way in which Yago is setting the plot, as the spider with its fabric waiting for its prey to fall: Othello, Casio, Rodrigo, Emilia, Desdemona, all are at the mercy of the puppeteer Iago. Iago, like water, adapts to the place where it is and enters through the interstices of the other's mind to copy it. There is a special Yago for Othello, another for Casio, another for Rodrigo and a different one for Emilia or Desdemona.
Did you like this example?
3171
132