Hate Crimes in America
Exclusively available on PapersOwl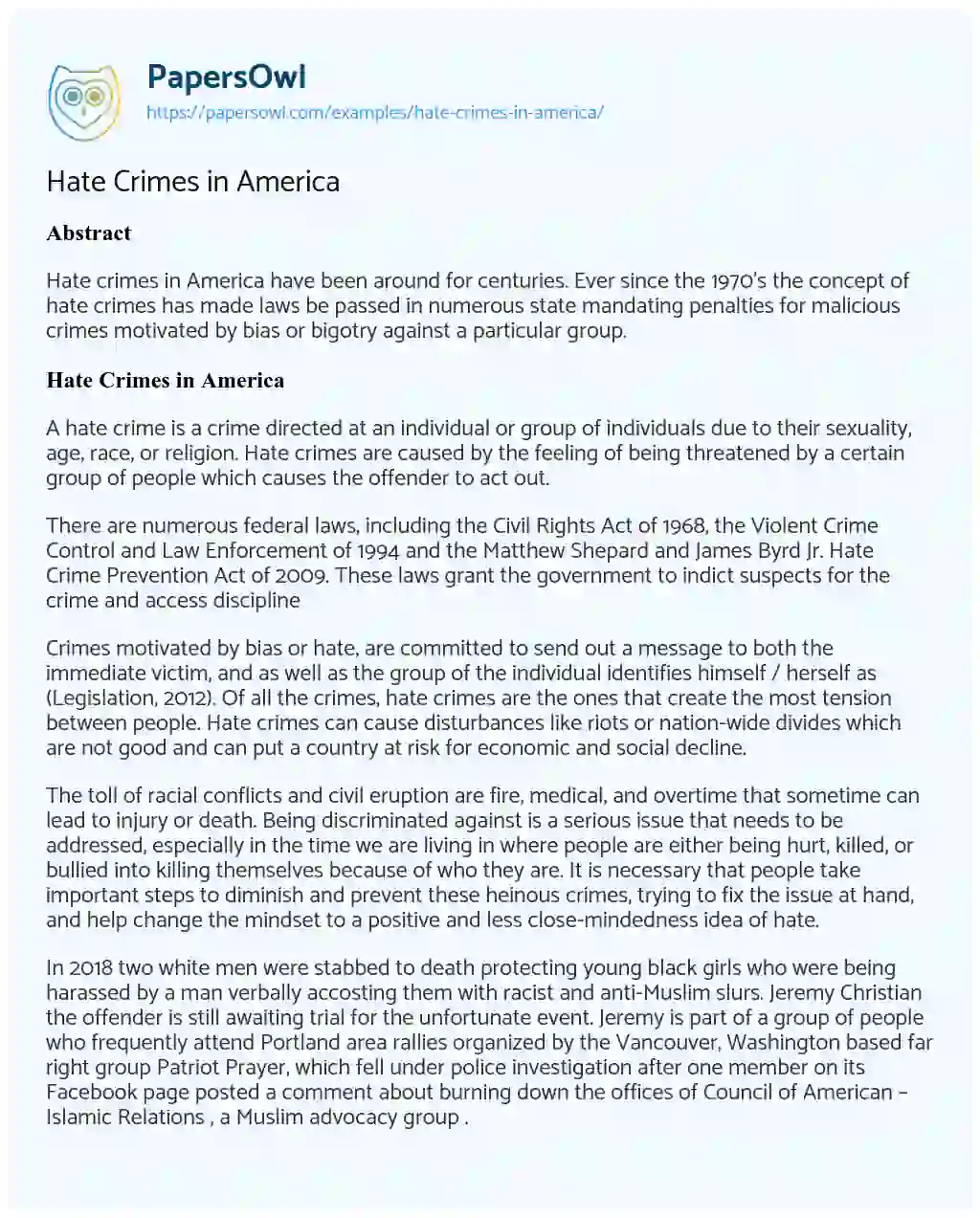 Abstract
Hate crimes in America have been around for centuries. Ever since the 1970's the concept of hate crimes has made laws be passed in numerous state mandating penalties for malicious crimes motivated by bias or bigotry against a particular group.
Hate Crimes in America
A hate crime is a crime directed at an individual or group of individuals due to their sexuality, age, race, or religion. Hate crimes are caused by the feeling of being threatened by a certain group of people which causes the offender to act out.
There are numerous federal laws, including the Civil Rights Act of 1968, the Violent Crime Control and Law Enforcement of 1994 and the Matthew Shepard and James Byrd Jr. Hate Crime Prevention Act of 2009. These laws grant the government to indict suspects for the crime and access discipline
Crimes motivated by bias or hate, are committed to send out a message to both the immediate victim, and as well as the group of the individual identifies himself / herself as (Legislation, 2012). Of all the crimes, hate crimes are the ones that create the most tension between people. Hate crimes can cause disturbances like riots or nation-wide divides which are not good and can put a country at risk for economic and social decline.
The toll of racial conflicts and civil eruption are fire, medical, and overtime that sometime can lead to injury or death. Being discriminated against is a serious issue that needs to be addressed, especially in the time we are living in where people are either being hurt, killed, or bullied into killing themselves because of who they are. It is necessary that people take important steps to diminish and prevent these heinous crimes, trying to fix the issue at hand, and help change the mindset to a positive and less close-mindedness idea of hate.
In 2018 two white men were stabbed to death protecting young black girls who were being harassed by a man verbally accosting them with racist and anti-Muslim slurs. Jeremy Christian the offender is still awaiting trial for the unfortunate event. Jeremy is part of a group of people who frequently attend Portland area rallies organized by the Vancouver, Washington based far right group Patriot Prayer, which fell under police investigation after one member on its Facebook page posted a comment about burning down the offices of Council of American – Islamic Relations , a Muslim advocacy group .
Did you like this example?
4418
602