Bill Gates and his Company: Microsoft
Exclusively available on PapersOwl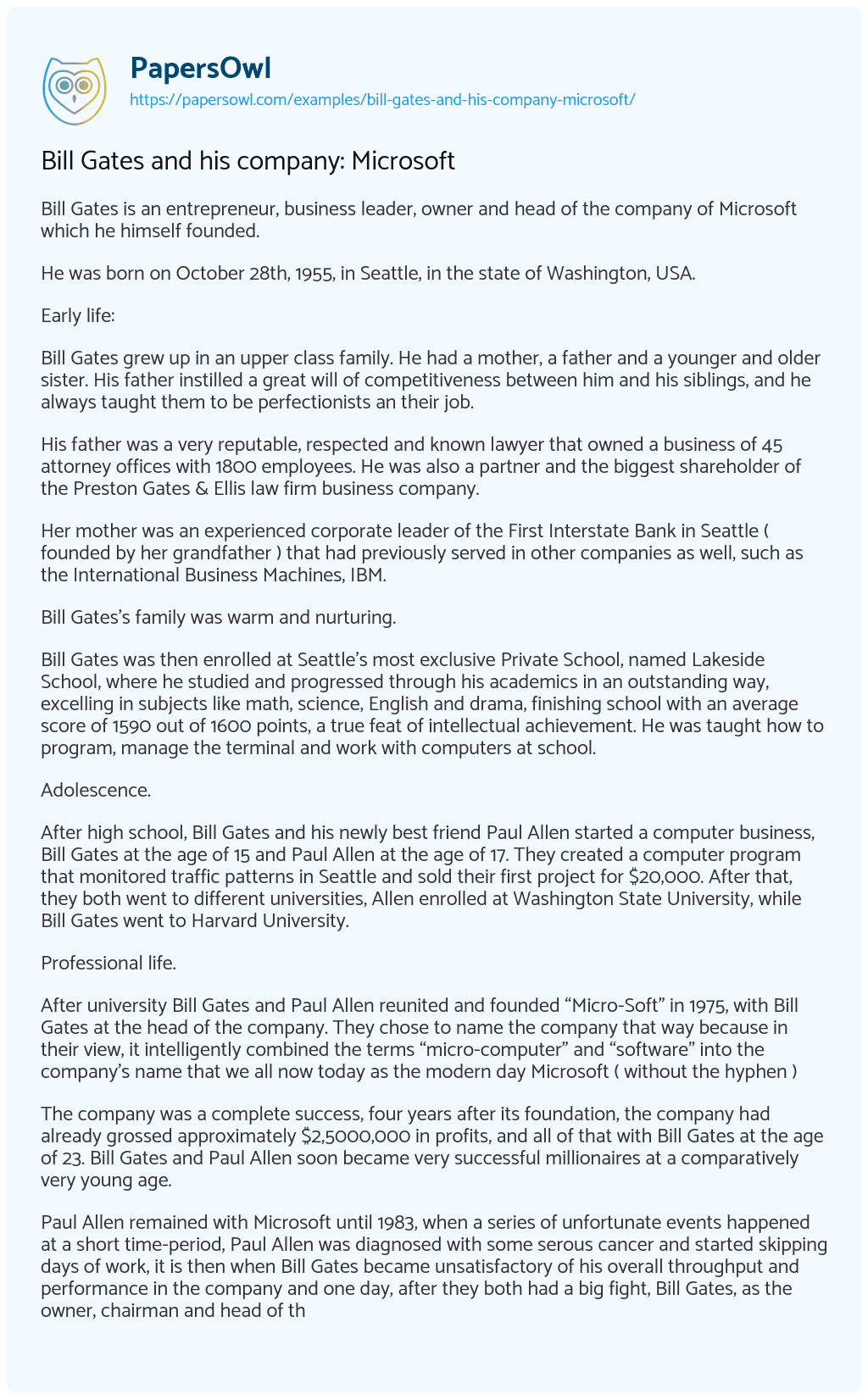 Bill Gates is an entrepreneur, business leader, owner and head of the company of Microsoft which he himself founded.
He was born on October 28th, 1955, in Seattle, in the state of Washington, USA.
Early life:
Bill Gates grew up in an upper class family. He had a mother, a father and a younger and older sister. His father instilled a great will of competitiveness between him and his siblings, and he always taught them to be perfectionists an their job.
His father was a very reputable, respected and known lawyer that owned a business of 45 attorney offices with 1800 employees. He was also a partner and the biggest shareholder of the Preston Gates & Ellis law firm business company.
Her mother was an experienced corporate leader of the First Interstate Bank in Seattle ( founded by her grandfather ) that had previously served in other companies as well, such as the International Business Machines, IBM.
Bill Gates's family was warm and nurturing.
Bill Gates was then enrolled at Seattle's most exclusive Private School, named Lakeside School, where he studied and progressed through his academics in an outstanding way, excelling in subjects like math, science, English and drama, finishing school with an average score of 1590 out of 1600 points, a true feat of intellectual achievement. He was taught how to program, manage the terminal and work with computers at school.
Adolescence.
After high school, Bill Gates and his newly best friend Paul Allen started a computer business, Bill Gates at the age of 15 and Paul Allen at the age of 17. They created a computer program that monitored traffic patterns in Seattle and sold their first project for $20,000. After that, they both went to different universities, Allen enrolled at Washington State University, while Bill Gates went to Harvard University.
Professional life.
After university Bill Gates and Paul Allen reunited and founded "Micro-Soft" in 1975, with Bill Gates at the head of the company. They chose to name the company that way because in their view, it intelligently combined the terms "micro-computer" and "software" into the company's name that we all now today as the modern day Microsoft ( without the hyphen )
The company was a complete success, four years after its foundation, the company had already grossed approximately $2,5000,000 in profits, and all of that with Bill Gates at the age of 23. Bill Gates and Paul Allen soon became very successful millionaires at a comparatively very young age.
Paul Allen remained with Microsoft until 1983, when a series of unfortunate events happened at a short time-period, Paul Allen was diagnosed with some serous cancer and started skipping days of work, it is then when Bill Gates became unsatisfactory of his overall throughput and performance in the company and one day, after they both had a big fight, Bill Gates, as the owner, chairman and head of the company, decided to fire Paul Allen from the company.
Shortly after that, Bill Gates changed the direction of the company, managing to score a succulent business exclusivity licensing deal with IBM with the help of his mother and shifting the company's ethics to discourage any use of "copied and shared software" without paying licensing fees, arguing that it -prevents good software from being written- and that it hurts innovation, the creation of quality software and investors trying to help businesses.
With this new IBM deal, Bill Gates and his employers created its first operating system, called MS-DOS, which was sold as a fee per every unit.
The OS became a revolution, and was regarded as an innovative achievement at the time. The company reached such success that they now had offices all over the world, with offices in Great Britain and Japan to name a few.
Adulthood and late life.
Bill Gates lives a happy live, married to a Microsoft employer named Melinda Gates and had 3 children named Phoebe Adele Gates, Jennifer Katharine Gates and Rory John Gates, he was also named Knight Commander of the Order of the British Empire bestowed by Queen Elizabeth the second in 2005.
There's not much else to say about him, his company goes well so far it is historically remembered for developing some of the most popular operating systems that we know today, such as Windows-XP, Windows7&10, etc. he's one of the richest people alive and he's certainly become an icon in the computing world industry.
[bookmark: _3cj56xps0vl3]Influence
The influence of Microsoft can be boiled down to three key points. First, it's rapid success out of seemingly nowhere led to news outlets catching up on the story, propagating it and launching it to further success. Second, it reached mass adoption because its products were designed from the ground up to be as much user-friendly as technology allowed it at the time. Third, its products were heavily marketed with the idea of being accessible to the common people and not for tech-companies or specialized businesses.
All of that allowed the company's products to be rapidly dispersed and adopted all around the globe, forcing device manufacturers to support its operating systems because everyone seems to be using them and the common user expects their devices to just work well with Microsofts's OS's.
Microsofts's operating systems are widely available and working in the majority of PCs in the market, holding a global operating systems market share of 82% approximately. It's influence is so big, that when people go and buy a PC at a computer shop, they automatically assume that what they are getting is a Windows PC ( unless they see a white apple ), when in reality, there are a plethora of different operating systems in the market.
Did you like this example?
5414
602