Who is Langston Hughes?
Exclusively available on PapersOwl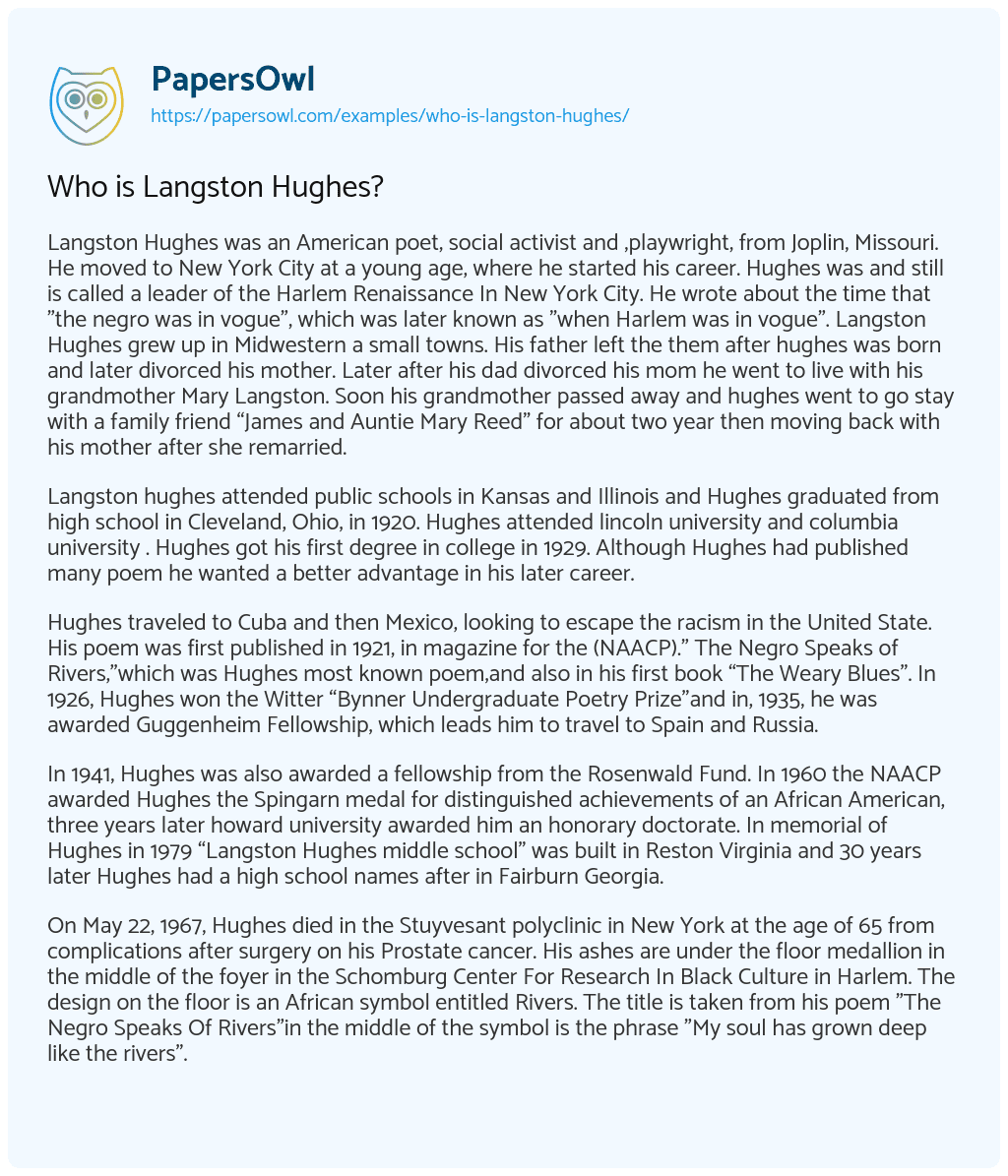 Langston Hughes was an American poet, social activist and ,playwright, from Joplin, Missouri. He moved to New York City at a young age, where he started his career. Hughes was and still is called a leader of the Harlem Renaissance In New York City. He wrote about the time that "the negro was in vogue", which was later known as "when Harlem was in vogue". Langston Hughes grew up in Midwestern a small towns. His father left the them after hughes was born and later divorced his mother. Later after his dad divorced his mom he went to live with his grandmother Mary Langston. Soon his grandmother passed away and hughes went to go stay with a family friend "James and Auntie Mary Reed" for about two year then moving back with his mother after she remarried.
Langston hughes attended public schools in Kansas and Illinois and Hughes graduated from high school in Cleveland, Ohio, in 1920. Hughes attended lincoln university and columbia university . Hughes got his first degree in college in 1929. Although Hughes had published many poem he wanted a better advantage in his later career.
Hughes traveled to Cuba and then Mexico, looking to escape the racism in the United State. His poem was first published in 1921, in magazine for the (NAACP)." The Negro Speaks of Rivers,"which was Hughes most known poem,and also in his first book "The Weary Blues". In 1926, Hughes won the Witter "Bynner Undergraduate Poetry Prize"and in, 1935, he was awarded Guggenheim Fellowship, which leads him to travel to Spain and Russia.
In 1941, Hughes was also awarded a fellowship from the Rosenwald Fund. In 1960 the NAACP awarded Hughes the Spingarn medal for distinguished achievements of an African American, three years later howard university awarded him an honorary doctorate. In memorial of Hughes in 1979 "Langston Hughes middle school" was built in Reston Virginia and 30 years later Hughes had a high school names after in Fairburn Georgia.
On May 22, 1967, Hughes died in the Stuyvesant polyclinic in New York at the age of 65 from complications after surgery on his Prostate cancer. His ashes are under the floor medallion in the middle of the foyer in the Schomburg Center For Research In Black Culture in Harlem. The design on the floor is an African symbol entitled Rivers. The title is taken from his poem "The Negro Speaks Of Rivers"in the middle of the symbol is the phrase "My soul has grown deep like the rivers".
Did you like this example?
7434
646