The Role of Social Workers: Counselors in Substance Abuse
Exclusively available on PapersOwl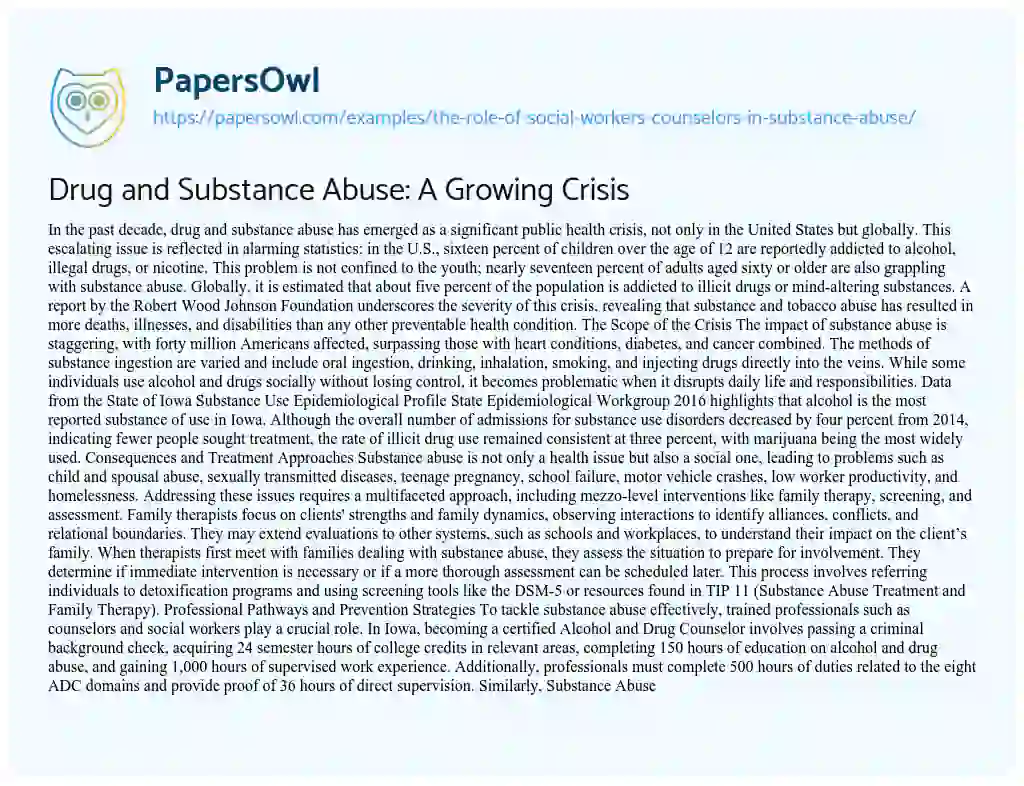 Drug and substance abuse has skyrocketed in the last ten years. In the United States sixteen percent of kids over the age of 12 are addicted to alcohol, illegal drugs, or nicotine. Nearly seventeen percent of adults age sixty or older are also abusing substances. It's estimated that about five percent of the population around the globe is addicted to an illicit drug or mind altering substance. According to a Robert Johnson Foundation report, the abuse of substance and tobacco has caused more deaths, illnesses, and disabilities than any other preventable health condition. This involves forty million americans passing those with heart conditions, twenty-six million with diabetes, and nineteen million with cancer. Methods of ingesting the substances include oral ingestions, drinking or swallowing, inhalation, or smoking, and lastly, injecting the drug straight into a vein (7).
For those who use alcohol and drugs often do so on a social basis that does not affect them to lose control. It becomes a problems when it begins to affect their everyday life. According to the State of Iowa Substance use Epidemiological Profile State Epidemiological Workgroup 2016, their data showed that alcohol was the most reported substance of use in Iowa. The overall number of admissions for Substance use disorders reported in the Treatment Episode Data Sets decreased by four percent from 2014, indicating that fewer people sought treatment. For those using illicit drugs continued to stay the same to the national rate of three percent, with marijuana being the most widely used.
Associated with the use of illicit drugs and alcohol use are many health and social welfare problems such as, child and spousal abuse, sexually transmitted diseases, teenage pregnancy, school failure, motor vehicle crashes, low worker productivity, and homelessness. To help those struggling with addiction there are mezzo type of works that deal with family therapist, screening, and assessment. Family therapist focus on clients strengths and family dynamics. Communications skills between the family members can identify problems with the family with the therapist observing the interactions to see if there's alliances, conflicts, and other relational boundaries. Any therapist may extend their evaluation to other systems such as schools, and workplace to see how it may affect the client's family.
When a therapist first meets with a family that has a member abusing substances they can evaluate the situation and prepare the family for involvement. Later, the therapist should rule if an immediate intervention is needed or if the family can come back for a more thorough assessment later. During this time it is the therapist job to refer the individual to a detoxification program, and begin screening the individual using tools such as the DSM 5 or other sources that can be found in TIP 11 (Substance abuse treatment and family therapy).
Another form of service available is the micro practice which provides an intimate and forum for self acknowledgement. It's often used for preparation for the group setting. Counselors or Social Workers encourage self expression and explorations. They work with the client to help them view or understand an issue differently, and helping the client reform their statements to provide new interpretation and supporting self-efficacy. This will help the client increase motivation toward problem solving and beneficial change (Kirst-Ashman, K. K. 2015).
The types of workers that help those struggling with substance abuse can be counselors. To become a certified Alcohol and Drug counselor in Iowa one must first pass a criminal background check, have 24 semester hours of college credits in substance abuse or a relevant area of study. A person will need 150 hours of education on Alcohol and Other Drug Abuse. Next, one thousand hours of supervised A&D work experience to be certified, then, a minimum of five hundred hours doing duties that are related to performing the eight ADC domains. Last, one must show proof of thirty-six hours of direct supervision (Substance abuse counseling certification in iowa. n.d.org).
Now the requirements to become a Substance Abuse Social Worker are as the following, complete an introduction class in social science. Once that has been completed a person can focus on getting their a Bachelor's degree. To begin practicing substance abuse social work in its full capacity one must have their Master degree. The courses taken must need to cover topics on pharmacology, substance abuse prevention, assessment and treatment. At the Master level a student is expected to complete about sixty credit hours to complete their program. It may be less if the student already has their Bachelors in Social Work. These two types of workers are also working towards preventing the use of substance abuse.
Iowa is currently finding strategies to prevent and control the use of substance misuse on families and communities. Two of their goals is to reduce the number of alcohol and drug-related fatalities and reduce the number of Juniors in highschool who are currently using alcohol, tobacco, and other drugs. To help reduce the number of Juniors in highschool using substances, they're setting strategies to come into schools and communities and speaking to sixth and eighth graders to discuss the impact that drugs can have as they mature. Also, increasing the awareness, and access to prevention information, and programming that is relevant to the targeted population. This will hopefully decrease the number of youths using substances than in previous years.
According to a 2017 report by the federal Centers for Disease Control and Prevention there are approximately 5,100 adults deaths each year from smoking. Recently drug impaired crashes outnumber alcohol impaired, according to the National Center for Health Statistics (8). To help with the occurrence of the fatalities they've set up alcohol safety education, to address community norms about alcohol and and other drugs. This should help with reducing youth access to substances.
An organization in Iowa that helps those struggling with substance abuse, or mental health is Community Access and Life Management. They provide services for people of all ages. Their primary focus is dual diagnosis of Drug and Alcohol addiction treatments. Some of the treatments offered are short term outpatient care, which consists of professionals helping clients address their substance abuse while still being able to live in their own home. Outpatient detox services, designed to safely withdraw the client from the substance which he or she is addicted to. Some other assistance that they also do are PHP (partial hospitalization programs) or outpatient day addiction treatment services. Addiction treatment approaches used are cognitive behavioral therapy, dialectical behavioral therapy, addiction treatment counseling therapy, 12-step based treatment approach, and brief intervention approach.
I chose to interview my Psychology teacher, Colleen Christopherson, who works full time at Community Family Resources as the Supervisor of the Drug and Alcohol Outpatient Program. There she supervises employees to make sure they know the organizations policy, act acordinling, keep documentation updated, and are aware of legal areas when working with clients.
Because I am still not quite sure what exactly I want to do in the Human Service Field I thought I'd pick someone who works in the field that I am fairly interested in. During the interview I chose to ask multiple questions regarding her education, and her work. What I got out of the interview was that being a supervisor for an organization that doesn't have enough workers can be very challenging. Not only does she have to do her job, but apart from it she also has to counsel other clients. This causes less free time for her and more time working. She explained that although her job field is expanding with more clients it can often be overwhelming with lack of staff. She made it clear that if I want to enter this job field I'd have to prepare myself for a lack of social life but still manage to find time to for myself.
During the interview she mentioned that a lot of her clients do not enter the program voluntarily and if they do they often don't finish through. Working with people who are in disbelief that they have a substance abuse problem can be very difficult. She has to assure them that she is there to help and although they may not want to be there, they must finish through or they must face the consequences that follows with not finishing.
What I got from the interview is that this job field can be very demanding, along with many other human service jobs. Regardless of the field I chose to enter I have to make sure I am passionate about it, and willing to make certain sacrifices, while still trying to maintain my mental health. Becoming a counselor for drug and alcohol abuse is still a field I'm interested in, but I would still consider other options.
References
Christopherson, C. (2018, November 30). [Personal interview by the author].
How to become a prison psychologist. (n.d.). Retrieved December 4, 2018, from How to Become a Substance Abuse Social Worker website: https://www.psychologyschoolguide.net/social-work-careers/how-to-become-a-substance-abuse-social-worker/
Iowa drug control strategy. (n.d.).
Kirst-Ashman, K. K. (2015). Social work. In Introduction to Social Work & Social Welfare (Fifth ed., Vol. 5, pp. 467-478). Cengage Learning.
Principles of drug addiction treatment [Drug Addiction Treatment in the United States]. (n.d.). Retrieved from NIDA website: https://www.drugabuse.gov/publications/principles-drug-addiction-treatment-research-based-guide-third-edition/drug-addiction-treatment-in-united-states
Smith, M. F. W., Whitaker, T., & Weismiller, T. (n.d.). Social workers in the substance abuse treatment field: A snapshot of service activities. Retrieved from Psychology and Behavioral Sciences Collection database. (Accession No. 21485722)
Substance abuse counseling certification in iowa. (n.d.). Retrieved December 5, 2018, from 11 Important Skills for Social Workers website: https://www.humanservicesedu.org/iowa-substance-abuse-counselor.html
Substance abuse treatment and family therapy. (2004). Retrieved December 4, 2018, from ncbi website: https://www.ncbi.nlm.nih.gov/books/NBK64259/
Robert Wood Johnson Foundation. (2001). Substance abuse The nation's number one health problem. Princeton, NJ: Author.
Did you like this example?
5734
366