Symbolism in the Great Gatsby
Exclusively available on PapersOwl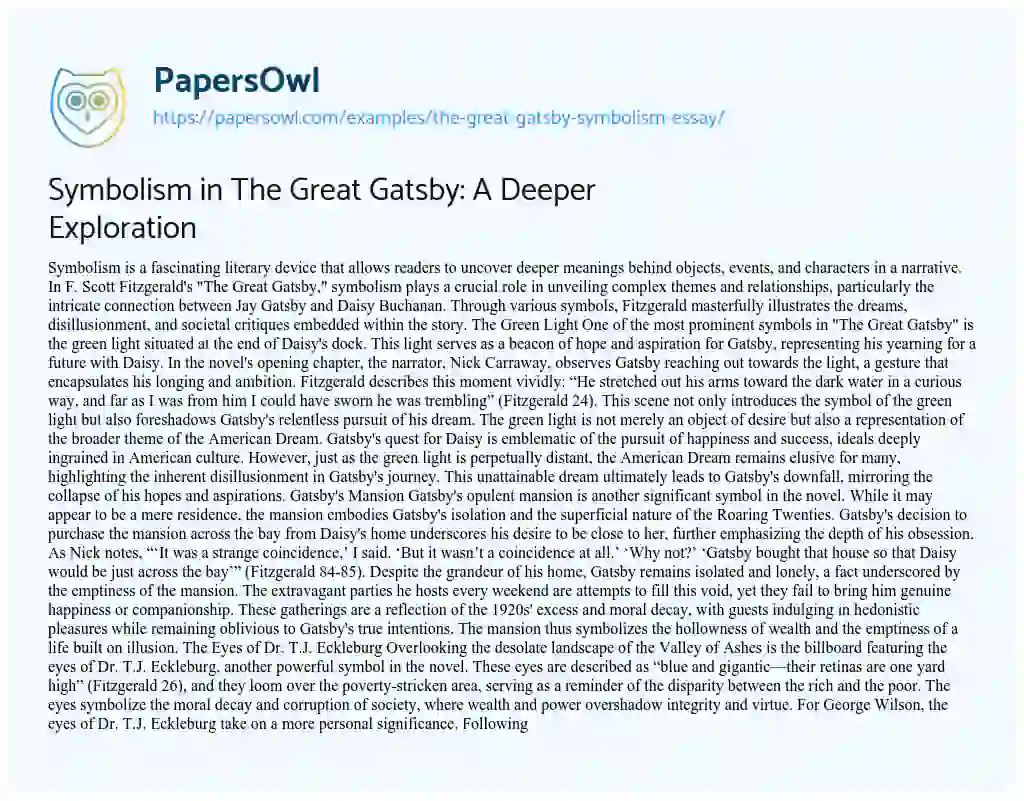 Symbolism – it's a strange thing, seeing a deeper meaning in an inanimate object, or seeing a deeper meaning of something that happens in a story.  It is an interesting, yet creative way to get a reader thinking, and engaged. Sometimes, symbolism can go unnoticed, but typically it really stands out, and leaves the reader thinking something like, "Wow, that eagle reappears every time he talks about freedom." F. Scott Fitzgerald, the author of The Great Gatsby, uses symbolism to show how random objects throughout the story symbolize the reconstruction of Jay Gatsby and Daisy Buchanan's relation. 
Green Light Symbol in the Great Gatsby
There is a green light placed at the end of Daisy's dock, and that green light is used to symbolize Gatsby's hopes and dreams for the future, to have Daisy back. Near the end of chapter one, Nick Carraway, the narrator, sees Gatsby at the end of his dock, reaching towards the green light that is at the end of Daisy's dock, across the bay separating the East Egg and West Egg. This important part was described by F. Scott Fitzgerald as, "he stretched out his arms toward the dark water in a curious way, and far as I was from him I could have sworn he was trembling. Involuntarily I glanced seaward—and distinguished nothing except a single green light, minute and far away, that might have been the end of a dock" (24). This quote from the book introduces the green light and suggests it as an important figure in the story, and presents Gatsby, as this is the first time he is in the story in real time, and not just spoken about by other characters. Gatsby is reaching towards the light, and obviously he is not attempting to grab ahold of the light. The green light symbolizes Daisy and Gatsby's dream for the future,  and he is reaching towards his dream to come true and earn Daisy back from Tom Buchanan, to himself. He dreams of having her back into his life, after no contact between the two. When Nick is watching Gatsby, Gatsby vanishes into the darkness. "When I looked once more for Gatsby he had vanished, and I was alone again in the unquiet darkness" (Fitzgerald 24-25). Gatsby vanishing into the darkness is foreshadowing that Gatsby will soon leave, which reflects on Daisy vanishing away from Gatsby five years prior after he had gone to war, to be with Tom. Once, Gatsby's dream comes true and he is finally happy, his dream will fall and vanish, along with himself soon after.
What Does Gatsby's House Symbolize?
Jay Gatsby owns an extremely expensive mansion, and it may just look like it is where he lives, but looking closer, the house may be an important symbol that ties into the time where the book takes place, and also ties into the green light symbol. "'It was a strange coincidence,' I said. 'But it wasn't a coincidence at all.' 'Why not?' 'Gatsby bought that house so that Daisy would be just across the bay'" (Fitzgerald 84-85). What has been revealed is that Gatsby had purchased his mansion not because he simply liked it, but because he wanted to be as close to Daisy as he can be, and that is right across the bay. This also suggests that all of the parties that Gatsby throws are happening in hopes of that one day Daisy will arrive to one of the parties, and Gatsby will get the chance to finally see her again. Another thing is, that Gatsby's lives in his house alone, and being inside of a house that huge must be very lonely. Gatsby's house being empty most of the time can also symbolize himself being empty and lonely, because he no longer has Daisy and the thought of never having her back makes him feel sad and empty. The fact that Gatsby's house is empty most of the time can also symbolize the 1920's boom, or The Roaring Twenties, because Gatsby deals with living in a mansion all by himself by throwing an open invite party every Saturday night, that hundreds of people attend to. "The lights grow brighter as the earth lurches away from the sun and now the orchestra is playing yellow cocktail music and the opera of voices pitches a key higher. Laughter is easier, minute by minute, spilled with prodigality, tipped out at a cheerful word" (Fitzgerald 44). This occurs at the start of chapter three, and it is the first party of Gatsby's that Nick attends. The text evaluates on Gatsby being lonely, and that is the reason why he throws so many parties. He is not throwing parties to satisfy other people, because F. Scott Fitzgerald explains in the text that Gatsby doesn't even know who most of the people are who come to his parties.
What Do the Eyes of Dr. T.J. Eckleburg Symbolize
In the Valley of Ashes, there is a billboard with a pair of eyes painted on it. The pair of eyes are named the "Eyes of Doctor T. J. Eckleburg." Eyes of Doctor T. J. Eckleburg on the billboard symbolize that when there are people living poor, rich people look down on them, and the poor people are aware of it. Nick first sees the Eyes of Doctor T. J. Eckleburg in chapter two, while driving through the Valley of Ashes. "But above the grey land and the spasms of bleak dust which drift endlessly over it, you perceive, after a moment, the eyes of Doctor T. J. Eckleburg. The eyes of Doctor T. J. Eckleburg are blue and gigantic—their retinas are one yard high. They look out of no face but, instead, from a pair of enormous yellow spectacles which pass over a nonexistent nose" (Fitzgerald 26). The quote expresses the billboard as powerful, and just how aggressive the eyes on the billboard must seem to the people who live in The Valley of Ashes. Fitzgerald also uses imagery to describe how the billboard,  or the eyes, overlook The Valley of Ashes.
After the death of his wife, George Wilson enters a state of shock and grief. Before it happened, he knew that something was up with Myrtle, and George refers to the billboard as "God." "Wilson's glazed eyes turned out to the ashheaps, where small grey clouds took on fantastic shape and scurried here and there in the faint dawn wind. 'I spoke to her,' he muttered, after a long silence. 'I told her she might fool me but she couldn't fool God. I took her to the window—' With an effort he got up and walked to the rear window and leaned with his face pressed against it, '—and I said 'God knows what you've been doing, everything you've been doing. You may fool me but you can't fool God!' ' Standing behind him Michaelis saw with a shock that he was looking at the eyes of Doctor T. J. Eckleburg which had just emerged pale and enormous from the dissolving night. 'God sees everything,' repeated Wilson" (Fitzgerald 170). This happens near the start of chapter eight, and George is saying how the Eyes of Doctor T. J. Eckleburg to him, symbolize God, and how he believes God sees everything, meaning God knew what Myrtle was doing with other men, if George himself did not know.
What Does the Car Accident Symbolize
One of the scariest things that can happen to somebody, is a car crash. But at the same time, one single car crash can symbolize an entire marriage crashing apart. From Jordan Baker, Nick learns about the first known situation where Tom is caught with another woman, while being married to Daisy. After their honeymoon, Tom was involved in a car accident and there was a maid from a hotel in the car with him. The news spread in newspapers, and Daisy knew about it. Daisy still kept the marriage, though. "A week after I left Santa Barbara Tom ran into a wagon on the Ventura road one night and ripped a front wheel off his car. The girl who was with him got into the papers too because her arm was broken—she was one of the chambermaids in the Santa Barbara Hotel" (Fitzgerald 83). These are the words of Jordan Baker, in chapter four of the book. Jordan narrates this to Nick, and it can suggest that Daisy is into Tom because of his wealth. For some reason even after caught cheating, Daisy decides to still be with Tom. The symbolism here is that the second the car suffered the damage, the marriage between Tom and Daisy suffered damage as well, as Daisy now knows that Tom is seeing other women. This is not the only car accident that symbolizes the fallout of a relationship. After Gatsby and Daisy meet again and fall in love, she goes to one of his parties.
After the party, Daisy is driving Gatsby's Rolls Royce, with him next to her. While driving through The Valley of Ashes, Daisy strikes Myrtle Wilson, and kills her. Ironically, Myrtle is Tom's mistress. Towards the end of chapter seven, F. Scott Fitzgerald describes Nick hearing about the accident in the newspaper as, "The 'death car' as the newspapers called it, didn't stop; it came out of the gathering darkness, wavered tragically for a moment and then disappeared around the next bend. Michaelis wasn't even sure of its color—he told the first policeman that it was light green" (147). Myrtle had jumped into the street, and Daisy hit her with Gatsby's car. The car obviously had suffered damage, and that damage is also in Gatsby and Daisy's relationship. After this happens, Gatsby starts to get a little annoyed that Daisy will not admit to Tom that she never loved him, and also supports the fact that Daisy loves Tom for his old money. F. Scott Fitzgerald has used a genius way of using cars in the story to represent the fall of Daisy and Tom's relationship, as well as Daisy and Gatsby's new relationship. 
The Great Gatsby, written by F. Scott Fitzgerald, contains many forms of symbolism to represent the events that happen in the book, and most importantly, to represent Jay Gatsby and Daisy Buchanan's relationship. The green light that Gatsby is reaching towards in the first chapter of the book is symbolizing him reaching towards his hopes and dreams, for Daisy. Jay Gatsby's house, a gigantic mansion, always empty, is used for a symbol Gatsby being empty and lonely because he cannot find his happiness of having Daisy back, and it also can represent the Roaring Twenties, by having his parties. A billboard overlooking The Valley of Ashes can be symbolized as the rich overlooking and being better than the poor, and to some people, the Eyes of Doctor T. J. Eckleburg can be a symbol of God. Fitzgerald has used two car crashes in the book to symbolize two different relationships starting to become damaged, and how the person driving the car is causing the damage to the car and to the relationship. While reading The Great Gatsby, the many forms of symbolism are noticed, but if you dig even deeper, are there objects and things used to symbolize other themes of the story, too? 
Did you like this example?
3592
229