The Concepts of Multidimensional, Multidirectional, Individual Variability and Plasticity in Describing Intelligence in Adulthood
Exclusively available on PapersOwl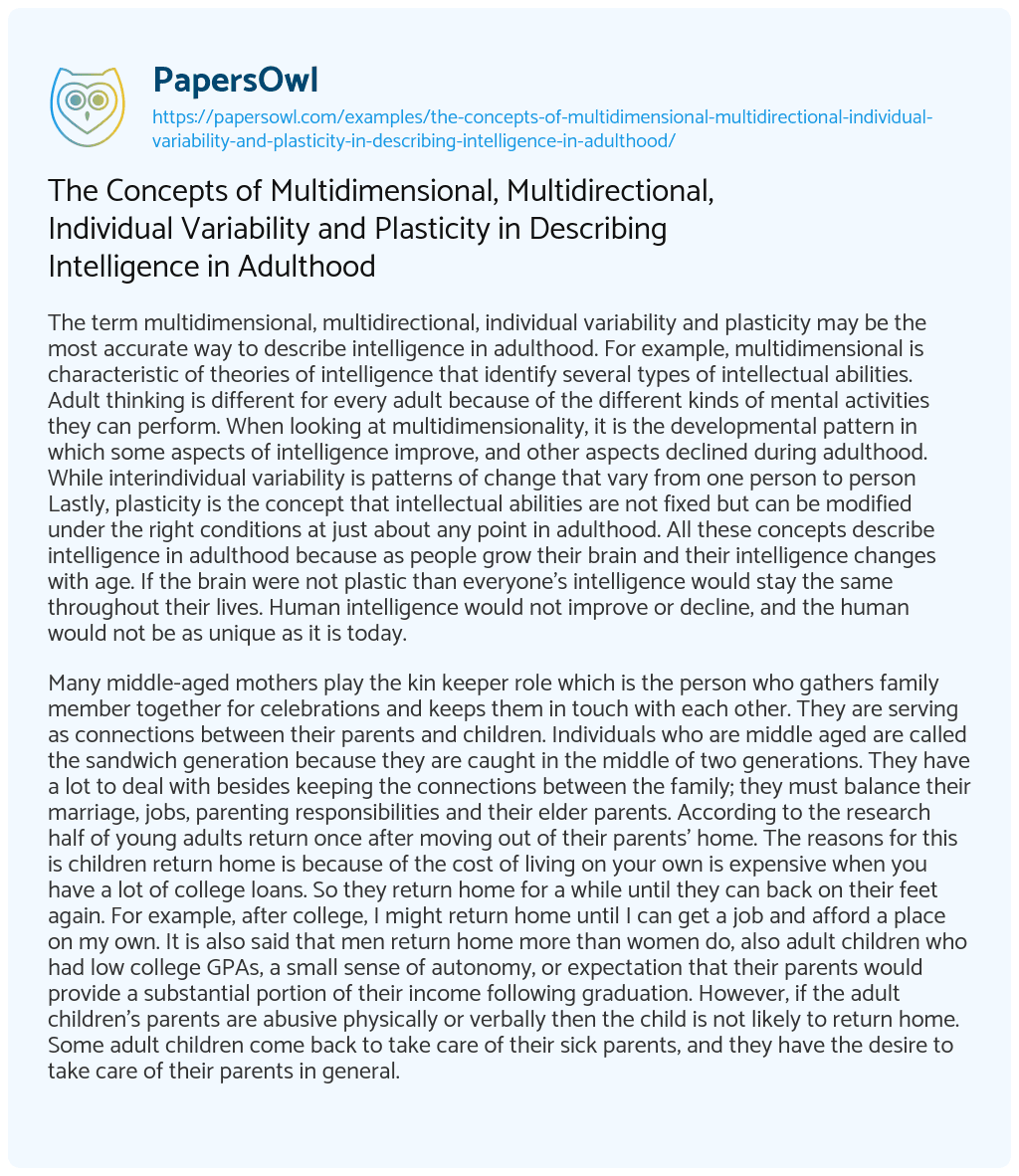 The term multidimensional, multidirectional, individual variability and plasticity may be the most accurate way to describe intelligence in adulthood. For example, multidimensional is characteristic of theories of intelligence that identify several types of intellectual abilities. Adult thinking is different for every adult because of the different kinds of mental activities they can perform. When looking at multidimensionality, it is the developmental pattern in which some aspects of intelligence improve, and other aspects declined during adulthood. While interindividual variability is patterns of change that vary from one person to person Lastly, plasticity is the concept that intellectual abilities are not fixed but can be modified under the right conditions at just about any point in adulthood. All these concepts describe intelligence in adulthood because as people grow their brain and their intelligence changes with age. If the brain were not plastic than everyone's intelligence would stay the same throughout their lives. Human intelligence would not improve or decline, and the human would not be as unique as it is today.
Many middle-aged mothers play the kin keeper role which is the person who gathers family member together for celebrations and keeps them in touch with each other. They are serving as connections between their parents and children. Individuals who are middle aged are called the sandwich generation because they are caught in the middle of two generations. They have a lot to deal with besides keeping the connections between the family; they must balance their marriage, jobs, parenting responsibilities and their elder parents. According to the research half of young adults return once after moving out of their parents' home. The reasons for this is children return home is because of the cost of living on your own is expensive when you have a lot of college loans. So they return home for a while until they can back on their feet again. For example, after college, I might return home until I can get a job and afford a place on my own. It is also said that men return home more than women do, also adult children who had low college GPAs, a small sense of autonomy, or expectation that their parents would provide a substantial portion of their income following graduation. However, if the adult children's parents are abusive physically or verbally then the child is not likely to return home. Some adult children come back to take care of their sick parents, and they have the desire to take care of their parents in general.
Did you like this example?
1185
49