Students Dealing with Posttraumatic Stress Disorder
Exclusively available on PapersOwl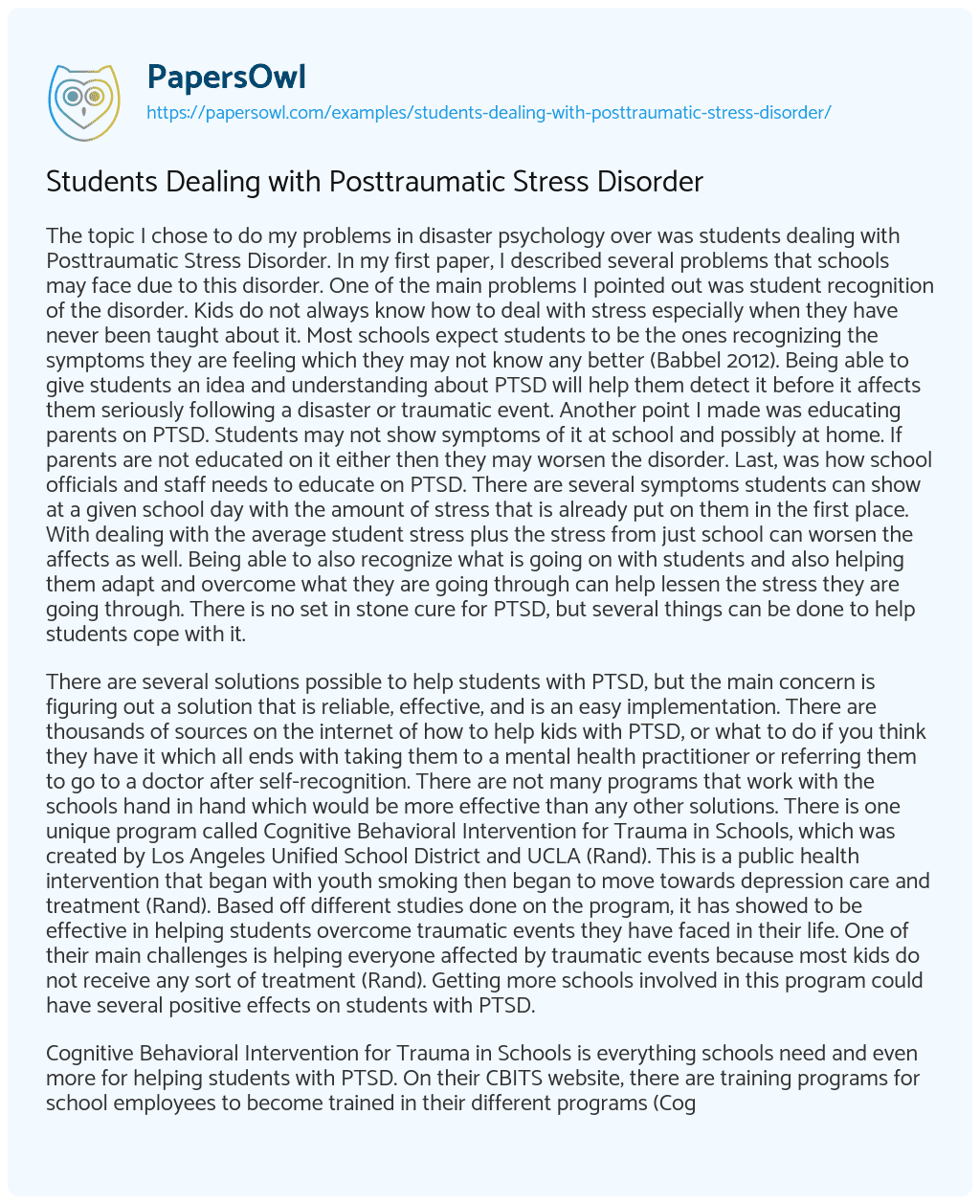 The topic I chose to do my problems in disaster psychology over was students dealing with Posttraumatic Stress Disorder. In my first paper, I described several problems that schools may face due to this disorder. One of the main problems I pointed out was student recognition of the disorder. Kids do not always know how to deal with stress especially when they have never been taught about it. Most schools expect students to be the ones recognizing the symptoms they are feeling which they may not know any better (Babbel 2012). Being able to give students an idea and understanding about PTSD will help them detect it before it affects them seriously following a disaster or traumatic event. Another point I made was educating parents on PTSD. Students may not show symptoms of it at school and possibly at home. If parents are not educated on it either then they may worsen the disorder. Last, was how school officials and staff needs to educate on PTSD. There are several symptoms students can show at a given school day with the amount of stress that is already put on them in the first place. With dealing with the average student stress plus the stress from just school can worsen the affects as well. Being able to also recognize what is going on with students and also helping them adapt and overcome what they are going through can help lessen the stress they are going through. There is no set in stone cure for PTSD, but several things can be done to help students cope with it.
There are several solutions possible to help students with PTSD, but the main concern is figuring out a solution that is reliable, effective, and is an easy implementation. There are thousands of sources on the internet of how to help kids with PTSD, or what to do if you think they have it which all ends with taking them to a mental health practitioner or referring them to go to a doctor after self-recognition. There are not many programs that work with the schools hand in hand which would be more effective than any other solutions. There is one unique program called Cognitive Behavioral Intervention for Trauma in Schools, which was created by Los Angeles Unified School District and UCLA (Rand). This is a public health intervention that began with youth smoking then began to move towards depression care and treatment (Rand). Based off different studies done on the program, it has showed to be effective in helping students overcome traumatic events they have faced in their life. One of their main challenges is helping everyone affected by traumatic events because most kids do not receive any sort of treatment (Rand). Getting more schools involved in this program could have several positive effects on students with PTSD.
Cognitive Behavioral Intervention for Trauma in Schools is everything schools need and even more for helping students with PTSD. On their CBITS website, there are training programs for school employees to become trained in their different programs (Cognitive Behavioral Intervention for Trauma in Schools). They also have resources for schools and parents depending on the type of traumatic event the child faced (Cognitive Behavioral Intervention for Trauma in Schools). Without training in this area, teachers can often times not recognize why students are not behaving normally or performing well in class due to an experience of trauma they have faced (Johnson). Counselors may have more knowledge about PTSD and how to help students overcome challenges but having each school professional go through the same training and be on the same page would make communication between the staff more sufficient. Overall, this program is an excellent way for schools to get trained and for parents and teachers to have easy access of ways to help students facing PTSD.
As great of a program as CBITS is, there are still several school that do not have a trained professional or gone through their training. My solution and overall goal with helping students with PTSD would be to bring Cognitive Behavioral Intervention for Trauma in Schools into all schools. This would not be an easy thing to do. But first it would need to start at a small scale like a school district for example. Having all teachers and staff members go through this training in a district and seeing if it is effective and work up to a metro level, then state, then possibly national level to help as many students as possible. Not only do the teachers need to be trained but also the parents. Obviously it would be impossible to train each parent or expect them to go through the same training as school staff members. One good thing Cognitive Behavioral Intervention for Trauma in Schools does list is a guide for parents. Handing this out to parents at the beginning of the school year or when their child begins at the school district would be a way of informing parents in a simple and cheap way.
In addition to parents and school professionals getting trained it is also very important for the students to be informed on Posttraumatic Stress Disorder as well. Students being able to understand why they are feeling a certain way following a traumatic experience is important because they may not always show symptoms for either their parents or teachers to see. Another positive to students learning about PTSD would be friends and peers noticing something wrong with their classmates or talking to them and finding out they have recently been through a traumatic experience and contact a trained adult. Students do not often times feel comfortable talking to adults and teachers about their feelings but may around their friends. With all students understanding what they could be going through it will help raise awareness if a student needs help or not. Implementing this would be very simple as well. If teachers are trained on this material then they are able to do a lesson over it with the students. Most schools have heath as an elective students take. Bringing up PTSD and having students understand what it is and how to get help if you have a traumatic experience will lessen the effects of the disorder dramatically instead of students suffering without knowing what is wrong with them.
Overall, it is essential that all teachers, counselors, parents, and students are educated on Posttraumatic Stress Disorder following a disaster and traumatic experience. With the help of Cognitive Behavioral Intervention for Trauma in Schools, creating a solution for students with PTSD would be reliable, effective, and an easy implementation. The company has all the tools and resources needed and just needs to be added into schools all over the nation.
Did you like this example?
2498
278