Story about Jimi Hendrix
Exclusively available on PapersOwl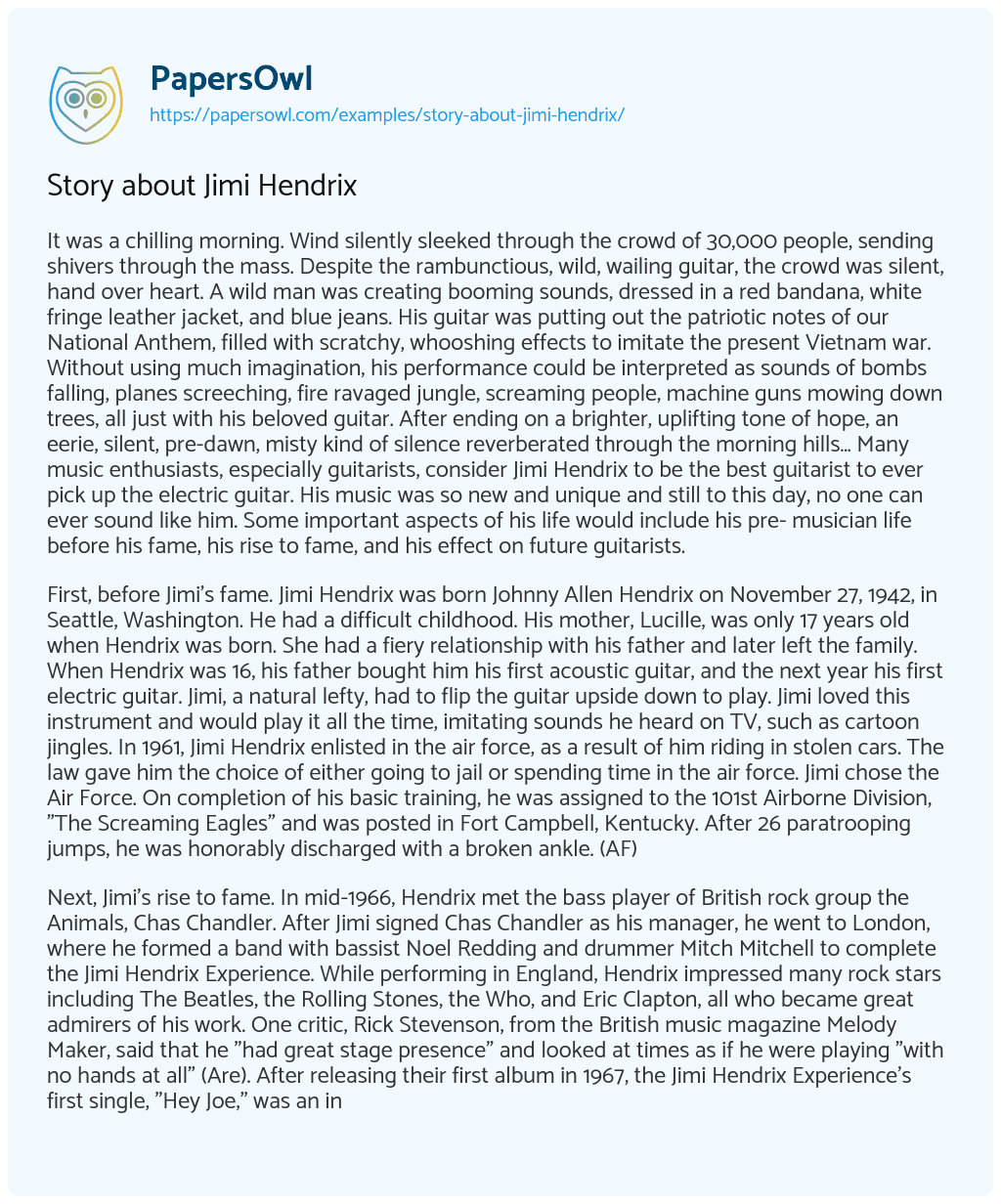 It was a chilling morning. Wind silently sleeked through the crowd of 30,000 people, sending shivers through the mass. Despite the rambunctious, wild, wailing guitar, the crowd was silent, hand over heart. A wild man was creating booming sounds, dressed in a red bandana, white fringe leather jacket, and blue jeans. His guitar was putting out the patriotic notes of our National Anthem, filled with scratchy, whooshing effects to imitate the present Vietnam war. Without using much imagination, his performance could be interpreted as sounds of bombs falling, planes screeching, fire ravaged jungle, screaming people, machine guns mowing down trees, all just with his beloved guitar. After ending on a brighter, uplifting tone of hope, an eerie, silent, pre-dawn, misty kind of silence reverberated through the morning hills… Many music enthusiasts, especially guitarists, consider Jimi Hendrix to be the best guitarist to ever pick up the electric guitar. His music was so new and unique and still to this day, no one can ever sound like him. Some important aspects of his life would include his pre- musician life before his fame, his rise to fame, and his effect on future guitarists.
First, before Jimi's fame. Jimi Hendrix was born Johnny Allen Hendrix on November 27, 1942, in Seattle, Washington. He had a difficult childhood. His mother, Lucille, was only 17 years old when Hendrix was born. She had a fiery relationship with his father and later left the family. When Hendrix was 16, his father bought him his first acoustic guitar, and the next year his first electric guitar. Jimi, a natural lefty, had to flip the guitar upside down to play. Jimi loved this instrument and would play it all the time, imitating sounds he heard on TV, such as cartoon jingles. In 1961, Jimi Hendrix enlisted in the air force, as a result of him riding in stolen cars. The law gave him the choice of either going to jail or spending time in the air force. Jimi chose the Air Force. On completion of his basic training, he was assigned to the 101st Airborne Division, "The Screaming Eagles" and was posted in Fort Campbell, Kentucky. After 26 paratrooping jumps, he was honorably discharged with a broken ankle. (AF)
Next, Jimi's rise to fame. In mid-1966, Hendrix met the bass player of British rock group the Animals, Chas Chandler. After Jimi signed Chas Chandler as his manager, he went to London, where he formed a band with bassist Noel Redding and drummer Mitch Mitchell to complete the Jimi Hendrix Experience. While performing in England, Hendrix impressed many rock stars including The Beatles, the Rolling Stones, the Who, and Eric Clapton, all who became great admirers of his work. One critic, Rick Stevenson, from the British music magazine Melody Maker, said that he "had great stage presence" and looked at times as if he were playing "with no hands at all" (Are). After releasing their first album in 1967, the Jimi Hendrix Experience's first single, "Hey Joe," was an instant smash in Britain and was soon followed by hits such as "Purple Haze" and "The Wind Cries Mary." On tour to support his first album, Are You Experienced? (1967), Hendrix delighted audiences with his outrageous guitar playing skills and his innovative, experimental sound. In June 1967 he also won over American music fans with his stunning performance at the Monterey Pop Festival, which ended with Hendrix lighting his guitar on fire. Although Jimi Hendrix was a leftie, he would flip his guitars upside down and restring them to match the same string pattern the guitar should have. This move had no logic at all and perhaps it was just something he wanted to be known for. His most famous and personal favorite guitar was his famous all-white Fender Stratocaster, of course a right handed one. This was his "weapon of choice" and he even played it at his legendary "Woodstock" performance.
Last, but most importantly, Jimi's affect on future guitarists and rock music. His music was ultra unique and provided a sound never heard before.
He magnified the vocabulary of the electric guitar and coaxed all manner of unanticipated sonic from his guitar with innovative intensification experiments that produced roaring distortion and an excellent feedback. The most controversial nature of his style is characterized by the loud and sharp sounds he produced from his guitar as they were accompanied by the imitated sounds of screams, bombs and gunfire. (Are)
Hendrix's most famous performance was by far his show at the Woodstock Festival in 1969. During the historic Woodstock Festival of 1969, Jimi Hendrix slung his electric guitar before a teeming crowd of thousands and forever changed America's National Anthem. Cool, yet so impassioned, with a free-spirited fierceness speeding through his fingers, he unleashed a wholly unconventional version of "The Star-Spangled Banner", re-imagined as a screaming guitar solo. His trading in of the usual grace and choir-like elegance of the original for distorted bouts of psychedelic wailing didn't exactly sit well with music fans and patriotic citizens, many of them calling it disrespectful, misguided and blasphemous. (NA)
Jimi Hendrix died on September 18th, 1970, due to drug complications from sleeping pills. His music continues to reverberate through the ears of rock enthusiasts even today. Many argue that his guitar playing skills and music makes him the greatest electric guitarist of all time. His life includes before fame, his rise to fame, and his effect and legacy on the future of music.
"When the power of love overcomes the love of power, the world will know peace."
Jimi Hendrix
Did you like this example?
4852
202