Review of Internet of Things in Healthcare
Exclusively available on PapersOwl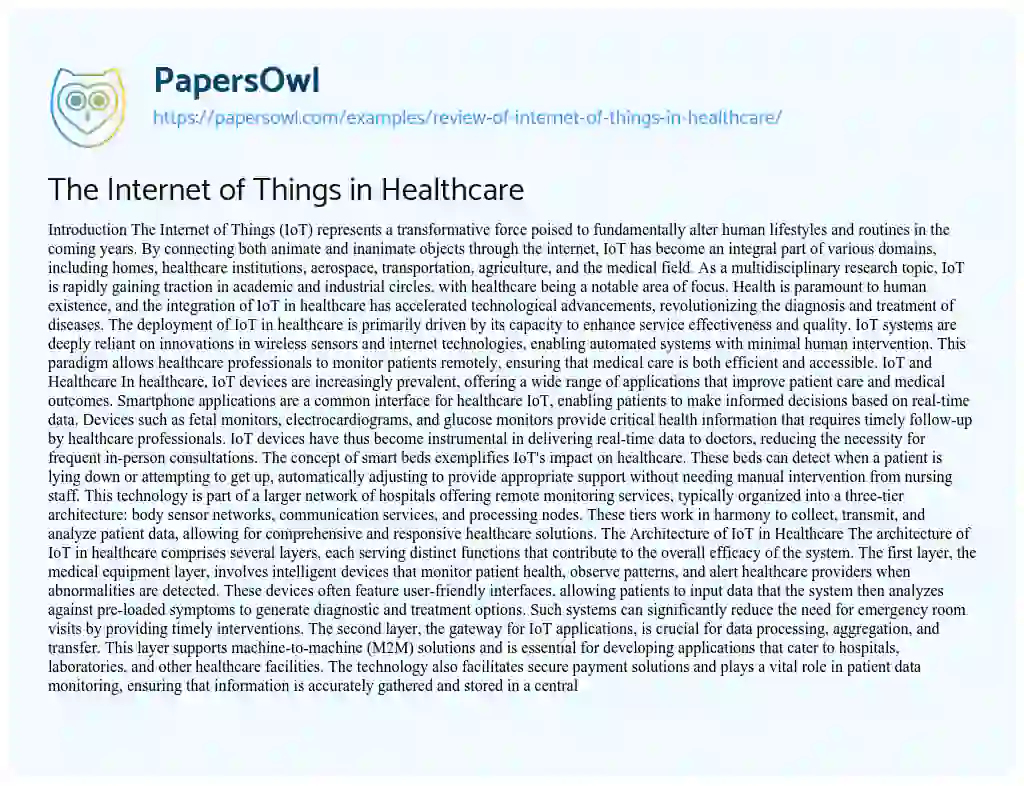 Abstract:
Internet of Things (IoT) is a main area where embedded devices and sensors can connect and exchange information over the Internet. IoT can change the way where human being live their life by making it more comfortable and smart. IoT has the capability to add intelligence in real world objects and make them communicate with each other. The importance of IoT devices and data can be critical, so security constraints are required to keep IoT data safe from intruders authentication is one of basic and important means to confirm data privacy and security. This system consist of many parts. In this all the sensors are powered using solar power system. Iot plays a major role in healthcare application through sensors and actuators in patients and their medicine for monitoring and tracking purposes.
Not only for patients, it is also useful for normal human being to check the health status by using wearable devices with sensors.
Introduction:
Internet of things(Iot) is a technological revolution which will change the Human's life style completely in the upcoming years. Internet of Things connects living and nonliving things? through ,internet.Internet of things has spread widely and used in different environments such as homes, health care institutes, aerospace ,transportations,agriculture and medical field[1]. Internet of Things is rapidly gaining more attention as a priority multidisciplinary research topic in many academic and industrial disciplines, especially in healthcare[3]. Health is the most important part of any human's life without health it is useless to any treasure of life. Healthcare remains the fastest to adopt technological changes to revolutionize the diagnosis and treatment of the body[2]. Iot offers a multitude of benefits such as improving the effectiveness and quality of services by deploying it in medical devices[4]. Internet of things is completely dependant on the innovative development in the areas of wireless sensors,Internet etc[7]. This system is fully automated little or no human help is needed. Any doctor can monitor this person from anywhere through the internet.Basically in the IoT paradigm everything in the world is considered as a smart object, and allows them to communicate with each other through the internet technologies by physically or virtually. IOT allows the object to be sensed to control that creating opportunity for direct integration of physical world into computer based system performance. And then there is another giant in the midst is AI or Artificial Intelligence has unimaginable potential and has already taken over everyday life in healthcare. Combined with IoT, AI has taken over the essential part of several processes, right from data manufacturing to processing and analytics. Paired with the latest artificial intelligence (AI) algorithms, this data can drive intelligent decision-making and reasoning, speeding up the analysis of data and providing healthcare organisations with more informed insight on which to make decisions such as where to build hospitals and what equipment to invest in. In the field of IoT, security plays a vital role where malicious attack or interference with IoT devices can cause a threat to human life especially with critical IoT applications. The main answer for IoT data security is authentication. To trust command from the control system, identity confirmation is required. Application of IoT driven search engines specifically for medical databases will help in scientific and health care research reducing search time with optimized navigation cost. Therefore IoT driven healthcare devices and application has the prospect to fulfil the requirements of a wide spectrum of users starting from medical scientists, practitioners, service providers, nurses and above all patients across the world.
IOT – Healthcare:
Internet-connected devices have been introduced to patients indifferent forms. Using smart phone applications related to health care system patients may get guidance to take decisions suggested by the application.Whether the data are comes from fetal monitors, electrocardiograms, temperature monitors or blood glucose levels, tracking health information is vital for some patients, though many of these measures required follow-up interaction with a healthcare professional. Yet, the use of IoT devices has been instrumental in delivering more valuable, real-time data to doctors and lessening the need for direct patient-physician interaction. IoT in healthcare also included smart beds which detect when the patients are occupied in the bed and when a patient is attempting to get up. Without the manual interaction of nurses a smart bed itself can adjust to ensure the appropriate pressure and support are applied to patients. On network hospital help patients and doctors for remote health monitoring services. Most of the remote health monitoring services proposed frameworks has architecture of a three tier:the first tier is the body sensor network tier which includes a wearable sensors works as units for data acquisition such as blood pressure, heart status and body temperature, the second tier include communication and networking and the service which collects data from sensors and forwarded it .The third tier includes the processing and analyzing nodes.
Architecture of healthcare in IOT:
There are four layers in the architecture of healthcare in IOT
Medical equipment layer:
An fitst layer in architecture of IoT is the medical equipment layer.This layer introduce intelligent connected devices that would monitor the health of the patients, take readings, observe patterns and alert when there are imperfections in the patterns . This device system has a touchscreen interface for users to input data for analysis and processing. As a user inputs data related to the diseases, the system search for symptoms pre-loaded into the file and tries to match with the provided input. If the match is found with the pre-loaded symptoms, the system responses with the disease name and generates a prescription for general medicine. The patient can wear the device; he/she will be connected to the device through which it can monitor the status and patient vitals. It can remotely monitor at-risk patients, and even make informed decisions and prevent trips to the emergency room.
Gateway for iot application:
The aids in onboard processing, data aggregation and data transfer perfect for M2M(machine to machine)solutions.Web application and mobile applications both are developed to meet the necessity of the hospital including laboratories,doctors,patients and other services. The existing network technology will probably have to be perfected and upgraded to accommodate secure payment solutions. And this is most important help in monitoring patients data as well, where the routers collect the data of patient and then include it to a central repository dedicated to data collection.
The gateway application receiving a measurement from a pulse oximeter
Machine to machine integration platform:
The quick way of developing theconnected device technologies presently in the market is Machine to Machine.Because in M2M we can use any type of sensors for communicating,which means automatically system can monitor themselves to change the environment. In this human involvement is very less. This would help, when patient communication is needed. Through the Machine2Machine integration platform, many companies can unleash a new generation of consumer-facing services in wearables and patient monitoring. It collects specific data of the patient, transport and analyze it right there in the field, and it react faster than a medical professional.
Alert generating reports:
The data that's collected through the Machine2Machine integration platform.Then the data stored in the cloud would be analyzed and checked for patterns. The wearable device (worn by the patient) would remind her and send notifications and reminders if a patient has a doctor's appointment on a particular day. It is same for the case with medicines as well. Patients need not to remember to take their medicines anymore. Leave it all to the wearable, and this would remind the patients to take her medication through reminders and alerts. Benefits enjoyed through M2M integration platforms are fitness tracking, social network connectivity, health and wellness monitoring.
Conclusion:
Internet of Things has a potential for changing the way of human living standards especially for the healthcare .Human beings are not able to predict how our life will take its turn in the next 20 years. We are not able to predict the Internet, the Web, social networking, Facebook, Twitter, millions of apps for smartphones, etc., and these have all qualitatively changed societies' lifestyle.. Healthcare driven IoT systems has the potential that would allow healthcare providers to give optimum quality healthcare service to their customers also predict their health problems at early stages reducing mortality rates. Therefore the scope of future research in IoT lies in developing energy efficient, affordable products catering to all spheres of human life. Issues like security and privacy in healthcare applications are also areas that need to be addressed efficiently for successful adoption of IoT technology.
References:
Mustafa Abdullah Azzawi, Rosilah Hassan and Khairul Azmi Abu Bakar." A Review on Internet of Things (IoT) in Healthcare" International Journal of Applied Engineering Research ISSN 0973-4562 Volume 11, Number 20 (2016) pp. 10216-10221.
Brijendra Singh1, Sweta Bhattacharya1*, C.L. Chowdhary1, D.S. Jat2."A review on internet of things and its applications in healthcare" Journal of Chemical and Pharmaceutical Sciences
B. Sobhan Babu1, K. Srikanth2, T. Ramanjaneyulu3, I. Lakshmi Narayana4." IoT for Healthcare" International Journal of Science and Research (IJSR)
Ms. Shinde Sayali P.1, Ms. Phalle Vaibhavi N.2."A Survey Paper on Internet of Things
based Healthcare System" International Advanced Research Journal in Science, Engineering and Technology
Mir Sajjad Hussain Talpur*1, Murtaza Hussain Shaikh2, Riaz Ali Buriro3, Hira SajjadTalpur4, Fozia Talpur5, Hina Shafi6, Munazza Ahsan Shaikh7." Internet of Things as Intimating for Pregnant Women'sHealthcare: an Impending Privacy Issues"
R. H. Weber, ""Internet of Things–New security and privacy challenges,"" Computer Law & Security Review, vol. 26, pp. 23-30, 2010.
Rohokale VM, Prasad NR and Prasad R, A Cooperative Internet of Things (IoT) for Rural Healthcare Monitoring and Control, 2nd International Conference on Wireless Communication, Vehicular Technology, Information Theory and Aerospace and Electronic Systems Technology, 2011.
Steve Warren, Ph.D. and Richard L. Craft, M.S. Sandia National LaboratoriesJohn T. Bosma Potomac Institute for Policy Studies "Designing Smart Health Care Technology into the Home of the Future",25 march 1999.
Sreekanth K U PG Scholar Department of Computer Science & Engineering Vidya Academy of Science & Technology (VAST) Thrissur, India [email protected] ,Nitha K P Asst. Professor Department of Computer Science & Engineering"A Study on Health Care in Internet of Things" .
M. Hassanalieragh, A. Page, T. Soyata, G. Sharma, M. Aktas, G. Mateos, et al., ""Health monitoring and management using internet-of-things (iot) sensing with cloud-based processing: Opportunities and challenges,"" in Services Computing (SCC), 2015 IEEE International Conference on, 2015, pp. 285-292.
ANDREAS SVANSTRÖM ." IoT Communication Protocols in Healthcare"
H. Abie and I. Balasingham, ""Risk-based adaptive security for smart IoT in eHealth,"" in Proceedings of the 7th International Conference on Body Area Networks, 2012, pp. 269-275.
Singh B and Muthuswamy P, Factors Affecting the Adoption of Electronic Health Records by Nurses, World Applied Sciences Journal, 28 (11), 2013, 1531-1535.
L. Atzori, A. Iera, and G. Morabito,The Internet of Things: A survey,? Comput. Netw., vol. 54, no. 15, pp. 2787–2805, Oct. 2010.
Seo, D. S., Kim, S. S., Lee, Y. H., & Kim, J. M. (2014). Implementation of Personal Health Device Communication Protocol Applying ISO/IEEE 11073-20601. International Journal of Distributed Sensor Networks, 2014(1), 176-179.
Did you like this example?
8895
774