"Politics Can be the Graveyard of a Poet"
Exclusively available on PapersOwl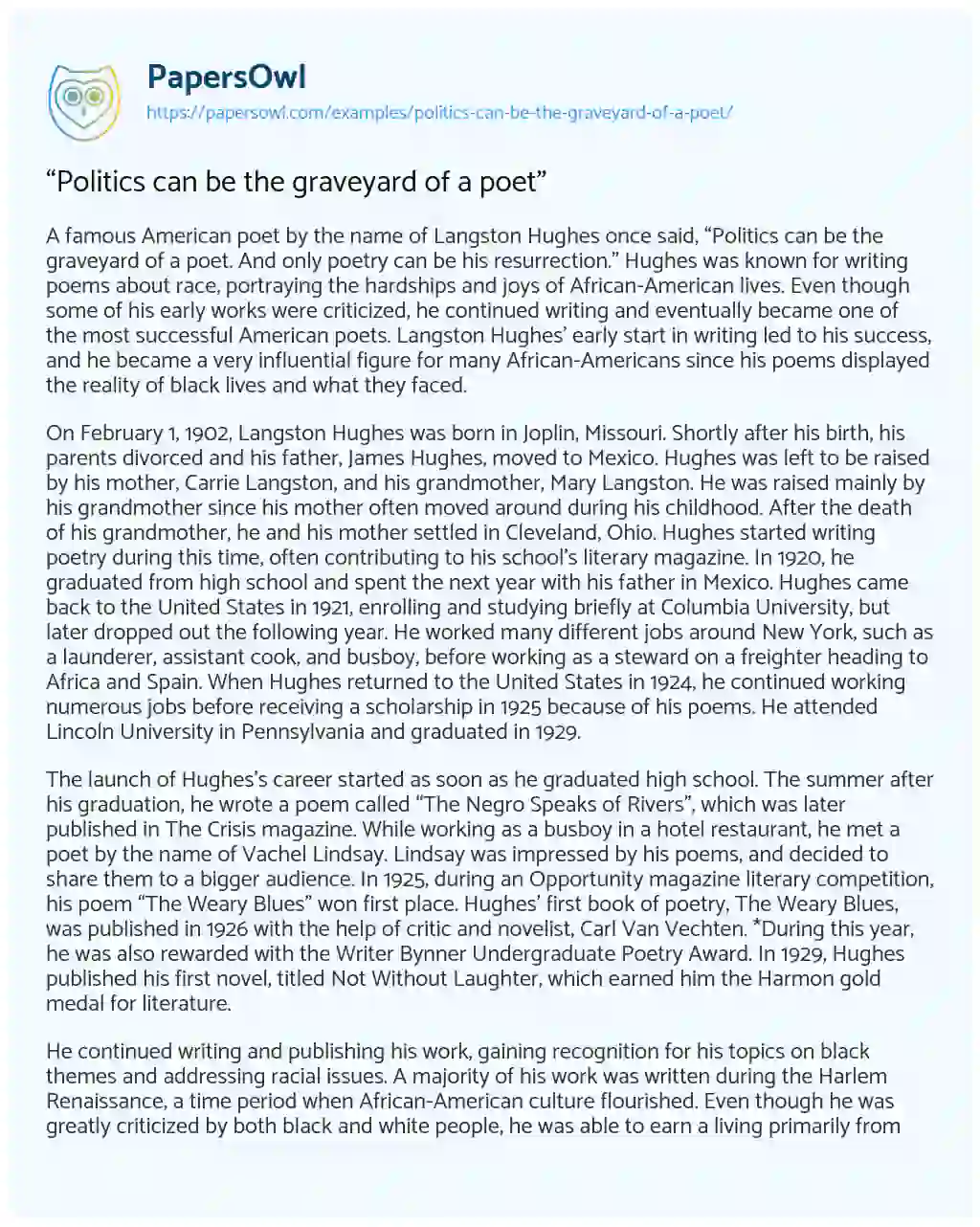 A famous American poet by the name of Langston Hughes once said, "Politics can be the graveyard of a poet. And only poetry can be his resurrection." Hughes was known for writing poems about race, portraying the hardships and joys of African-American lives. Even though some of his early works were criticized, he continued writing and eventually became one of the most successful American poets. Langston Hughes' early start in writing led to his success, and he became a very influential figure for many African-Americans since his poems displayed the reality of black lives and what they faced.
On February 1, 1902, Langston Hughes was born in Joplin, Missouri. Shortly after his birth, his parents divorced and his father, James Hughes, moved to Mexico. Hughes was left to be raised by his mother, Carrie Langston, and his grandmother, Mary Langston. He was raised mainly by his grandmother since his mother often moved around during his childhood. After the death of his grandmother, he and his mother settled in Cleveland, Ohio. Hughes started writing poetry during this time, often contributing to his school's literary magazine. In 1920, he graduated from high school and spent the next year with his father in Mexico. Hughes came back to the United States in 1921, enrolling and studying briefly at Columbia University, but later dropped out the following year. He worked many different jobs around New York, such as a launderer, assistant cook, and busboy, before working as a steward on a freighter heading to Africa and Spain. When Hughes returned to the United States in 1924, he continued working numerous jobs before receiving a scholarship in 1925 because of his poems. He attended Lincoln University in Pennsylvania and graduated in 1929.
The launch of Hughes's career started as soon as he graduated high school. The summer after his graduation, he wrote a poem called "The Negro Speaks of Rivers", which was later published in The Crisis magazine. While working as a busboy in a hotel restaurant, he met a poet by the name of Vachel Lindsay. Lindsay was impressed by his poems, and decided to share them to a bigger audience. In 1925, during an Opportunity magazine literary competition, his poem "The Weary Blues" won first place. Hughes' first book of poetry, The Weary Blues, was published in 1926 with the help of critic and novelist, Carl Van Vechten. *During this year, he was also rewarded with the Writer Bynner Undergraduate Poetry Award. In 1929, Hughes published his first novel, titled Not Without Laughter, which earned him the Harmon gold medal for literature.
He continued writing and publishing his work, gaining recognition for his topics on black themes and addressing racial issues. A majority of his work was written during the Harlem Renaissance, a time period when African-American culture flourished. Even though he was greatly criticized by both black and white people, he was able to earn a living primarily from his public lectures and writing, becoming the first black American to do so. He won many other awards during his lifetime, one being the Guggenheim Fellowship for creative work. He also received the Anisfield-Wolf Book Award for Fiction, as well as the Quill Award for Poetry.
Hughes died on May 22, 1967 from complications of a surgery due to prostate cancer. During the Harlem Renaissance, he helped to shape the artistic contributions of it through his life and work. Apart from other black poets during that time, Hughes didn't want to write about how his personal experience differed from the common experience of an African-American. Instead, he wanted to explain the lives of African-Americans in a way that showcased their true culture, both the suffering endured as well as their love for laughter, music, and language itself. In Modern Black Poets: A Collection of Critical Essays, a book written by critic Donald B. Gibson, he talks about how Hughes was different compared to other black poets at the time; his poetry was aimed towards the people, specifically to black people.
Instead of writing poems that only a few people could understand, Hughes wrote poems meant for any audience, using themes, attitudes, language, and ideas familiar to anyone who possessed the ability simply to read. Not only did he spread his message in a serious manner, but he spread them in a way that people could laugh about. Even long after the Harlem Renaissance was over, Hughes continued making an effort to spread the word of it. He went on a tour across the South to read his poetry, lowering and even getting rid of the price entirely for places that couldn't afford it. He reached out to a vast number of people through his poems, having read his poetry to more people than most American poets. Throughout the world, his work continues to be translated and published.
Langston Hughes was a successful American poet whose poems spoke of the truth about black lives, and who made an impact on many African-American lives. He was an important figure during the Harlem Renaissance, helping push black communities to fight for the rights they deserved. His poems and other works were written primarily to provide support for the movements during the Harlem Renaissance, as well as to deliver important messages. Through his literary works, he helped shape American politics and literature.
Did you like this example?
7115
970