Our Website Software and Optimization
Exclusively available on PapersOwl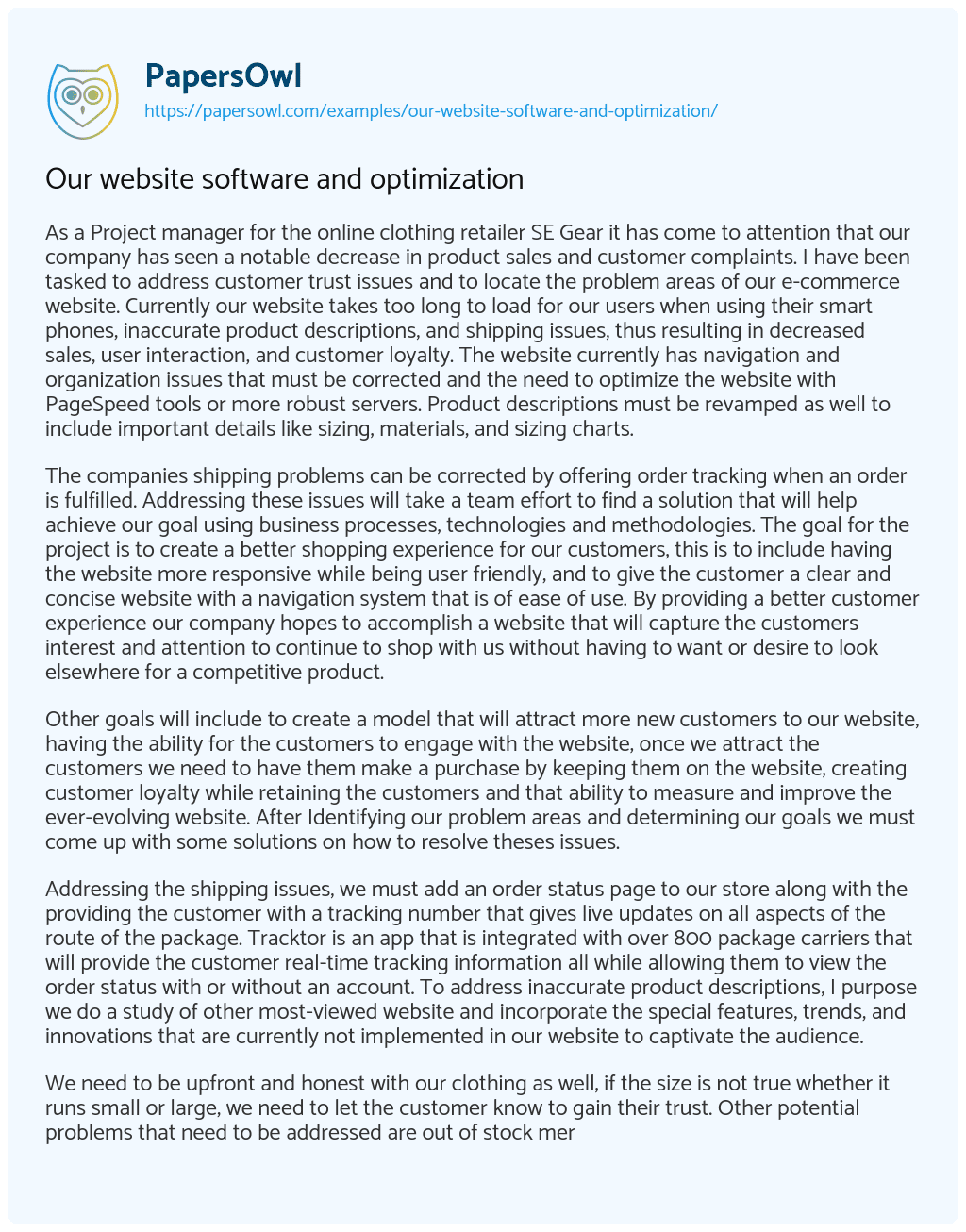 As a Project manager for the online clothing retailer SE Gear it has come to attention that our company has seen a notable decrease in product sales and customer complaints. I have been tasked to address customer trust issues and to locate the problem areas of our e-commerce website. Currently our website takes too long to load for our users when using their smart phones, inaccurate product descriptions, and shipping issues, thus resulting in decreased sales, user interaction, and customer loyalty. The website currently has navigation and organization issues that must be corrected and the need to optimize the website with PageSpeed tools or more robust servers. Product descriptions must be revamped as well to include important details like sizing, materials, and sizing charts.
The companies shipping problems can be corrected by offering order tracking when an order is fulfilled. Addressing these issues will take a team effort to find a solution that will help achieve our goal using business processes, technologies and methodologies. The goal for the project is to create a better shopping experience for our customers, this is to include having the website more responsive while being user friendly, and to give the customer a clear and concise website with a navigation system that is of ease of use. By providing a better customer experience our company hopes to accomplish a website that will capture the customers interest and attention to continue to shop with us without having to want or desire to look elsewhere for a competitive product.
Other goals will include to create a model that will attract more new customers to our website, having the ability for the customers to engage with the website, once we attract the customers we need to have them make a purchase by keeping them on the website, creating customer loyalty while retaining the customers and that ability to measure and improve the ever-evolving website. After Identifying our problem areas and determining our goals we must come up with some solutions on how to resolve theses issues.
Addressing the shipping issues, we must add an order status page to our store along with the providing the customer with a tracking number that gives live updates on all aspects of the route of the package. Tracktor is an app that is integrated with over 800 package carriers that will provide the customer real-time tracking information all while allowing them to view the order status with or without an account. To address inaccurate product descriptions, I purpose we do a study of other most-viewed website and incorporate the special features, trends, and innovations that are currently not implemented in our website to captivate the audience.
We need to be upfront and honest with our clothing as well, if the size is not true whether it runs small or large, we need to let the customer know to gain their trust. Other potential problems that need to be addressed are out of stock merchandise and this could be alleviated by either implementing the out of stock app while giving the customers the option of when the product will be back in stock or using other apps such as wipeout that will automatically hide sold out products. Addressing the speed issue for smart phone shoppers can be rectified we can incorporate Google PageSpeed Insights. Technical feasibility: Determine if we can hardware and software requirements can accomplish possible solutions to the problems within the allocated time and budget. Our Systems Engineer will be responsible for understanding the requirement and constraints of the software that is to be used by the system. We will outline the purposed technical systems options to determine whether the proposed solutions can be added to the system. Time feasibility: For the project to succeed we will have to determine if the project can be implemented within the allotted time frame.
Failure to do so will result in a failed or rejected project. Economic feasibility: This important study will determine if our return of investment (ROI) will result in increased productivity and keep our operating costs to a minimum. The cost/benefit analysis will determine if the benefits outweigh the cost and by how much. Operational feasibility: If we can determine that our system is both technically and economically feasible, we can devote the human resources to develop and implement the system. Will the end-users like the new process and resolve their issues? It must be evaluated to see if the processes that have been incorporate will work. What tasks will be needed to be evaluated from the stakeholder, manager, developers and end users. All requirement during the development of the project will need to be fulfilled. Legal feasibility: All data protections according to the laws of the land must adhere to the data protection regulations.
All legal and ethical requirements must be met before the project can be executed. Requirements like risk avoidance, detection, migration will help identify and expose threats within the systems infrastructure. Within two to three weeks a complete feasibility study should be completed by all players (management, end-users, developers, and stakeholders) to determine whether system development should go forward or not. Purposed budgets, scope, time, and system requirement modifications should be done during this time period. Project Scope Statement Justification: SE gear has determined in order to survive in todays ecommerce market the website will need to be revamped in order to stay in business for both the immediate and long term. With operational, technical and management issues the website will require both redesign and upgrading both it's hardware and software. The result of the project will allow for a new look for our business and a positive visit for our customers.
Description: The website will contain the following features – a new online tracking system Traktor resulting in real time ordering and shipping. PageSpeed tools to allow for quicker downloads for mobile devices allowing users accessible from any browser, both secure and user friendly. Email templates that respond to customer complaints. Enhanced product descriptions with product photography will give the customer a accurate and reasonable idea to the merchandise and products when placing and order. Deliverables: Functional website allowing the customers access 24×7 Order tracking system where customers can view the progress of their order in real time Website that gives the customer an accurate description of the products Objectives: Meeting for both functional requirements and non-functional requirements within a month time period Site will undergo construction and upgrades within a two-month time period Testing and retesting and software modifications within a month time period after construction and upgrades Website will be fully functional with all reengineered software and newly incorporated software within 3 months
Constraints: Project to be completed within budget The added apps specified in the project change in price Assumptions: The proposed budget will not change operational life of the proposed software Conclusion In order to remain relevant in today's ecommerce market this has led to the increase in business process reengineering (BPR). IT support and its project managements skills are important in order to successfully implement a reengineered project. With proper Software Development Methodologies and Project Management tools and techniques this could ultimately lead to a successful completion of the project and ultimately helping the business both survive and thrive into the future.
Did you like this example?
2292
313