My Career as a Software Engineer
Exclusively available on PapersOwl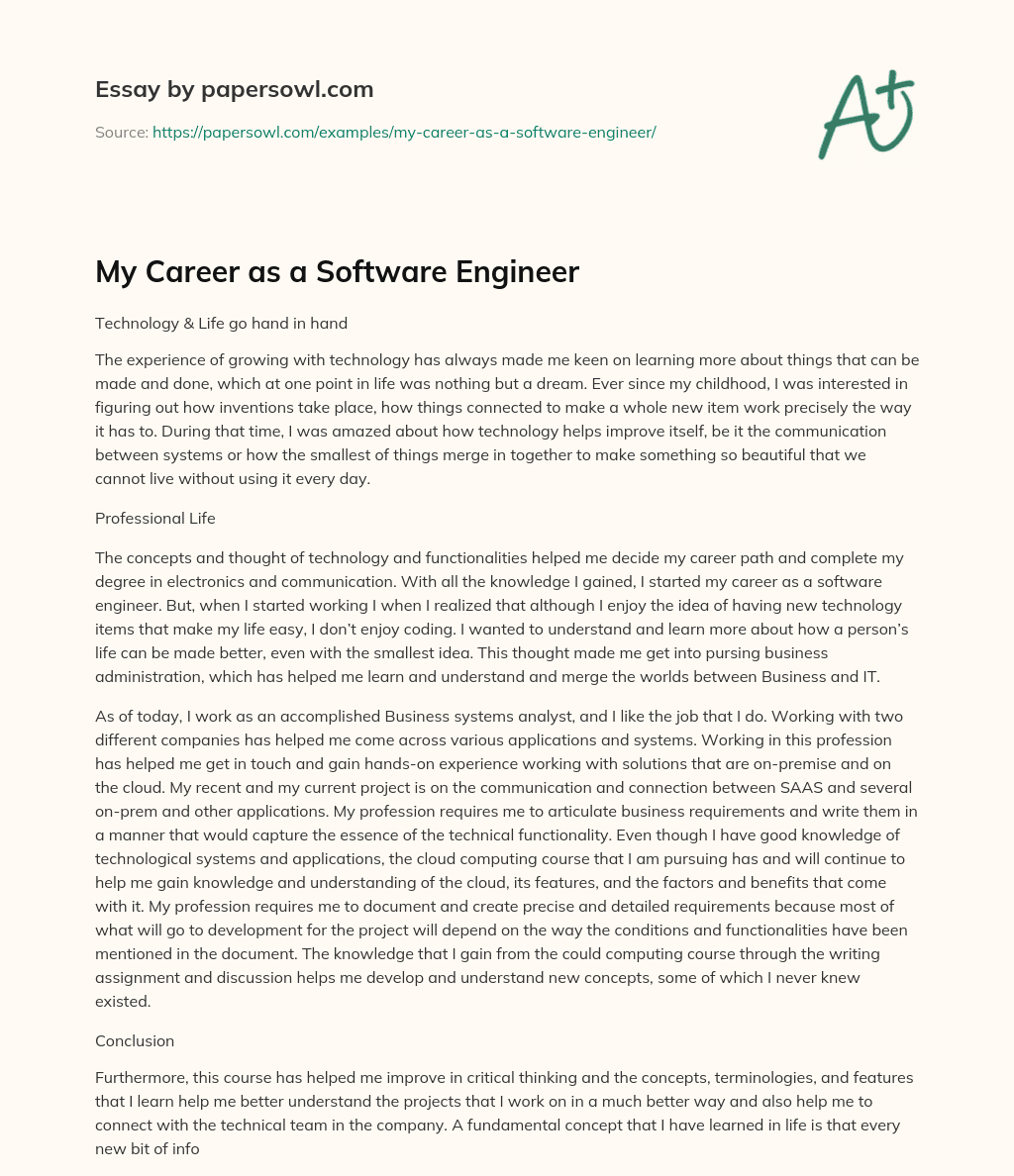 Technology & Life go hand in hand
The experience of growing with technology has always made me keen on learning more about things that can be made and done, which at one point in life was nothing but a dream. Ever since my childhood, I was interested in figuring out how inventions take place, how things connected to make a whole new item work precisely the way it has to. During that time, I was amazed about how technology helps improve itself, be it the communication between systems or how the smallest of things merge in together to make something so beautiful that we cannot live without using it every day.
Professional Life
The concepts and thought of technology and functionalities helped me decide my career path and complete my degree in electronics and communication. With all the knowledge I gained, I started my career as a software engineer. But, when I started working I when I realized that although I enjoy the idea of having new technology items that make my life easy, I don't enjoy coding. I wanted to understand and learn more about how a person's life can be made better, even with the smallest idea. This thought made me get into pursing business administration, which has helped me learn and understand and merge the worlds between Business and IT.
As of today, I work as an accomplished Business systems analyst, and I like the job that I do. Working with two different companies has helped me come across various applications and systems. Working in this profession has helped me get in touch and gain hands-on experience working with solutions that are on-premise and on the cloud. My recent and my current project is on the communication and connection between SAAS and several on-prem and other applications. My profession requires me to articulate business requirements and write them in a manner that would capture the essence of the technical functionality. Even though I have good knowledge of technological systems and applications, the cloud computing course that I am pursuing has and will continue to help me gain knowledge and understanding of the cloud, its features, and the factors and benefits that come with it. My profession requires me to document and create precise and detailed requirements because most of what will go to development for the project will depend on the way the conditions and functionalities have been mentioned in the document. The knowledge that I gain from the could computing course through the writing assignment and discussion helps me develop and understand new concepts, some of which I never knew existed.
Conclusion
Furthermore, this course has helped me improve in critical thinking and the concepts, terminologies, and features that I learn help me better understand the projects that I work on in a much better way and also help me to connect with the technical team in the company. A fundamental concept that I have learned in life is that every new bit of information that I learn will always be equally important as the first one that I learned. 
Did you like this example?
2179
139