Marshall Bruce Mathers III
Exclusively available on PapersOwl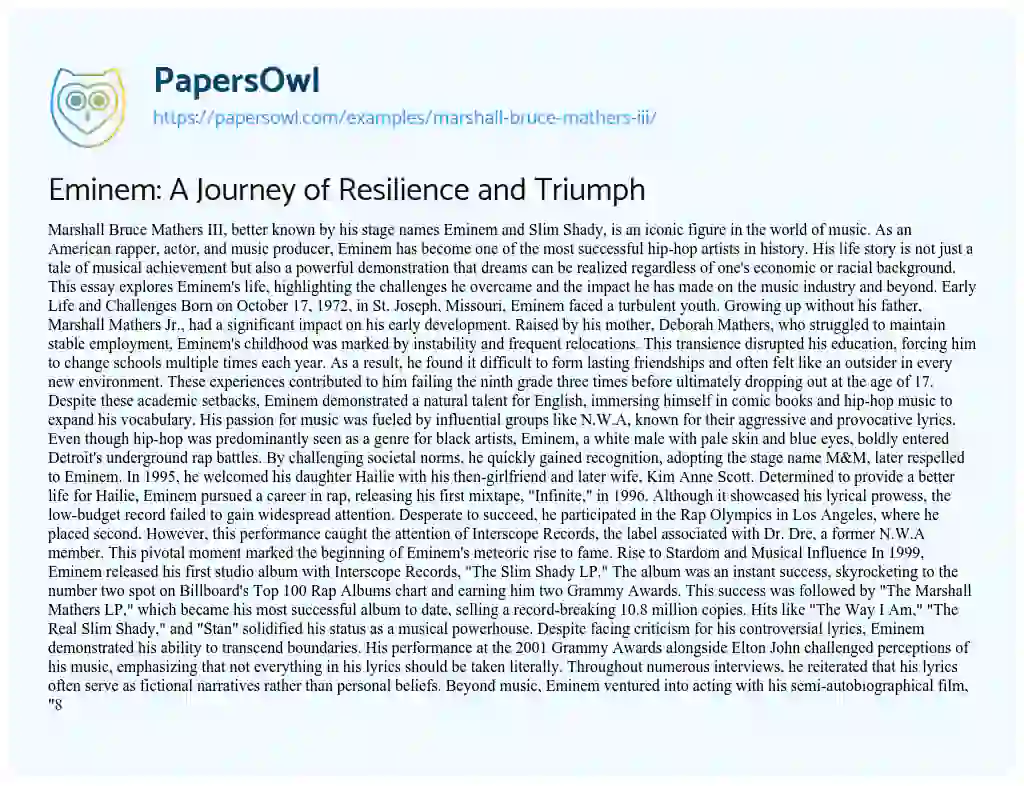 Marshall Bruce Mathers III also known as Eminem and Slim Shady is an American rapper, actor, and music producer and is considered to be one of the most successful hip hop artists of all time. Throughout his life (October 17th, 1972 – present) he has become a role model and a demonstration that anyone can achieve their dreams no matter what your economic or racial background is.
Born in October 17th 1972 (46 years old) in St. Joseph, Missouri. Marshall Bruce Mathers III had a troublesome youth. Growing up without his father Marshall Mathers Jr made an immediate impact on his early life. He was raised by his mother Deborah Mathers who could never keep her job for more than a few months at the time which meant that they spent a lot of time moving around. Eminem used to change school two or three times every year, something that made an impact on who he is today. Because of this he never had any close friends and was treated like an outcast at every new school he attended. He failed the ninth grade three times before dropping out at the age of 17.
Despite being a teenage dropout Eminem was remarkably good at English, spending a lot of time reading comics and listen to hip hop to increase his vocabulary. His biggest influence was N.W.A, a black hip hop group from Compton, Los Angeles famous for its aggressive and violent lyrics. Even though hip hop and rap music was considered to be for black people only, Eminem as a white pale skinned male with blue eyes started to compete in Detroit's underground rap battles. He defied all the unspoken rules and became one of the most popular figures in the underground rap scene, taking on the stage name M&M later respelled to Eminem. In 1995 he had his daughter Hailie with his then girlfriend and later wife Kim Anne Scott. Because of his daughter Eminem wanted to make a living as a rapper so he could give her a proper childhood compared to his own. In 1996 he released his first mixtape "Infinite" which showed his verbal power and creative lyricism but despite that the low budget record never made it big. With almost no money and no job, he competed in the Rap Olympics in Los Angeles trying to win the $500 he so badly needed. He came second but agents from Interscope Records picked up his skills and decided to sign him, the same label that Dr. Dre, one of the old members of N.W.A currently worked with.
Two years later Marshall Mathers released his first album with Interscope Records, "The Slim Shady LP". The record blew up as one of the most popular in weeks, hitting at number two on Billboard's top 100 rap albums, getting nominated for one Grammy and winning two. His next album "The Marshall Mathers LP" is the most successful one yet, hitting the record of 10.8 million sales with songs like "The Way I Am", "The Real Slim Shady" and "Stan". He got criticized a lot for his homophobic and violent lyrics but after performing on the 2001 Grammys together with Elton John he showed that he does not always mean everything he says in his lyrics. Something that he has also claimed in numerous interviews.
In 2001 Eminem started a new career as an actor in his semi-autobiographical movie 8 mile. The movie won an Oscar for best original music for songs like "Lose Yourself", something a rap artist has never accomplished. In 2005 he had released five studio albums and won nine Grammys. The years between 2005 and 2008 was very troublesome for the famous rapper as he was dealing with a lot of personal problems individually and with his family. He and his wife Kim divorced as he slipped into a drug and alcohol addiction, one he managed to quit in 2008. Between the years of 2009 to 2011 he had released three more albums, one of which has a Guinness World Record song. "Rap God" is currently record holder for most amounts of words in a single song. In 2011 Eminem went out saying that he was going to quit music to spend time with his family. It was not until six years later that Eminem released a new album. "Revival" was supposed to show a new side of Eminem, something that was not supported by many, the record that hosted guest artists such as Beyoncé, Ed Sheeran and Pink got extremely criticized, saying that Eminem is too old for the rap culture. But a year later a surprise release of Kamikaze, a new more
Did you like this example?
4428
185