Langston Hughes Essay
Exclusively available on PapersOwl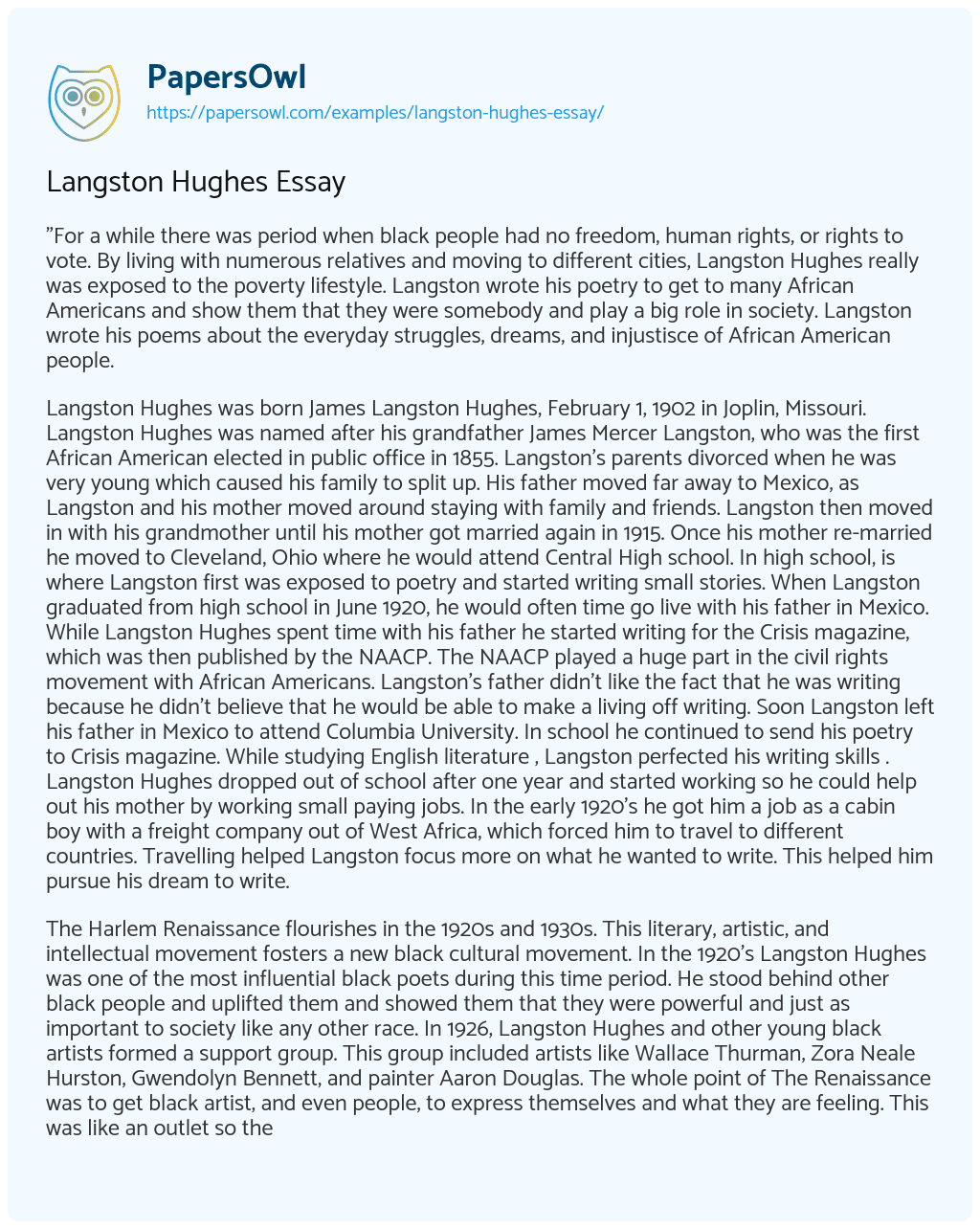 "For a while there was period when black people had no freedom, human rights, or rights to vote. By living with numerous relatives and moving to different cities, Langston Hughes really was exposed to the poverty lifestyle. Langston wrote his poetry to get to many African Americans and show them that they were somebody and play a big role in society. Langston wrote his poems about the everyday struggles, dreams, and injustisce of African American people.
Langston Hughes was born James Langston Hughes, February 1, 1902 in Joplin, Missouri. Langston Hughes was named after his grandfather James Mercer Langston, who was the first African American elected in public office in 1855. Langston's parents divorced when he was very young which caused his family to split up. His father moved far away to Mexico, as Langston and his mother moved around staying with family and friends. Langston then moved in with his grandmother until his mother got married again in 1915. Once his mother re-married he moved to Cleveland, Ohio where he would attend Central High school. In high school, is where Langston first was exposed to poetry and started writing small stories. When Langston graduated from high school in June 1920, he would often time go live with his father in Mexico. While Langston Hughes spent time with his father he started writing for the Crisis magazine, which was then published by the NAACP. The NAACP played a huge part in the civil rights movement with African Americans. Langston's father didn't like the fact that he was writing because he didn't believe that he would be able to make a living off writing. Soon Langston left his father in Mexico to attend Columbia University. In school he continued to send his poetry to Crisis magazine. While studying English literature , Langston perfected his writing skills . Langston Hughes dropped out of school after one year and started working so he could help out his mother by working small paying jobs. In the early 1920's he got him a job as a cabin boy with a freight company out of West Africa, which forced him to travel to different countries. Travelling helped Langston focus more on what he wanted to write. This helped him pursue his dream to write.
The Harlem Renaissance flourishes in the 1920s and 1930s. This literary, artistic, and intellectual movement fosters a new black cultural movement. In the 1920's Langston Hughes was one of the most influential black poets during this time period. He stood behind other black people and uplifted them and showed them that they were powerful and just as important to society like any other race. In 1926, Langston Hughes and other young black artists formed a support group. This group included artists like Wallace Thurman, Zora Neale Hurston, Gwendolyn Bennett, and painter Aaron Douglas. The whole point of The Renaissance was to get black artist, and even people, to express themselves and what they are feeling. This was like an outlet so they didn't have to think about all that racial tention that was going on in America. His poetry was a way for us to see a picture of urban life during the Harlem Renaissance, the habits, attitudes, and feelings of his oppressed people. These poems did more than reveal the pain of poverty, it also illustrated racial pride and dignity. "His main concern was the uplift of his people, whose strengths, resiliency, courage, and humor he wanted to record as part of the general American experience" (Wikipedia, Langston Hughes). Hughes wanted to put confidence in others and let them know that being black is beautiful and you should never be ashamed of that. Hughes believed the worthiness that all black people should appear in art no matter their life style
Langston never gave up on his people. He continued to show his support for the renaissance movement even after the movement was over. According to Sara Kettler, Langston Hughes held free programs when necessary and helped many get acquainted with the harlem renaissance. Hughes even helped shift the name for the era from "Negro Renaissance" to "Harlem Renaissance". His book was first to use the term according to Sara Kettler. It was Hughes' belief in humanity and his hope for a utopian world to where all people could learn to be understanding and live with each other. However, surely Langston knew that his poems could not touch all people and he had live with that. Langston wrote many books and poems that spoke about the freedom and rights of African Americans. He was always supporting the black culture with his writings and this is what made him one of the greatest ever. Langston Hughes was only one of the first famous African American poets and authors. Langston inspired many people to write he has even had poems dedicated to him from other poets and authors.
In the final years of his career he accomplished many achievements. Langston kept the same energy in his work as he had in the 1920's by supporting the black community and standing up for black rights. In 1941 he formed his own theatre troupe and published, The Big Sea, which was his first ever auto-biography. Hughes published many poems and books throughout his final years such as: Simple Speaks His Mind, Montage of A Dream Deferred, I Wonder as I Wander (second auto-biography), Ask Your Mama: 12 Moods for Jazz, and Panther and the Lash. These were all big projects of him and will always be remembered. In 1960, Langston Hughes was awarded by the NAACP with the Spingarn Medal for distinguished achievements by an African American. Langston Hughes died May 22, 1967 in New York. Langston Hughes' legacy will always be remember in the renaissance movement."
Did you like this example?
9342
596