About Child Abuse
Exclusively available on PapersOwl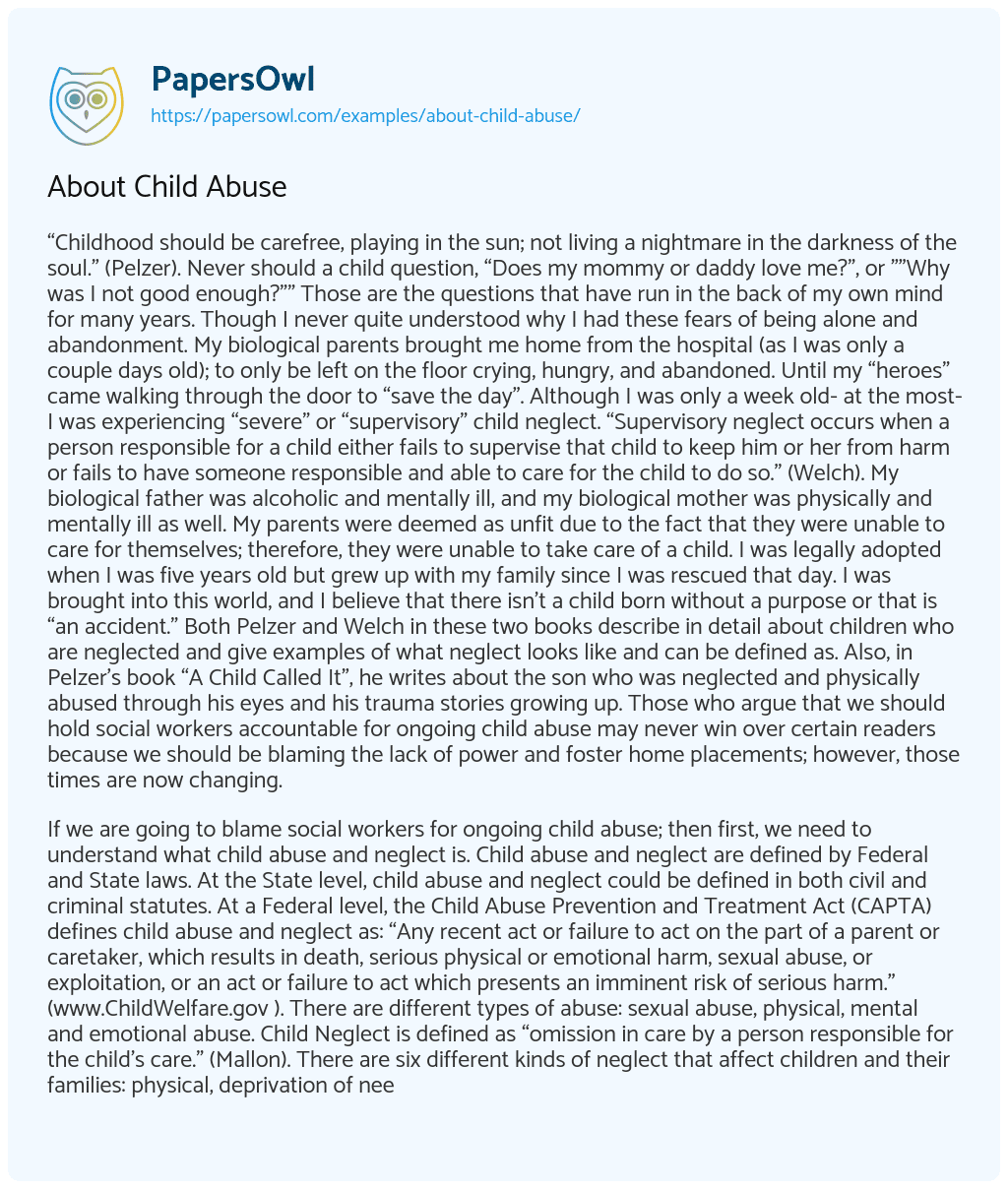 "Childhood should be carefree, playing in the sun; not living a nightmare in the darkness of the soul." (Pelzer). Never should a child question, "Does my mommy or daddy love me?", or ""Why was I not good enough?"" Those are the questions that have run in the back of my own mind for many years. Though I never quite understood why I had these fears of being alone and abandonment. My biological parents brought me home from the hospital (as I was only a couple days old); to only be left on the floor crying, hungry, and abandoned. Until my "heroes" came walking through the door to "save the day". Although I was only a week old- at the most- I was experiencing "severe" or "supervisory" child neglect. "Supervisory neglect occurs when a person responsible for a child either fails to supervise that child to keep him or her from harm or fails to have someone responsible and able to care for the child to do so." (Welch). My biological father was alcoholic and mentally ill, and my biological mother was physically and mentally ill as well. My parents were deemed as unfit due to the fact that they were unable to care for themselves; therefore, they were unable to take care of a child. I was legally adopted when I was five years old but grew up with my family since I was rescued that day. I was brought into this world, and I believe that there isn't a child born without a purpose or that is "an accident." Both Pelzer and Welch in these two books describe in detail about children who are neglected and give examples of what neglect looks like and can be defined as. Also, in Pelzer's book "A Child Called It", he writes about the son who was neglected and physically abused through his eyes and his trauma stories growing up. Those who argue that we should hold social workers accountable for ongoing child abuse may never win over certain readers because we should be blaming the lack of power and foster home placements; however, those times are now changing.
If we are going to blame social workers for ongoing child abuse; then first, we need to understand what child abuse and neglect is. Child abuse and neglect are defined by Federal and State laws. At the State level, child abuse and neglect could be defined in both civil and criminal statutes. At a Federal level, the Child Abuse Prevention and Treatment Act (CAPTA) defines child abuse and neglect as: "Any recent act or failure to act on the part of a parent or caretaker, which results in death, serious physical or emotional harm, sexual abuse, or exploitation, or an act or failure to act which presents an imminent risk of serious harm." (www.ChildWelfare.gov ). There are different types of abuse: sexual abuse, physical, mental and emotional abuse. Child Neglect is defined as "omission in care by a person responsible for the child's care." (Mallon). There are six different kinds of neglect that affect children and their families: physical, deprivation of needs, medical, supervisory, environmental, educational, and emotional.
Need a custom essay on the same topic?
Give us your paper requirements, choose a writer and we'll deliver the highest-quality essay!
Order now
There are often many questions of "Should I report this?", or "well it seemed like neglect", or it could be that people are "not sure that they have the full story"; that does not mean it should not be reported… if there is any doubt in mind, report it! It is mandated by law! Some will often question too, "How do I report child abuse or neglect and where?" There is a national hotline or you can search for local hotline or nonprofit areas, child protective services in your area, or last but not least, just call 911. There are also questions about when to report? Every single time there is a reasonable cause to believe that a child under the age of 18 is being abused or neglected. Anyone can report. Failure to report is a misdemeanor. Any false reporting(s) to DHS or to local law enforcement can lead up to a fine up to $5,000.00. Both Mallon and the Child Welfare website are great information sources for those who need a start on where to look for what is child abuse or neglect, and when to report, how to report, and where you can report it to.
"In Oklahoma, 138,080 children were alleged to be victims of abuse and neglect (in 2014), and 14,172, children were confirmed to be victims. It is generally accepted that this number does not represent the actual incidence of abuse and neglect due to the fact that not all of it goes reported (unfortunately)." (www.ok.gov) Not all children will openly come to a trusted adult; such as a family member, friend, or teacher to tell you directly that they are being abused or neglected. Remember that it is difficult for children to talk about their abuse, especially because many think that it will get them into trouble, or their family. It is very important that people handle this type of trust and disclosure with sensitivity. Often time's children are too young to tell someone about their abuse; therefore, it is important to notice signs of abuse and neglect and report it right away. "There are six known risk factors for child abuse that play a role in why it is believed these allegations start in the homes: parent's CPS history as a child, DV (domestic violence) history, mental health history, sexual abuse history, substance abuse history, and criminal history." (Duffy). Both ok.gov and Duffy's article over child neglect and abuse you will find on the website fines and charges for not reporting. This relates to Duffy's article because knowing the risk factors may help someone know what to look for and the signs to even children who may not appear to be neglected or abused physically but emotionally. Knowing this information from Duffy and the website will help someone to avoid being fined or charged if they are involved in the child's(children's) life and aren't reporting.
Not everyone is educated on what it takes to become a social worker, or what social work is. So, what does it mean to be a social worker? A social worker is defined as "an academic discipline and profession that concerns him/herself with individuals, families, groups, and communities in an effort to improve social functioning and overall well-being of children, and to put these children in the best interest for that child and their safety. They may help parents find resources they need so that the children can stay in the home or return to the home. Often times this is not feasible; therefore, they have a hold in finding other placements options" (www.socialworklicensure.org). There are a lot of things that go into becoming a social worker, and I am not just talking about schooling. There are many tears that go into this job and it takes the right type of person with the right heart to be in this line of work. Social workers need to have this "calling" for their work and to be firm, so they can stand their ground, but also an open mind. Because there are policy and procedure to follow, and then there is what is going on with these families in their homes, and of course the heart for children that need safety. "There are five types of Oklahoma social work licensure: certifications, associate's degree, and four licenses; in which, requires a master's degree." (www.ok.gov). These two websites relate in better understanding what it takes to become a social worker, what kind of person you should be if you are going to be in this line of work, and the hardships these social workers go through in this line of work every day. It can take a toll on someone's mental state of mind because of the types of situations they are having to see and deal with on a daily basis.
Now that there is an understanding of what child abuse and neglect is and how to report it, and what it is like for social workers, there needs to be an understanding of the lack of power and placements for these children. "There are currently (roughly) 96,000 children in state (Oklahoma) custody ready for foster care or up for adoption." (www.foreverfamily.org). Oklahoma has many outreach programs and churches, but there is a lack of placement and foster parents (or adoptive) in the area. The need is vast! Placing children in foster homes are temporary homes for these children; therefore, this should be the place that these children need the most love and support. Becoming a foster parent is not easy by any means. "Decision making in child abuse and neglect cases is a difficult and complex process. Whether to remove a child from his or her home, whether to return to the home a child who has been abused, and whether to sever permanently a child's legal ties to his or her parents-all are awesome decisions." (Solnit).
The decision to place is difficult, and often times difficult questions arise from these foster parents, the caseworkers, and judges. ""Placement should occur on ""voluntary"" basis or by court order, how long the child, parents give up part of their autonomy and do not have the right to regain their child without the permission of the state."" (Solnit). Many Foster parents go through a lot of hardships to prepare their homes and their families for these babies/children that they are bringing into their home life. The preparation process is costly and time-consuming, and often times, there is not enough time allotted for these parents to prepare in time. Just as it takes a special heart for social workers to do what they do; it takes a special heart to become foster parents as well. The need is so vast in this, yet we do not see more foster parents, unfortunately. The Forever Family website and Solnit's book give great information and are related in helping and understanding our lack of foster homes and placement. Both of these sources are helpful references for someone who may be looking into becoming a foster parent or wanting to adopt as well. There are many different ways to get involved just from the Forever Family website. Knowing about these resources could help increase the number of foster parents and placement options, which would decrease the number of children in need.
The argument has been previously stated about, should we hold social workers accountable for ongoing child abuse? The answer is no. In previous years, we may have wanted to also blame the lack of power and lack of foster homes or placement options or the poor outdated system that Department of Human Services uses; however, in the past year those things have changed. Yes, we still have room for much needed improvement, and always will, but CPS is going more digital and improving their technology strategies and now are increasing their pay for employees and there is less need for caseworkers here in the Tulsa metro area; in which, that means we are starting to see a decline in the ""issues"" we have seen in the past years. ""Caseworkers are now getting between 14-15 kids in their cases versus the 20-30 plus that we have seen in previous numbers over the past years. The decrease in the numbers means that these caseworkers are getting more training time, more one on one time, and more time to travel from case to case and getting to do more frequent visits as needed.
We have gone from 1-2 visits per month for 20-30 minutes to 1-2 visits per week for about 40-50 minutes per child." (Baccus) According to Baccus, there are more resources as well that they are able to offer to parents so that these families can be reunited with their children, which is CPS's ultimate goal. Reunification! When a parent (or parents) get the child(ren) taken away typically CPS tries to place the child(ren) in the care of a trustworthy family member or friend of the family, someone that the child(ren) know and are comfortable with. This is called kinship. This is to avoid having to place children in foster care homes. However, it is a process, and not everyone can pass it or wants to even take on that responsibility, very less likely but it does happen. Or it could be that they do not simply have that option period. In that case, the child(ren) would be placed without kinship. Which this process is much more difficult and delays so much because there is more that goes into it and is a long process that has to be done by the courts at this point. Also, Baccus states that there is always new training material and more frequent meetings/follow-ups too. Which is going to help in the long run to better assist the children in our state to better protect them. The teams that are built for the Tulsa Metro area versus a different area may be eye-opening in numbers, this is the hope that we are wanting to see for improvement to continue. ""Children are the future and we have to protect them first above all else."" (Baccus).
In conclusion, it is easy to place blame on anyone but ourselves. And as the saying goes there are always two sides to every story. Situations like child abuse and neglect are serious business. It should not be treading lightly, nor is it an act or a game to ""get"" back at someone. There are many changes in this evolving world. One person may see a mother at a grocery store yelling at her children to get back in her view or she is ""gonna whoop 'em."", to that mom that is just the norm; however, to someone else who doesn't know them from Adam, may think oh those poor pitiful children they are being so mistreated. Yes, we need to take child abuse and neglect serious, but we need to be very certain there is something wrong going on and report those things. You can always report anonymously, but don't report something that deep down you feel is wrong. Children are naturally creative, loving, and trusting, it is our job to make sure they continue to think and feel that way. Do we need to create this safe haven for them if we are unable to provide that than who will? Small minded people blame others, while average people blame themselves. The wise see all blame as foolishness. What do you see it as? Do you continue to put the blame off on someone else? Or do you take a stance in it to do something about the problems we are facing in this world? Don't let child abuse and neglect go unknown. Report it! If we are not going to be here to provide a safe and loving atmosphere for children then who will? Children are not wild animals; they won't survive in the ""wild""; therefore, it is our job to be their protectors from predators.
Works Cited
Baccus, Matt. ""Department Of Human Services And Child Abuse"". Edmonson Building 444 S. Houston Tulsa, Ok, 2019.
""Definitions Of Child Abuse And Neglect – Child Welfare Information Gateway"". Childwelfare.Gov, 2019, https://www.childwelfare.gov/topics/systemwide/laws-policies/statutes/define/. Accessed 9 April 2019
Duffy JY, et al. "Child Maltreatment and Risk Patterns among Participants in a Child Abuse Prevention Program." Child Abuse & Neglect, vol. 44, 2015, pp. 184–93 Accessed 13 April 2019
""Forever Family"". Forever Family, 2019, https://www.foreverfamily.org/.
Accessed 8 April 2019.
Mallon, Gerald P, and Peg McCartt Hess. Child Welfare for the Twenty-First Century : A Handbook of Practices, Policies, and Programs. 2d ed., Columbia University Press, 2014.
""Oklahoma Child Abuse Hotline – Oklahoma State Department Of Health"". Ok.Gov, 2019, https://www.ok.gov/health/Family_Health/Family_Support_and_Prevention_Service/Oklahoma_Child_Abuse_Hotline/index.html. Accessed 10 April 2019
Pelzer, David J. A Child Called ""It"" : One Child's Courage to Survive. Health Communications, 1995.
Solnit, Albert J, et al. When Home Is No Haven: Child Placement Issues. Yale University Press, 1992.
Treatment, Center. ""Chapter 6—Legal Responsibilities And Recourse"". Ncbi.Nlm.Nih.Gov, 2019, https://www.ncbi.nlm.nih.gov/books/NBK64892/. Accessed 8 April 2019
Welch, Ginger. The Neglected Child : How to Recognize, Respond, and Prevent. Gryphon House, 2013.
Writers, Staff. ""Become A Social Worker | Socialworklicensure.Org"". Socialworklicensure.Org, 2019, https://socialworklicensure.org. Accessed 8 Apr 2019.
Did you like this example?
8786
561
The deadline is too short to read someone else's essay
Hire a verified expert to write you a 100% Plagiarism-Free paper
About Child Abuse. (2020, Aug 14). Retrieved from https://papersowl.com/examples/about-child-abuse/